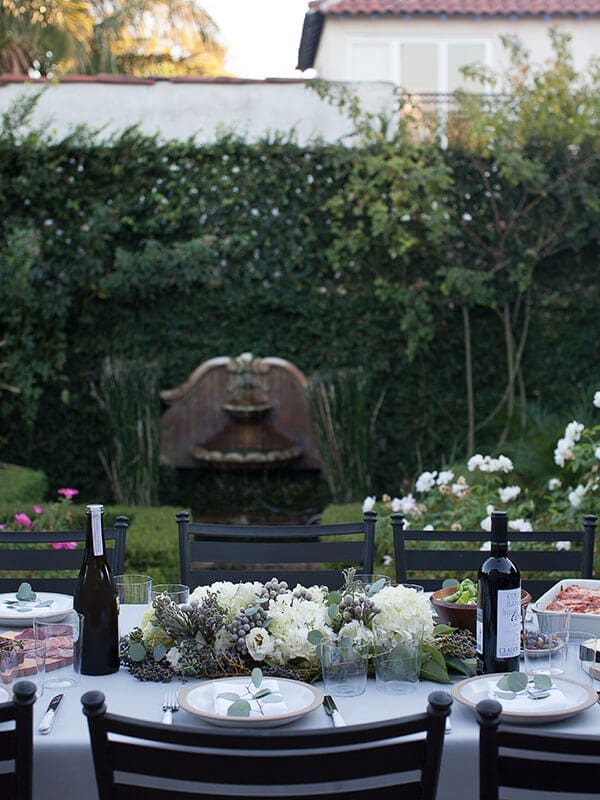 It's not every weekend when I get the opportunity to gather my friends together and host a dinner party, so when I was invited to be a part of the #BertolliGoldLabel Italian Progressive Dinner Party, I said a-ok!
I'm a pretty casual person; this means I like my dinner parties to feel very fuss-free. Here are some guidelines I like to follow:
1. I kinda start to stress out when I see the host get up a million times. I feel like I should help! I don't want my friends to feel like this so I make sure everything is ready (entree included), on the table, served family-style. This means from the time they arrive everything is very laid back.
2. At least one course is completely store-bought. In this case it was the sauce from Bertolli (more on that later), cheeses, charcuterie, figs and grapes and olives. Easy breezy!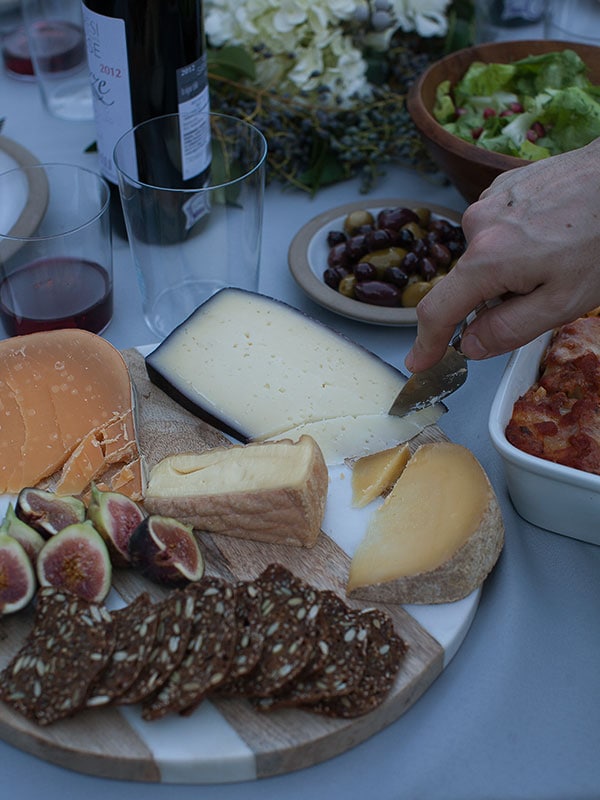 3. Wine matches the food. My friend Whitney helped with this, selecting the perfect, super affordable Italian wines to go with our Italian-inspired dinner.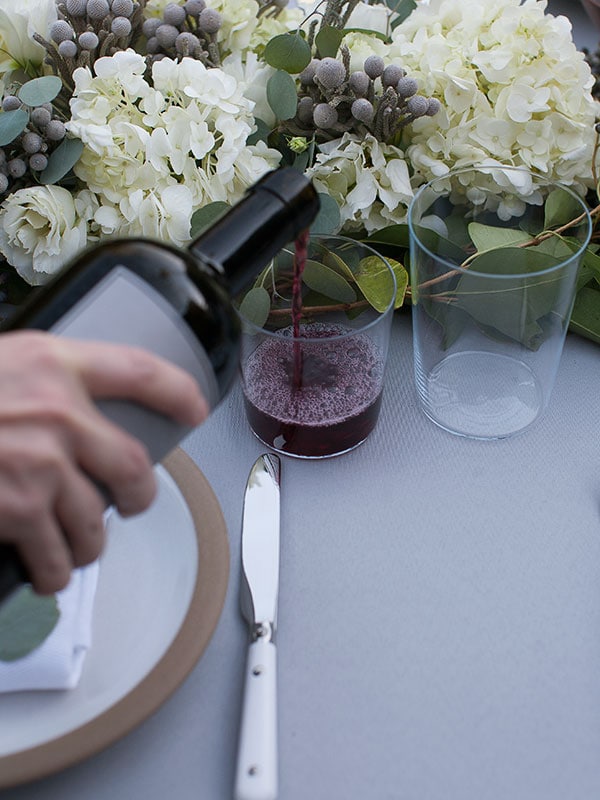 4. Buy some pretty flowers for the table. I'm not gonna lie, this arrangement I made caused me to have a few panic attacks and maybe there were a few curse words muttered, but it ended up coming together for under $20! Flower markets, which are usually in each city, are awesome places to hit up. Prices are fantastic and the options are incredible.
This flower arrangement includes a few off-white hydrangeas, eucalyptus leaves (I clipped them from a bush near my house), silver brunia, white lisainthus and these dark purple vines that went all the way around.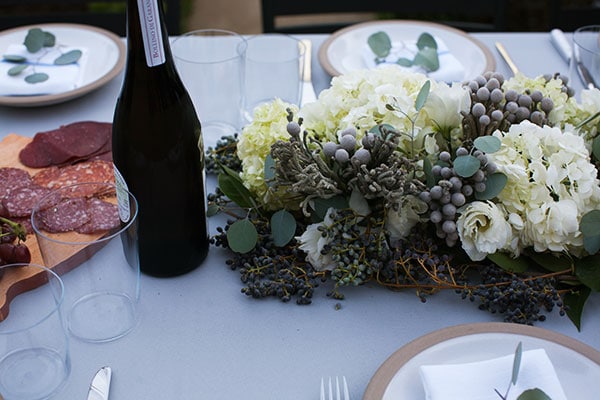 Let's talk about the food. I've been dreaming about lasagna for the last few weeks. This particular one uses the Bertolli Gold Label Imported Balsamic Vinegar of from Modena, Italy paired with Caramelized Onions sauce. I usually taste store-bought sauces and need to doctor them a lot, adding more salt and spices, but this one needed no additions! It was perfectly salted and spiced with rich, tangy notes from the balsamic.. I was pleasantly surprised.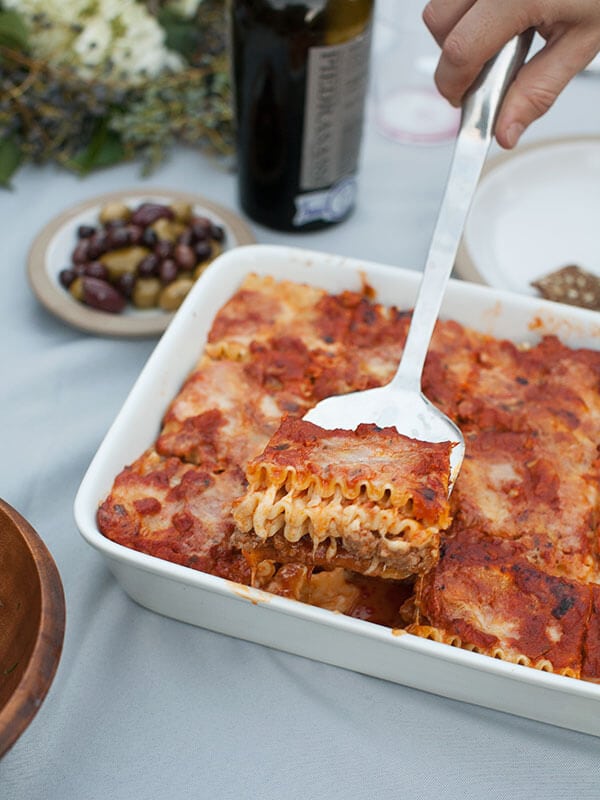 It went deliciously well with the ground, gamey lamb, which was initially browned and then braised in the sauce. The two simmered over the stove for an hour or so—it smelled divine! The lasagna was assembled and layered with soft ricotta, melty mozzarella and topped with the French gooey cheese, Crezenza (we had it in the fridge).
The salad was butter lettuce tossed with a dill pickle vinaigrette. There were pomegranate seeds added for a bit of extra tartness and sweetness. It was one of those incredibly easy salads that fit perfectly amongst the spread.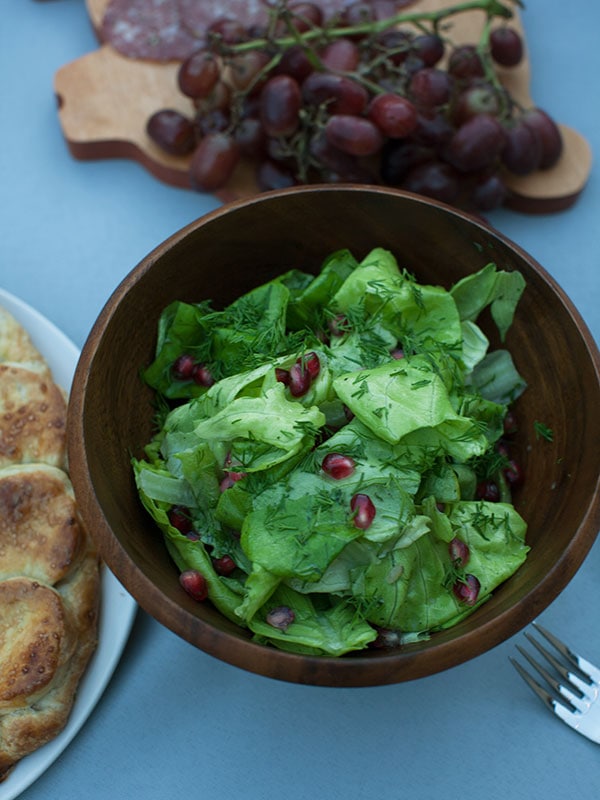 Oh and the galette! Persimmons were sliced thinly with a mandolin and tossed with the usual fall suspects: brown sugar, salt and sugar. Some people asked if these circles were biscuits which makes me think that a biscuit galette should be in all of our futures. TBD on that situation.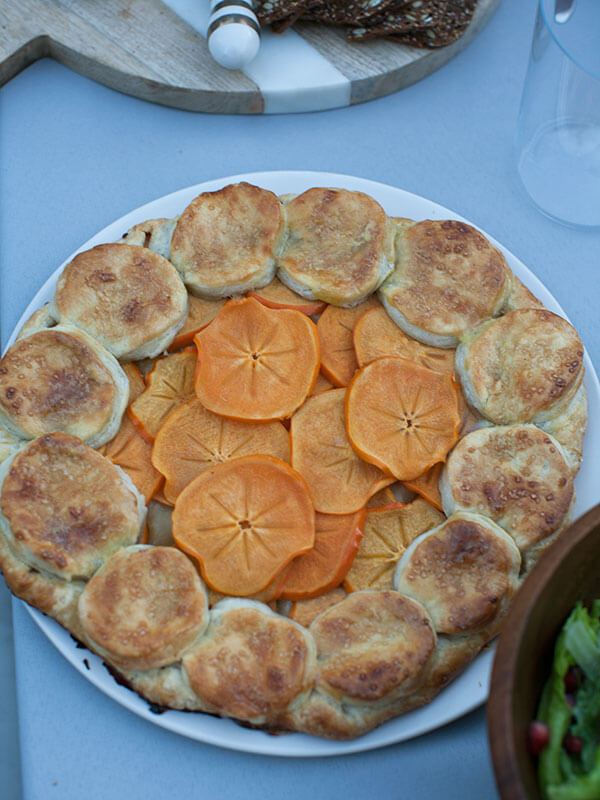 The best part about this dinner party, hands down, was sitting there for hours, after everything was eaten and the sun went down, and just talking about complete randomness. Life is so busy for all my friends so it was nice to just sit and all talk about things that weren't important at all.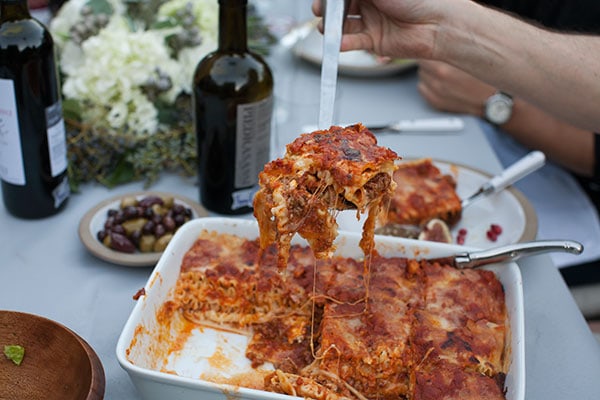 There are so many beautiful dinner parties that were a part of this #BertolliGoldLabel Italian Progressive Dinner Party and so many incredible dishes that came together for a complete Italian Dinner Menu; here's a wrap-up in case you're curious:
• Antipasti: Mushroom Polenta Bites and Antipasti Platter from Shutterbean
• Primi: Caramelized Onion Stuffed Portobello Mushrooms and Minestrone Soup from Dine and Dish
• Pasti: Homemade Spaghetti & Bison Fennel Meatballs with Porcini Truffle Sauce and from Local Milk
• Secondi: Balsamic and Caramelized Onion Chicken Parmesan and Stress-Free Dinner Party Tips from Oh Sweet Basil
• Dolci: My Fall Table Inspiration and Persimmon Galette
For more Italian inspiration, head over to Pinterest and check in with Bertolli on Facebook and follow #BertolliGoldLabel to keep up with the Bertolli Gold Label Dinner Party to see how the other bloggers' dinner parties turned out!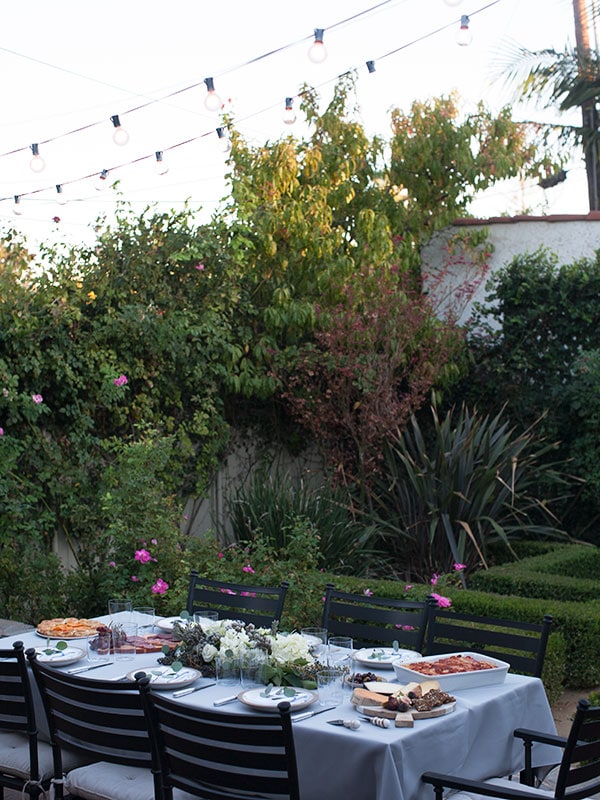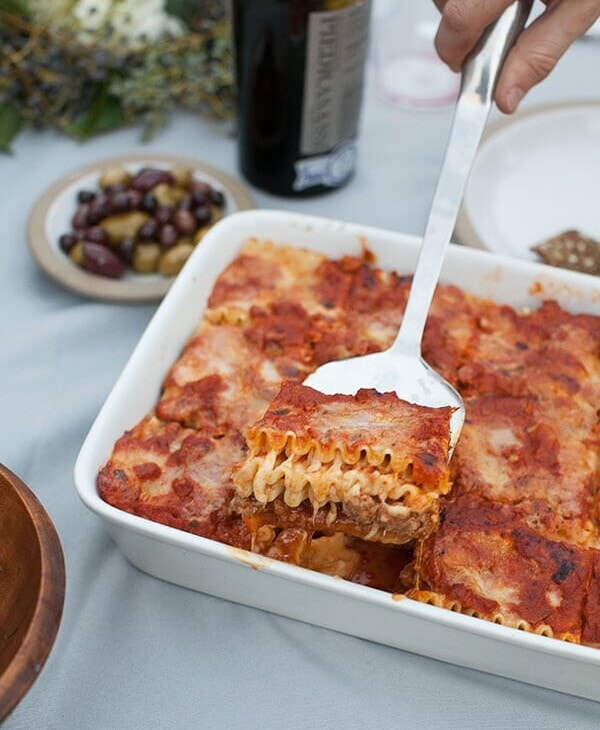 Print Recipe
Fall Dinner Party (and Three-Cheese Lamb Lasagna & Persimmon Gallette!)
Ingredients
Salt

12

ounces

lasagna sheets

1

tablespoon

olive oil

1

pound

ground lamb 

1

jar of Bertolli Gold Label Balsamic Vinegar & Caramelized Onion Sauce 

6

ounces

ricotta cheese

12

ounces

shredded mozzarella cheese

3

ounces

softened cheese such as Crescenza
Instructions
Bring a large pot of salted water to a boil. Cook your lasagna sheets according to your package's directions. I cooked mine for about 8 minutes. (I always like to cook them until very al dente since they're going to cook a tad bit longer in the oven with the lasagna.) Set the sheets aside, being sure to keep them separated, as they get super sticky as they dry. 

Preheat your oven to 325 degrees F. In a medium saucepan, heat the olive oil over medium heat. When the oil is hot, add the ground lamb and sprinkle with about a 1/2 of salt. Break up the lamb into crumbles with a wooden spoon and cook until the meat is browned. Pour in the sauce and mix until the meat is thoroughly coated. Bring the sauce to a simmer and then immediately reduce the heat to low. Cover the pot and allow the sauce to simmer for about an hour. 

To assemble the lasagna, place the first layer of lasagna noodles side by side in your 13" x 9" x 2.5" baking dish. Spread out about a quarter cup of sauce and top with a few dollops of ricotta and a handful of shredded mozzarella. Continue to build the layers until you've reached the top (I made about 5 layers). Top the lasagna with more sauce, more cheese and a few dollops of the crescenza cheese. 

Transfer to the oven to bake for 30 minutes; you'll know the lasagna is ready when the cheese is melty and sauce is bubbling.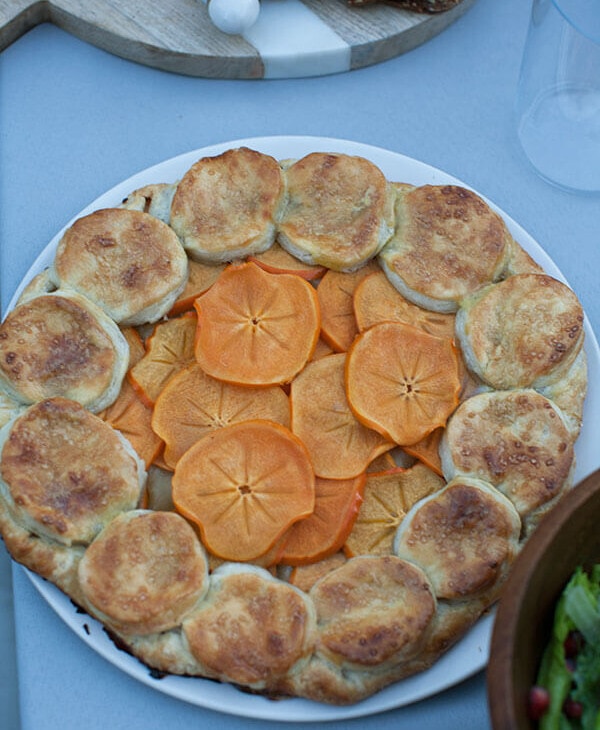 Print Recipe
Persimmon Galette
Ingredients
1 1/2

cups

all-purpose flour

1 1/2

teaspoons

white granulated sugar

3/4

teaspoon

fine-grain sea salt

4

ounces

1 stick unsalted butter, frozen

4

tablespoons

very cold water

divided

3 to 4

persimmons

sliced horizontally, thinly

1/4

cup

light brown sugar

Juice from 1/2 lemon

1/4

teaspoon

salt

1

large egg

beaten in a small bowl

1

tablespoon

demarrara sugar

for garnish
Instructions
In a large bowl, mix together the flour, sugar and salt. Using a box grater, grate the cold butter atop the flour mixture. Working quickly, and using your hands, break the butter bits into the flour until they're evenly distributed and resemble the size of small peas. Add a 50% of the recommended water and mix. The mixture will be shaggy at this point. From here, add 1 tablespoon of water at a time until the dough comes together. Flour your counter and dump the dough onto it. Knead a few times more until it comes together. Wrap the disc in plastic wrap and transfer to the refrigerator to chill for at least 1 hour, ideally overnight.

In a small bowl, toss together the sliced persimmons with the browns sugar, lemon juice and salt. Set aside.

Remove the disc of dough from the refrigerator and allow to come to room temperature for 10 minutes. Liberally flour your work surface and rolling pin. Begin to roll the dough, being sure to rotate it every so often to avoid sticking, to a 10-inch round. Set the scraps aside, we're going to use them as garnish. Add the persimmon slices to the center of the dough and arrange in a circular pattern. There should be about two layers of persimmon slices; they'll definitely shrink up a bit in the oven.

I did a circle pie dough garnish for the galette; feel free to skip this step! Roll the scraps into a 7 inch circle and cut out a few 2-inch rounds using a biscuit cutter. Brush the edge of the galette with a bit of water and place the circles all around the edges, pressing them slightly. (The water will help seal the garnish to the pie dough.) Brush the entire galette with egg wash and sprinkle the demmarrara sugar on top. Transfer to the freezer to chill for 15 minutes. Bake for 20 minutes, until the top is starting to turn golden brown. Turn the heat down to 350 degrees F and bake for an additional 15 to 20 minutes. During this time the color should become more even and the persimmons should soften. If at any time a part of the galette is starting to brown too quickly, you can cover that part with a bit of foil.
{This post was sponsored by Bertolli. Thank you for supporting the sponsors that keep A Cozy Kitchen cozy.}