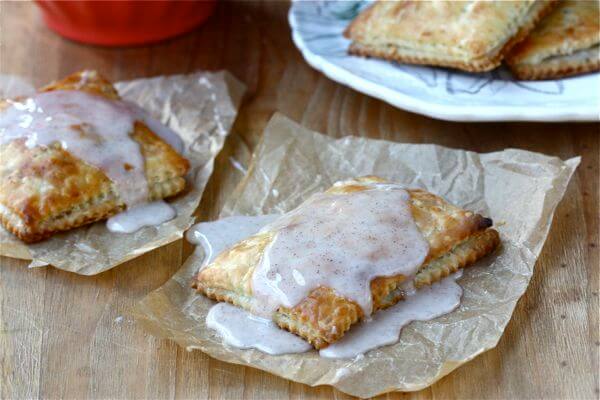 "Positive, positive, positive!!"
That's my favorite line from Knocked Up.
Leslie Mann says it to Katherine-whatever-her-name-is when she's all bummed out and can't bring herself to get out of bed.
I say it to Teri when she's being a brat.
I also say it to myself, outloud…every Monday morning when I look at my gigantic to-do list. I have to un-bratify myself, you know?
Monday mornings require pep-talks. It's just a fact. Pep-talks. Coffee…and pop-tarts don't hurt either.
Pop Tarts was a genius invention. They knew what they were doing. They knew they were basically just making pie for breakfast. It's cool. We're all cool with it, pop tart inventor. We thank you.
I didn't grow up on pop tarts, unfortunately. I wasn't that lucky. My parents saw through their marketing schemes; they knew the deal.
But now that I'm a grown-up and pay taxes and parking tickets and deal with all sorts of fun stuff…I've made the decision that I'm gonna have pie for breakfast…and call it a pop tart.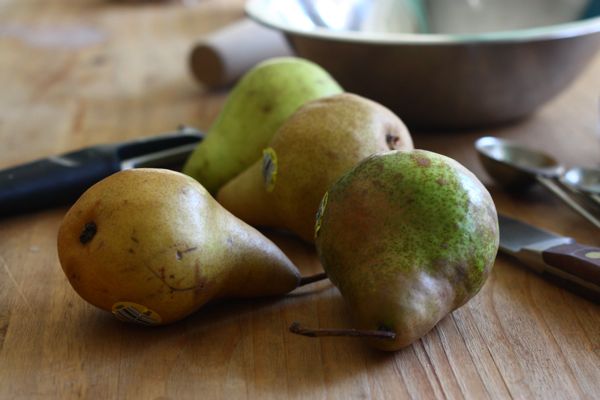 Pears are so pretty right now.
In the past two weeks, I've bought, like, six varieties hoping to bake with them, but just end up eating 'em before I get the chance.
For this recipe, I wanted something that wasn't super juicy, so I went with a firm Bosc pear.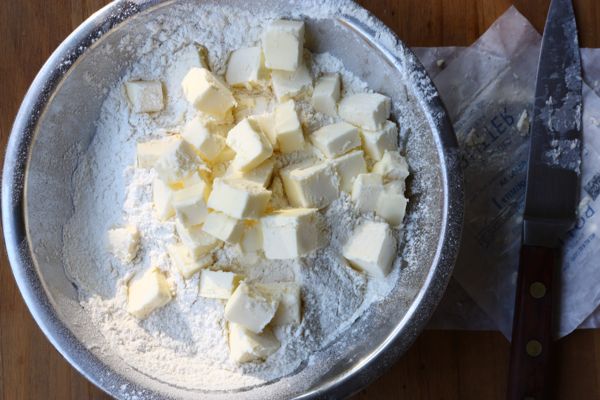 Let's start with the crust. This pie crust is pretty simple–nothing scary. A few things that I do to make my pie crust life easier and more successful:
1. I freeze my butter and flour for 10 minutes before I start.
2. I work with SUPER cold water.
3. I work fast. Like super speedy.
4. If the phone rings and I have to answer it, or have to, say, take pictures, I simply put the pie crust ingredients back in the freezer for 10 minute intervals. Pea-size bits of butter are important.
That's all.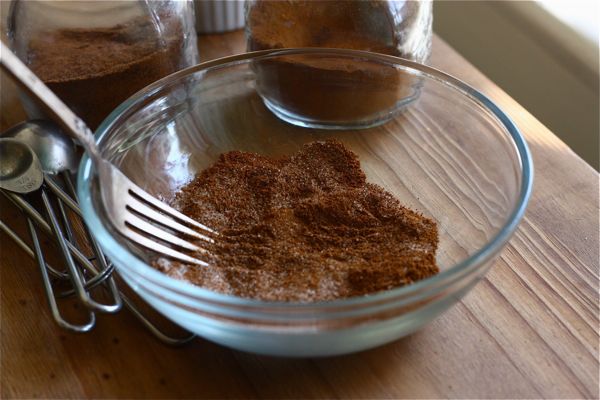 While my pie crust was in the fridge chilling out, I went to work on the filling.
I diced up the pears really small.
Took a small bowl and mixed together the sugar, cinnamon, corn starch and pinch of salt. I then tossed the pears with the sugar/cinnamon mixture.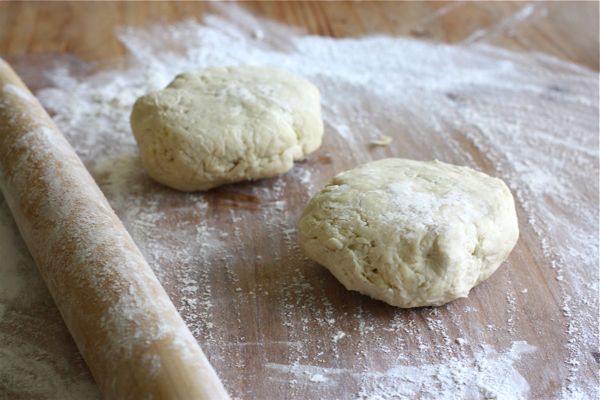 Pie crust came out of the fridge and I let it sit out for 10 minutes or so. I needed it to be workable.
I rolled each one out like so: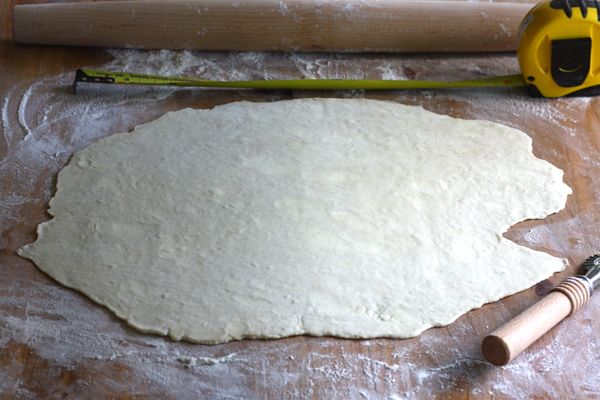 Busted out the ol' ravioli cutter and cut them into big squares.
If you don't have one, no big deal. You can simply use a knife and just crimp the edges using a fork.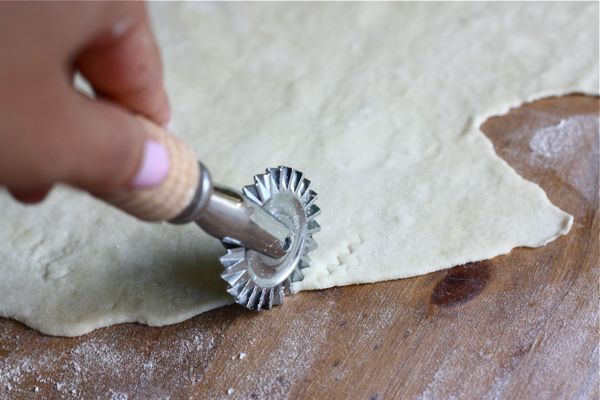 I had the best intentions with measuring the dough out and cutting accordingly, but it didn't really work out. SAD FACE. It's all good, though; crooked pop tarts are delicious!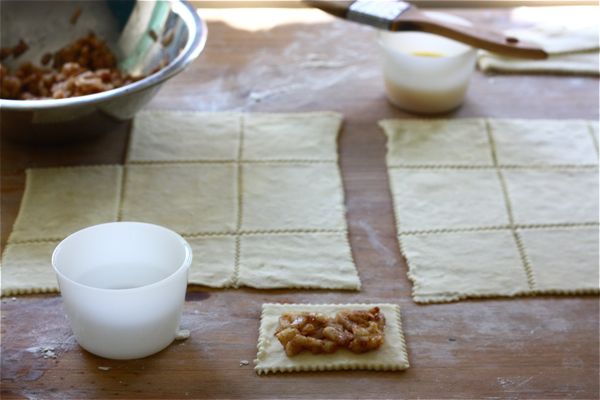 I filled one half with the pear pie mixture, dipped my finger in a little water and ran it across the edges of square and then….put its top on.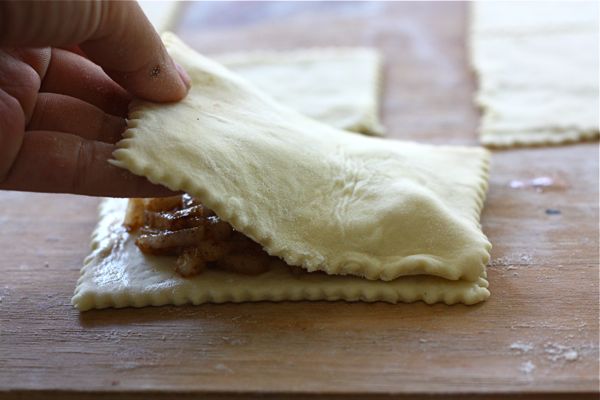 A little egg wash action on top, a few fork holes and it was ready for the oven.
Oh yeah and since I'm apparently obsessed with making some sort of glaze situation for breakfast (here and here), I made one for these, too. A cinnamon glaze. It was delicious.
If you want to skip it, I'd recommend adding a little bit more sugar to the pear mixture.
I think it's safe to say that perfect imperfect pop-tarts make me super positive.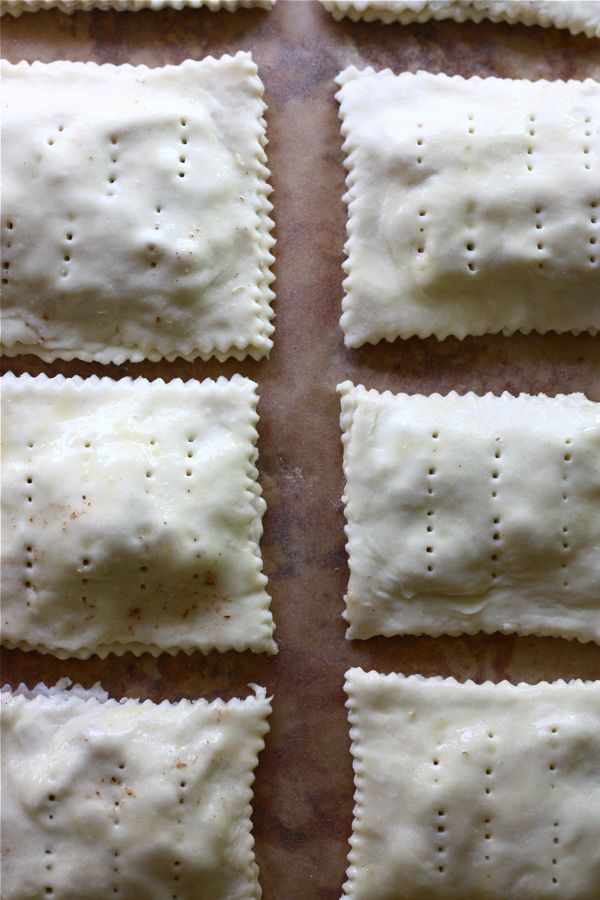 Pear Pie Pop Tarts
Crust:
2 1/2 cups of all-purpose flour
2 sticks of butter, really cold and cubed
1 tablespoon sugar
1 teaspoon salt
3/4 water, ice cold
1 egg with 1 tablespoon milk ( for egg wash)
Pie Filling:
2 Bosc pears, diced
3/4 tablespoon cinnamon
1 tablespoon sugar
1/4 teaspoon nutmeg
Pinch of salt
1 teaspoon cornstarch
Cinnamon Glaze:
1 cup powdered sugar
1 tablespoon whole milk
1/8 teaspoon cinnamon
1. Combine flour, salt, and sugar in a large bowl. Add cubes of butter and mix until you're left with what resembles coarse meal, with pea size pieces of butter. Add ice water 1 Tbsp at a time, mixing until it just begins to clump together. If you pinch some of the crumbly dough and it holds together, it's ready. If the dough doesn't hold together, add a little more water and mix again.
2. Remove dough from bowl and place in a mound on a clean surface. Gently shape into 2 discs. Knead the dough just enough to form the discs, do not over-knead. You should be able to see little bits of butter in the dough. These small chunks of butter are what will allow the resulting crust to be flaky. Sprinkle a little flour around the discs. Wrap each disc in plastic wrap and refrigerate at least 1 hour, and up to 2 days.
3. While you're dough is in the refrigerator chilling, turn your attention to the filling. Dice up your pears and transfer to a medium-size bowl. In a smaller bowl, mix together the cinnamon, sugar, nutmeg, salt and cornstarch. Toss the diced pears with the cinnamon/sugar mixture and set aside.
4. Remove both dough disks from the refrigerator. Let sit at room temperature for about 10 minutes in order to soften just enough to make rolling out a bit easier. Roll out dough with a rolling pin on a lightly floured surface in the shape of a rectangle with a 1/8″ thickness. Using your cutter, cut the dough into a 9″ x 12″ rectangle. Repeat with the second disk of dough. This is when a ruler really comes in handy. Take your two 9″ x 12″ rectangles and, using your cutter, or a knife, cut each piece into thirds so it turns out that you have nine 3″ x 4″ rectangles. Like I said above, mine were kinda crooked–don't worry!
5. Transfer a tablespoon of filling to the center of half of the rectangles. Dip your finger in a ramekin of water and run it along the edges of each of the rectangles with the filling. This will hold the two layers together. Place the second rectangles of dough atop all of the ones with the filling, gently crimping the edges together.
6. Pre-heat the oven to 350F. Gently transfer the assembled pop tarts to a parchment-lined baking sheet and transfer to freezer for 10 minutes. After they do their time in the freezer, brush the tops with the egg wash and using a fork, prick four-five holes in the tops. Place in the pre-heated oven and bake for 20-25 minutes, or until lightly golden brown.
6. While the pop tarts are baking up, mix together the glaze. In a small bowl, mix together the powdered sugar, milk and cinnamon. Top the warm pop tarts with the glaze.
Pie crust recipe tweaked from Simply Recipes