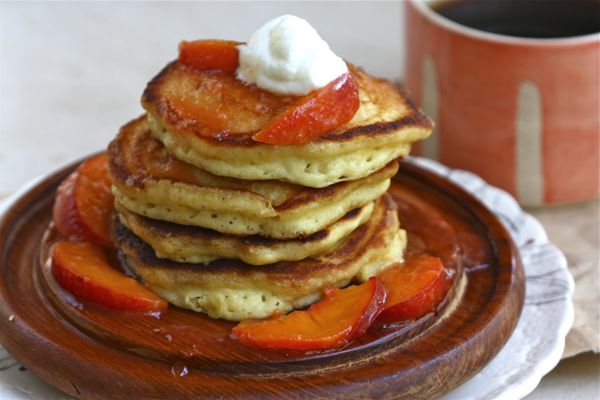 The thing I'm afraid of more than my usuals: failure, not having kids "on time," my life not working out in general, is a scary murderer. I go through great lengths to avoid murderers.
I post Instagram photos of places I'm at only after I leave. I know all of you are super lovely BUT what about that one psycho, nut-job that wants to grind me up and put me in a hamburger, huh? That guy is scary. I don't want him finding me at my favorite neighborhood coffee shop.
I also have a nightly ritual of checking every window (I live on the 2nd floor) and door in my apartment to make no one can get in. And, though, I kind of hate light in my face as I sleep, I'm always sure to have a few lights on throughout my apartment. I figure the scary murderer will think I'm up reading rather than sleeping and he'll stay away.
You have to get in the head of a murderer, you know?! Some may think (read: my dad) that these kind of precautions are ridiculous, and maybe they are. They're probably just a sign of my current single status and a result of living alone, which I actually enjoy, but WHATEVER MURDERERS ARE SCARY!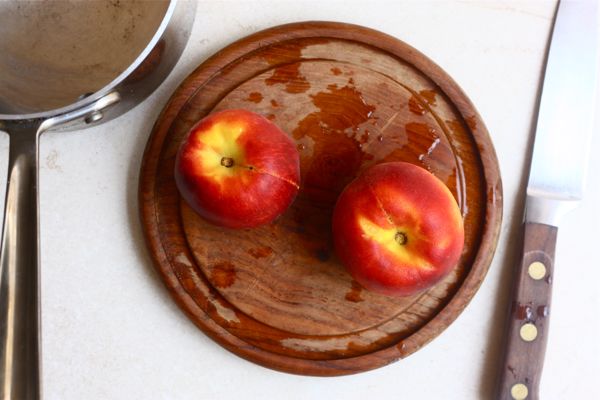 When I wake up and am happy I'm alive and well, I like to celebrate (sometimes). And what better way than to make pancakes. Typically in the summer months I'm not in the mood for a carb-situation, but the fruit brightens these up a lot.
Limiting myself to a small stack of 3 is always my move.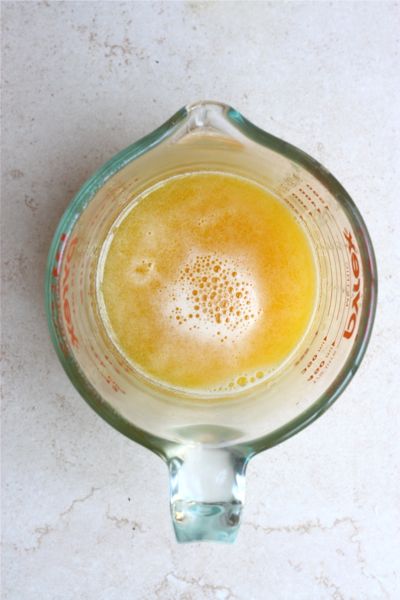 These pancakes start with a peach puree.
Peaches with water go into a saucepan until they're slightly softened. Then they take a trip to the blender and run through a sieve. The puree is added to sour cream and egg for the perfect hint of peachiness and tang.
While the pancakes definitely have a peach-flavor, I think the syrup is a must. There's freshly grated ginger added for a nice punch of spice. Top it with a dollop of whipped cream. Call it breakfast!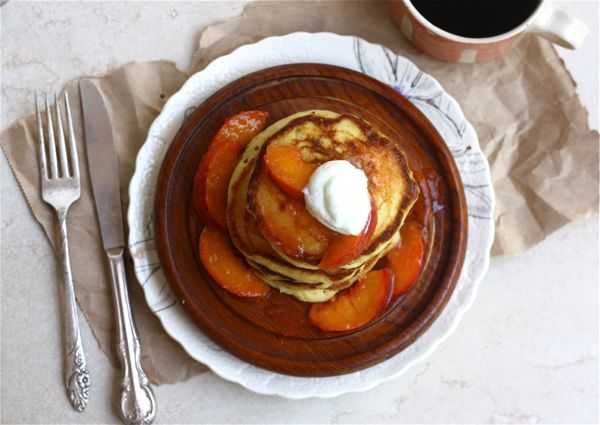 Peaches N' Cream Pancakes
Pancakes:
2 peaches, peeled, de-seeded and chopped
Water
3 tablespoons white granulated sugar, divided
Sea salt
1 cup all-purpose flour
1 tablespoons sugar
1 teaspoon baking powder
1 teaspoon baking soda
1/2 cup sour cream
1 large egg
1 tablespoon butter, melted and cooled
More Butter or Vegetable Oil for skillet
Ginger Peach Syrup:
2 peaches, sliced, skin-on
1 teaspoon freshly grated ginger
1 teaspoon white granulated sugar
Salt
1/2 teaspoon corn starch
1. In a small saucepan, add the chopped peaches and 3/4 cup water. Bring to a boil and then lower heat and allow to simmer for 10 minutes. Remove from pan and add 2 tablespoons sugar and a pinch of salt. transfer to a blender or food processor; blend until smooth. Pour the mixture through a strainer, into a measuring cup or bowl, which will catch all of the pulp. It will yield a little over a cup. Set aside.
2. To a medium bowl, add the flour, sugar, baking powder, baking soda and 1/2 teaspoon of salt. In a smaller bowl, mix together the sour cream, egg, melted butter and 3/4 cup of the peach puree. Add the wet ingredients to the dry ingredients and mix until just combined. Small to medium lumps are perfectly fine.
3. Preheat your griddle of skillet over medium heat. While your pan is pre-heating, let's make the syrup! Add the peaches, freshly grated ginger, sugar, pinch of salt, corn starch, 1/4 cup of remaining peach puree and 2 tablespoons of water. Cook over medium heat for 5 minutes and until the peaches have softened and liquid has thickened slightly.
4. Once your skillet is pre-heated, rub it with 1 teaspoon of vegetable oil or 1/2 tablespoon of butter. Scoop 2 tablespoons of batter onto the skillet and cook until bubbles form, about 2-3 minutes. Flip and cook on its opposite side for an additional minute or so. Transfer the cooked pancakes to a baking sheet in a pre-heated 200F oven. Repeat process until you've cooked through all of the batter, adding more butter or oil to the skillet as needed. Top each stack with a tablespoon or two of the ginger peach syrup and a dollop of whipped cream.
Yields 8 Pancakes