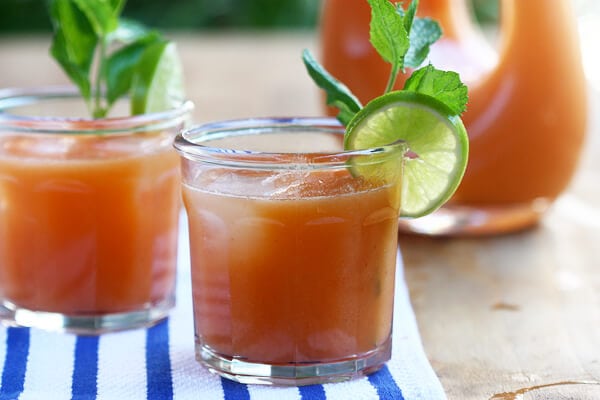 Check out this cute looking thing!
We can't ignore all the peaches right now, can we?! No way--that'd be mean. And we're nice people!
Every weekend, for the past few weeks, I've come home with peaches...and pluots...and apricots. But then I get all crazy and eat them while watching youtube videos for a few hours straight. It's a private Sunday morning thing I got going on. Totally not interesting.
Finally, I smarted up and bought way too many peaches to eat so I figured I'd drink them instead.
Let's drink some peaches!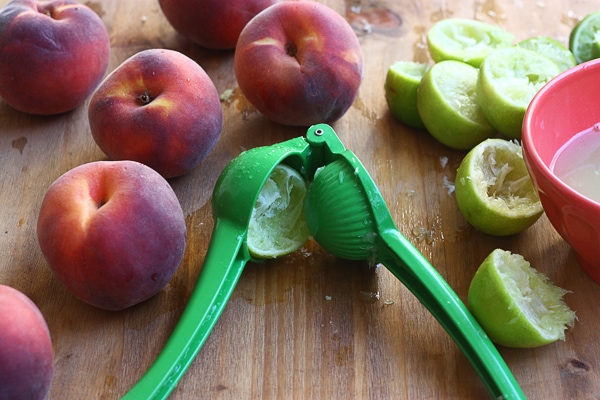 I've been in love with peaches for a long time.
First, there's the whole thing about being born in Georgia. Georgia peach girl.
Second on the list, James and Giant Peach...anyone?! How amazing was that book as a kid? It always made me wanna eat peaches.
And...I really couldn't stand Matilda's parents. They showed up in my nightmares for years. Remember how he was a used car sales man and turned back mileage?! Bad dude, man. As a kid, I hated cheaters like that. Still do.
Anyway! Roald Dahl holds a super special place in my 9 year old heart. That's all.
Back to drinking peaches...
There's a puree situation that needs to happen with the peaches.
Here's a little before: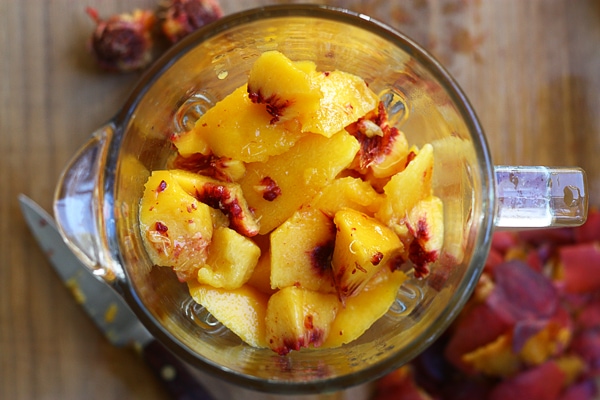 And after: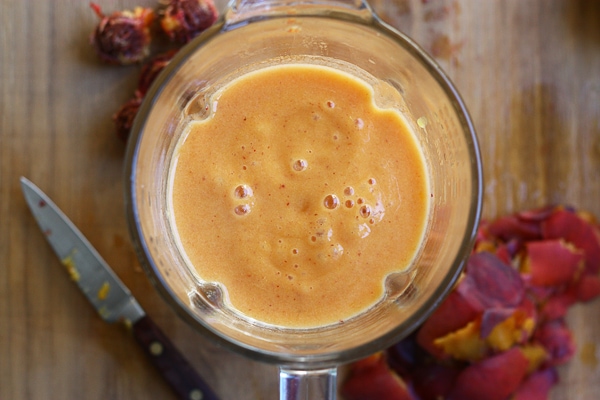 You run the puree through a cheese cloth and combine it with the water and lime juice.
That simple. Let it get nice and cold in the fridge and serve it with ice cubes...some mint...and a few lime slices.
Refreshing, a little tart with an awesome amount of sweet.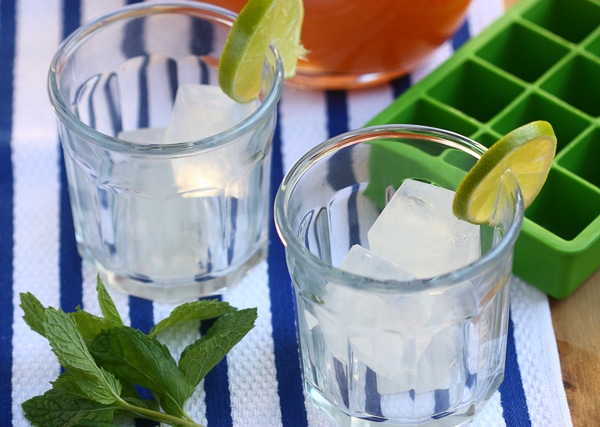 Peach Limeade
Yields 6 servings
5 peaches
¼ cup sugar, plus 2 tablespoons
1 cup lime juice (from approx 6-7 limes)
3 cups of water
Mint for garnish (optional)
Lime slices for garnish (optional)
Peel and slice the peaches and transfer to a blender. Add the sugar and blend until completely smooth.
Grab a colander or sieve and line it with a one layer of cheesecloth. Then place it over a medium or large bowl and run the peach puree through the cheese cloth to expel the pulp. You'll definitely need the assistance of a spatula or wooden spoon to work it through--it'll be thick!
In a small bowl (or measuring cup) juice the limes. Add the lime juice and water to the peach mixture. Chill in the refrigerator until ready to serve. Serve with a few ice cubes, mint and a lime. Pretty!