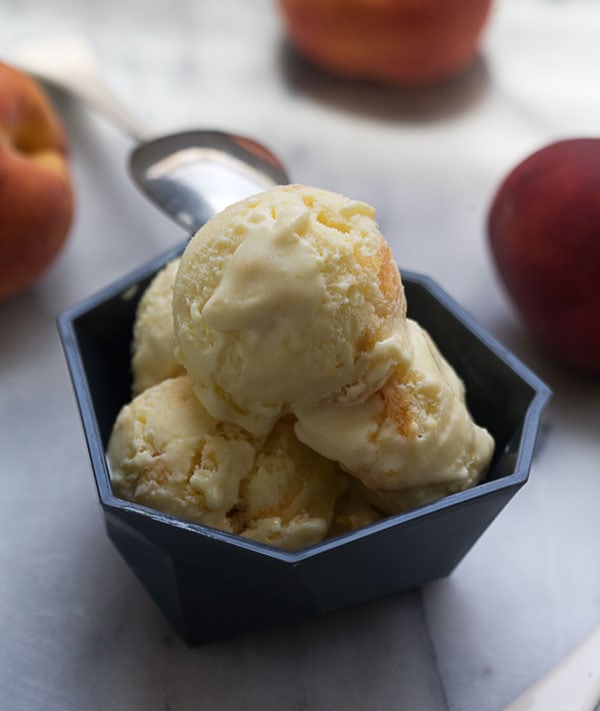 My love for ice cream began very early; some doctors would probably argue that it was too early. (See last picture in this Father's Day post for proof.) I believe I first tried ice cream when I was still on the bottle, probably around 3 months old. My dad gave me a taste because, well, I didn't need any teeth – no teeth required! – to enjoy his favorite evening, indulgence. And to this day, my dad eats a bowl of ice cream every. single. night. One of the best birthday presents I ever gave him was an ice cream maker. He became obsessed, mastering a ton of ice cream recipes, but mainly perfecting his vanilla bean recipe. Simple things are tough!
This ice cream right here is tart, sweet with bright coral swirls. Hello! I realize I'm repeating myself with this swirl business. Everything lately is getting a swirl. Also, everything that's sweet is also salty. I can't help it! I'm a woman obsessed.
This post is brought to you in collaboration with Real California Milk. I had no idea until they sent me a fun fact sheet, but the state of California produces more ice cream than any other state in the United States, which basically means California is the best.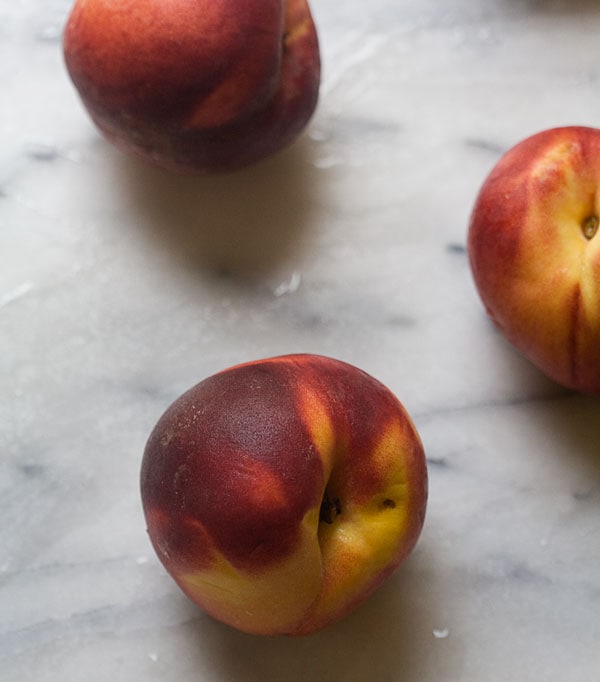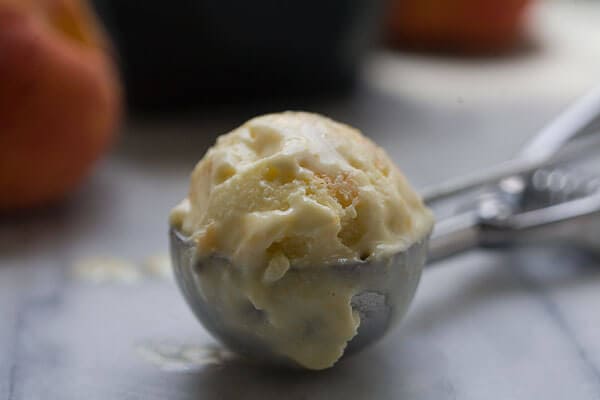 When making ice cream, I usually opt for organic, good tasting milk; it is, after all, the main ingredient.
This ice cream is an awesome way to use up bright, sweet yellow peaches. They just arrived in California (as in this past weekend) and when cooked down with sugar and a bit of salt, they're incredible. They work wonders with the tart buttermilk ice cream base. Bright and sweet is a favorite of mine, and this ice cream celebrates that.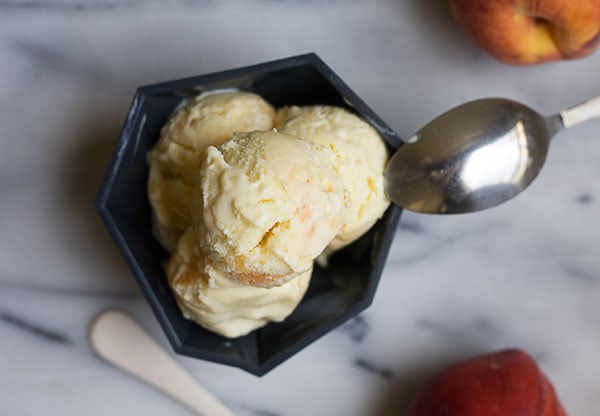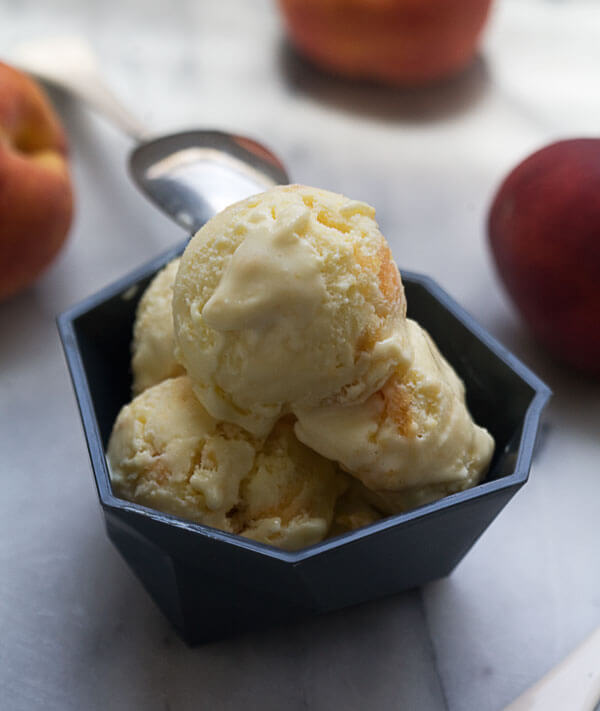 Print Recipe
Peach Swirl Buttermilk Ice Cream
Serving Size:
quart of ice cream
Ingredients
1

cup

heavy cream

1/2

cup

white granulated sugar

Pinch

of salt

4

large egg yolks

2

tablespoons

honey

1

teaspoon

pure vanilla extract

1

cup

buttermilk
Peach swirl:
4

peaches

about 2 pounds

1/4

cup

white granulated sugar

Pinch

of salt
Instructions
To a bowl, prepare an ice bath by adding 10 or so ice cubes and adding a few splashes of water. Set a slightly smaller bowl inside the bigger bowl and set a sieve or strain inside the smaller bowl. Set the whole ice bath contraption aside.

To a medium saucepan, add the heavy cream and sugar; heat over medium until the cream reaches a slight simmer and the sugar dissolves. Once it reaches the simmer, remove the pan from the heat.

In a medium mixing bowl, beat the egg yolks together, thoroughly. Next you're going to temper the cream mixture. Whisking the entire time, add about 1/4 cup of warm cream to the egg yolks. Add the remainder of the cream to the egg yolk mixture and whisk. Return the entire mixture back to the medium saucepan and place over low heat. Cook the cream and yolk mixture, stirring constantly, until the thermometer reads 170 to 175 degrees F and the mixture appears thick and coats the back of the spoon.

Pour the mixture through the sieve into the bowl. Add the honey, vanilla and buttermilk. Stir constantly until the mixture becomes room temperature. Wrap the bowl in plastic and transfer it to the fridge for 4-5 hours, or overnight, until very cold.
Peach Jam:
To make the quick peach jam, bring a medium pot filled with water to a simmer. Add the peaches and blanch for 1-2 minutes. Carefully remove the peaches and allow to cool slightly before handling. Using a paring knife, remove the skins from the peaches. Chop up the peaches, discarding the pits. To a medium saucepan, add the chopped peaches, sugar and a pinch of salt. Over medium heat, cook for 10-15 minutes, until mixture is bubbling and peaches are nearly broken down. Turn off the heat and let cool slightly. Transfer the mixture to the jar of a food processor or blender and pulse until pureed, about 10 seconds. (If you're using a blender, be sure to allow a bit of hot air to escape or else the mixture will explode. Yikes.) Transfer to a bowl and allow to come to room temperature.

Churn the ice cream mixture into the bowl of your ice cream maker, according to your ice cream maker's instructions. When the ice cream is down churning, transfer one third of the ice cream to a container and drizzle about one third of the peach puree over it. Repeat the process, layering with the remaining ice cream and peach puree. Freeze the ice cream until firm, about 8 hours or so.
(This post is sponsored by Real California Milk. Thank you for supporting the sponsors that keep A Cozy Kitchen cozy.)