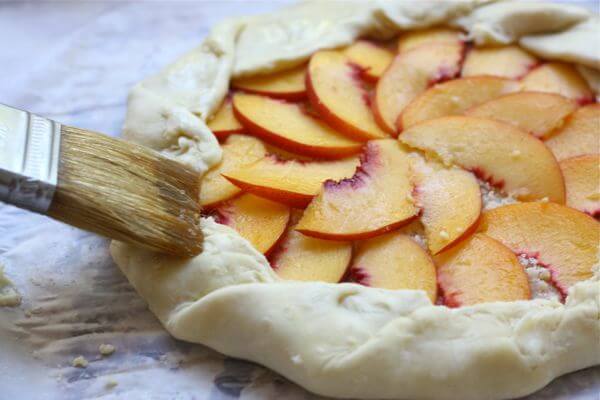 "What if I was a dog?!?!"
I have this thought at least one time a day. At least once. It's usually prompted by eyeing lazy dogs sitting outside of coffee shops, as I pass them with a long to-do list and the general stresses of adulthood. And they're there…just panting, drinking water, begging for food.
The easy life…or is it?!
Sure, they have no real responsibility and it's our job to take care of them. And yes, some guide the blind, and some work with the police to catch murderers and drug smugglers and scary burglars. But most of them don't do anything. Their job is to do nothing. Their days consist of staring out the window, catching birds (despite them being terrible at it), digging holes so they can escape and go on adventures, sleeping, more sleeping, more sleeping. All that sounds so lovely, truly.
BUT, the biggest bummer about being a dog: eating the same thing every. day.
Imagine one kind of food, every day for the rest of your life. It's a depressing thought. This is why if I had a dog I'd feed him/her a small taste of delicious things I love.
This galette would for sure make the cut.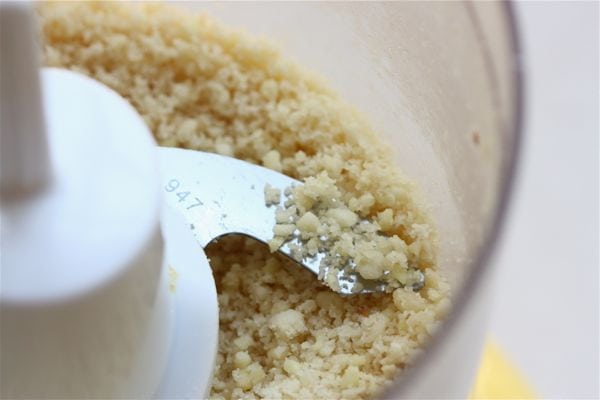 Galettes are basically just a lazy person's pie.
No crimping, no weaving dough, no braiding. Simply mix the butter and flaur and water together, put in the fridge and then roll it out. The messier the better.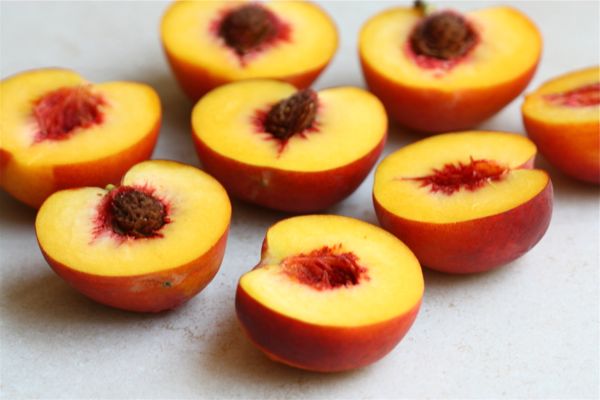 For the base of this galette, I ground up some almonds and mixed them with sugar. I spread the mixture out evenly in the middle of the rolled out dough.
I cut up some fresh peaches.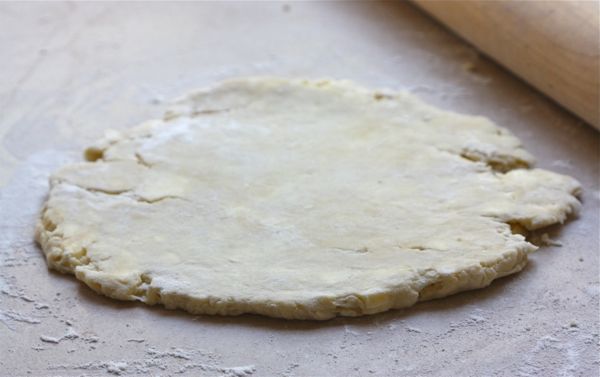 Laid them out in a spiral situation.
And then folded over the dough. That's it! So easy a dog could do it. *WINK*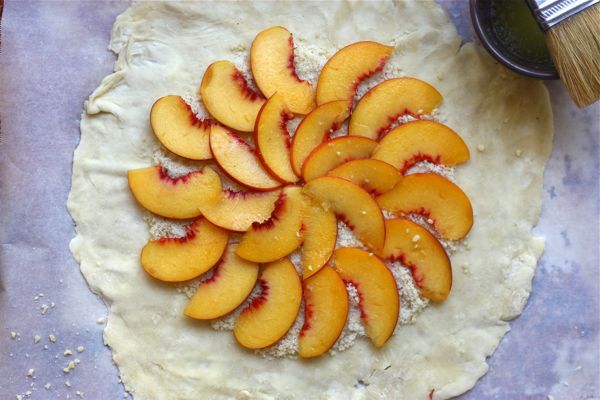 I used peaches, but go to town and use different fruits like apricots, nectarines or plums. I bet plums would be really pretty.
The almond gives this galette a really great almond flavor. Want more? Toss the peaches in a tablespoon or two of almond extract.
The flaky buttery crust with the soft, sweet peaches and hint of almond flavor is pretty awesome. I promise you'll like it just as much my future lazy dog will.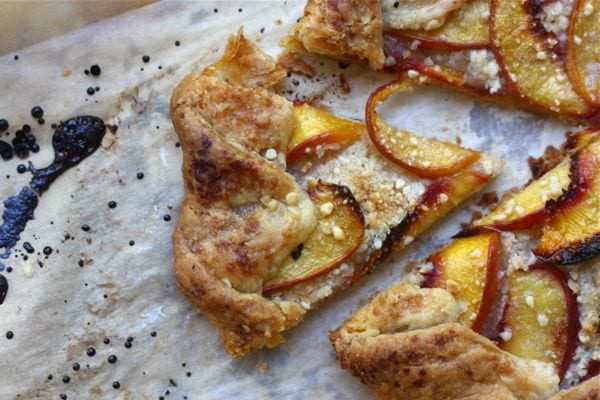 Peach Almond Galette
Crust:
1 cup all-purpose flour
1 teaspoon sugar
Pinch of salt
3 oz./85 grams butter, cold and cut into cubes
4 tablespoons cold water
For the filling:
¼ cup finely ground almonds
¼ cup white granulated sugar
4 ripe peaches, quartered and then cut into 1 cm. slices
1 tablespoon butter, melted
1 tablespoon demerada sugar
¼ cup apricot jam, honey or maple syrup (for glaze, optional)
1. Make the dough: In a large bowl, mix together the flour, sugar and salt. Add the butter and start working the butter into the flour with your hands until there are pieces the size of large peas. Add the water and continue mixing just until the dough comes together. Do not overwork the dough. Cover with plastic wrap, press down to flatten the dough into a disk and refrigerate for at least 45 minutes before rolling out.
2. Preheat oven to 400ºF/200ºC. Remove dough from fridge. If the dough is too cold, allow it to Working on a lightly floured surface roll out the dough into a 14-inch. circle, about ⅛-inch/½-cm thick. Place dough onto a baking sheet lined with parchment paper.
3. In a small bowl, mix together the ground almonds and ¼ cup of sugar. Sprinkle ¾ths in the center of the dough, leaving a 1½-inch/4-cm. border. Arrange the peaches in two concentric circles, making two snug layers. Sprinkle the remaining almond sugar mixture over the fruit.
4. Fold the border of dough, at an angle, into the peaches, pinching the edges to make sure they are sealed. Brush the border with the melted butter and sprinkle it with the remaining 2 tablespoons of sugar.
5. Bake in the lower section of the oven for 45-50 minutes, until the crust is well browned and its edges are slightly caramelized. Remove from oven and allow to cool for 20 minutes before serving. Brush the galette with warmed jam, honey or maple syrup and serve with ice cream!
Adapted from Alice Waters