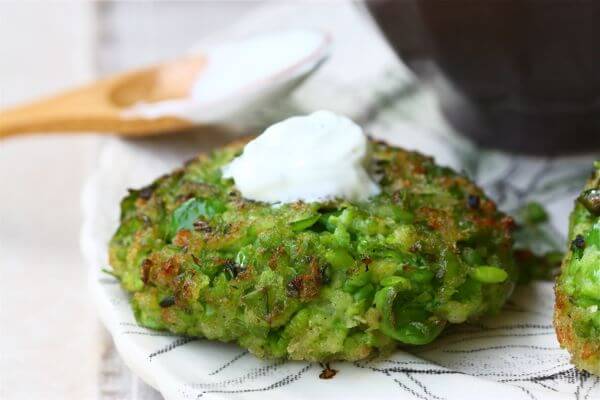 Welcome to project: Adrianna & Peas Fresh Peas: A Love Story.
I was a picky eater as a child. I think that's normal, right?
I wasn't nearly as picky as my friends, though. I knew kids who couldn't have their foods touch. Like, their parents would have to make sure the mashed potatoes didn't touch the carrots and the carrots didn't touch the roast chicken and the roast chicken didn't touch the mashed potatoes. You get it…
I like to think–as a parent–I'd put my foot down and tell my child to stop acting like a such a psycho, but I dunno, I think sometimes parents just want peace and quiet.
In my seven-year old brain, peas were totally tantrum worthy. I got super psycho over peas on my plate. Oh and I let my mama know! Whenever the poor woman would put peas in a dish, I'd do one of those passive aggressive flip-outs and just pick every. single. one. out. A small mound of them would end up on the edge of my plate. I was sending a message. A very strong one, you know?
I've gone my whole life disliking peas, picking them out of various stews, hating how chicken pot pies ALWAYS include them, and completely dismissing dishes highlighted them. But, I now realize I actually don't hate peas. I just dislike the starchy, frozen, gross peas. I don't like them mushy. And I don't like them overcooked and olive-colored.
I like my peas fresh, brilliantly green. I like 'em perky, straight from the pod.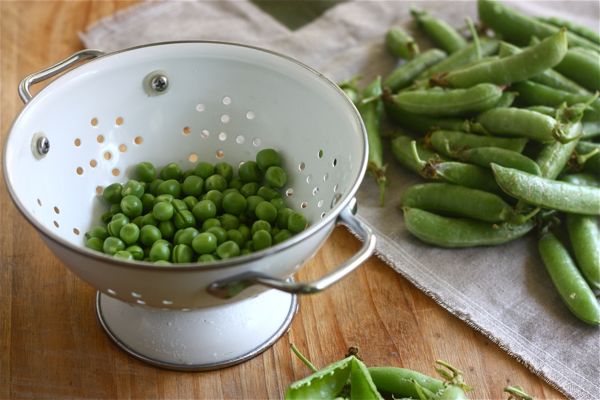 If this makes me a pea snob, well then that's cool.
Honestly, peas are cheap enough for all of us to be pea snobs.
To showoff my new found love, I decided to make some fritters inspired by the English dish, Mushy Peas.
I initially had grandiose plans to put all sorts of crazy ingredients in these things, but at the last second, decided against it. I wanted true pea flavor.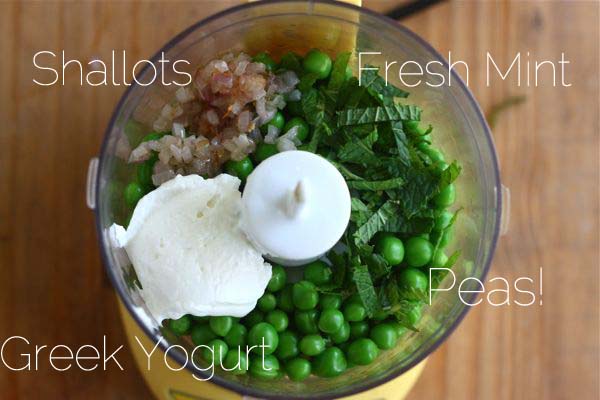 I think when ingredients and dishes are simple, the difference lives in the details.
My favorite part about this recipe is the sort of detailed blanching process. The boiling water is heavily salted and spiked with lime juice.
You guys, my late-night youtube watching has paid off! I learned that killer tip about the lime juice from Nigella Lawson. She was making a pea soup and she added lime juice, explaining the lime juice aids in keeping the peas a bright green color. Hello Nigella! We love you!!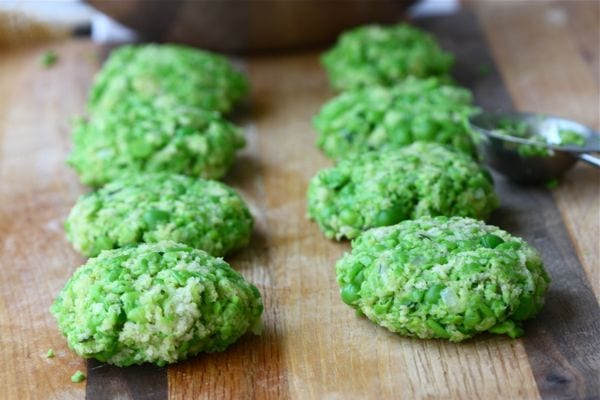 To stop the cooking process, I transferred the peas to a salty ice bath. I seasoned the peas every step of the way. It paid off!
The peas were blended up with a heaping tablespoon of greek yogurt, sautéed shallots, a dash of salt and a few springs of mint. The whole mixture took a trip to the fridge to firm up a bit.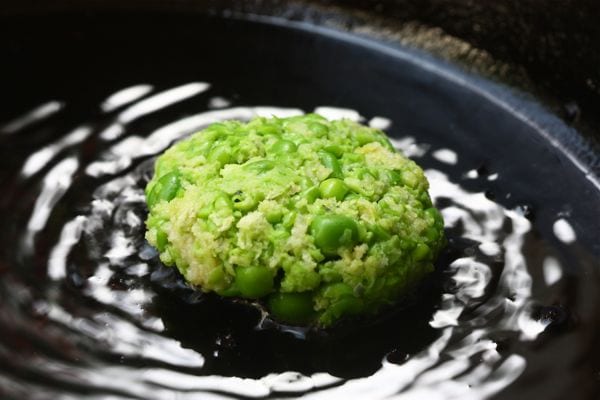 I shaped the patties and pan-fried them in about an inch of vegetable oil.
Serve these fritters with a side salad. Serve them with a steak. Make sure you top them with a dash of salt and a small dollop of sour cream or yogurt.
Super easy…(wait for it!) peasy.
(Do you see what I did there?!)
I created this recipe because I'm cooking along Bravo's new show, Around the World in 80 Plates! It's like Top Chef, except the chef's travel, each week, to a new international city to compete. This week's show takes place in London, England. The first episode airs this Wednesday at 10/9 central!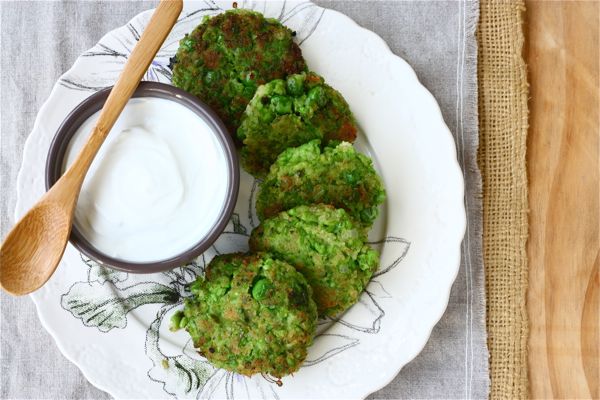 Pea Fritters
1 1/2 pounds of fresh peas (in their pod) or 1 1/2 cups of fresh peas
Salt
1 tablespoon lime juice
Vegetable Oil
1 shallot, minced
4-5 mint leaves, chopped
1 heaping tablespoon greek yogurt
1/2 large egg
2 teaspoons all-purpose flour
1 cup, plus 2 tablespoons, panko bread crumbs
1. Split the pods, revealing the pretty round peas. Transfer them to a small bowl and set aside. (It took me about 10 minutes to split open all of the pods.)
2. Bring a small saucepan of water to a boil. Add a teaspoon of salt and lime juice. Transfer peas to the saucepan and blanch for 2 minutes. Prepare an ice bath: a few cups of water and a heaping handful of ice. Add a teaspoon of salt to the water and stir. After the peas are done blanching, transfer them to the salt bath until they're cold. Next, drain the peas in a colander and set aside.
3. Heat a teaspoon of olive oil in a skillet. When oil is hot, add minced shallots and cook until translucent, about 2-3 minutes. Transfer the shallots to a food processor, along with the mint leaves, greek yogurt and pinch of salt. Reserve 1/4 cup of peas and set aside. (We're going to add these later.) Add the peas and pulse for about a minute. Mixture should be smooth but chunky. Transfer the pea mixture to a bowl and mix in the remaining 1/4 cup of peas, egg, flour and panko bread crumbs. Cover the bowl with plastic wrap and refrigerate for 45 minutes.
4. To shape the fritters, add two tablespoons of the pea mixture to your palm. Press the mixture, shaping it into a compacted disc. Repeat the process until you're done with the mixture. You should end up with eight fritters.
5. Add 1-inch of vegetable oil to a cast iron skillet. When oil is hot, gently transfer pea fritters, cooking two at a time. Cook them on each side, about 2-3 minutes, and until golden brown. Drain fritters on a bed of paper towels. Transfer them to a warm oven until you're done cooking all of the fritters. Serve with a dollop of sour cream or yogurt.
*Heads-up: This recipe was done in collaboration with Bravo for their show, Around the World in 80 Plates. Reimbursement for ingredients was given.