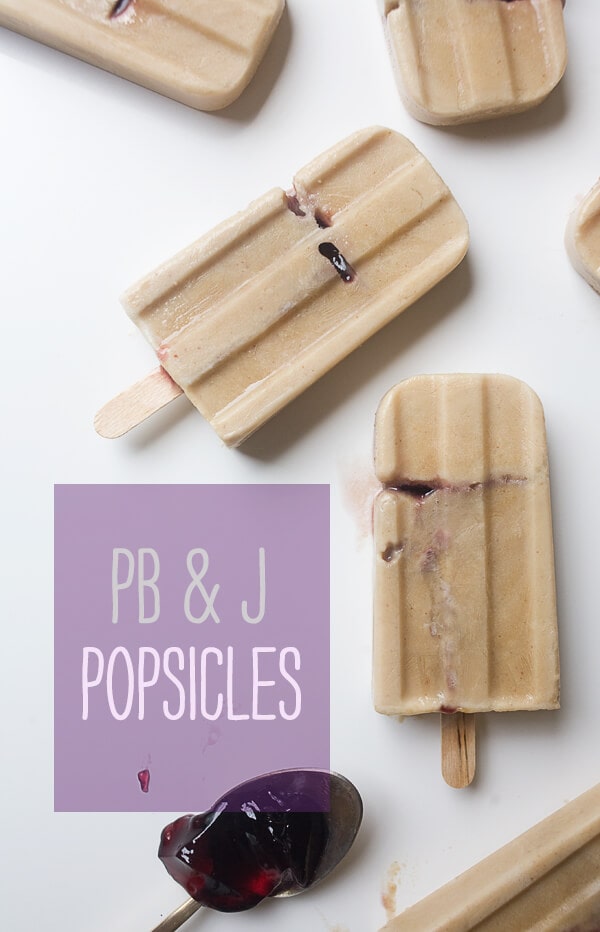 This week is popsicle week on internets, if you haven't noticed. My friend and fellow lover of reality TV/gifs, Billy, is hosting popsicle week for the second year in a row (last year I made these Cherry Lambic pops, which are still a big favorite of mine). To see a big list of all the participants and delicious popsicles check out his blog, Wit & Vinegar.
This year I teamed up with Almond Breeze to bring you your favorite childhood sandwich in popsicle form. That may sound weird but I can't sing the praises of frozen peanut butter milk enough. The almond milk mixed with sweetened and salty peanut butter is like heaven. I could drink it by the glass, and I plan on doing so in the future, but I think my favorite version of it is in frozen form.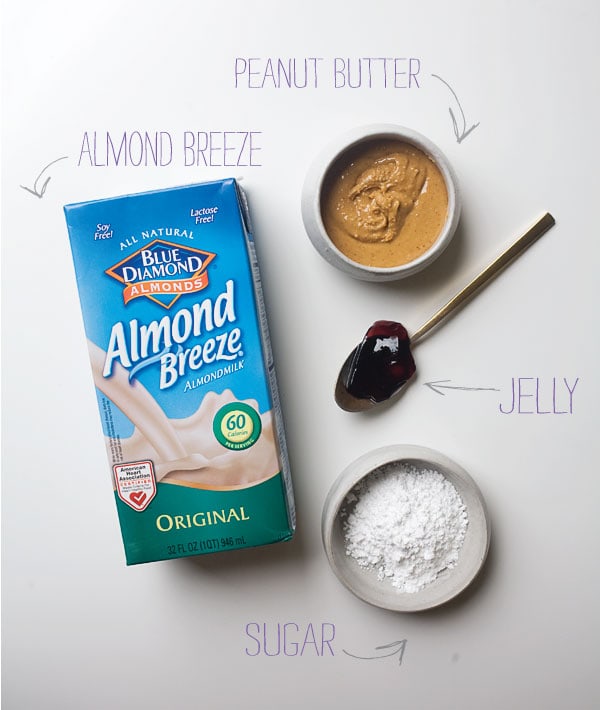 The concord grape jelly needs to be added sparingly, almost like how I prefer my PB&J sandwiches. I always make my PB&Js with a slight smear of jelly and a TON of peanut butter. Sloppy PB&Js were not my thing.
The almond milk marries so well with the creamy natural peanut butter. And both of them freeze really well.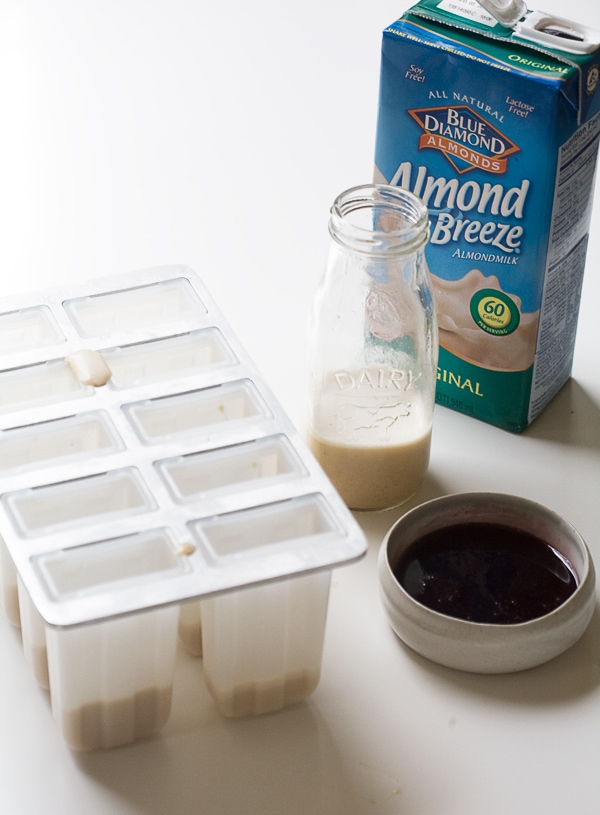 The jelly is dotted into the mixture in layers, with a bit of freezing time in between. This makes sure that the jelly doesn't just sink to the bottom. And just a heads up that jelly doesn't freeze so that's why it's added in teeny drops here and there.
Oh and I finally graduated to pro-looking popsicles with these popsicle molds.
Happy Popsicle-ing. In other news, I just wanted to thank you all for your super sweet comments on my book announcement. I'd be lying if I said that some of them didn't make me tear up. I was driving to the grocery store to gather ingredients to recipe testing and I got all sappy. It just happens. But mostly it's because I'm really grateful. Thank you again and happy weekend!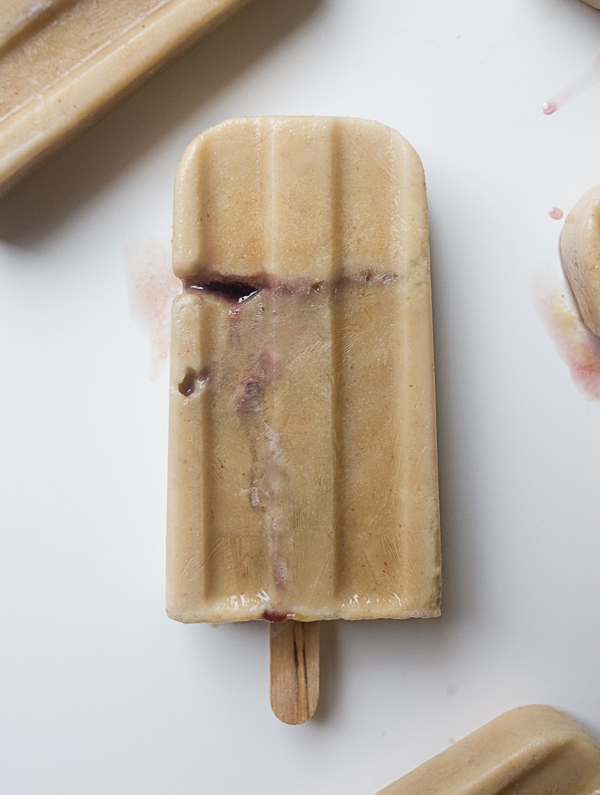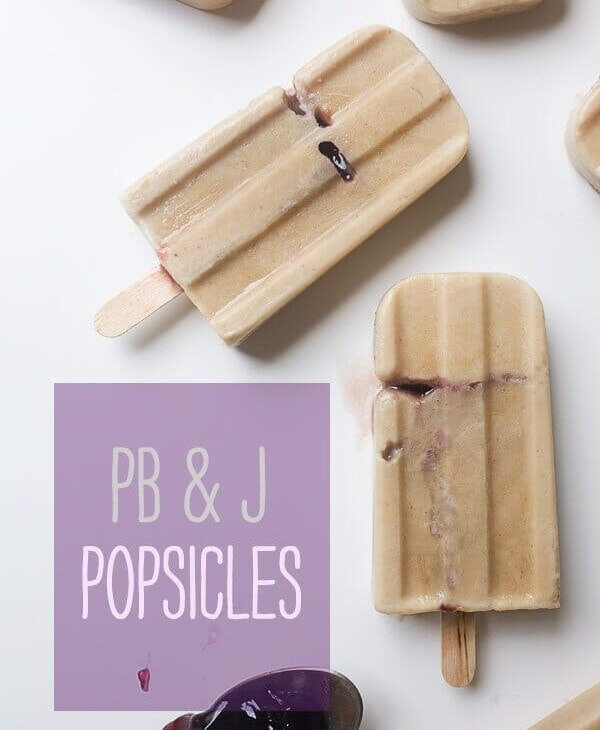 Print Recipe
PB&J Popsicles
Ingredients
1/2

cup

natural creamy peanut butter

no chunky peanut butter, stirred

3

tablespoon

powdered sugar

3

tablespoons

Concord grape jelly
Instructions
In a blender, add the creamy peanut butter, powdered sugar (if the sugar it clumpy, don't be afraid to sift it into the blender) and

almond milk

. Pulse until pureed, about 30 seconds. Fill each of the popsicle molds 1/4 of the way. Transfer to the freezer for 1 hour.

At the 1-hour mark, scoop the jelly into a small saucepan and set it over medium-low heat and whisk it with a fork until it's very smooth and no longer clumpy and jelly-like. Remove the molds from the freezer and add about half of a teaspoon to each mold. Top with about another inch of peanut almond milk mixture and insert popsicle sticks into each mold. Return to the freezer to freeze for an additional hour. At the 2-hour mark, repeat this same process: adding a 1/2 teaspoon of jelly and then topping it off with the remaining peanut almond milk mixture. Freeze for at least 4 hours, ideally overnight. To un-mold the popsicles, run the molds under warm water and gently tug until the popsicles release.
(This post is sponsored by Almond Breeze. Thank you for supporting the sponsors that keep A Cozy Kitchen cozy.)