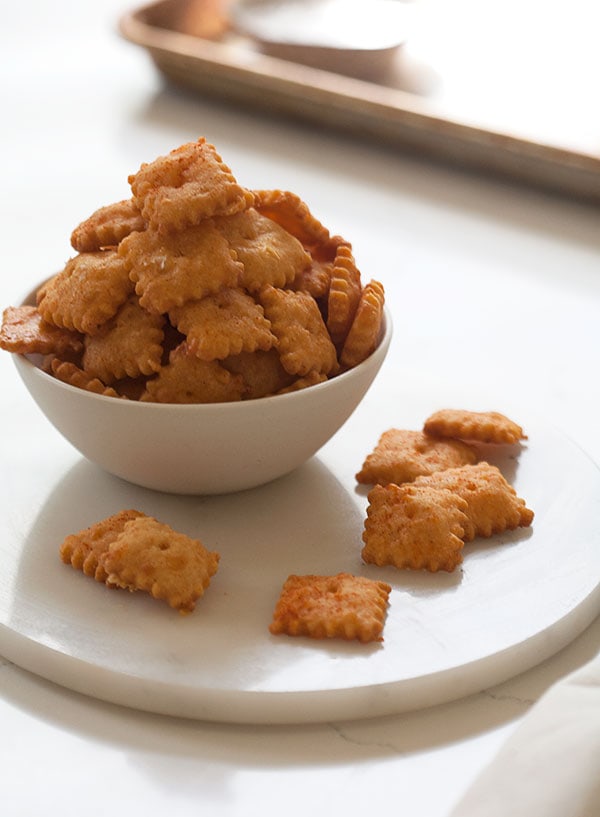 For the past few weeks, everyone has begun gushing about the commencement of fall, and all I could think about was ice cream, cold drinks and basically dunking my entire head into a vat of iced water. We just finished up a pretty intense heatwave and pumpkin spice was the furthest thing from my mind.
Now that the weather has stopped being an a-hole I feel like I can honestly entertain the idea of soup and squash and stuff. And plus, now I'm actually beginning to see gourds that have leprosy and cute baby white pumpkins (always a favorite). I'm excited!
The fall-inspired recipes will start soon, I promise, but I'm thinking this year I might ease into it rather than start with a big pumpkin boom!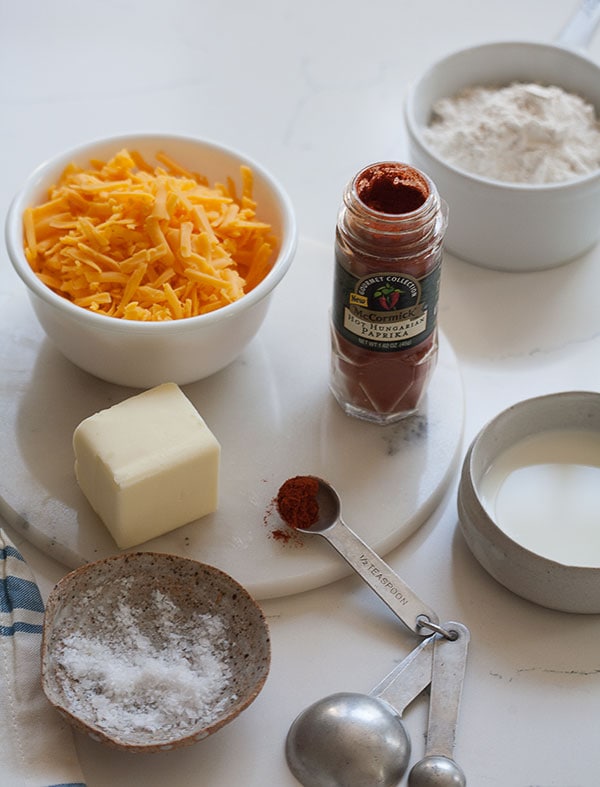 These cheez-its are an example of me scootin' into the season. There's nothing fall about them, they're just some crackers for snackin'! Just some schnacks.
When I first started cooking and baking, crackers were the thing I loved to make the most. I'd make them after work and bring them in the next day and people's minds were blown, "You made crackers?!" My co-workers thought I was genius, but what they didn't realize was that crackers might be the easiest thing to make EVRRRRR.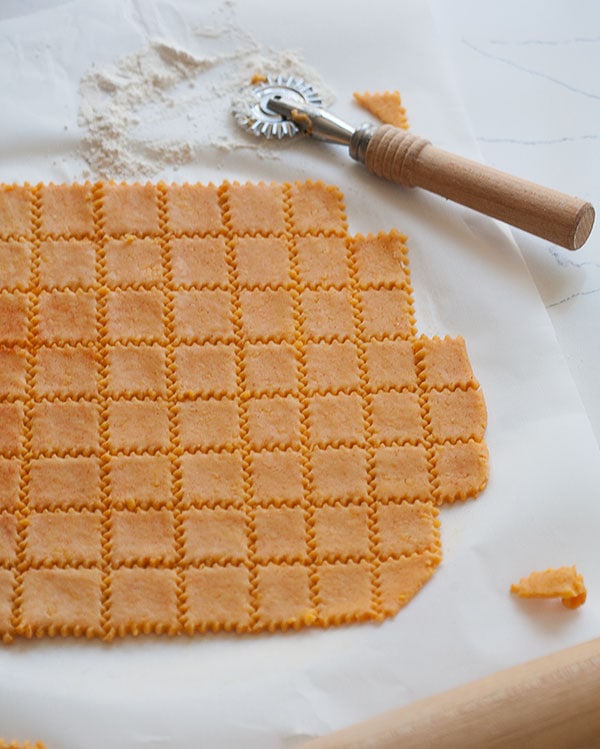 For this recipe I teamed up with McCormick Gourmet. These crackers call for a bit of hot Hungarian sweet paprika and a dash of cayenne pepper. The cheddar and paprika are made for each other. It's a union that in my brain makes sense but should be exploited more.
These are like fancy adult cheez-its. If you have chillren, then I say bring down the paprika and get rid of the cayenne all together.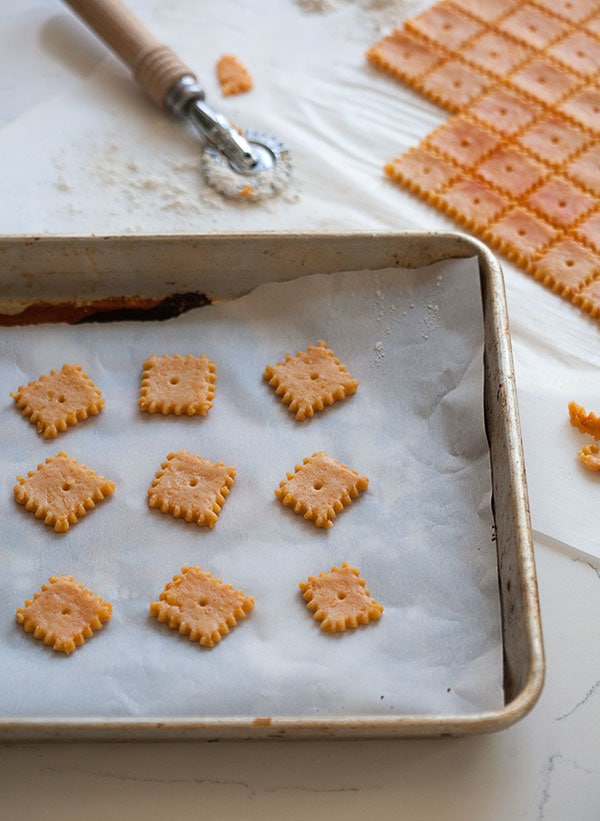 Amelia had two cheez-its and it turned her into more of a psycho than she already is and all afternoon she had her sights set on the baking sheet below. Now I'm thinking doggie "cheez-its" need to be explored, which I have a feeling none of you would mind at all.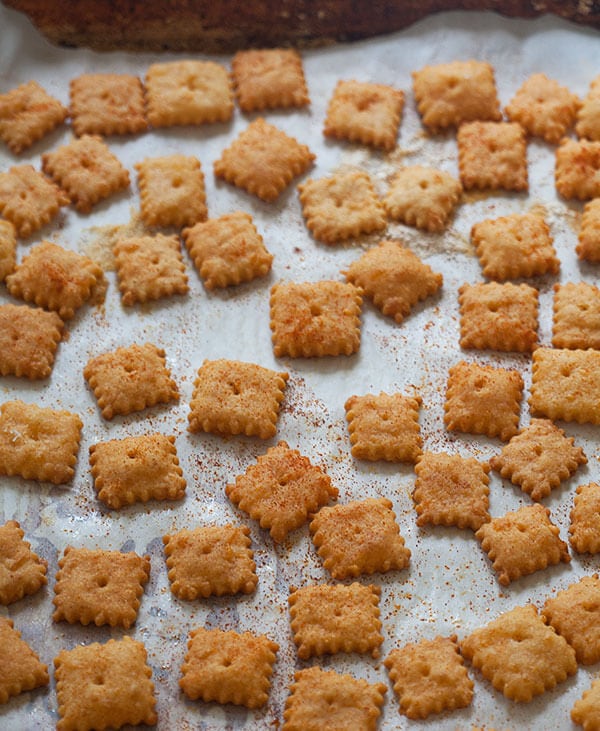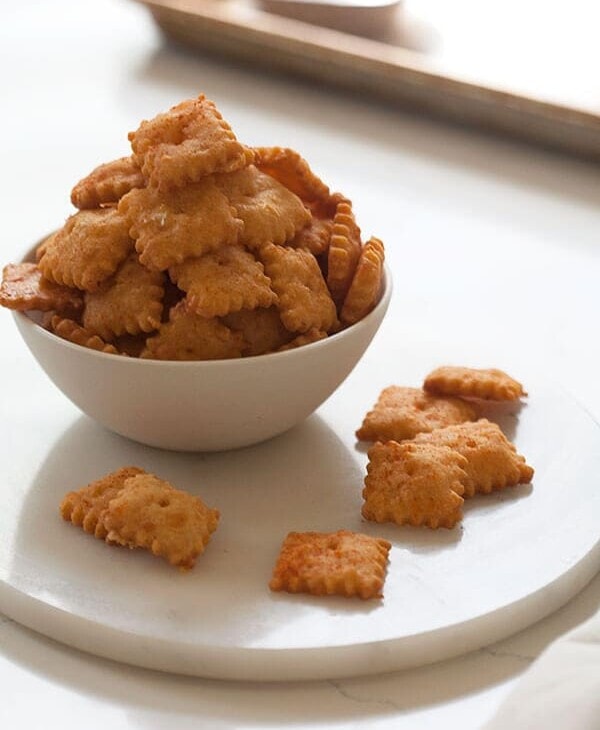 Print Recipe
Paprika Cheddar Cheez-Its
Ingredients
1 1/2

cups

about 5 ounces grated medium-sharp Cheddar cheese

4

tablespoons

2 ounces unsalted butter, room temperature

3/4

cup

all-purpose flour

plus more for dusting

1/4

teaspoon

salt

plus more for the topping

1 1/2

teaspoon

McCormick Hot Hungarian Paprika

divided

Pinch

of McCormick Ground Red Cayenne

1

tablespoon

whole milk
Instructions
Preheat oven to 350°F. Line a baking sheet with a silicon mat or sheet of parchment. To the jar of a food processor, add the grated cheese, butter, flour, salt, paprika and cayenne. Pulse until the mixture is combined. Add the milk and pulse for about 30 seconds, until the dough forms a ball.

On a lightly floured piece of parchment, using a floured rolling pin, roll the dough to 1/8-inch thickness. Using a pasta cutter or a pizza cutter, cut 1 by 1-inch squares. Using the end of a digital thermometer or blunt side of a skewer, make holes in the center of each cheez-it.

Transfer the crackers to the parchment-lined baking sheet. I found using a sharp paring knife very helpful in this transfer. Place in the oven to bake for 12 to 15 minutes, or until the ends are barely browned. While the crackers are baking, melt 1 tablespoon of butter in a small saucepan, transfer to a small ramekin. In a teeny bowl, mix together the remaining 1/2 teaspoon of paprika, pinch of cayenne pepper and a few pinches of salt. Remove from the cheez-its from the oven and immediately brush the crackers with a teeny bit of melted butter and then top with a light sprinkling of paprika/cayenne/salt mixture. Allow to cool on the baking sheet.
{This post is sponsored by McCormick Gourmet. Thank you for supporting the sponsors that keep A Cozy Kitchen cozy!}