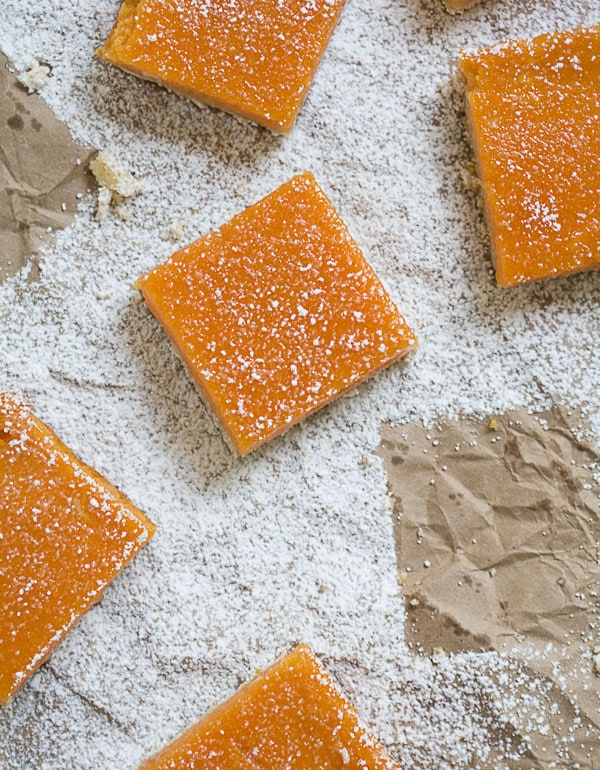 There's this grocery store I only half like and it rhymes with Schrader Joe's. I love their flowers, variety of cheeses and cheap bottles of booze, but man do they make me mad sometimes. I went in there bright and early a few days ago and was pleasantly surprised to find that they were carrying green papayas. I happily bought one, attempted to make this salad, only to be stalled when I cut into the dang "green papaya" to learn that it was in fact a red papaya. So, there I was "stuck" with this beautiful papaya that had no home, no future. I adopted it and remembered that I had been wanting to make lemon bars without the lemon part.
I have issues with lemon desserts. I've divulged this info before, I think. Every so often I love it but lemon bars are usually not my thing. They usually just result in me making a less than pleasing face. Pucker central, USA.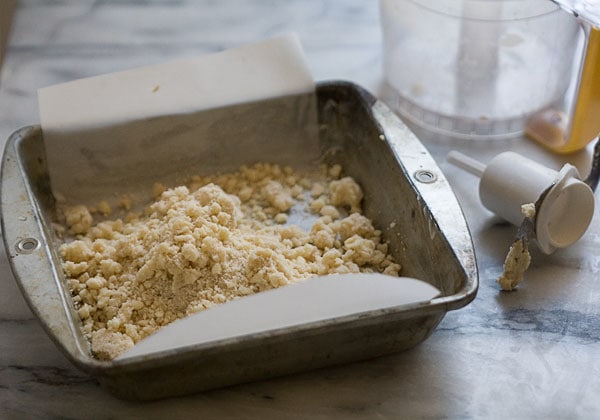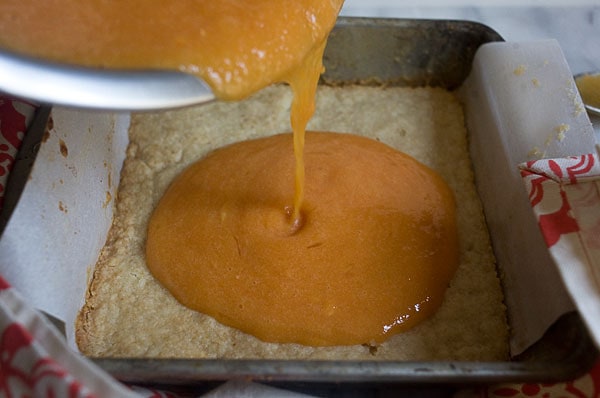 I've actually been seeing lots of papaya in smoothies and I want to do this! I'm thinking a thick papaya, banana, coconut situation sounds uh-mazing. Or even a papaya lassi with cardamom and a dash of nutmeg.
Their color, flavor and texture is all a win. I paired this papaya with a few tablespoons of wildflower honey, which I picked up on the side of the road in Ojai a few weeks ago–it made for a killer combo.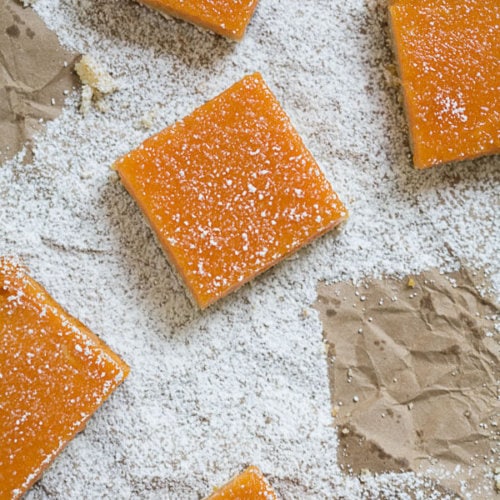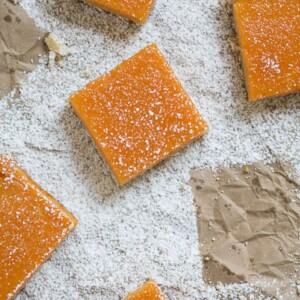 Ingredients
Crust:
3/4

cup

all-purpose flour

1/4

teaspoon

salt

2

tablespoons

light or dark brown sugar

1/4

cup

very cold unsalted butter

,

diced
Filling:
1/2

cup

white granulated sugar

1 1/2

tablespoons

all-purpose flour

1/4

teaspoon

salt

*3/4 cup red papaya puree

,

from a red papaya that weighed: 1.5 pounds

2

large eggs

2

teaspoons

lemon juice

2

tablespoons

good-flavored honey

,

I used wildflower
Equipment: 8 x 8 baking dish
Directions
Preheat the oven to 350 degrees F. Prepare the baking dish by buttering it, placing a piece of parchment on the bottom of the dish and then flouring it. Set aside.

To the jar of a food processor, add the flour, salt and dark brown sugar. Pulse until combined. Add the cubes of butter and then pulse once more until the mixture resembles a coarse meal with a few larger chunks throughout. Transfer the butter and flour mixture to the prepared baking dish and press firmly so the layer is even. Place in the oven to bake for about 15 minutes, and until the edges are set.

Meanwhile, let's make the filling! To medium bowl, add the sugar, flour and salt, and mix. Whisk in the papaya puree, eggs, lemon juice and honey. The filling should appear glossy and smooth.

Pour the filling over the hot crust and transfer back to the oven for a remaining 20-25 minutes. You'll know the papaya bars are done when the filling appears set. Cool in the pan on a cooling rack until it reaches room temperature.

Run a sharp knife along the sides and gently lift the parchment
*To make papaya puree, peel and deseed the papaya. Cut the papaya into chunks and add to the jar of a food processor. Pulse until the papaya is completely smooth.