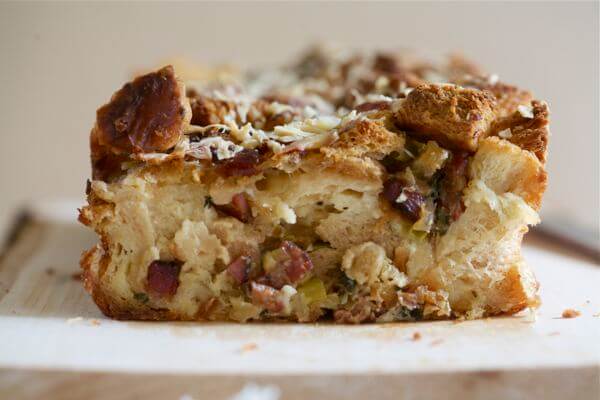 Challah!
(Sorry. Had to.)
I'm VERY stoked about this savory bread pudding. I'll admit, it ain't the prettiest thang on the block, but it's delicious. Like, dang delicious; think crispy on the outside and soft and moist hydrated on the inside. There's salty, sweet and butteriness going on, too.
This savory bread pudding situation has officially replaced normal stuffing in my brain. Like, why would I ever go back? I can't. I won't!
If you've never had stuffing made with eggs before, you are missing out, my friends. This bread pudding combines rich, buttery challah bread with a custard mixture of sorts: eggs, heavy cream, milk and the perfect amount of nutmeg.
Also, can we all just talk about how pancetta is the cinnamon roll of the meat world? I mean...look at that swirl. I see a cinnamon roll in my pancetta. RIGHT?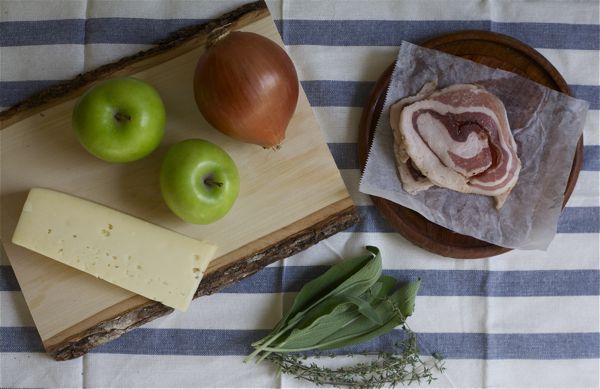 The preparation is pretty straight-forward. You cut up a bunch of stuff and then you sauté it. ("Cut up a bunch of stuff" is a technical term, by the way.)
My favorite part is in the beginning of the sauté, when the onions sauté with the leeks...and then butter is added and normal, sprightly, green leeks transform into soft, buttery and salty leeks.
I'm currently obsessed with buttered leeks. I think it's the butter part. And the crunchy part.
And maybe the smell. I wish I could bottle up the smell and make an extract and then mix it with wax and make a candle.
Buttered Leek Candle.
I bet I could sell it for $3 (and give you all one for free, of course).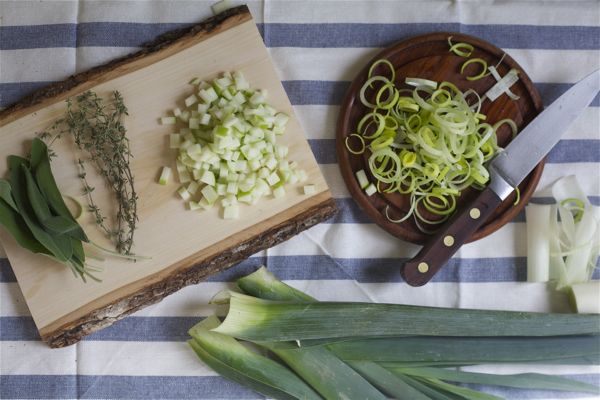 You know how Thanksgiving is like this schedule? You have to cook everything under the sun with only one oven, all under 6 hours?
It's stressful, nail-biting and a lot fun!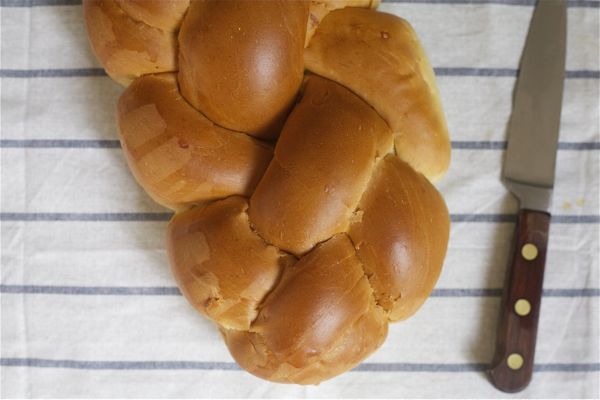 I recommend you stick this in the oven first thing in the morning, or even bake it the night before. Let it set so it comes out as one dang loaf (I made this once and it fell apart). And then slice it up and heat it up in that window of time when the turkey is resting and people are setting the table.
It'll work out just perfectly.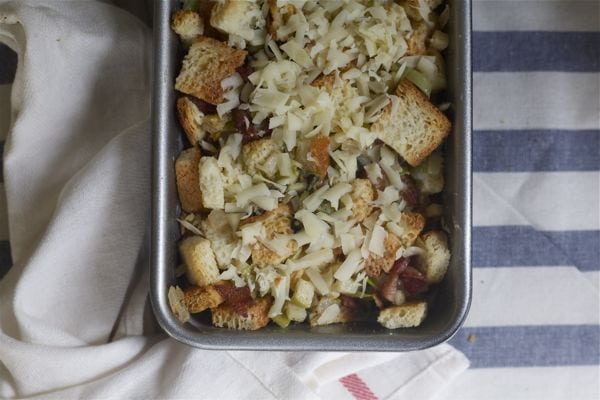 Pancetta, Leek and Apple Challah Bread Pudding

Print this recipe!
¼ lb of pancetta
½ yellow onion, diced
1 cup leeks in ½-inch thick slices, white and light green parts only, cleaned and rinsed
2 tablespoons (1 ounce) unsalted butter
Fine-grain sea salt
1 Granny Smith apple, diced
1 tablespoon finely chopped fresh sage
½ teaspoons fresh thyme leaves
Freshly ground black pepper
6 ¼ cups 1-inch-cubed challah (brioche or Pullman will work too)
1 large egg
1 large egg yolk
1 ½ cups whole milk
1 ½ cups heavy cream
Freshly grated nutmeg
½ cup shredded Gruyére
1. Preheat the oven to 300F. Butter and flour a 9x5-inch loaf pan and set aside.
2. Place a large sauté pan over medium-high heat and add the pancetta, cooking it until crispy, about 5 minutes, being sure to stir it around every so often. Using a spoon, transfer it to a small bed of paper towels. Turn the heat down to medium-low, and add the onions and leeks. Cook them until they're translucent about 5 minutes. Next add the butter, a liberal pinch of salt and the diced apple; stir and cook for an additional 5 minutes, until the apples are tender and the leeks and onions are completely translucent. Add the sage and thyme and cook until fragrant, about 1-2 minutes. Next, add the pancetta back to the pan and mix. Season vegetable mixture with any additional salt or pepper, if needed.
3. Meanwhile, place the challah bread cubes, in one layer, on a baking sheet and transfer it to the oven so the bread cubes can toast. Bake the bread cubes for about 10-12 minutes, until they're lightly golden brown. Remove them from the oven and transfer them to the large sauté pan with the vegetable mixture. Toss the mixture together until combined. (Note: if your sauté pan isn't big enough, you can toss the two together in a large bowl.)
4. In a medium bowl, whisk the egg and egg yolk together, then add the milk and cream, a teaspoon of salt, ¼ teaspoon of pepper and a pinch of freshly grated nutmeg. Whisk until totally combined.
5. Spread ½ of bread mixture in loaf pan, and sprinkle with 2 tablespoons cheese. Spread remaining bread mixture in the loaf pan, and sprinkle with another 2 tablespoons of cheese. Pour in enough milk mixture to cover bread, and gently press on bread so milk soaks in. Let it rest for 15 minutes. Add the remaining milk mixture, letting some bread cubes protrude. Sprinkle with salt. Bake until pudding is set and top is brown and bubbling, about 55 to 65 minutes. If you serve it right away, there's a good chance it won't keep its shape, which isn't the end of the world since it's delicious. If you want slices of bread pudding, allow it to cool in the pan for 1 hour. Reheat, if you like, or serve it cold.
Recipe adapted from Smitten Kitchen who adapted it from Thomas Keller