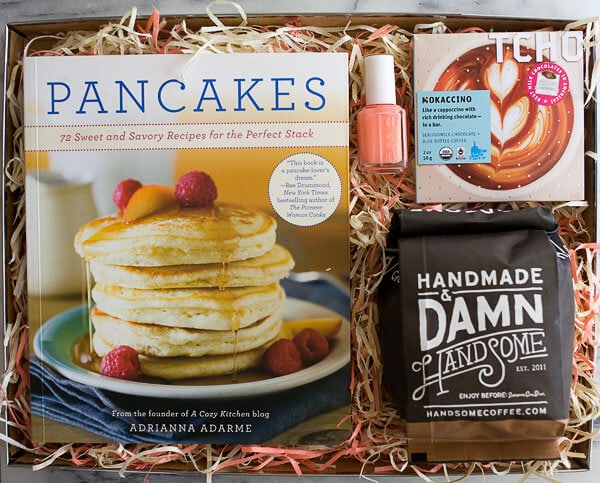 Holy moly, today is the day, you guys. When I signed on the dotted line, "Spring 2013" felt like a million years away, but it's finally here. I'm so crazy excited, nervous and grateful. For those that pre-ordered this book, THANK YOU! You have no idea how much your support means to me.
Today in celebration of the craziest, most exciting day ever (for me, anyway), I have a lil' giveaway of a few of my favorite things. I'll be giving away five (!!!) boxes filled with the following:
1. PANCAKES, the book. Duh.
2. A bag of Handsome Coffee. Handsome is hands down (do you see what I did there?) my favorite coffee eva. They were nice enough to give me some bags for this giveaway, so shout-out to Handsome for being awesome.
3. Tcho Chocolate. Again, some of my favorite chocolate ever.
4. Essie in Tart Deco. It's summer and this color is my absolute favorite. P.S. If you're a dude and win, I'll swap this out for something more appropriate. If you're a dude and you wear nail polish, then I'll include it. We all win!
Pancakes for life, Handsome for energy, Tcho for fun and some Essie for looking cute. If I included a corgi in the box, it'd like I'm giving away my life sustenance.
The details:
Leave a comment below telling me when the first dish you ever made as a kid. If you read the introduction in the book, you'll learn that mine were pancakes.
The giveaway will end on Friday at noon, PST; winners chosen at random. This giveaway is open to everyone, US residents and around the globe.

Thank you for being here! I appreciate you all so much!
xo
Adrianna
———————————–
This giveaway is currently closed. The following are the winners: Jack, McKenzi, Paloma, Hailey and Anne Marie. All winners will be contacted by moi via email. Thanks so much for entering. I loved reading every all of your cooking stories! xoxo