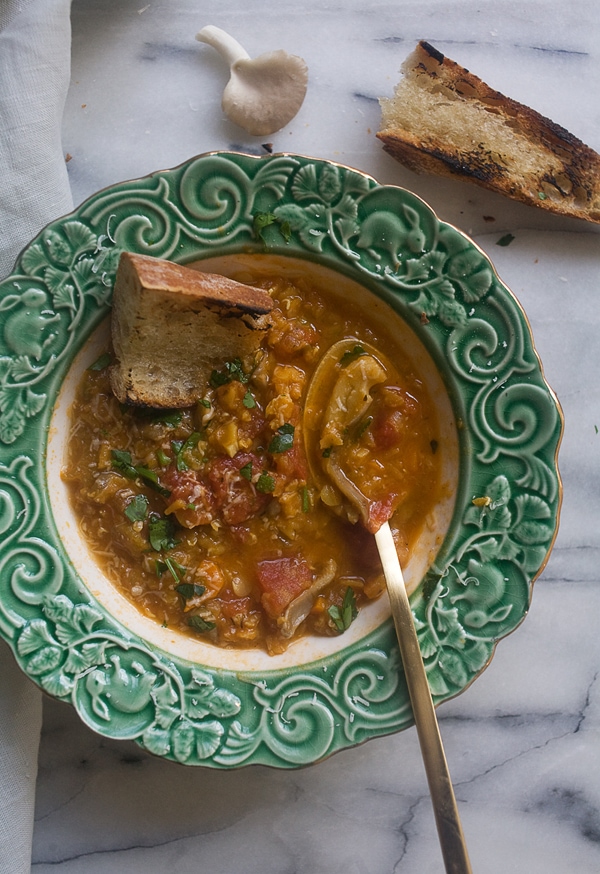 I despise talking about the weather, but excuse me while I talk about the weather. This past weekend it was a cool, brisk and a very perfect temperature of 65 during the day and in the 50s at night. This is the kind of spring weather that inspires one to wear shorts with a sweater. It'll inspire you to make a big batch of soup and eat it outside with a blanket draped over your shoulders. It's dreamy weather, really.
Los Angeles is currently experiencing some freakish heatwave at this very second and if only I could go back to the dreamy blanket-over-shoulder-while-eating-soup-weather. I'm not going to complain about Los Angeles weather because that'd be silly. Instead, I'm going to wait for it to pass, so I can revisit his soup which is oh so perfect.
This is another recipe I did for the Mushroom Channel. I used oysters in these and a good amount of them. I paired them with pretty red lentils and added some spices like ground coriander and cumin. Lentils and mushrooms are a winning combo. For the recipe and more, hop on over to The Mushroom Channel's Blog!