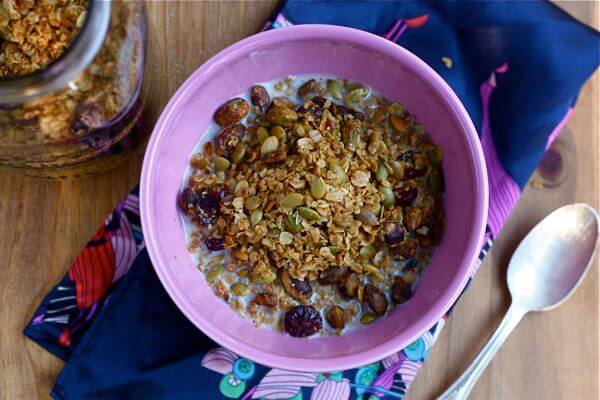 For the past couple of weeks, I've been partying hardcore with butter and cheese and more cheese. You've been here to witness all of them, and some of you lunatics even participated. Thank you for that.
But sometimes my body needs a butter and cheese break. I didn't make any crazy plans or goals or get on any weird diet…I just woke up on Monday morning and didn't want a ham and cheese croissant with my coffee. CRAZY!
Instead, I walked into my kitchen, looked in the cupboards and took out all of the ingredients for exactly what my body was calling for: Olive Oil Granola.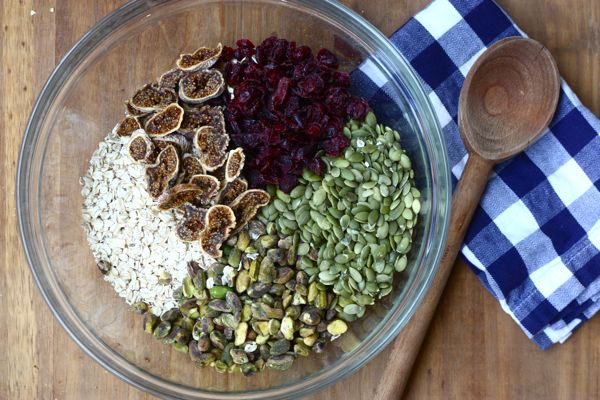 I've actually had quite a bit of Olive Oil Granola in my day, since the coffee shop I frequent serves it. I get it on the regs. Olive oil is kind of my jam.
At one point, I had an olive oil face wash, body lotion, and body scrub. Getting ready in the morning made me want chicken and salmon. It was weird. I've since switched to different stuff…
Nonetheless, olive oil is awesome in all sorts of unexpected foods, granola included.
If you've never made homemade granola, it truly is the way to go. You can control the sugar, which is major for me, since I think most store-bought granola is WAY too sweet.
Also, I like that I can control the fruit and nut situation. Control your fruit and nut situation, will you? It's important.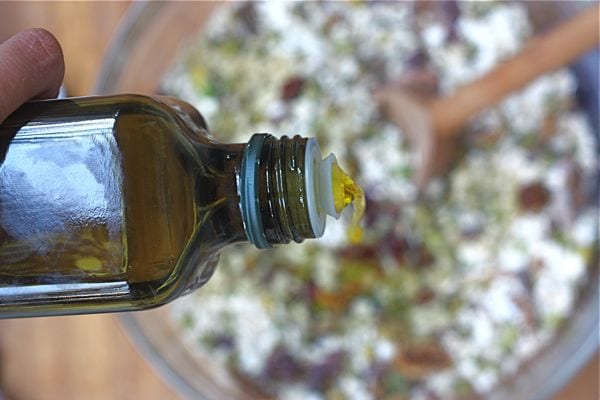 For this one, I chose some pumpkin seeds (it's Fall…almost!), pistachios, dried figs and dried cranberries. I sweetened it with some agave and brown sugar. Oh and make sure you use a good quality olive oil. You want the flavor to come out!
Hey, you see that picture with the bowl. That's so so wrong. I kinda messed up. I've made granola a ton of times, but for some reason my brain was like put the fruit in too–it'll look pretty!
You want to add the fruit AFTER the granola toasts in the oven or else the fruit will become ultra dried out.
But guess what? Miraculously, the dried fruit didn't become any drier than it already was. So it was all good!!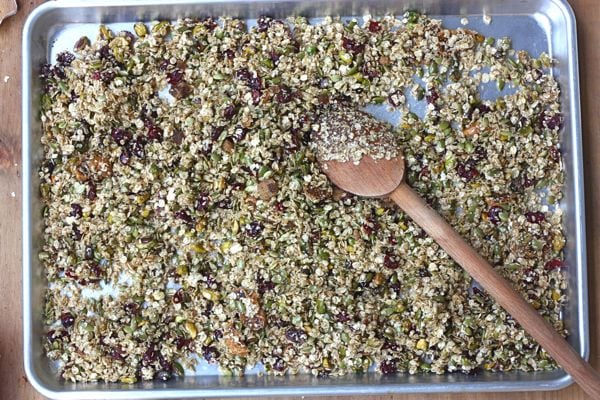 I'm digging the little healthy tip I've been on!
The past few days have been filled with workouts, foods like sunflower enchiladas, black bean burgers, vegan BLTS (coconut "bacon"!!!) and tons of this olive oil granola.
I ate mine with some cold almond milk…I bet some greek yogurt would be amaze.
Don't worry, though I'll be back on butter soon enough. I could never give it up completely. #ilovebutterdotcom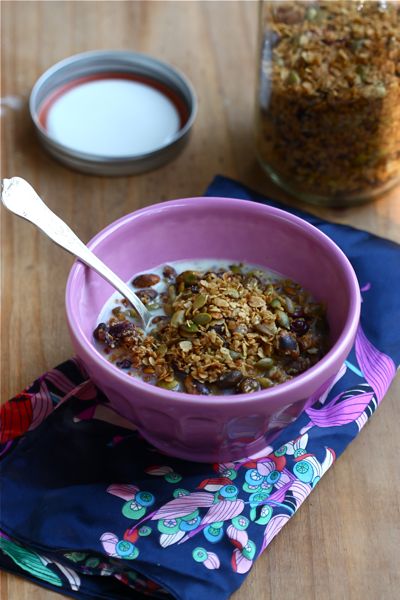 Olive Oil Granola
Recipe adapted from the NY Times
3 cups rolled oats
1 cup pumpkin seeds
1 cup pistachios
1/2 cup brown sugar
1 teaspoon salt
1/2 teaspoon cinnamon
1/4 teaspoon cardamon
3/4 cup extra virgin olive oil
1/4 cup agave
1 cup dried figs, chopped
1 cup dried cranberries
Preheat oven to 300 degrees. In a large bowl, combine oats, pumpkin seeds, pistachios, brown sugar, salt, cinnamon, cardamon, olive oil and agave. Spread mixture on a rimmed baking sheet in an even layer and bake for 35 minutes, stirring every 10 minutes or so, until golden brown and well toasted.
Transfer granola to a large bowl and add figs and cranberries, tossing to combine.