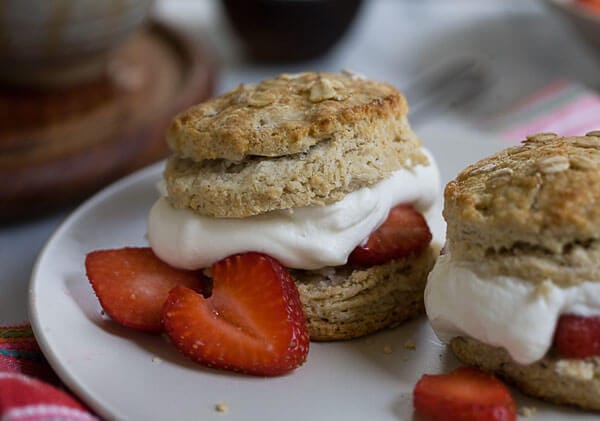 When I was a kid my mama would buy a big flat of strawberries for like $4 from the local strawberry stand. My brother and I'd sit on the porch with a can of Redi-Whip and eat strawberries and whipped cream until our fingers turned red. It was the only time my mother would buy whipped cream and I was a child obsessed. The can would appear in our fridge on a Friday and by Saturday it was loooong gone.
When it was way past my bedtime, I was known to sneak into the kitchen and steal mouthfuls of whipped cream. My attempts were never stealth-like, mainly because that dang compressed air made SO much noise. She'd usually hear it from the other room and always yell, asking what I'm up to.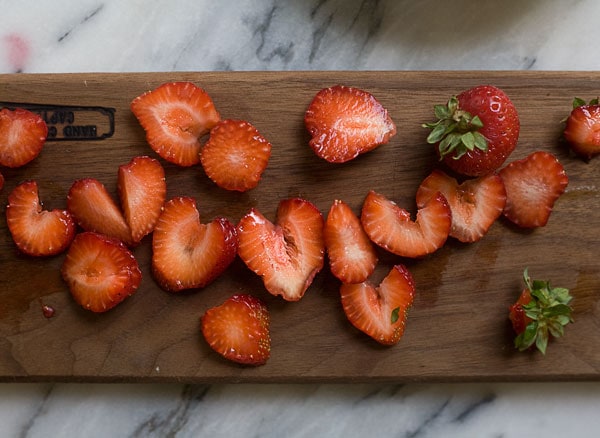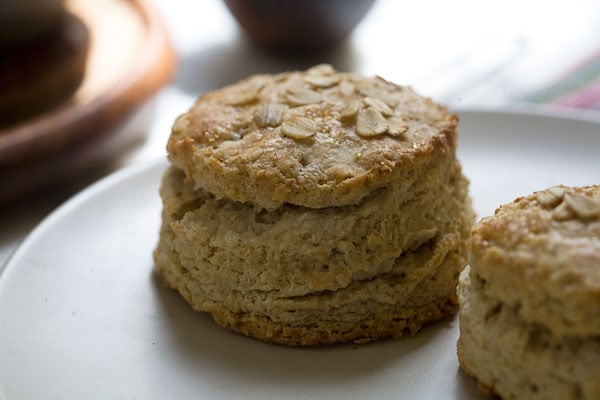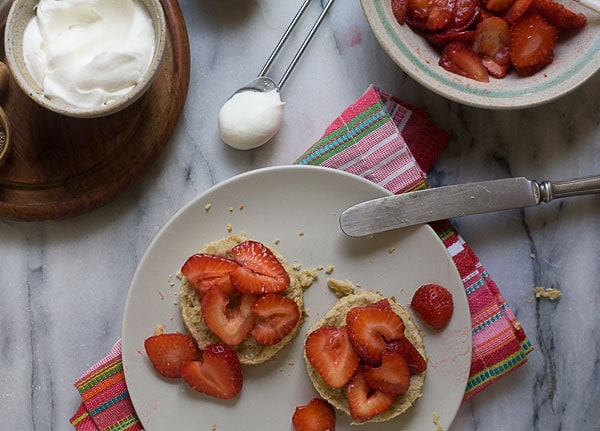 I know strawberries have been in season for a while now but I feel like just now are they getting incredible. This little basket cost me $3 and smelled up my entire living room–so fragrant and delicious. This initially was going to be Oats and Roasted Strawberry Short Cake but honestly, when fruit is this amazing, there's no need to roast it. I feel like roasting strawberries is appropriate in March or April – when the fruit is barely there. Now it's good enough to eat in its natural, so very awesome state.
The biscuits are nutty, earthy while still being really fluffy and buttery. I loved them. If you're not in the mood to buy or make oat flour, feel free to use this biscuit recipe–it never fails me.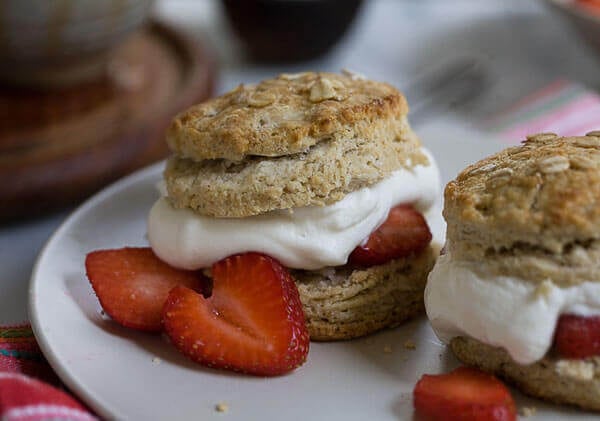 Print Recipe
Oat Brown Sugar Strawberry Shortcake
Serving Size:
- 8 biscuits
Ingredients
Dry:
1 1/2

cups

all-purpose flour - done

*1 cup oat flour - done

3

tablespoons

brown sugar - done

1

tablespoon

baking powder - done

1/2

teaspoon

baking soda - done

3/4

teaspoon

sea salt - done

1/4

teaspoon

ground cinnamon done

1 1/2

sticks butter cold
Wet:
1/2

cup

buttermilk

1

large egg
Topping:
1

large egg

Splash of buttermilk

Turbinado Sugar

Handful of old fashioned oats
Instructions
Preheat oven to 400 degrees F. Line a baking sheet with parchment paper and set aside.

In a large bowl, mix together the dry ingredients: all-purpose flour, oat flour, baking powder, baking soda, salt and cinnamon. Using a box grater, grate the butter into the flour mixture. Transfer the bowl to the freezer while you gather the wet ingredients, about 5-7 minutes.

Measure out the buttermilk and add the egg; whisk until combined. In a small bowl, make the egg wash, whisking together the egg and milk. Transfer both to the refrigerator.

Grab the bowl out of the freezer, and gently break up the butter and combine with the flour, using your hands, until it resembles small peas. Add the buttermilk mixture all at once to the flour mixture. Mix until barely combined; and lightly knead the dough. until it forms one solid mass. Sprinkle your kitchen counter with flour and dump the dough onto it. Press the dough into a 3/4-inch thickness. Cut out the biscuits using a 2 1/2-inch biscuit cutter, ending up with about 6 biscuits. You can recombine the scraps and get 2 more biscuits. Transfer them to the baking sheet.

If you think you've been moving a little slow (like I was because I was..ahem..taking pictures), stick the baking sheet in the freezer for 5 minutes. This will get the bits of butter nice and cold again. After the biscuits are cold, brush the tops of with egg wash, top with a sprinkling of turbinado sugar and a small handful of oats. Bake in oven or 10 to 15 minutes, until tall and medium golden brown.
*To make your own oat flour, add 1 1/4 cups old fashioned oats to a food processor. Pulse until the oats turn into a fine powder. Measure out one cup and proceed with the recipe.