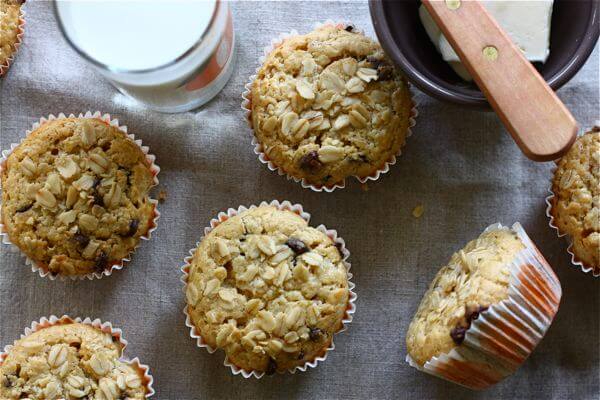 Look at that muffin on its side! I dunno know why I did that. Cute? Weird? Who cares...it's just a muffin being a rebel.
Orange and chocolate really have their moment during the month of December. Such a classic little holiday pairing. Like sequins, tights and red bows. So very Christmas. Well, we're a few months past glittery lights and the mere thought of Christmas gives me a headache, but I'm still digging this marriage.
I played around with some scones of the same ilk back in the day and can't really get the match out of my head. I figured I needed to implement this duo into a new breakfast food: muffins.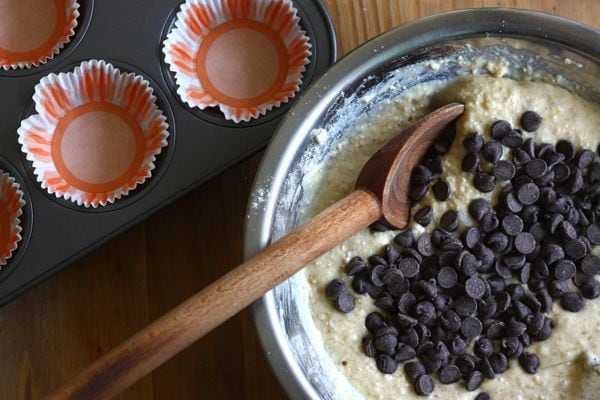 These muffins get put together pretty quickly. No fussiness. And I must say that this recipe is pretty flawless. It's a slight adaptation from blueberry muffin recipe by Martha Stewart.
I made some tweaks here and there, mainly adding in some oat flour to give it a nice, healthy texture. There's some dark brown sugar to give it a deeper color. And of course the orange zest and chocolate chips. I also topped each muffin with a sprinkling of rolled oats. I love oats in everything, yet despise instant oatmeal. Remember?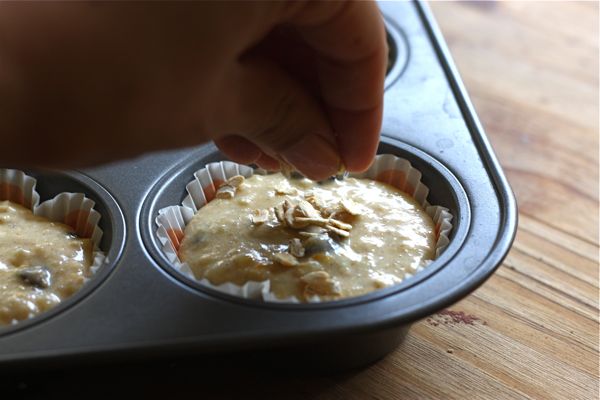 Oat Orange and Chocolate Chip Muffins
6 tablespoons unsalted butter, room temperature, plus more for tins
2 ¾ cups, plus 2 tablespoons all-purpose flour
¼ cup oat flour (*See note below on how to make it)
3 teaspoons baking powder
1 teaspoon salt
1 cups white granulated sugar
¼ cup dark brown sugar
1 large egg
2 large egg yolks
1 teaspoon pure vanilla extract
1 ½ tablespoon fresh orange zest
1 cup milk
½ cup semi-sweet chocolate chips
Handful of rolled oats
1. Preheat the oven to 375 degrees. Butter large (3 ¾ inches) or small (2 ¾ inches) muffin tins, and set aside. Or alternatively, line with muffin liners and spray lightly with PAM.
2. In a large bowl, mix together all-purpose flour, oat flour, baking powder, and salt; set aside.
3. In the bowl of an electric mixer fitted with the paddle attachment, cream butter and sugar on medium speed until fluffy, about 3 minutes. Add egg, egg yolks, vanilla extract and orange zest; mix until well combined. Reduce speed to low; alternate adding reserved flour mixture and milk to mixer, beginning and ending with flour. Remove bowl from mixer; gently fold in chocolate chips by hand. Divide batter among muffin tins; sprinkle the tops with rolled oats. Bake until light golden, about 45 minutes for large muffins, about 30 minutes for small muffins. Cool in pan 15 minutes. Remove from pan; transfer to wire rack, and let cool completely.
*Note for oat flour: Many grocery stores stock oat flour. To make your own, simply add rolled oats to a food processor and pulse until mixture is finely ground, about 30-40 seconds.
Recipe adapted from Martha Stewart