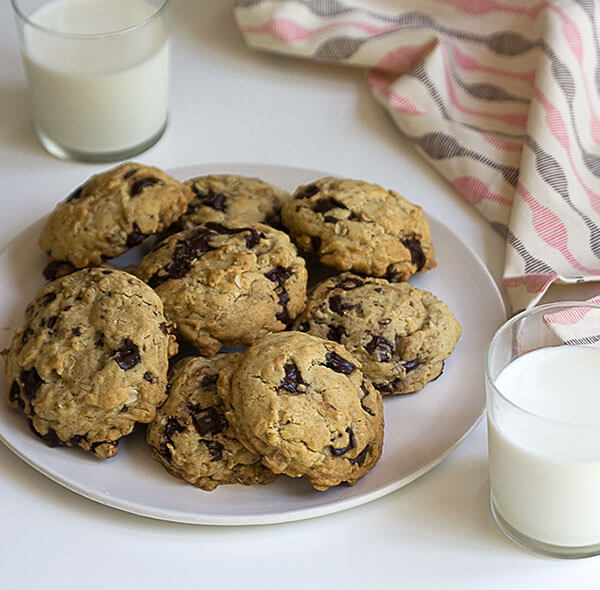 Who was your favorite Sesame Street character? Go on…I'll wait.
I feel like this says a lot about you. Bert & Ernie fan? You probably appreciate good friendship. You like a Bonnie to your Clyde.
Oscar the Grouch your favorite? You're probably a half glass empty kind of person and you like it that way. That's ok, you're safe here. I actually love negative people.
Big bird? You're probably an annoyingly positive person. I'm more like Big Bird, I guess. I annoy myself daily.
My favorite was Cookie Monster. I'm not kidding. I actually have my old Cookie Monster stuffed animal, that's stained and gross, which I have had since birth sitting in my current closet. I could never throw it away, though it should probably go to the dry-cleaners.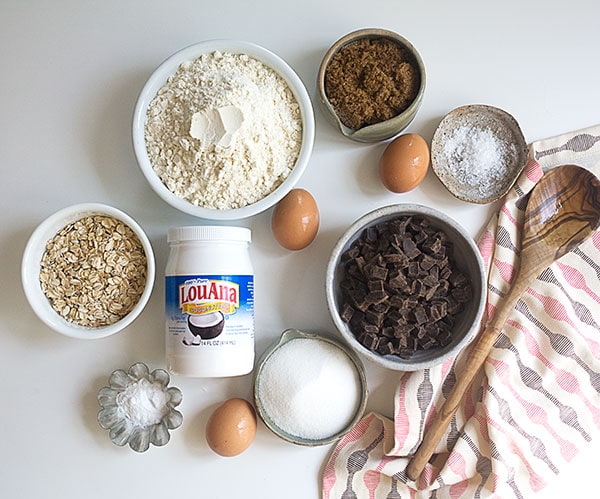 It should be no surprise that I loooove cookies. Love. One of my favorite chocolate chip cookie recipes I've ever created has no butter in it. That is a very, very bold statement, but it's absolutely true. I'm very enthusiastic about these cookies!
A few months ago I had the pleasure to create and write a bunch of recipes for LouAna Coconut Oil. While I would definitely say I was a coconut oil fan before taking on this job, I was an even bigger fan after.
But let's get back to these cookies because they're important. The recipe begins like most cookie recipe start: by creaming together the fat (in this case coconut oil) with brown sugar and white sugar. I added a bit of rolled oats because I love the texture they add to cookies. And dark chocolate chunks make these cookies feel lil' more grown-up.
I can honestly say that these don't taste like you're making the right choice, but you are.
Just promise me you will eat them with a side of milk. Whether it's cow's milk, almond or some other hippie milk I haven't heard of, then that's fine too.
For this chocolate chip cookie recipe and more, hop on over to here.