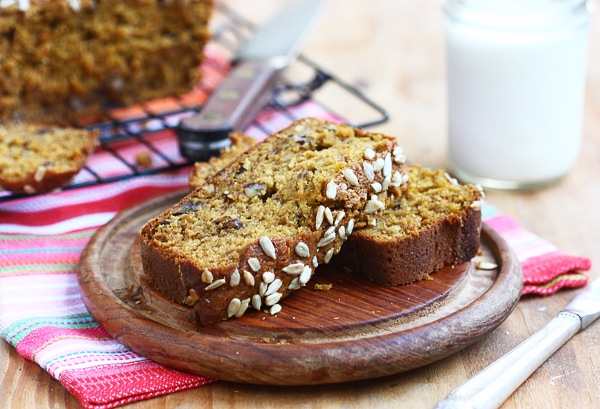 Umm...that picture up there is me totally jumping the gun on Fall.
But I need you to understand something. It's serious. Are you ready? Okay, this is the thing: this entire blog has been built on the love for "cozy" food. Soooo....Fall is a huge deal for me. HUUUUGE. Think of it like the olympics of food blogging, for me. MA-JOR. Major.
It's totally the most charming season.
There's pea coats, trips to the apple orchard, pumpkin spice lattes, warm ciders, scarves, fluffy biscuits and cuddling. LET'S ALL CUDDLE!!!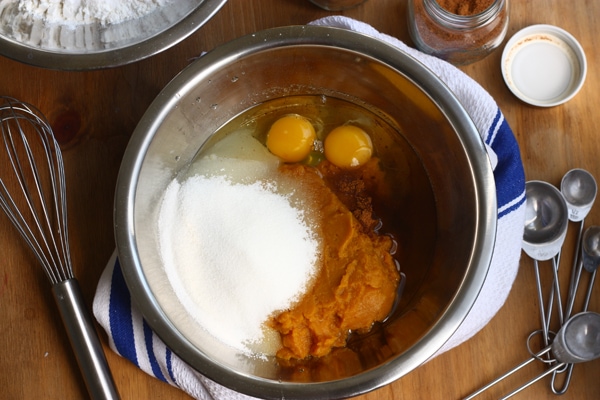 Wait, let's NOT do that together. That'd be kinda gross. Just cuddle in your respective homes with your dude or lady, and keep it classy. That's cuter.
Like all proper quick-breads, this one is super easy to throw together.
It's prepped and ready to enter the oven in 15 minutes.
There's pure pumpkin puree, a few eggs, some sugar, and some legit pumpkin pie spice.
P.S. I don't own pumpkin pie spice since it's not multi-functional. So I just tossed in every spice which makes up that spice mix. I included the measurements below. #protips2011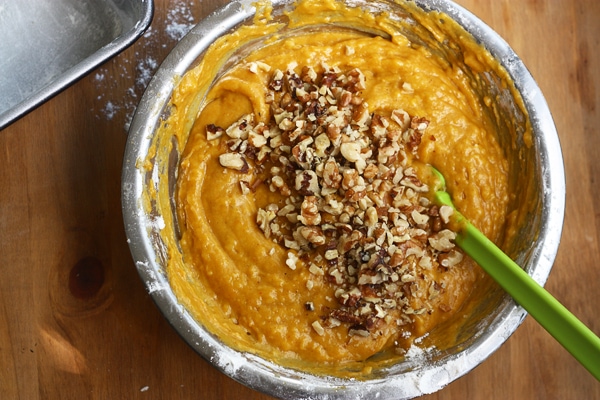 The bright orange hue is pretty, isn't it? Gosh. That just screams Fall. I could totally marry that bowl of batter.
For some texture I threw in some loosely chopped walnuts. There was some lovely crunch going on. I recommend it.
And then for some additional cuteness, I topped it with a handful of sunflower seeds and a tablespoon of sugar.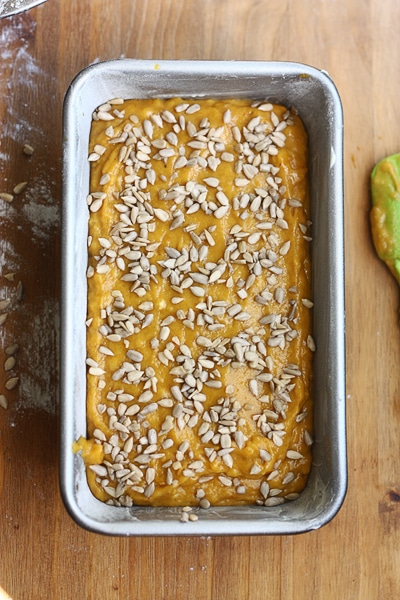 Tastes like pumpkin. Check. It's orange. Check. There's nuts. Check. And goes amazing with coffee. Check.
I kinda wanna start a blog all about coffee accompaniments. Like coffee cake, biscotti, scones, biscuits, doughnuts, etc. I think it'd be a hit. Thoughts?!
P.S. Ummm...do you like the recipe's double entendre?! NUTTY (crazy!!) SEEDY (scary!!) PUMPKIN BREAD. Get it? GET IT?!
Sometimes I think I think I'm super clever. #sorry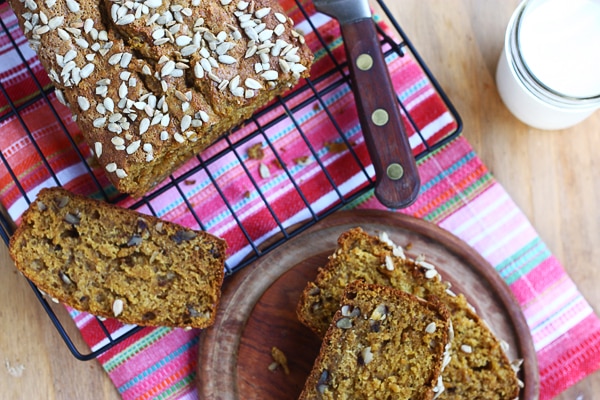 Nutty Seedy Pumpkin Bread
Yields 1 loaf
Adapted from this muffin recipe
Print this recipe!
1 ½ cups all-purpose flour
1 teaspoon baking powder
½ teaspoon baking soda
½ teaspoon salt
1 cup canned solid-pack pumpkin
⅓ cup vegetable oil
2 large eggs
*1 teaspoon pumpkin-pie spice (a combo of cinnamon, nutmeg, cloves, ginger, and allspice)
1 ¼ cups of sugar
½ of a cup of chopped walnuts
1 tablespoon of sugar (for the topping)
1 handful of sunflower seeds, unsalted
1. Preheat oven to 350F.
2. Start by lightly greasing a 9 x 5 inch loaf pan with softened butter and flour.
3. In a medium bowl whisk together flour, baking powder, baking soda and salt.
4. In another large bowl, whisk, using a stand-up mixer, pumpkin puree, oil, eggs, *pumpkin-pie spice, 1 ¼ cups of sugar until smooth.
5. Using a spatula, fold in flour mixture until just combined, making sure to not overmix the batter.
6. Fold in walnuts and sprinkle a handful of sunflower seeds on top.
7. Add the batter to the greased/floured loaf pan.
8. Transfer to oven and bake for 40-50 minutes, or until a wooden pick or skewer inserted into the center comes out clean.
9. Cool in pan on rack for 5 minutes, then invert. You can serve warm or room temperature.
*If you don't have pumpkin-pie spice you can simply add ⅛ of nutmeg, cloves, ginger and allspice. And then ¼ of a teaspoon of cinnamon.