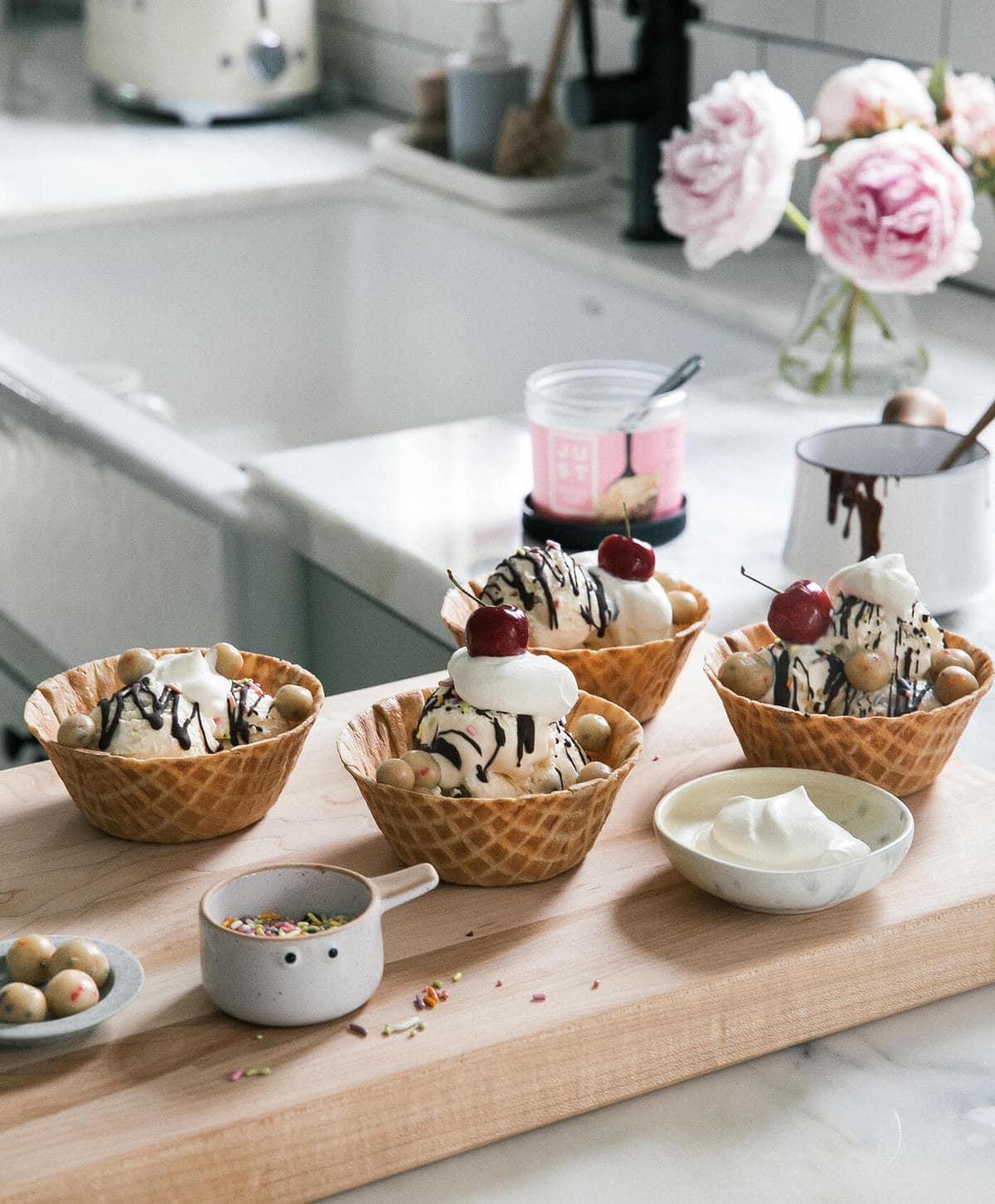 I think I can speak for all of us when I say that the best part of making cookies is trying the dough right after it's all mixed up. I do this every.single.time. And often times, have to stop myself from eating huge balls of cookie dough because, well, it can lead to a bit of a tummy ache and, um, really needs to be baked because you shouldn't eat raw eggs! But I found a solution! Actually, the solution found me.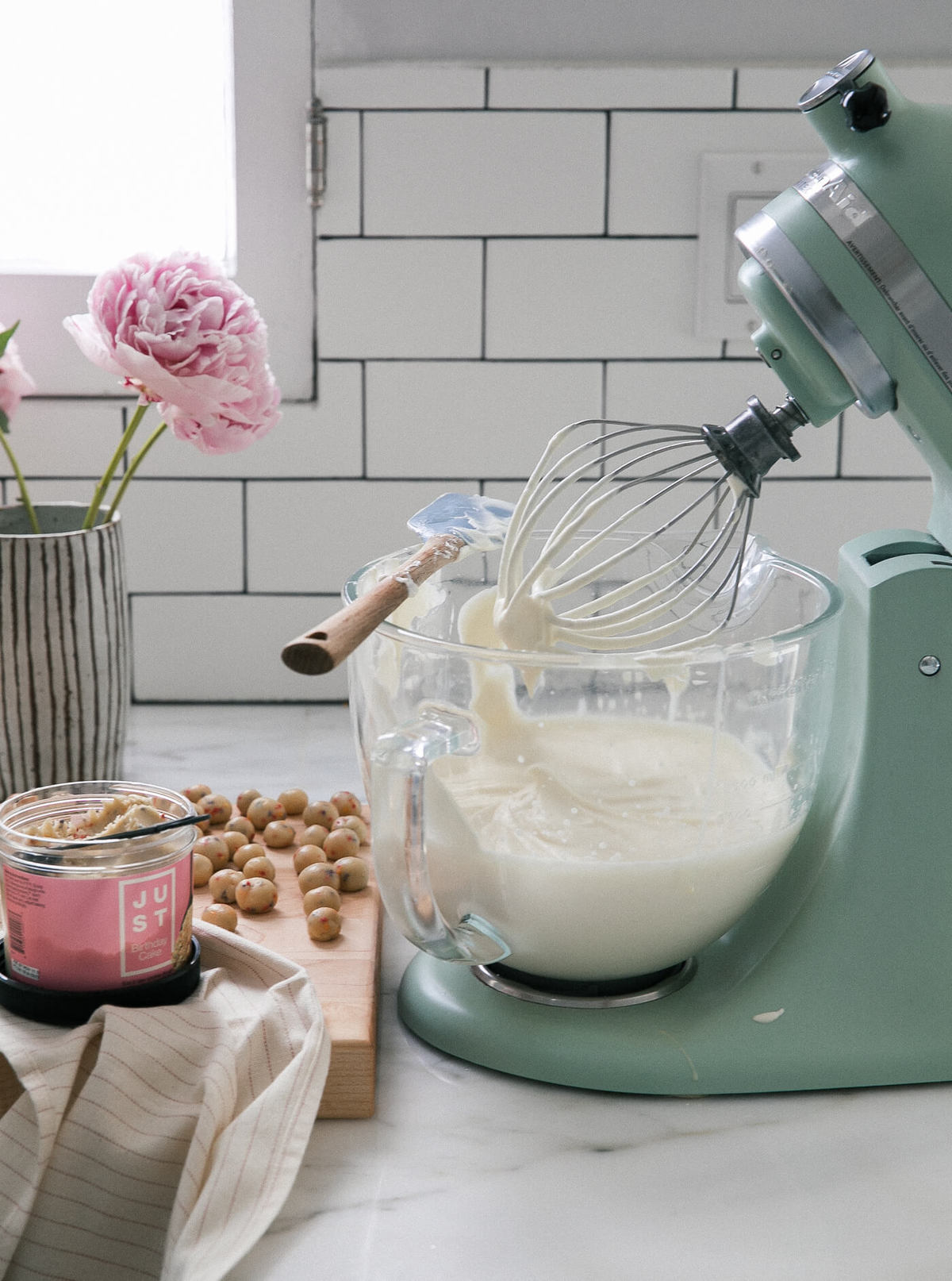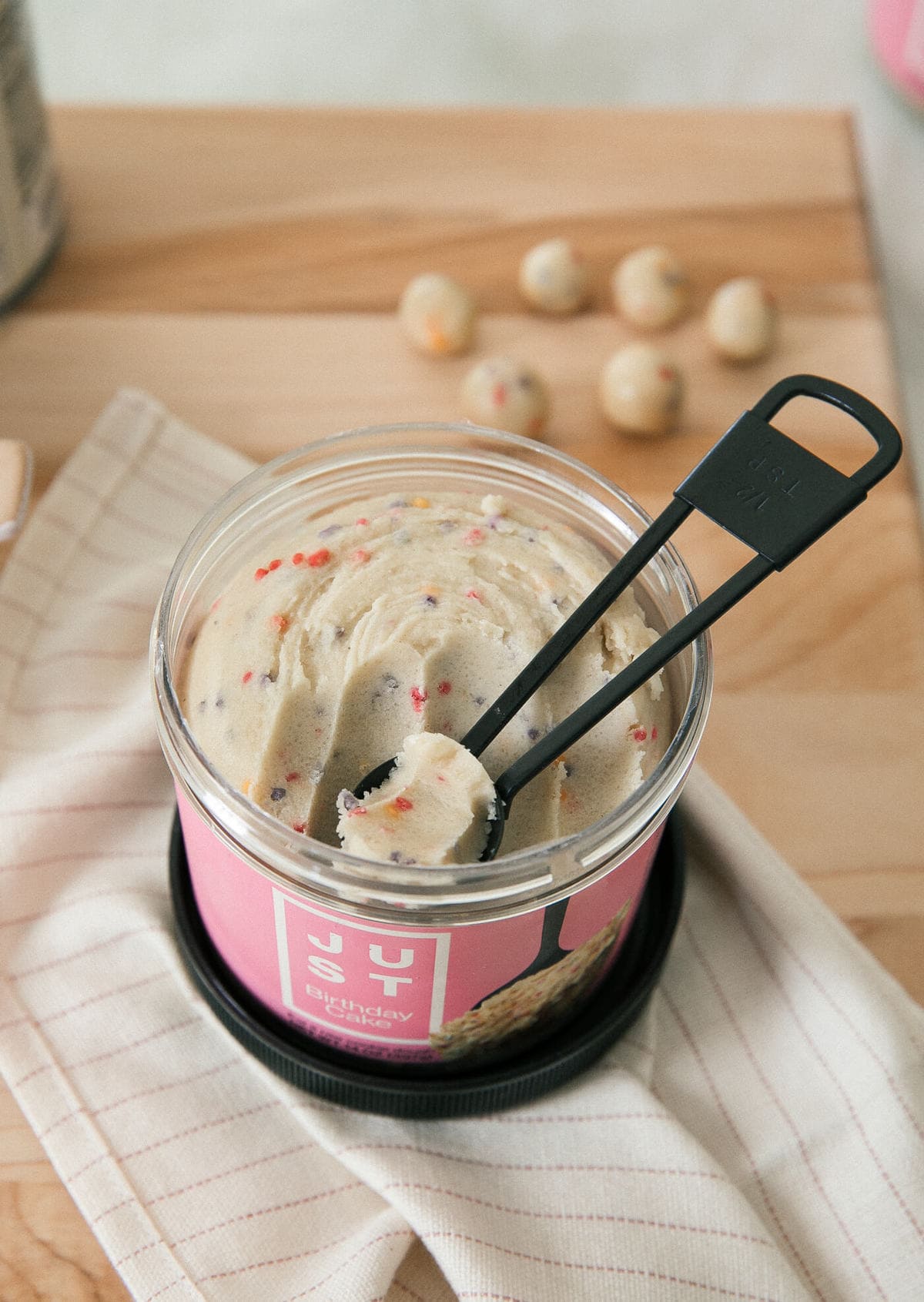 Enter: Just Cookie Dough. Crafted by a team of Michelin-starred chefs, it is egg-free, dairy-free, non-GMO cookie dough and contains no artificial flavors or high-fructose corn syrup. It's safe to eat raw or bake it up. Whatever you prefer, you can feel good about indulging in Just Cookie Dough. I also love their Just Mayo and Just Dressing.
In fact, I use their mayo a few times a week because it is SO good. If you check my "highlights" on Insta Stories, I shared my favorite tuna salad with arugula and Just Mayo is what I use.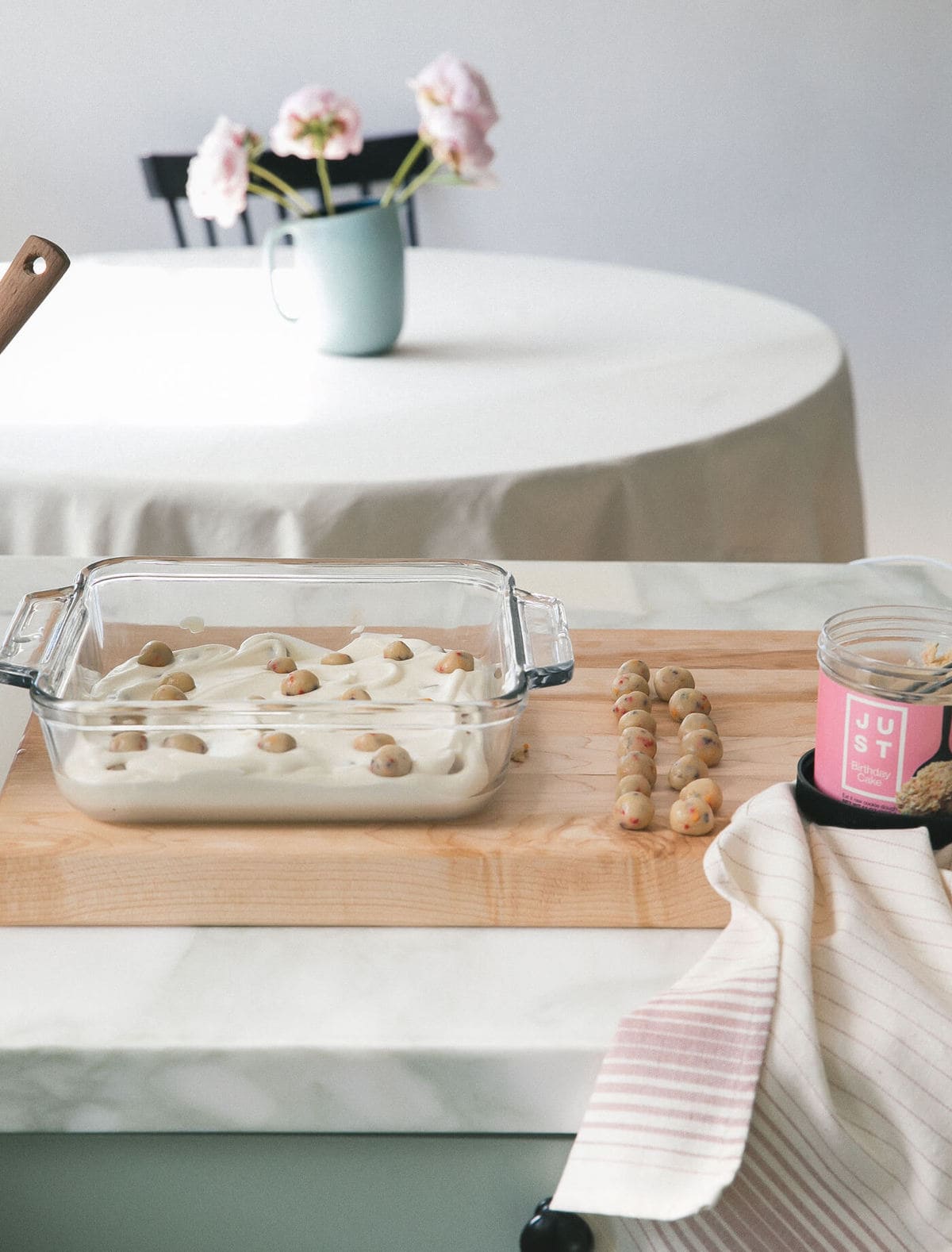 Just Cookie Dough is available in three delicious flavors – Chocolate Chip, Birthday Cake and Chocolate Mint. For this recipe I decided to use the birthday cake flavor. It's buttery, filled with the perfect amount of sprinkles and has that wonderful vanilla flavor that funfetti cakes have. I wanted to put the cookie dough in something where it would be appreciated; I figured sundaes would be perfect.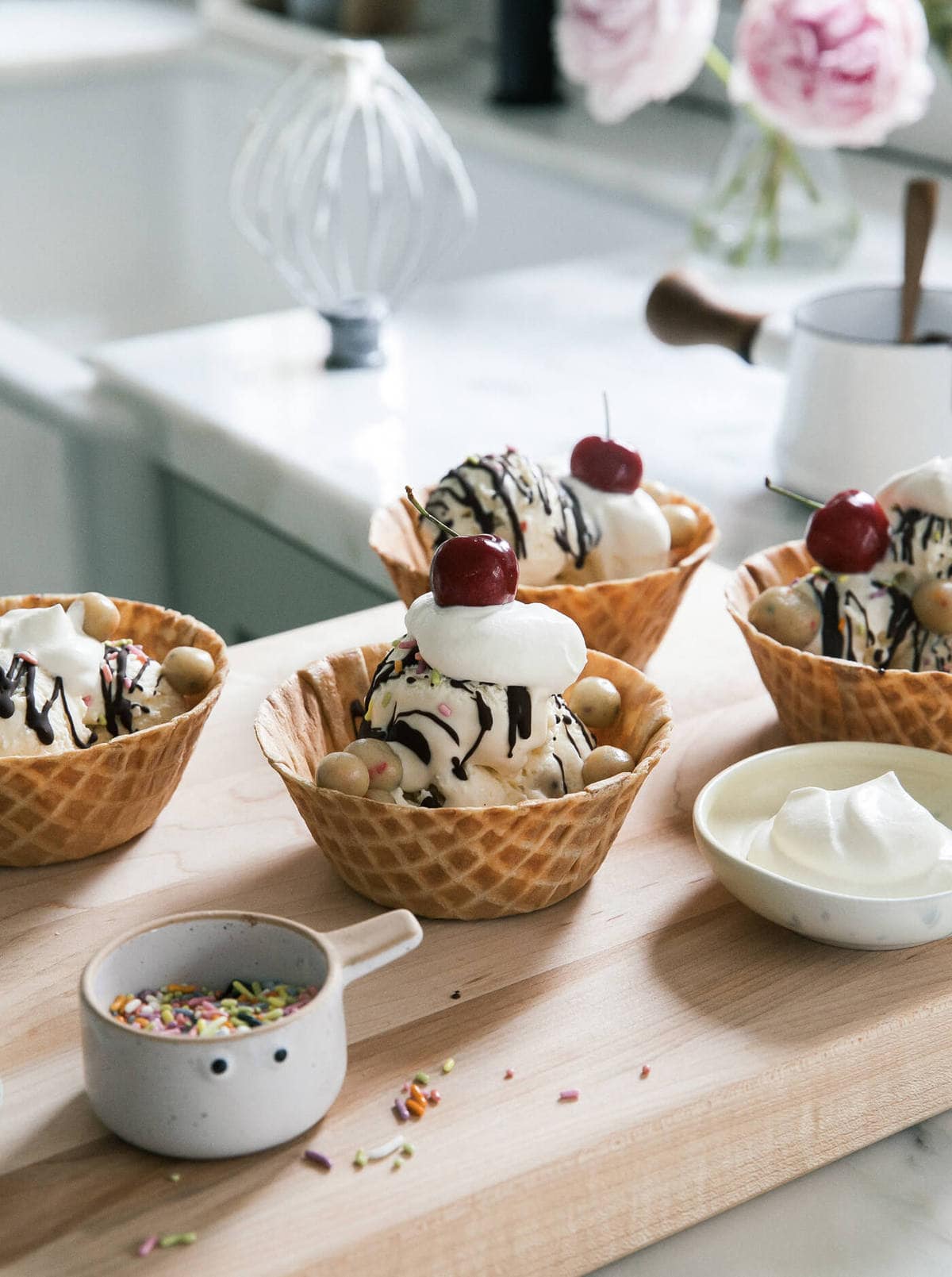 The best part about this cookie dough is that it stays nice and soft when it freezes in the ice cream. I was afraid that it would be rock hard (the way normal cookie dough is when it freezes) and it's not. Just Cookie Dough has that wonderful chewy characteristic that you won't find in other store-bought cookie doughs.
The ice cream is no-churn so it's super simple. It can be made with a stand-up mixer or a hand mixer—no special equipment needed!
Since this ice cream includes whipped cream, I encourage you to let it freeze completely overnight—it makes for the best texture.
The chocolate drizzle is a mixture of dark chocolate and coconut oil and it's so good and crunchy. It hardens the minute it hits the cold ice cream. Top it with some whipped cream, sprinkles and a cherry and it'll make any summer day that much more awesome!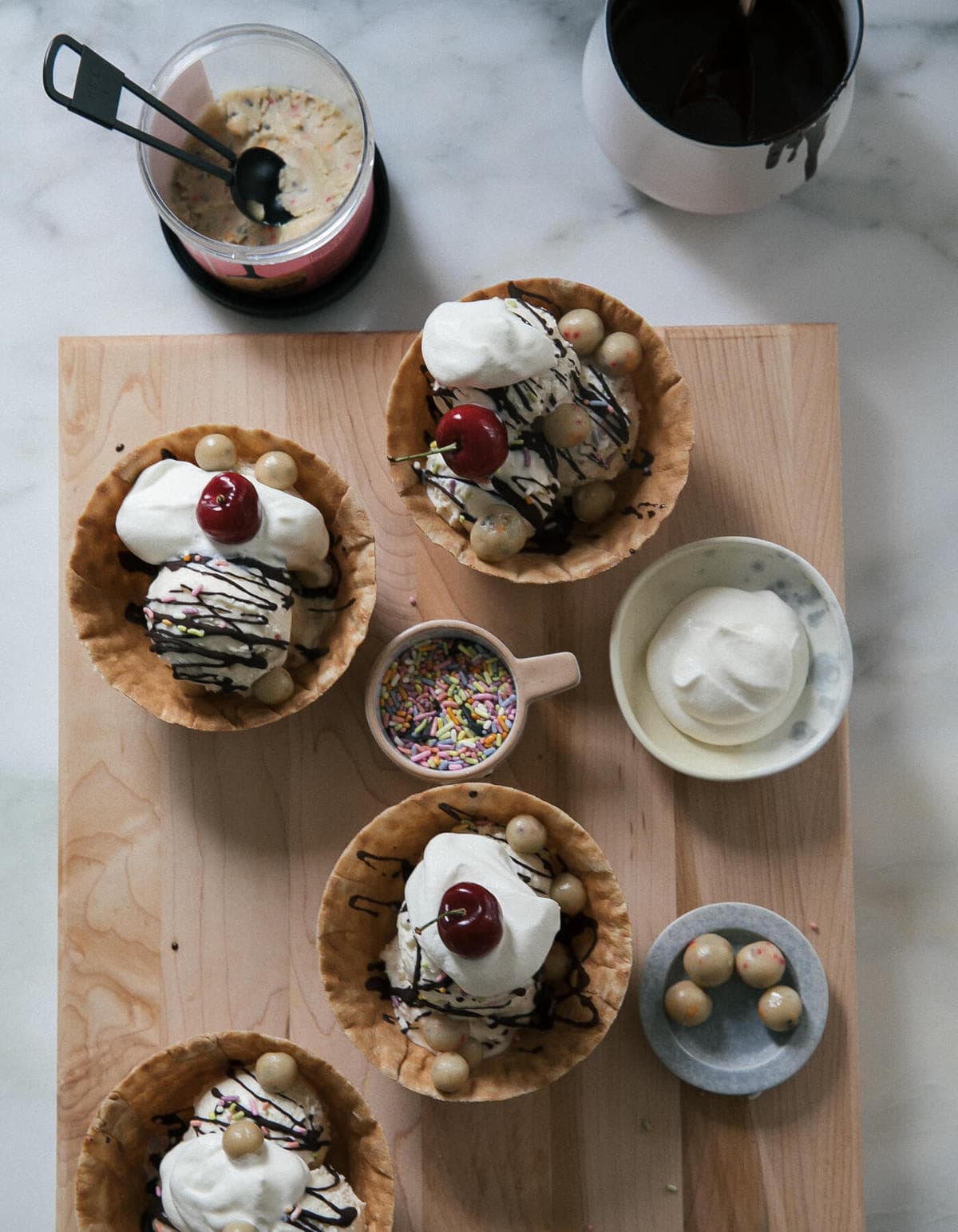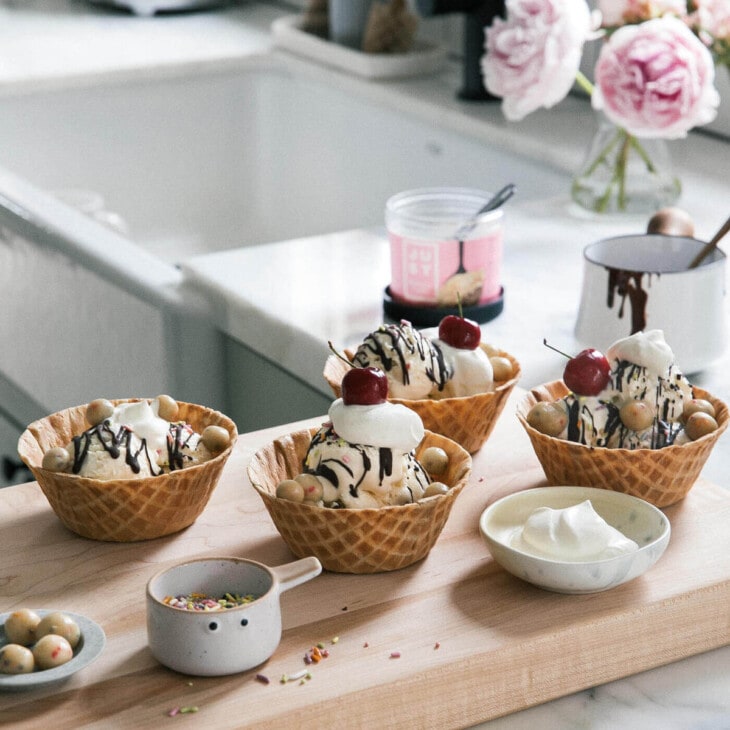 Print Recipe
No-Churn Cookie Dough Ice Cream Sundaes
Serving Size:
pint of ice cream (or about 4 sundaes)
Ingredients
Cookie Dough Ice Cream: 
7

ounces

Just Birthday Cake Cookie Dough

plus more as garnish   

2

cups

cold heavy cream 

1

14-ounce can of sweetened condensed milk 

Pinch

of salt
Sundaes: 
4

ounces

dark chocolate chips 

2

teaspoons

coconut oil 

Waffle cone bowls 

1

tablespoon

sprinkles

Whipped Cream

Handful of cherries 
Instructions
To Make the No-Churn Just Cookie Dough Ice Cream:
Using a melon baller or teaspoon measure, spoon out small bits of dough and roll them in your hands to create small cookie dough balls. Repeat until you've worked through 7 ounces of raw Just Cookie Dough (or half the tub!). Set it aside. 

To a stand-up mixer, with the whisk attachment, add the heavy cream. (Alternatively, you can use an electric hand mixer and a large bowl.) Beat the heavy cream on medium to high speed until light and fluffy and medium peaks form, about 2 to 3 minutes. Don't walk away! Whipped cream can over-beat very quickly so just be sure to watch it the entire time.  

Pour in the sweetened condensed milk into a medium bowl, along with a pinch of salt. Add the whipped cream and fold it into the condensed milk. 

To a freezer safe (6-cup) container, add a small layer of the cream mixture to the bottom and smooth it out. Add a few cookie dough balls and then add more of the cream mixture on top. Repeat until you've worked through all of the cookie dough balls and cream mixture. Transfer to the freeze to chill for at least 5 hours, ideally overnight. 
To Assemble the Sundaes: 
To make the melted chocolate, place a small bowl over a saucepan that has a few inches of water in it. Place the double boiler over a medium flame and add the chocolate and coconut oil to the bowl. When the chocolate looks melted, stir with a spoon and remove from the heat. 

Add a few scoops of the Just Cookie Dough ice cream to each of the waffle cone bowls. Drizzle the tops of the ice cream with the melted chocolate, add a few pinches of sprinkles, a dollop of whipped cream and top with a cherry. Garnish with a few extra balls of cookie dough. 
(This post is sponsored by JUST. Thank you for supporting the sponsors that keep A Cozy Kitchen cozy.)