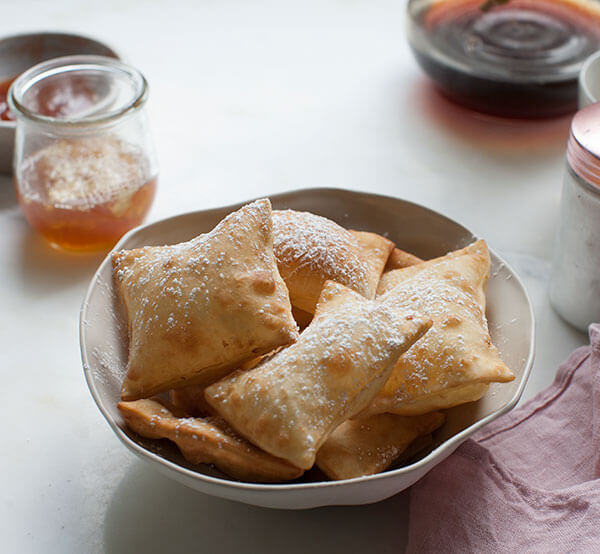 Last week I spent a few days in New Mexico (whole re-cap coming soon!) and one of the best things I ate during my trip were sopapillas. Have you had a sopapilla before? There are different iterations; before last week, the only version I have had were South American and Tex-Mex versions, but the puffy ones you see pictured are vastly different.
The New Mexican-style sopapilla is almost like a cross between a South American sopapilla and a Native American fry bread. Think of them like that. They're soft and fluffy and puffy. You're supposed to dust them with lots of powdered sugar, pinch off a corner and drizzle honey inside them. They leave you licking your fingers with a bunch of powdered sugar all over your face but you won't care, trust me.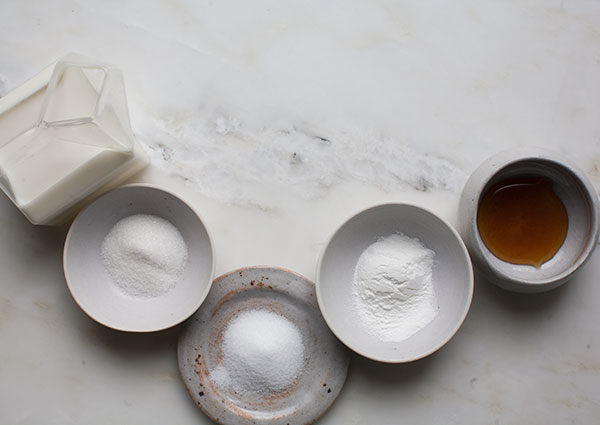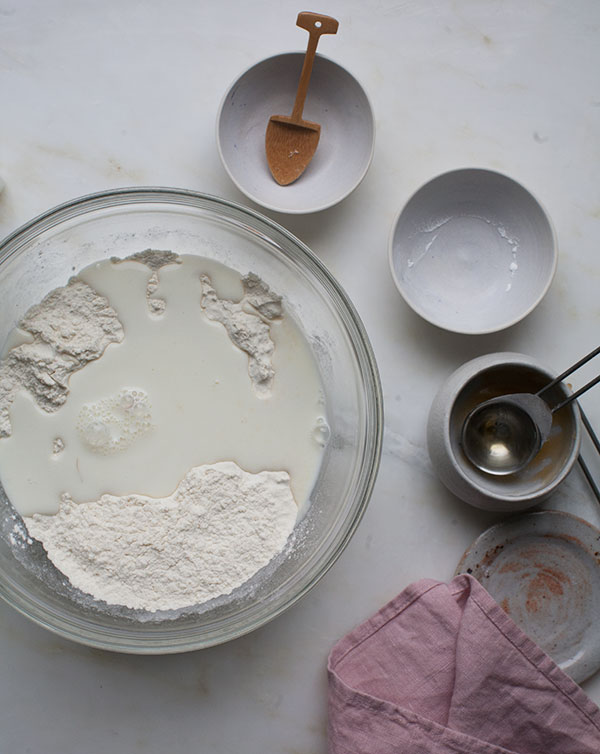 The best version I had (and I had a lot and in savory contexts too!) was at El Paragua Restaurant in Espanola, New Mexico, which is about an hour south of Taos. It was a meal we ate while we were headed to Albuquerque and it was AMAZING. I got the combination plate. It was simple: one enchilada, one tamale, rice, beans and pazole. I've had a lot of enchiladas in my day but seriously it was the best enchilada I might've ever had. Same with the tamale.
The sopapillas were to die for. When I got home, the first thing I did was research recipes.
Most recipes I found used shortening in the dough. I'm not big on using shortening but figured this might be the exception. I ended up buying non-gmo shortening and guess what? I didn't like them. They weren't right. They were crispy, not puffy and lacked flavor. Luckily I found this video, which uses no shortening (yay!). I played with his recipe, adding more salt and figuring out the technique that works best. (Them puffy up is all about the temperature of the oil and the thinness of the dough.)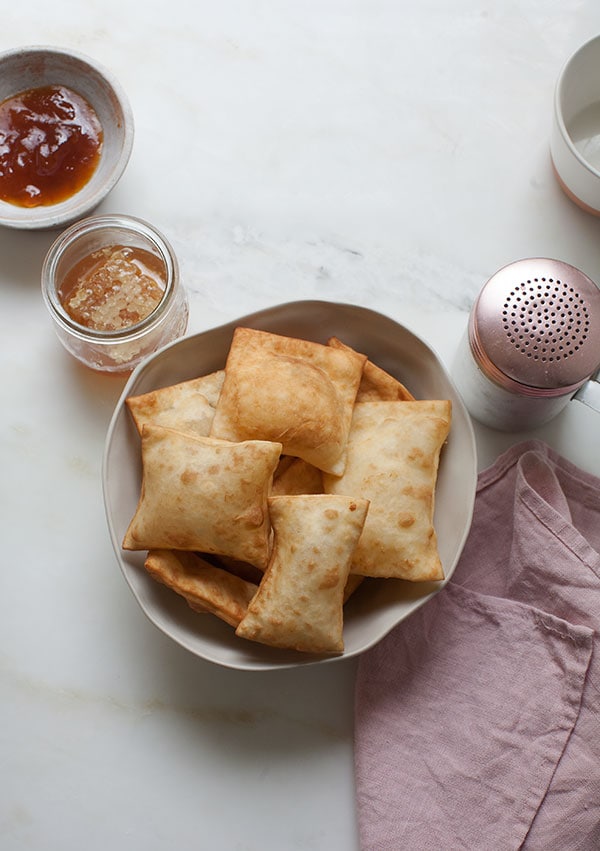 The milk in this recipe (most recipes use water) result in a much softer sopapilla. The version I liked from El Paragua was suuuuper soft on the inside but the exterior was awesomely crispy. These are the same. I tried to mimic their version as closely as possible since they really were the best I had all week.
I can't wait to share my re-cap with you because New Mexico is sooo beautiful and all the food I ate (and I ate A LOT!) was so good and full of history. But for now, sopapillas with honey.
Just a heads up: The New Mexico Tourism Board is giving away a full-paid trip to New Mexico. Enter here!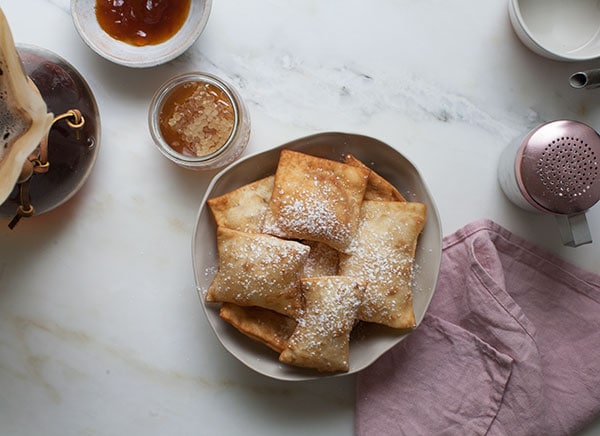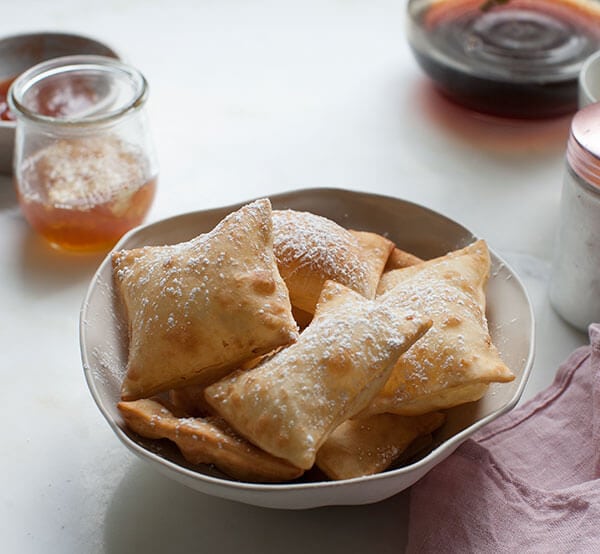 New Mexican-Style Sopapillas with Honey
Print
New Mexico is a beautiful place and these sopapillas paired with honey are straight from New Mexico.
Serving Size:
18
sopapillas
Ingredients
2

cups

all-purpose flour

1

tablespoon

baking powder

1

tablespoon

sugar

2

teaspoons

salt

1

tablespoon

honey

3/4

cup

whole milk

Shortening

,

(or canola oil, peanut oil or lard, for frying)
Directions
In a large bowl, whisk together the flour, baking powder, sugar and salt. Next, create a well in the center of the dry ingredients and pour in the honey and whole milk. Using a spoon or your hands, mix the dough together until it forms a sticky mass. Cover the bowl with a clean kitchen towel and allow the dough to rest for about 20 minutes.

I know frying this is a bit of a bummer but I'll say that with these it's needed and worth it. Since I had shortening leftover from my first batch of dough, I used it to fry these sopapillas; canola oil or peanut oil or lard will also work. In a cast iron skillet (or medium pot), add enough fat so it reaches 3-inches up the sides of the skillet/pot. Heat up your oil to around 300 degrees. (Right before we fry them off, we'll heat it up even further.)

Lightly flour your work surface and rolling pin. If the dough is at all sticky (it shouldn't be after it rested) feel free to sprinkle it with a bit of flour so it doesn't adhere to the surface. Dump the dough onto the counter and roll the dough into a thin (1/8-inch thick) square. (It doesn't have to be a perfect square either, just do your best.) Cut the sopapillas into 4 x 3-inch rectangles. Again, the measurements don't have to be exact, you can definitely eyeball this.

Before you fry them up, be sure to get your powdered sugar and honey ready. Line a baking sheet or plate with a few layers of paper towels. Heat the oil up again to 375 degrees F. Drop the sopapillas in the hot oil, frying two to three at a time, for about a minute, flipping them over at the halfway point. (If they don't puff up, they'll still be tasty! But it may mean the dough isn't rolled thin enough.) They should be lightly golden brown—not too crispy. Transfer them to the bed of paper towels to drain. Repeat with the remaining sopapillas.

These taste best straight from the fryer to a plate to being consumed but if you want, you can keep the sopapillas warm in an 200 degree pre-heated oven while you fry up the rest. Dust them with powdered sugar and serve them alongside some honey and apricot preserves.