Naturally Dyed Pickled Deviled Eggs
26
Mar 23, 2016, Updated Apr 16, 2019
Disclosure: This post may contain affiliate links, which means I may earn a commission if you click on the link and make a purchase.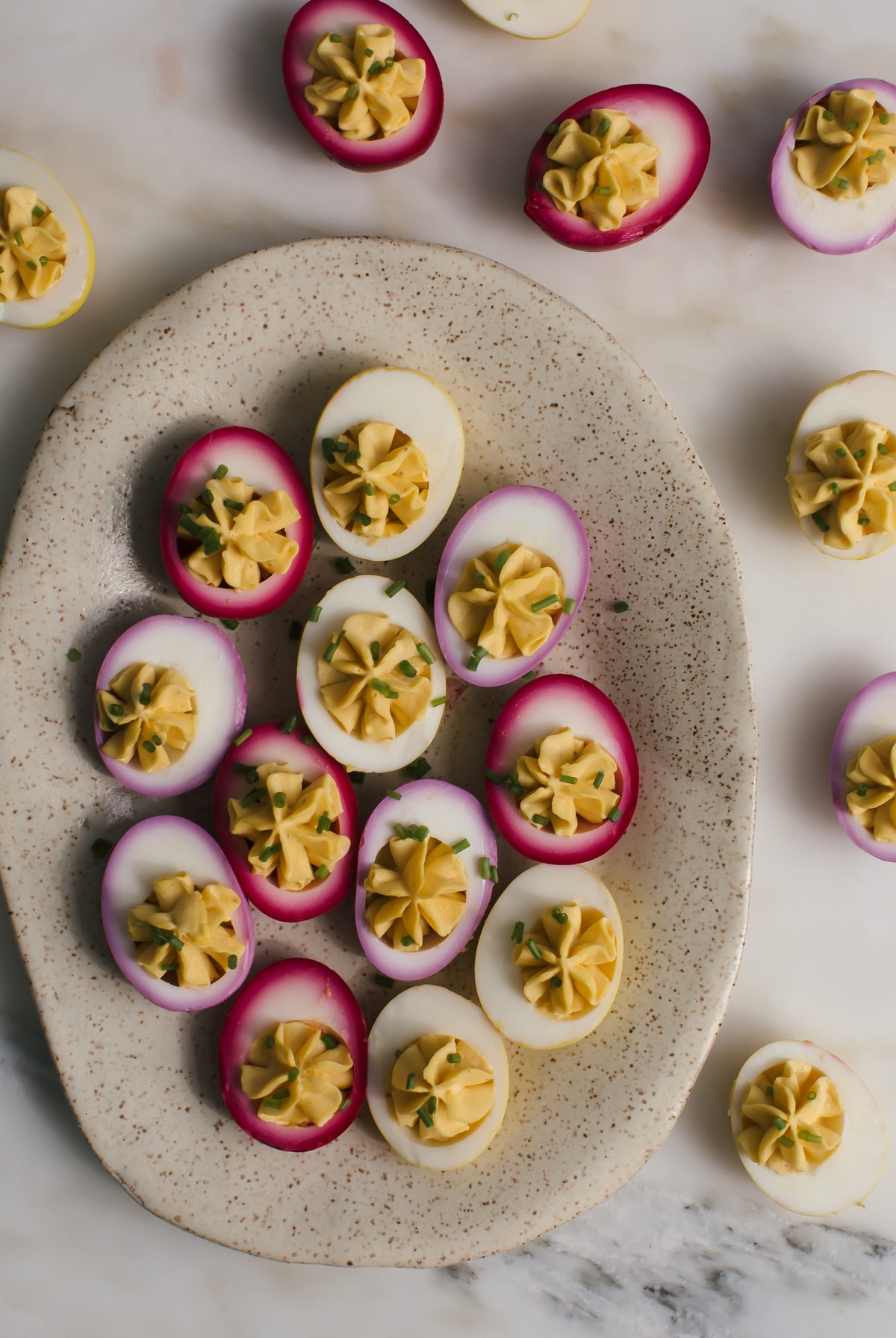 I'm really good at overeating deviled eggs. And let me tell you, they're sort of not such a great thing to overeat. Pie? Ok sure. Ice cream? Alright. But deviled eggs? A little gross.
My motto with deviled eggs: Proceed with modesty and I'll be ok! These were inspired by this recipe for naturally pickled eggs that my friend Hourie sent me from Epicurious. I was like daaaaang, so beautiful. I've made beet pickled eggs before. But never cabbage and turmeric. And let me tell you, the colors these two ingredients leave behind is so ridiculously beautiful.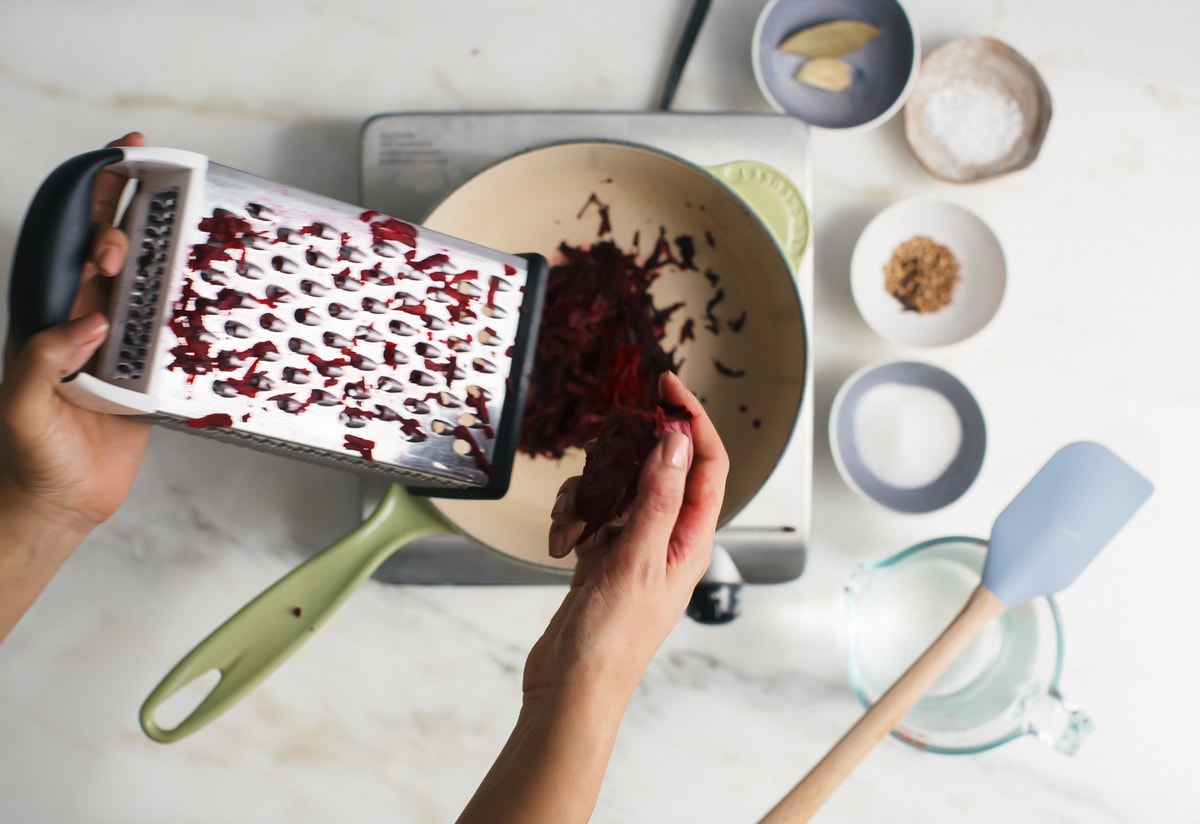 The turmeric combination might be my favorite. The cloves, cardamom pods and black peppercorns make for a really delicious flavor combination that you can really taste in the eggs.
The process is simple: you combine the vinegar, water and sugar with the different type of pickling items you'd like. This liquid is boiled and then brought down to room temperature. The boiled eggs are dropped into the pickling liquid and then they sit in the mixture for about 24 hours, or up to 2 days.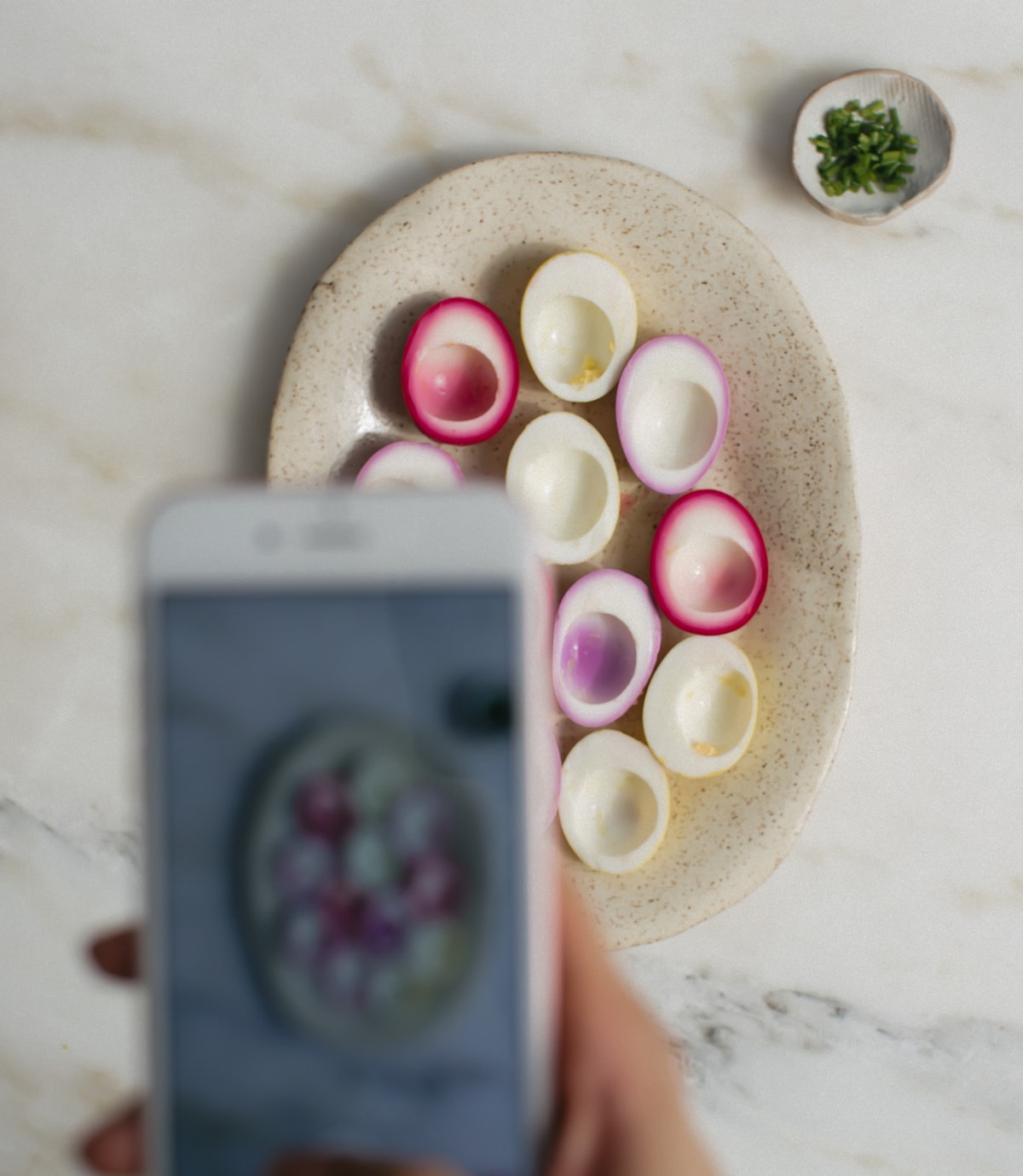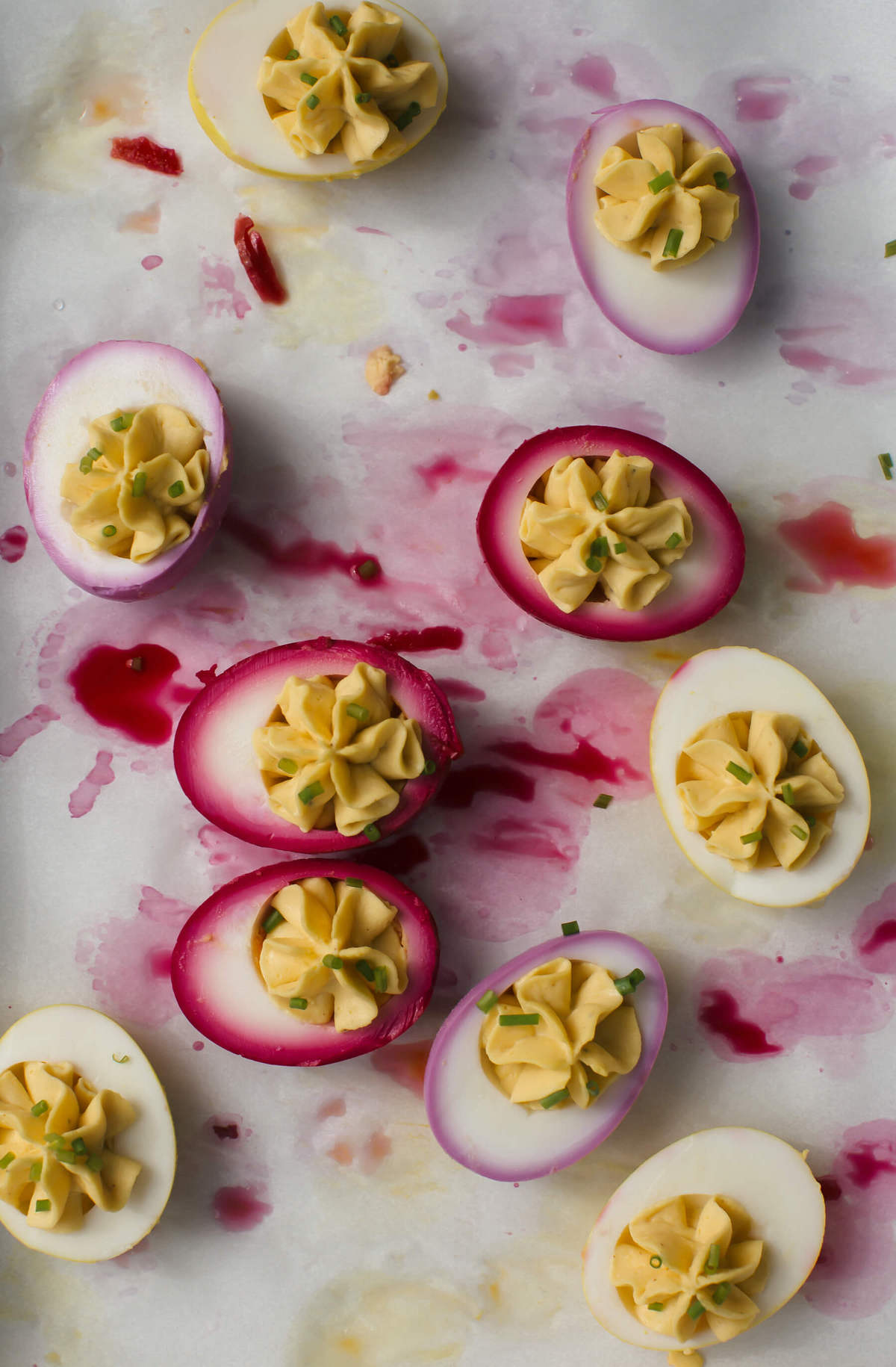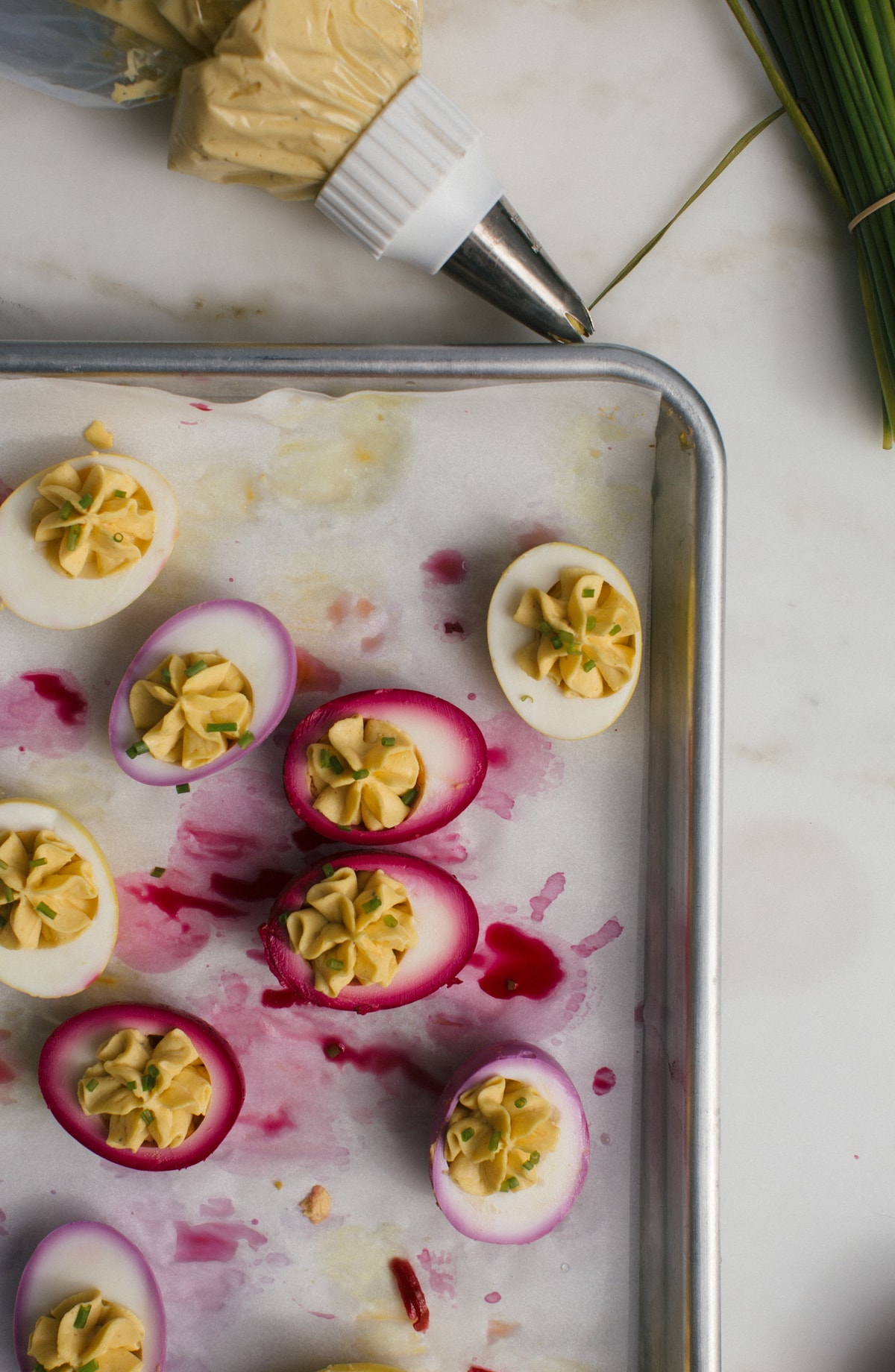 A tip I learned from Billy, run the egg yolks through a sieve. This makes for the fluffiest deviled eggs EVER. The mixture is so silky smooth. Best tip ever!!
The eggs are bright and beautiful and naturally colored! The filling is spiked with Old Bay—the only thing you'll need.
I'm not even sure what my Easter plans are but I know they'll involve these.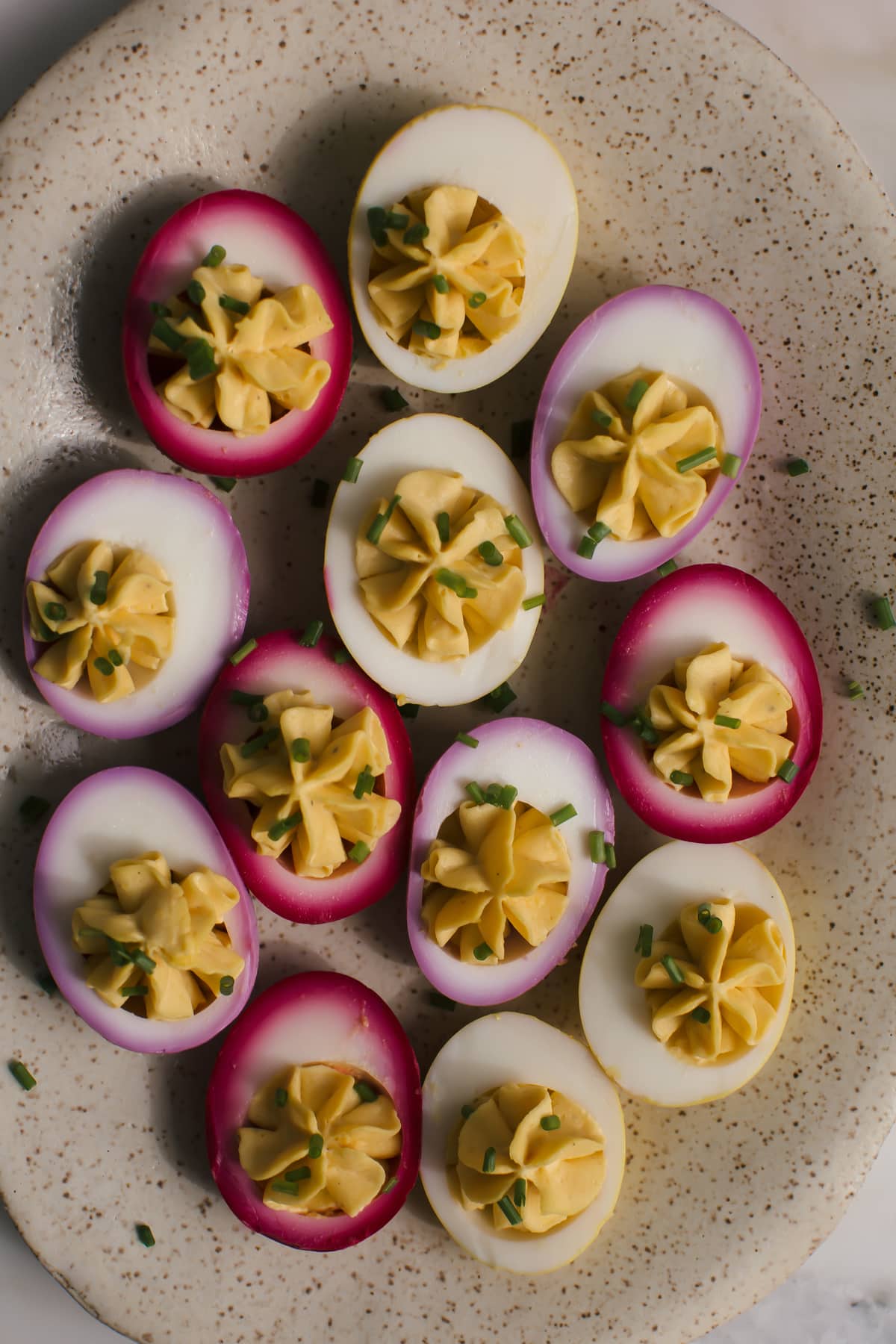 Naturally Dyed Pickled Deviled Eggs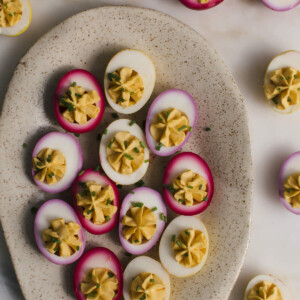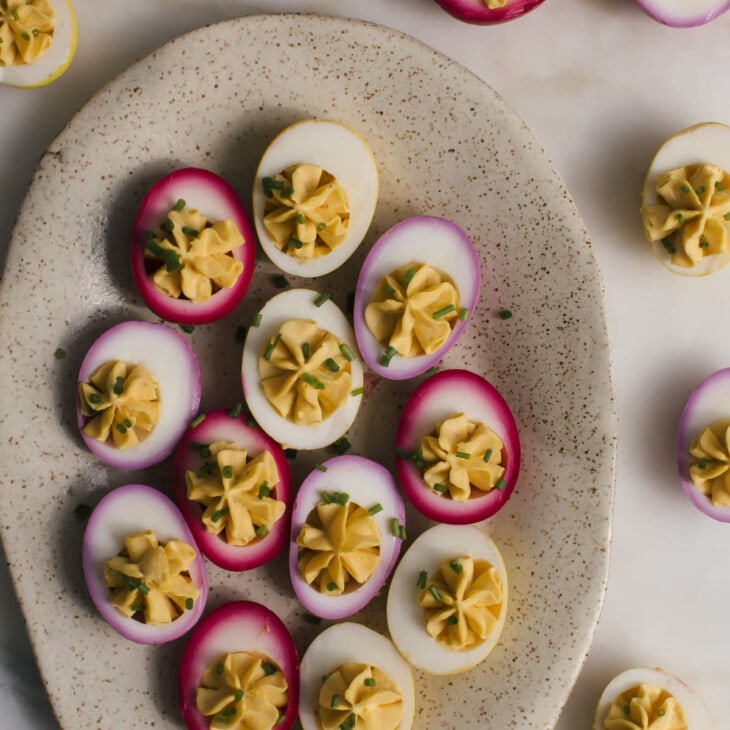 Pickled deviled eggs done by all natural ingredients. Beet pickled, turmeric pickled and more!
Ingredients
Beet Pickling Liquid:
1 1/2

cup

water

1/2

cup

vinegar

1 1/2

tablespoons

sugar

1/2

teaspoon

salt

1

beet

,

, ends trimmed and shredded with a box grater

1

garlic clove

,

peeled

5

whole cloves

1

teaspoon

coriander seeds

1

bay leaf
Tumeric Pickling Liquid:
1 1/2

cup

water

1/2

cup

vinegar

1

teaspoon

turmeric powder

1

garlic clove

,

peeled

3

cardamom pods

3

black peppercorns
Cabbage Pickling Liquid:
1 1/2

cup

water

1/2

cup

vinegar

1/2

shredded purple cabbage

1

bay leaf

1

teaspoon

mustard seeds

2

green onions

,

sliced
Dozen boiled eggs, peeled
Filling:
1/3

cup

to 1/2 cup mayonnaise

1

teaspoon

yellow mustard

1/4

teaspoon

Old Bay

Minced fresh chives

,

as garnish
Instructions
To Make the Pickling Liquids:
Put the beet ingredients into a saucepan, set over medium heat and bring up to a simmer. Turn off the heat and transfer to a 1-liter glass jar. Allow to come to room temperature. (To speed up this process, I let it stand for about 10 minutes on the counter and then transferred it to the fridge for 20 minutes.)

Repeat with combining and simmering process with the turmeric pickling liquid and cabbage pickling liquid.

Drop 4 to 8 boiled and peeled eggs in each jar and secure lid. Transfer to the refrigerator to pickle for at least 24 hours or up to 2 days.

When ready to serve, halve the eggs and scoop out the yolks into a sieve. Push the egg yolks through the sieve (this makes for a silky smooth filling) using a spoon, into a bowl. To the bowl with the yolks, mix in the mayonnaise, yellow mustard and Old Bay. Mix until very smooth, adding a teaspoon or two of mayonnaise as desired. Transfer to a piping bag and pipe filling into deviled eggs. Garnish with minced chives.
Nutrition
Serving:
12
g
|
Calories:
250
kcal
|
Carbohydrates:
5
g
|
Protein:
10
g
|
Fat:
12
g
|
Cholesterol:
100
mg
|
Sodium:
120
mg
|
Potassium:
10
mg
|
Fiber:
5
g
|
Sugar:
5
g
Nutrition information is automatically calculated, so should only be used as an approximation.