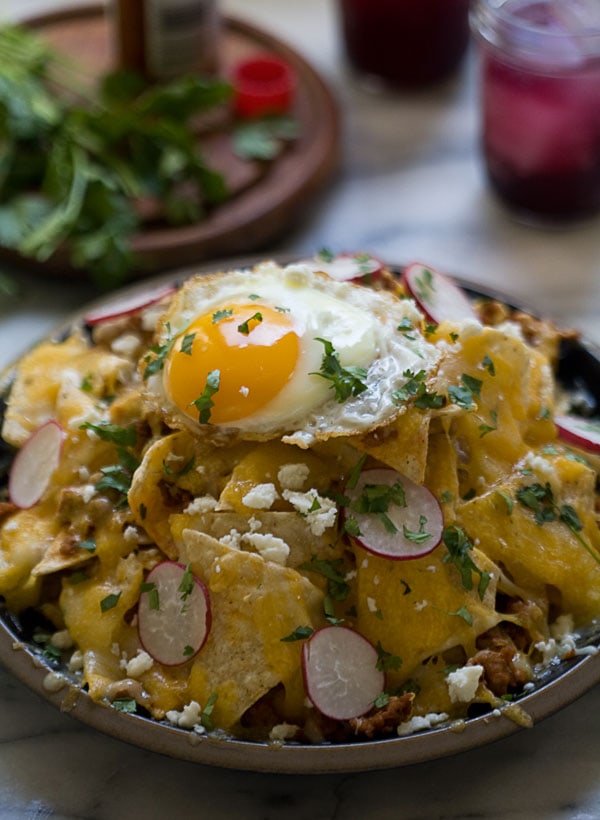 I think some restraint in life is needed, right? I mean if I didn't practice any sort of restraint ever, I'd have a whole lot more shoes, maybe four more corgis (one is enough, trust me), a new car and maybe, just maybe I'd eat nachos like every single day of my life. But when I do make nachos, which isn't all that often because it's summer and I need to be in a bathing suit next week (have I told you this?), I practice no restraint. I go to town.
This means lots and lots of cheese. And when it comes to nachos, layering and a low oven temperature is VERY important. You don't want burnt chips and burnt cheese, man. You want layers of cheesiness all up in between the chips. Just because you get to the bottom of the nachos doesn't mean you should be eating naked chips! (Can you tell I'm passionate about nachos?!)
And the toppings are important, too. You want them to be plentiful and interesting. I like cilantro, hot sauce, queso fresco, some chorizo, spicy radishes, AND, if you add an egg, this means you can call it breakfast. Who doesn't want nachos for breakfast, I mean…
The full "recipe" and more photos are up on Etsy's site RIGHT NOW! GO!
Fun side note: If you love nachos, there's a WHOLE gigantic book on this glorious, cheesy subject. It's called Ultimate Nachos: From Nachos and Guacamole to Salsas to Cocktails. It's filled with cheesy nachos, cocktails that compliment nachos, guacamole recipes that should live next to your pile of nachos and then there's more nachos. It's like a dream.