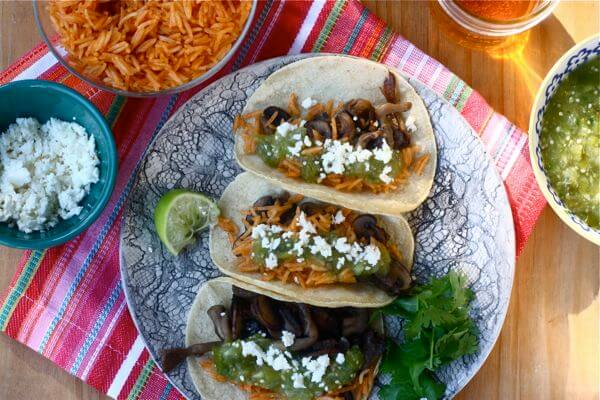 Welcome to my experiment!! Wait, don't leave; it's not a food experiment, like, on you or anything. I wouldn't do that. Let me explain…
I have food allergies. You're allergic to a food thing or two, right? Please say I'm not the only one who feels like Macaulay Culkin in My Girl.
My current allergy list kinda sucks–sure it could be worse, but there's a few bummers. My body turns on me when I eat things like truffles (sad!), all bleu vein cheeses like, gorgonzola, roquefort, stilton, etc. AND…sometimes mushrooms.
My body sometimes hates mushrooms…and sometimes it's cool with them.
Usually I don't take chances because I don't really feel like dealing with some embarrassing twenty-minute sneezing situation. But yesterday…I was feeling brave.
And guess what?! My body totally loved these tacos. Which means your non-allergenic, normal body will too!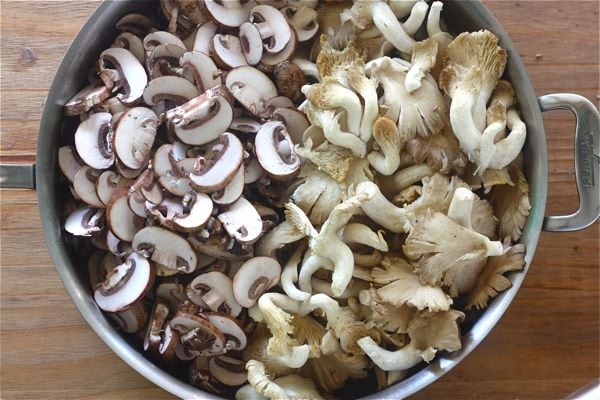 I used two different types of mushrooms: oysters and creminis.
(The only thing prettier than a weird oyster mushroom is an even weirder chantrelle mushroom.)
Creminis are usually available year-round. Oysters, on the other hand, are totally having a moment right now. I love a good oyster mushroom moment, don't you?
I also love talking about food like fashion people talk about, well, fashion.
No need to be restrained to these two types, though! I bet portobellos would also be delicious, and plain ol' whie button mushroosm would totally work, too.
I cooked up some Spanish rice. Simple stuff.
Onions, garlic, vegetable stock, tomato paste..and rice. Fast, easy, cheap!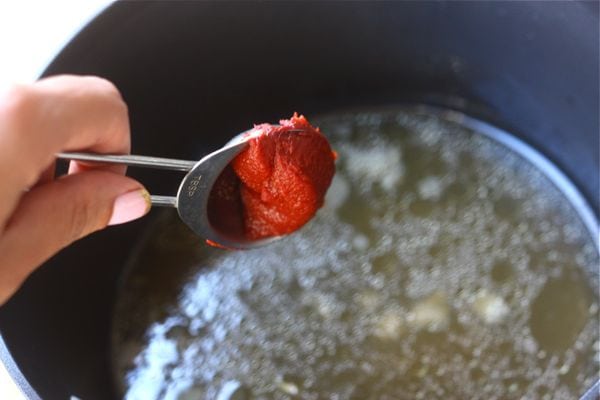 Tacos need salsa. When you meet tomatillos, they come wrapped in husks. Basically this just means they're superhero food. #foodwithcapes
More foods need capes. I even love shoes with capes…it's true.
Back to salsa…
I roasted the tomatillos for 5 minutes or so to bring out all their flavors. When they were done, I tossed them them in a food processor with one chopped jalapeño, diced onion, garlic and lime juice. I blended it all together, added some salt…and boom! Delicious taco dinner!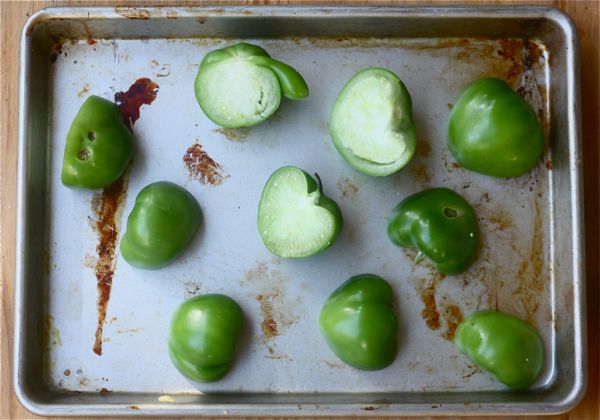 Have you ever served tacos for a dinner party?!
They're the perfect serve-yourself-I'm-not-your-maid-dinner for guests you LOOOOOVE.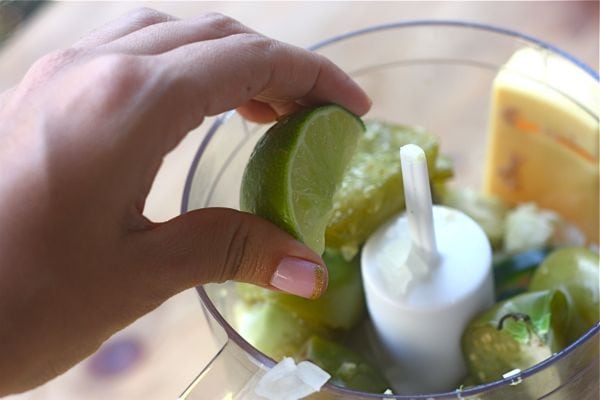 Mushroom Tacos w/Roasted Tomatillo Salsa
Spanish Rice:
1 tablespoon olive oil
1/4 yellow onion, diced
1 garlic clove, minced
1 1/2 cup vegetable broth
1/2 tablespoon tomato paste
1 cup white, long-grain rice
1/2 teaspoon salt
1/2 teaspoon ground cumin
Roasted Tomatillo Salsa:
1 lb of tomatillos, husked and halved (about 4-5 tomatoes)
1 jalapeño, de-seeded and chopped (If you're adverse to heat, use half a jalapeño)
1 garlic clove, chopped
1 teaspoon lime juice
1/2 teaspoon salt
Salt to taste
Tacos:
1/4 yellow onion, diced
1/2 lb oyster mushrooms
1 lb cremini mushrooms, thinly sliced
1 teaspoon ground cumin
1 teaspoon salt
9 Tortillas (about 3 per person)
1/2 cup cotija cheese, crumbled (optional)
1 Handful cilantro (optional)
Spanish Rice
In a medium pot (I used a non-stick), heat olive oil over medium heat. Add onions and cook until translucent, about 3-5 minutes. Add minced garlic on top of onions and cook until fragrant, about 1 minute. Add vegetable broth and stir in tomato paste. Bring to a simmer and then add rice. Mix in the salt, cumin and cover, cooking for about 15 minutes, or until liquid is absorbed.
Tomatillo Salsa
Place halved tomatillos on a baking sheet and place it under the broiler for 5-7 minutes. Carefully transfer hot tomatillos to a food processor, along with the diced jalapeño, onion, garlic and lime juice. Pulse until all of the ingredients are finely chopped and mixed. Salt to taste. You can place the salsa in the refrigerator if you like it cold. I served the salsa warm and LOVED it.
Mushroom Tacos
In large pot, heat olive oil over medium heat. Add the diced onion and cook until translucent, about 3-5 minutes. Add mushrooms and cook for 5-7 minutes. Add cumin powder and toss. Salt to taste. Assemble your tacos how you like! I topped them with a bit of cotija cheese and cilantro.
Serves 4
Tomatillo Salsa recipe slightly adapted from Simply Recipes