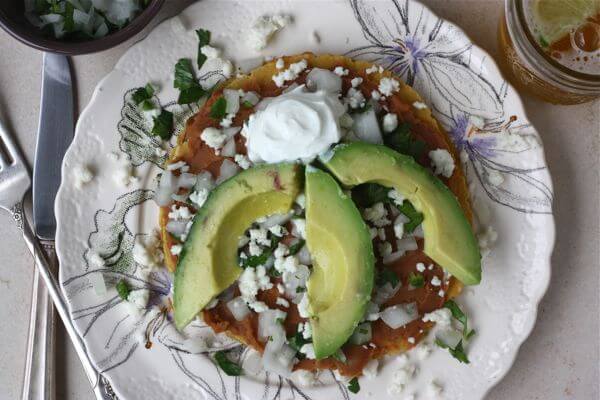 I frequent Mexican taco trucks generally late at night. And mulitas with al pastor or carnitas are always my go-to. Mulitas are like quesadilla sandwiches…with meat on the inside. Hello! That's cool!
This carnitas recipe is suuuuper simple, and only takes about 3 hours of braising on the stove-top. Not too long at all. If you wanted, you could even stick it in a slow-cooker while you head to work. I bet that'd work lovely.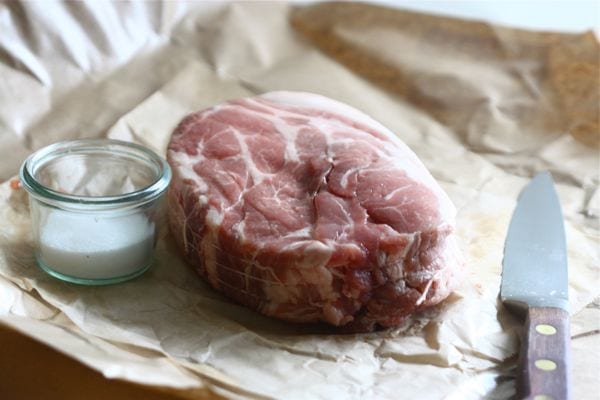 You're gonna start by cubing up about a pound and a half of pork shoulder/butt. And then you're going to salt it liberally.
This recipe serves two people with a bit of leftovers, but if you need to cook for more people, it's pretty simple to double.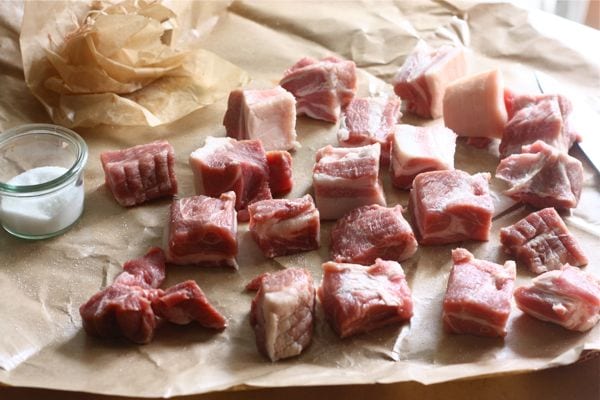 You're going to cook the pork with all of the things you see below: orange juice, lime juice, white onion, garlic, ground cumin and chile powder.
So…I don't have pictures of the remaining steps, but basically you're going to sear the pork cubes until they're nice and crispy and lightly golden brown. Then you're going to sauté some stuff a.k.a. the onions and spices together.
Then the pork goes back in the skillet, covered with some water and kept at a simmer for about 3 hours.
You'll know when it's ready because you'll be able to cut it with a fork. That's the money sign.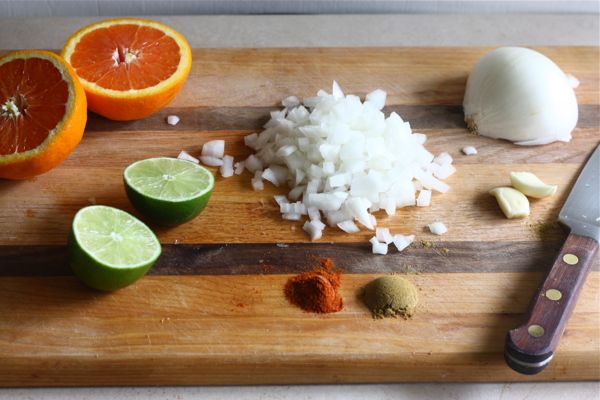 Mulita time!!
1. Tortilla, cheese, in a pan. Place a lid on top until it melts.
2. Then place a tablespoon or so of carnitas.
3. Top with another tortilla and gently flip.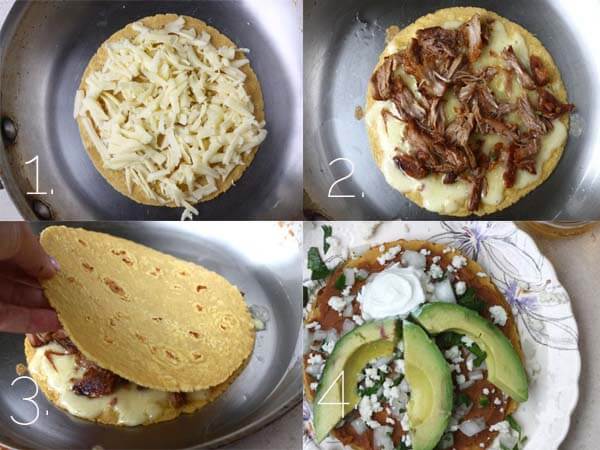 4. I like mine topped with warm refried beans, this little cilantro/onion mixture, crumbled queso fresco, avocado and a dollop of sour cream.
Annnnnd, if you want to be really lazy and don't want to make your carnitas, Trader Joe's has pre-made carnitas that aren't terrible. Are they as good as the ones pictured? No, but they take two minutes to buy. AND you can get some gummi bear vitamins while you're there.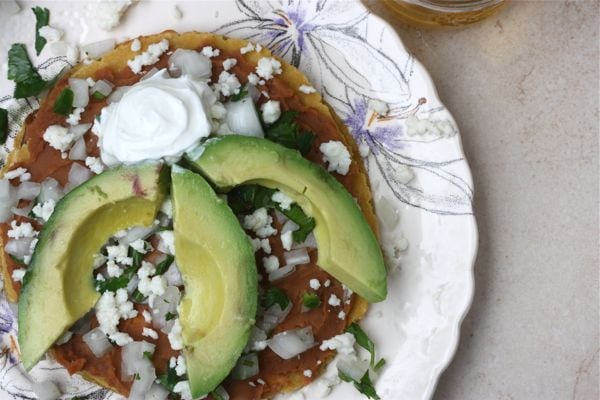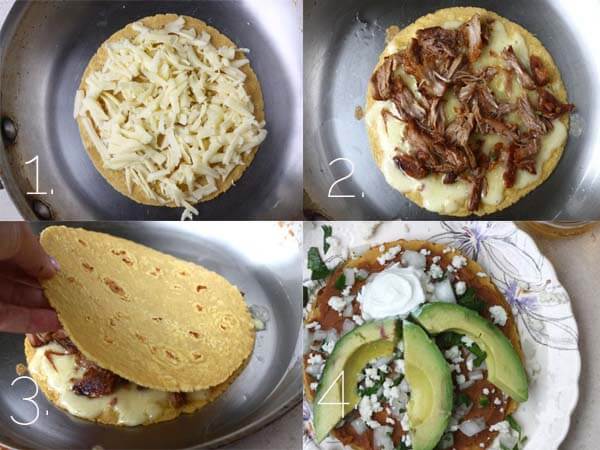 Mulitas are one of my favorite things to order from taco trucks. Cheesy, meaty and pan-fried--so good.
Ingredients
Carnitas
1 1/2

pounds

pork shoulder/butt, cut into 1x1" cubes

1

whole

white onion

2

whole

garlic cloves

1 1/2

teaspoon

ground cumin

1

teaspoon

chile powder

1

whole

orange

1

whole

lime
Mulitas
1

whole

jalapeño pepper

4

small

corn or flour tortillas

1/2

cup

Monterey Jack cheese

1

(15-ounce) can

refried beans (you'll have leftovers)

1

ounce

queso fresco

1/2

whole

avocado

2

tablespoons

sour cream
Directions
To Make the Carnitas:
Lay the cubes of pork in one layer and sprinkle, on both sides, with salt, liberally. (I used about 1 1/2 teaspoons of salt.) Heat 2 tablespoons of vegetable oil in a cast iron skillet (or dutch oven) over high heat. When oil glistens, it's ready; using tongs, add cubes of pork, in one layer, and sear on both sides for 30 seconds to a minute, or until golden brown. Depending on the size of your skillet (or pot) you may need to do this in two batches. Remove pork and set aside.Bring heat down to medium and add 1/2 of the diced onion; cook until translucent, about 3-5 minutes. Next, add the garlic cloves, ground cumin, chile powder, and toss. Cook for about 30 seconds more. Add the pork back to the skillet and squeeze the orange and half of the lime over the meat. Pour enough water to slightly cover the meat and turn the heat to medium-high until it reaches a simmer. Once it's at a simmer, bring heat down to medium-low. Cook, uncovered, for 3 hours, adding water frequently. You'll the meat is ready when it's easily shreddable.
To Make the Mulitas:
To assemble mulitas, get all of your accessories ready, which includes warming the refried beans in the microwave or over the stovetop. In a medium skillet, placed over medium-low heat, add 1 teaspoon of vegetable oil. When warm, add one corn tortilla and top with a handful of shredded cheese. Cover the skillet with a top and cook until cheese is melted, about 1 minute. Place a few tablespoons of shredded carnitas on top of cheese and cap with a tortilla. Cook for an additional minute more until top tortilla becomes warm. Remove and transfer to plate.Top with a tablespoon of refried beans, spreading it out evenly. Sprinkle onion and cilantro mixture on top, along with crumbled queso fresco. Top with a few slices of avocado and dollop of sour cream. Serve immediately with cold beer or margaritas. YES!