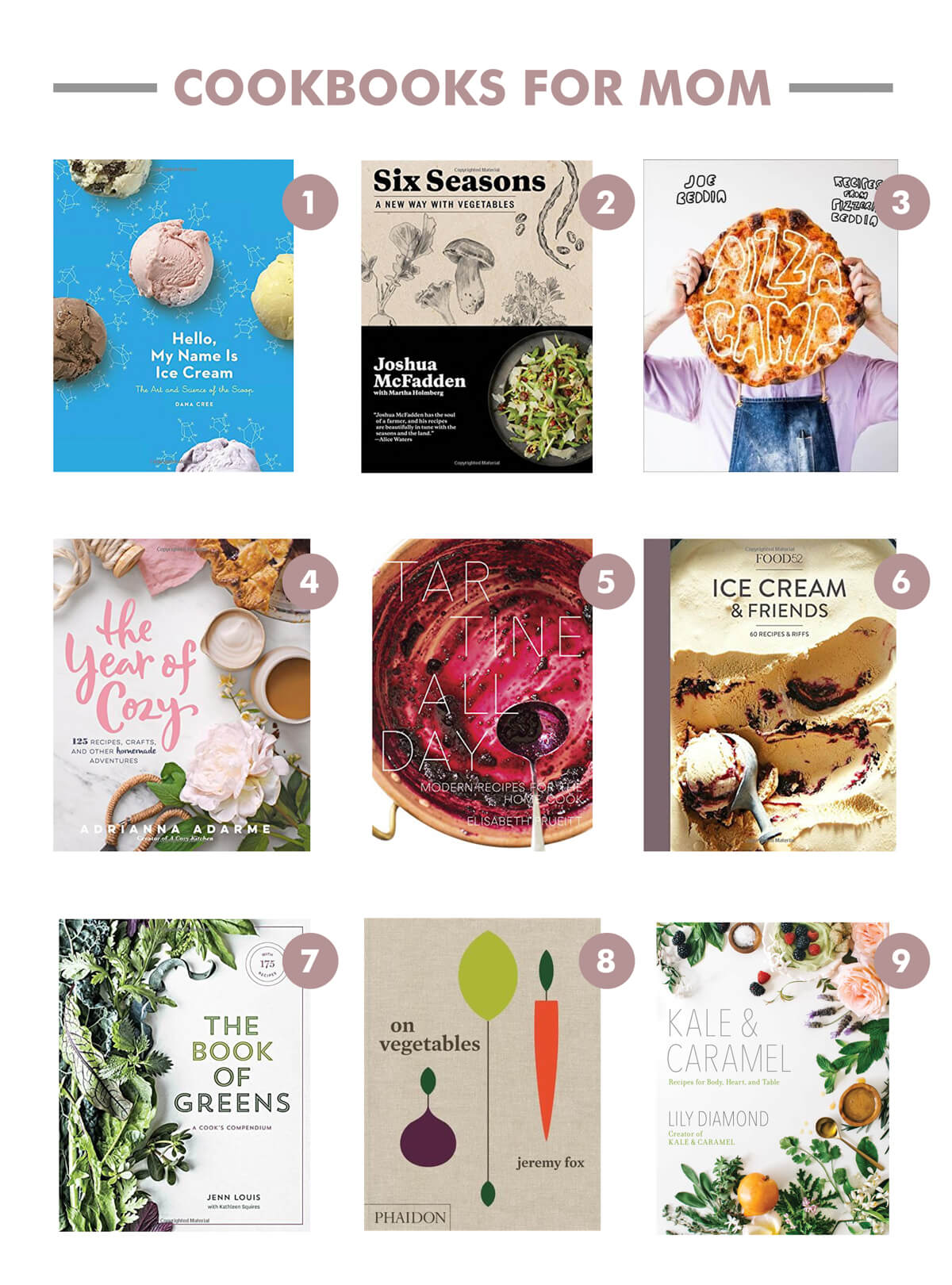 1. Hello, My Name is Ice Cream: The Art and Science of the Scoop – Beautiful illustrations and photos with nerdy ice cream info.
2. Six Seasons: A New Way with Vegetables – I went to Ava Genes with my mom AND she loves vegetables so I'm excited to give her this book.
3. Pizza Camp – I'm going to be honest and say my home pizza game is decent but not strong. I want it to be GOOD.
4. The Year of Cozy – Give your mom the gift of me!
5. Tartine All Day: Modern Recipes for the Home Cook – Amazing gluten-free baking and cooking and an inside peek at what Chef Liz Prueitt makes for her family.
6. Ice Cream & Friends – Fun ice cream recipes from Food52 and friends aka some of my blogger friends!
7. The Book of Greens – I cannot wait to cook/bake from this book. The recipes look doable, delicious and incorporate greens of all kinds. By Chef Jenn Louis.
8. On Vegetables: Modern Recipes for the Home Kitchen – Rustic Canyon is one of my favorite restaurants in LA so it's no surprise that this book looks so delicious. I haven't had a chance to cook from it yet but I have my eye on the carrot cavatelli.
9. Kale & Caramel: Recipes for Body, Heart, and Table – Perfect for spring. Perfect for mamas.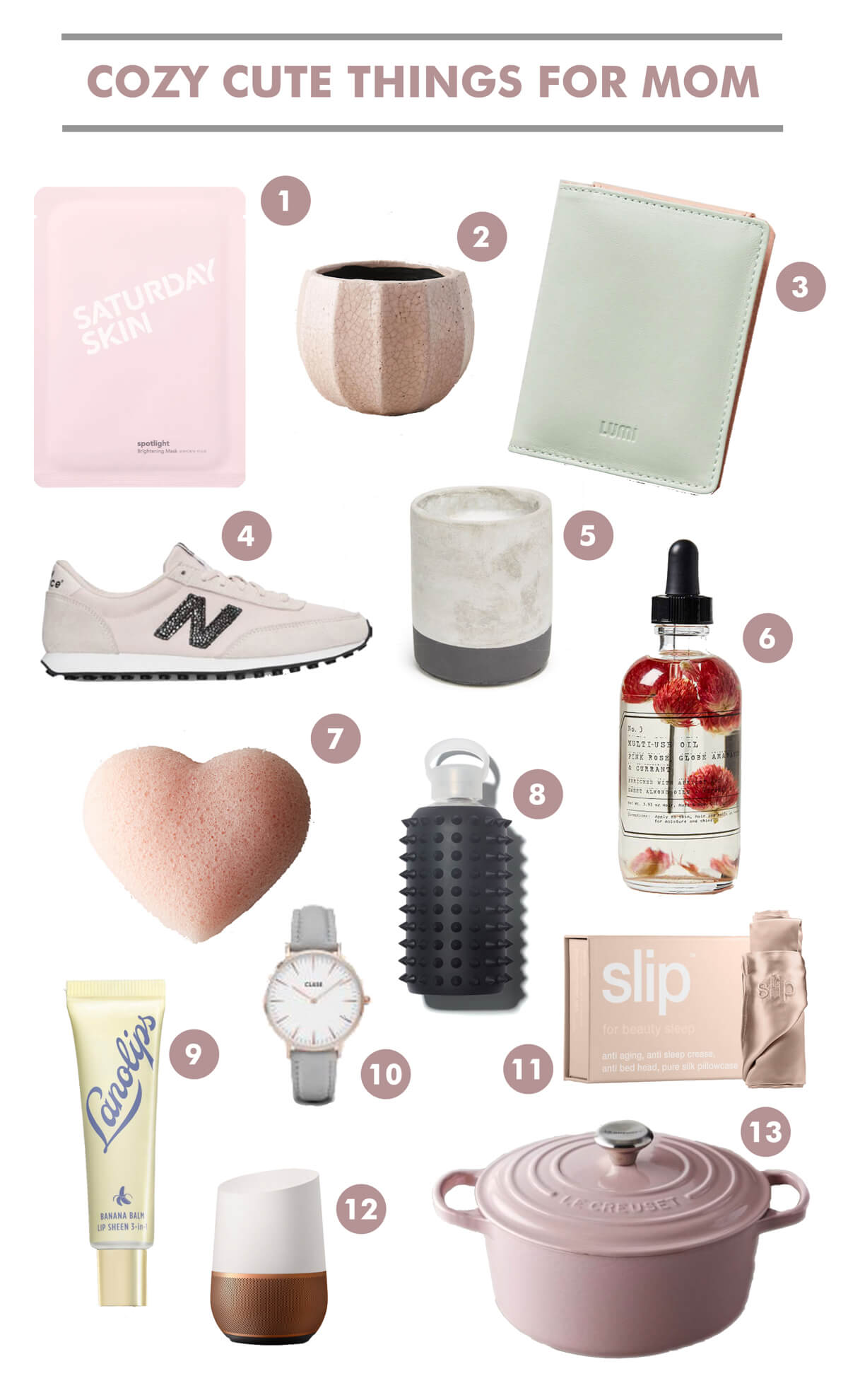 1. Saturday Skin (Set of 5) Brightening Masks – My mom loves wearing masks that make her look like Freddie Kruger AND make her skin nicer.
2. Terracota Pot in Pink – Replant your mom's favorite herb or flower in this pot and give it to her as a gift. She'll probably cry!
3. Lumi Paula Wallet in Mint – Isn't this color so beautiful? I feel like moms always have big wallets filled with lots of credit cards and photos of her children. This feels like a chic mom wallet.
4. New Balance 410 Casual Sneakers – These sneakers look comfortable and cute all at the same time. Good for long walks after dinner!
5. Paddywax Soy Candle – This candle looks so beautiful and is not $60! A plus!
6. Petal Multi-Use Oil – My mom has always looooved oils of all kinds. This one looks super pretty.
7. Heart Cleansing Sponge – The cutest sponge for mom.
8. BKR Spiked Glass Water Bottle – A lil' edgy for mom. But this is for a mom that likes to say, "I'm not like a regular mom, I'm a cool mom."
9. Lanolips Lip Balm in Banana – If your mom likes banana cream pie and fun lip balms.
10. Cluse Watch – I've been seeing these watches everywhere and this grey color looks so beautiful. And it doesn't break the bank. A+.
11. Slip Silk Pillowcase – I've been meaning to buy a silk pillowcase (for wrinkles!) so I figured my mom would like it. Plus, it feels nice and cool.
12. Google Home – True story: my mom has a tough time "cutting and pasting" but she can use Snapchat like a 14 year-old. I have no idea how. I feel like my sort-of-technologically-advanced mom would love a Google Home.
13. Le Creuset 3.5 Round French Oven – I love the 3 1/2 quart. It's the perfect size for me and I find myself using it everyday. OH AND THIS COLOR!