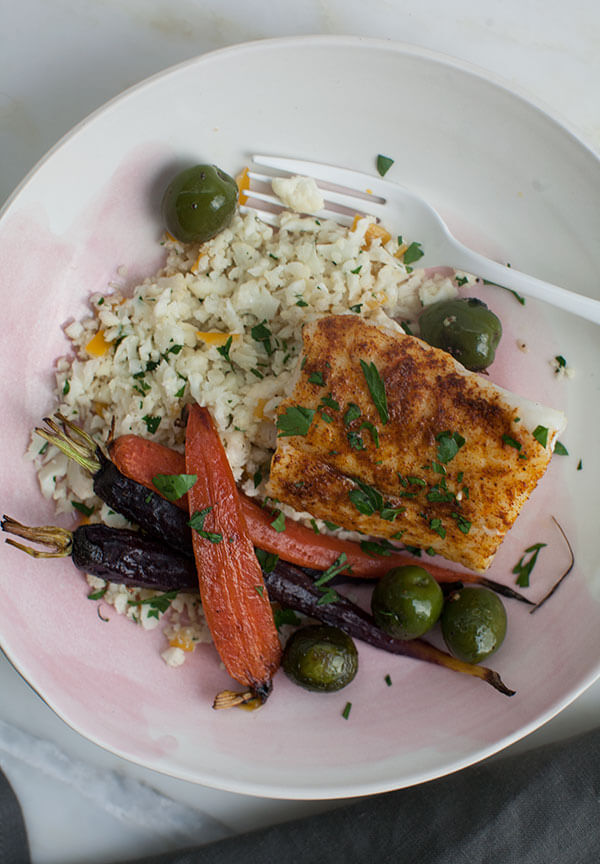 I've been eating really healthy (do not count those two glasses of wine Monday night plz) and I feel great. I sort of say that with an "ugh" because the sluggish feeling I had before was all thanks to cinnamon rolls and the glory of brioche bread. Probably. It's always a bummer when you eat healthy food and you're like, YEP they're right!
I wish I felt fantastic when I ate all of the delicious things I love cooking and baking but I often times don't. I mean, I don't feel awful, awful, I just feel better when I eat healthy. I'm pretty sure I speak for all of us when I say that.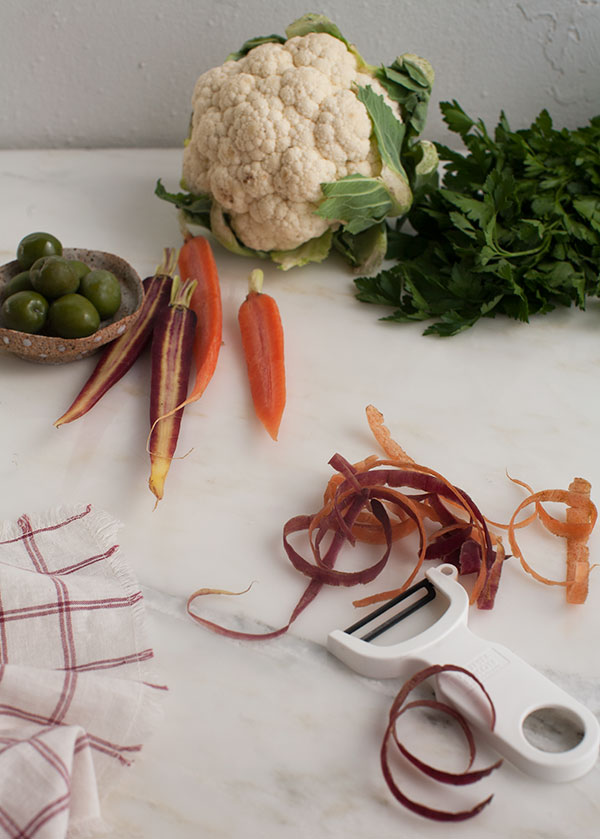 Today we're not talking about bread or boyz or life…we're talking about cauliflower cous cous, which is about half as exciting. I'm sorry.
The cous cous is actually a lot like cauliflower rice but instead of sautéing it, it's actually steamed which helps give it a softer texture. I mixed mine with a bit of preserved lemon bits (yep, it worked!) and salt. SO GOOD.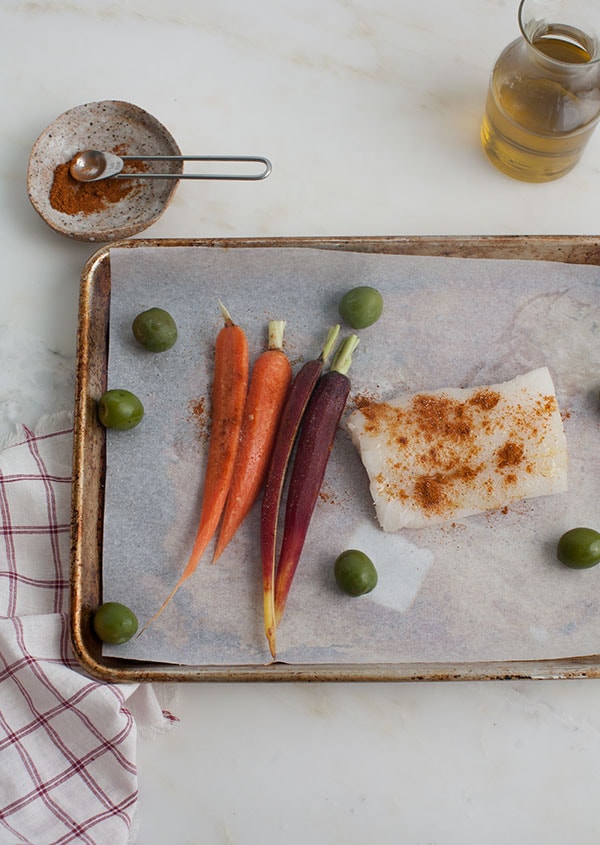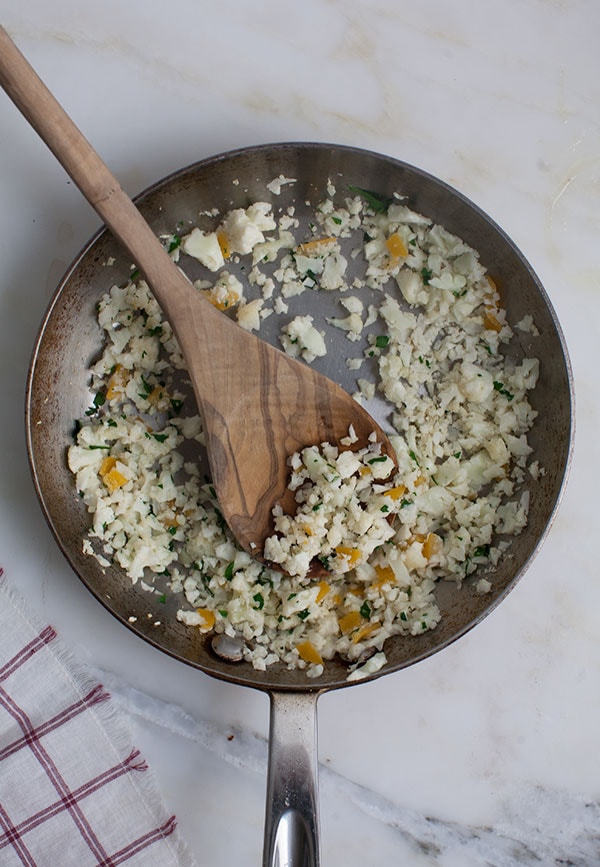 If you don't have preserved lemons (you can actually buy them at the olive bar at Whole foods), feel free to just add a good amount of lemon juice in there. You want the taste to be fresh and herbaceous.
The carrots and olives and cod cook together on the pan. This dish was sort of inspired from the book Sheet Pan Cooking. Have you seen this book? It's all about dishes cooked on a sheet pan together. Kinda smart—very into it!
The cod cooks pretty quickly so I add that much later in the cooking process. But still, this means less mess, less dishes, which all help when cooking for one.
Just an FYI, if you're like all these healthy dishes are a snooze-fest, I'm coming back next week with some really awesome baked goods SO GET READY!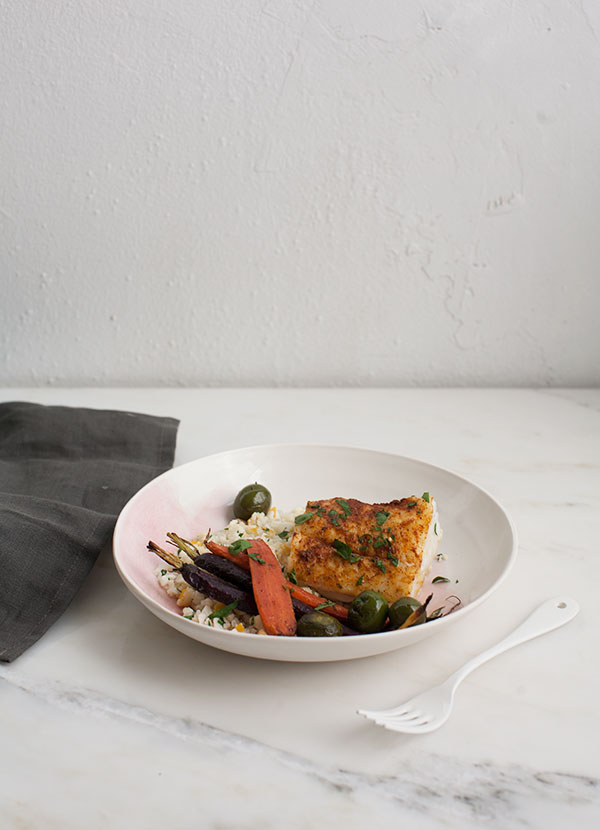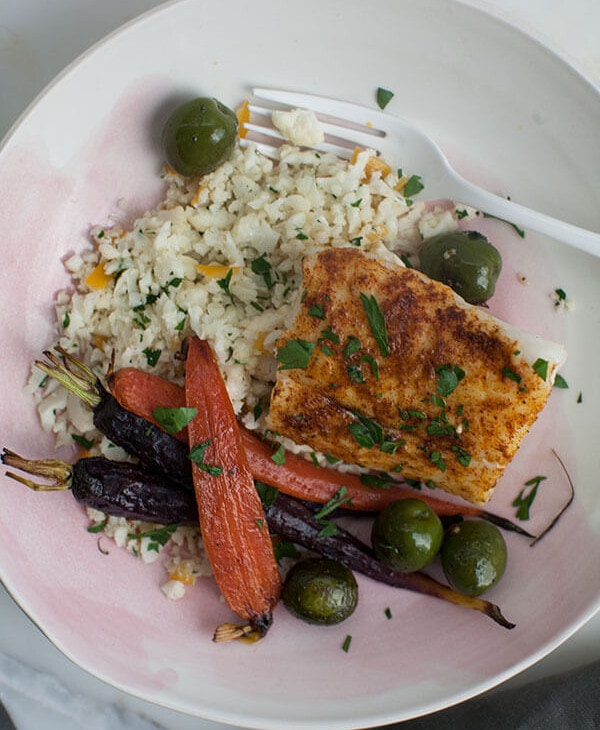 Print Recipe
Healthy Dinner for One: Morrocan-Spiced Cod with Cauliflower Cous Cous and Carrots
Serving Size:
bowl of health
Ingredients
2

tablespoons

water

1/2

1-pound head of cauliflower, florets trimmed and stems discarded

1

tablespoon

minced preserved lemon*

see below for substitute or juice from 1/2 lemon

Salt

Olive oil

2

teaspoons

ras al hanout

3

ounce

cod filet

washed and patted dry

2

carrots

trimmed and sliced in half, lengthwise

5

castrevelano olives

Small handful of Italian parsley

minced
Instructions
Preheat oven to 400 degrees F. To a food processor, add the florets of cauliflower and pulse until they resemble crumbles. To a small sauté pan, set over medium low heat, add a few tablespoons of water. Pour the cauliflower crumbles in the pan and cover. Allow to steam for about 5 minutes or until the cauliflower cous cous are softened. Stir in the preserved lemon (if using) or lemon juice, a few pinches of salt and mix. Give it a taste and adjust the salt and lemon juice according to your liking. Turn the heat off and cover until you're ready to serve.

Line a small baking sheet with parchment. On the baking sheet (we're not even going to use a cutting board), add the carrots, olives and cod filet. Drizzle about a tablespoon of olive oil over them and rub them thoroughly. Sprinkle the carrots and cod with the ras al hanout and a few liberal pinches of salt. Place the cod and olives on a paper towel. Transfer the baking sheet with the carrots to the oven to roast for about 10 minutes. At the 10-minute mark, add the cod and olives to the baking sheet. Roast everything, together, for an additional 5 to 8 minutes, until the cod is firm to the touch.

To serve, mix a handful of minced Italian parsley into the cous cous. Add the cous cous to a bowl, top with the olives, carrots and filet of cod and sprinkle with the last of the Italian parsley. This is health in a bowl!
Notes
Ras al hanout is a North African blend of spices. It has cumin, coriander, clove, cinnamon, nutmeg, mace, allspice, dry ginger, fenugreek and a few other things usually. If you don't have it on hand, feel free to mix together a bit of cumin and coriander together and sprinkle that on top. It should still be delicious!
Preserved lemons can be homemade but can also be found at the olive bar at Whole Foods or other gourmet grocery stores.