This post should probably be titled "How to make a pie in a hour and a half" OR "How to look in your fridge and make a pie," or maybe "How to make a pie when you don't have your shit together." All of these would be more accurate than the current: "Mixed Berry Pie."
Teri and I made a whole pie appear in a hour and a half. That's kind of impressive, no? I didn't really even think that was possible. And it barely was. Can I be honest? This pie was the most make-shift, Sandra Lee, pie of a situation I've ever baked up. If you, too, wanna do this, I have some pie confessions/secrets to share...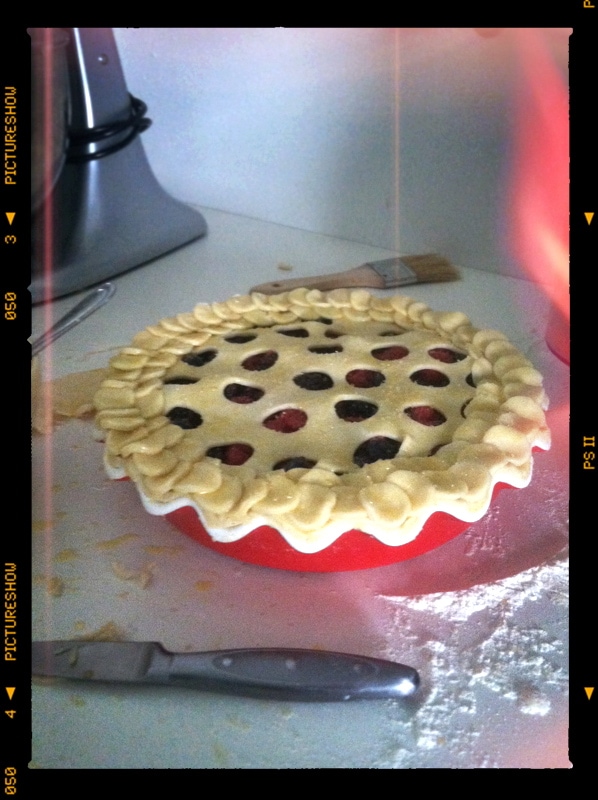 Generally I'd turn my nose at the thought of store-bought pie crust. I mean...if I'm gonna make a pie, I really want to make a pie, but in this instance I didn't have a choice. Teri insisted that this stuff was dependable and incredible. It tasted...solid. Totally solid. Like, I enjoyed its flavor, which surprised me...a lot.
If you feel like being an overachiever and putting me to shame, I suggest this buttermilk pie crust recipe--it's my favorite.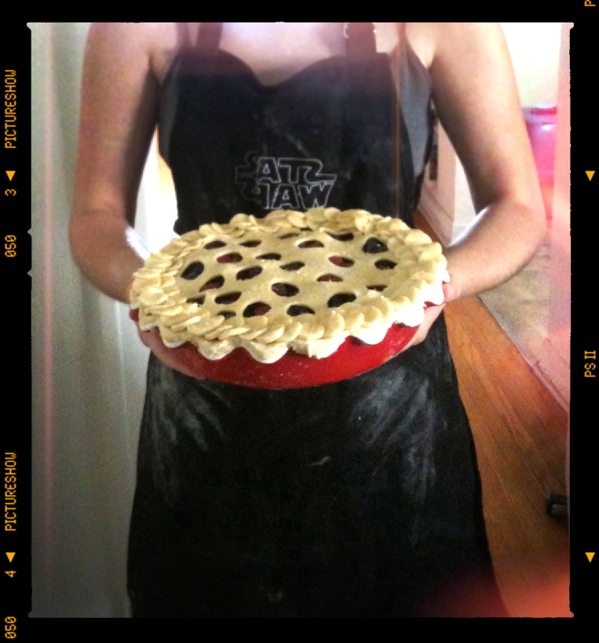 You wish I had a picture of this filling, right? Yeah...me too. I totally failed at that. But let's use our imagination like it's the 90s. Ready? The mixed berry filling consisted of blueberries, raspberries and blackberries. Along with some sugar, lemon juice, flour and a dash of salt.
And, per usual, it was slightly too sugary for my taste, so in the recipe below I scaled it back a tad. Really I just suggest a taste test before you put in the filling in the pie crust.
Can we talk about those holes? Those came from Teri's brain. Pie dough was rolled out and 10 or 15 holes were made. With those holes (and more that we made), we made a trim consisting of two hole layers. Pretty! Teri and I were impressed ourselves, to be honest.
I kinda think the pie's holes and border made this pie the pretty girl at the party.
P.S. You're totally judging me because of that add-water pie crust, right? Ugh...it's okay. I would too.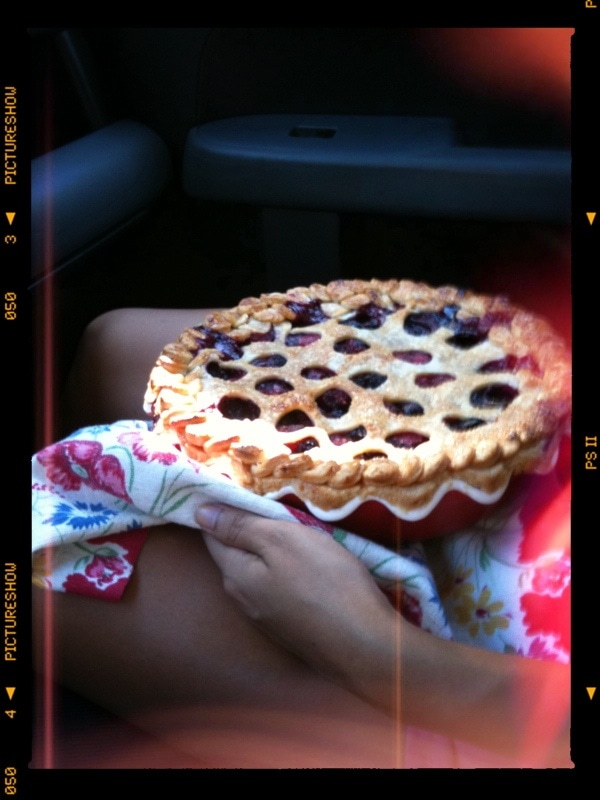 Mixed Berry Pie
2 pie crusts (for top, border and bottom)
2 pints of blueberries
2 pints of blackberries
1 pint of raspberries
Juice from 1 lemon
½ cup sugar
¾ cup flour
½ teaspoon salt
1 egg (for egg wash)
1 tablespoon of sugar in the raw
Pre-heat oven to 425F.
Roll out the dough and place into your 9-inch pie dish. Roll out second pie crust and cut small holes (around 10) into the dough. Set the holes aside, as you'll use them for the border.
For the filling, mix the blueberries, blackberries and raspberries with lemon juice, flour and salt. Taste and adjust sugar amount. Transfer the fruit filling to the pie crust dish and top with the holey pie dough.
In a small bowl, make the egg wash with beating an egg and adding a splash of milk or water. Making as many holes as needed, place holes around the border, creating two layers. Note: you'll want to lightly coat them in egg wash before placing them around the pie's edges. This will make them adhere to one another.
Brush a light coat of egg wash all over the pie crust and dust with sugar in the raw.
Cover the edges with foil to prevent them from burning, and transfer pie to oven and bake at 425F degrees for 40 minutes. Remove the foil for the last 10 minutes (or until golden brown) to get an even golden brown crust.