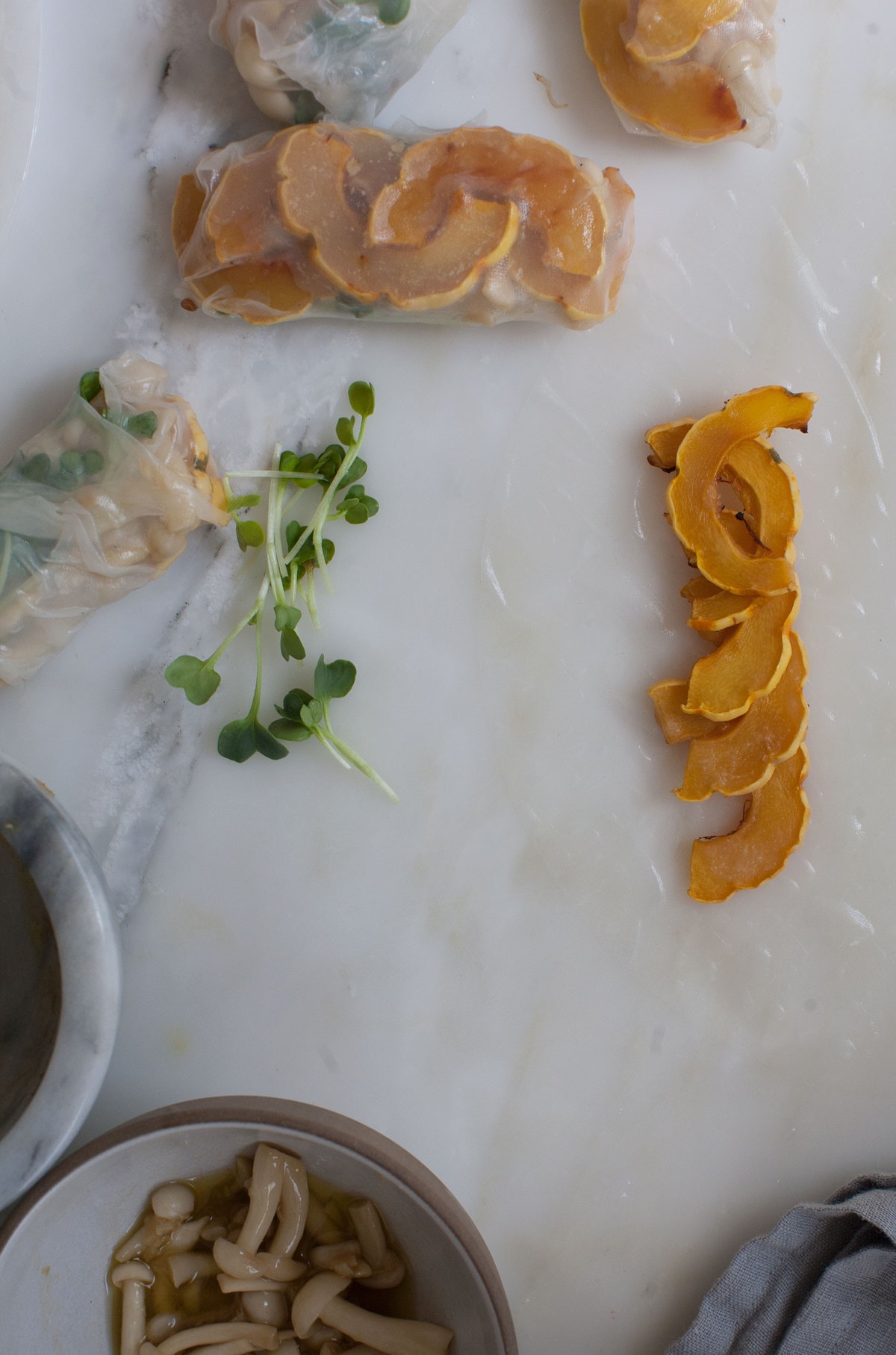 I was watching the new season of Mind of Chef the other night and it's goooooood. Oh man, I want to make and eat every single thing Gabrielle Hamilton makes on the show. There was an episode that especially stood out to me; it was all about "garbage" and waste. She, like, many chefs is constantly thinking about waste. It's pretty incredible how many times she uses a broth over, how she reuses scraps and how she uses "waste" in other dishes in new and unexpected ways. It shows how clever and smart and conscious she is.
I, too, think about waste. Running this food blog, I'm often left with leftovers. I think about storing them, rolling leftover ingredients into another recipe and blog post. This means fresh herbs are stored in bags with a damp paper towel (do you do this? they last SO much longer), cheese are stored in bags and containers help with leftovers.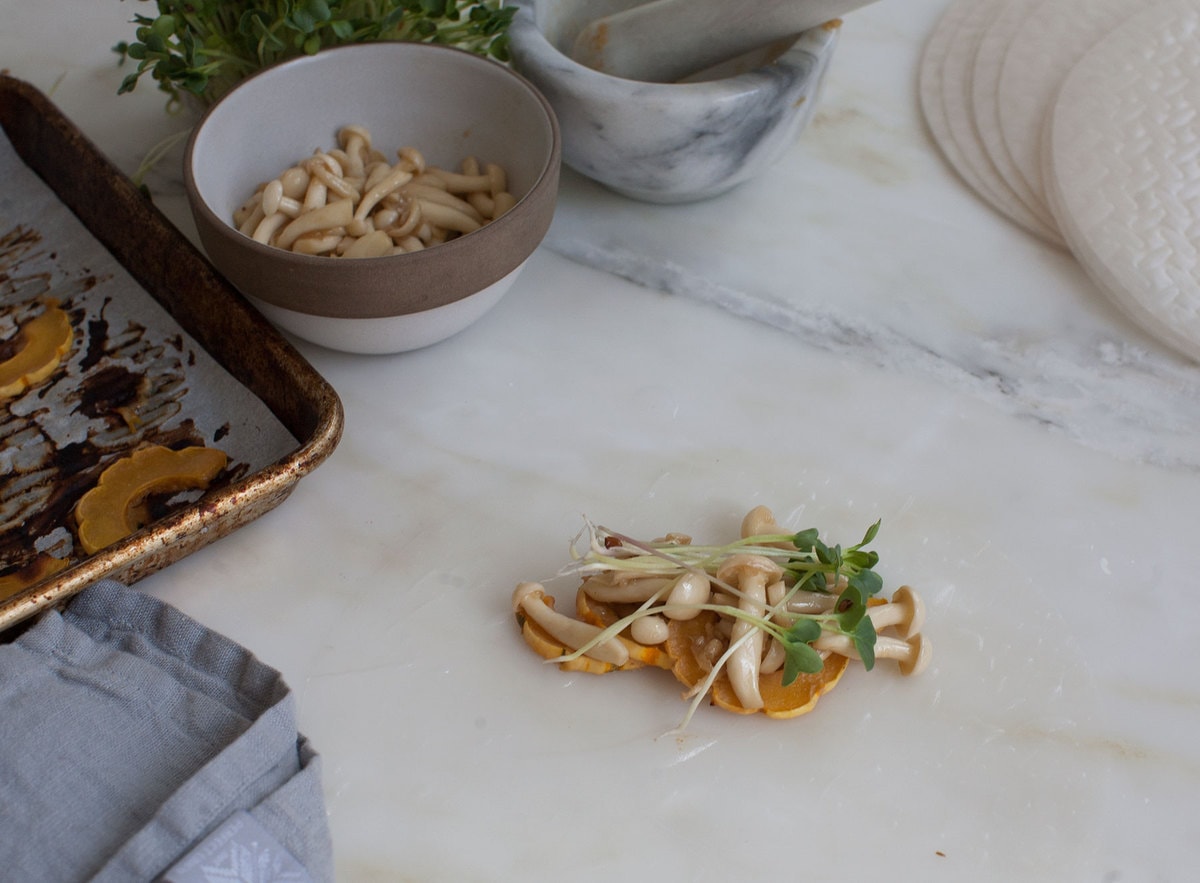 Today I'm teaming up with Glad to talk about World Food Day, which is next week (October 16th). World Food Day is about taking a stand against worldwide hunger. The mission is to protect food so it stays fresher, longer. It's about being a bit aware of our consumption and of our food waste.
For each black & white food photo you post and tag #GladToShare, Glad will donate $1 to international charity Free The Children to provide a nutritious meal for a person in need in communities around the globe. Visit Glad to learn more about how you can take a stand against global hunger in honor of World Food Day.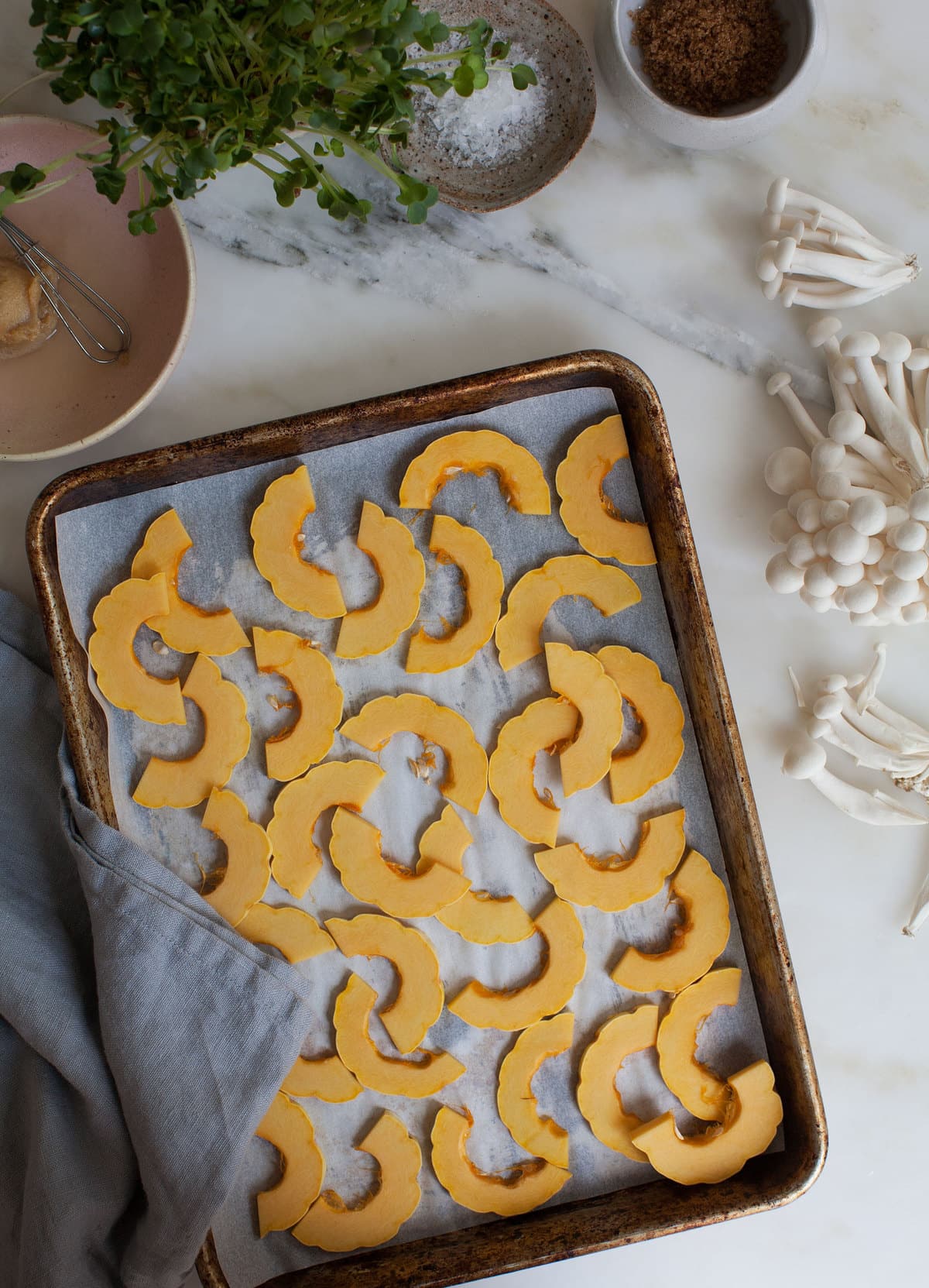 Now, this recipe! During the fall, I always seem to have some form of squash in my fridge from other recipes I'm testing. I usually like making some form of soup but the last few days have been sort of warm (LA hates me), so I've been craving something that I can make a big batch of and eat cold, straight from the fridge.
Enter: these spring rolls. The brown sugar mushrooms are from Heidi Swanson's new book, Near and Far. I LOVE THIS BOOK. The mushrooms are so delicious and I could seriously just eat a plate of them. The squash is glazed in warm miso. Pair it with some sort of sprout (I used radish sprouts) and boom! Lunch or dinner at any time.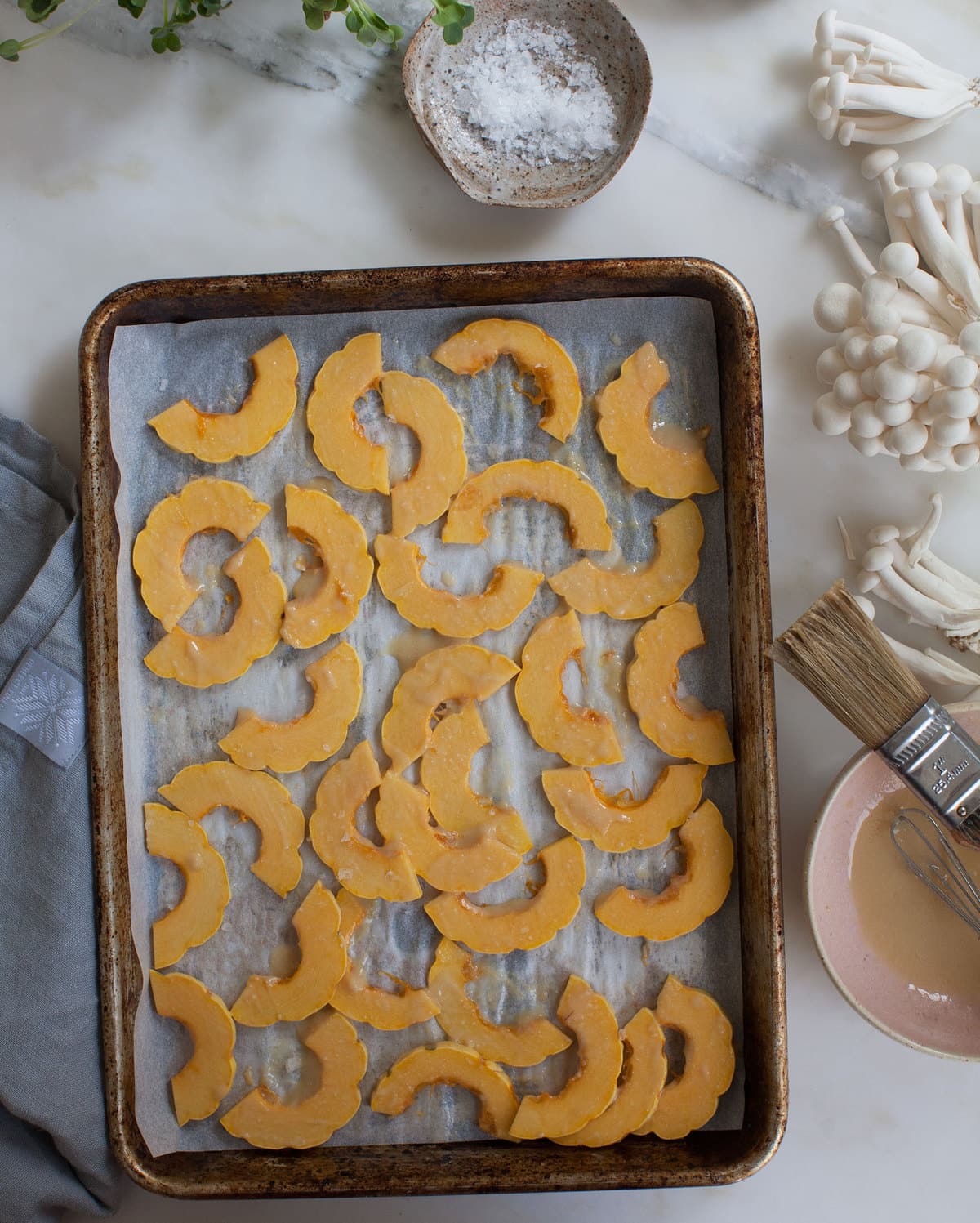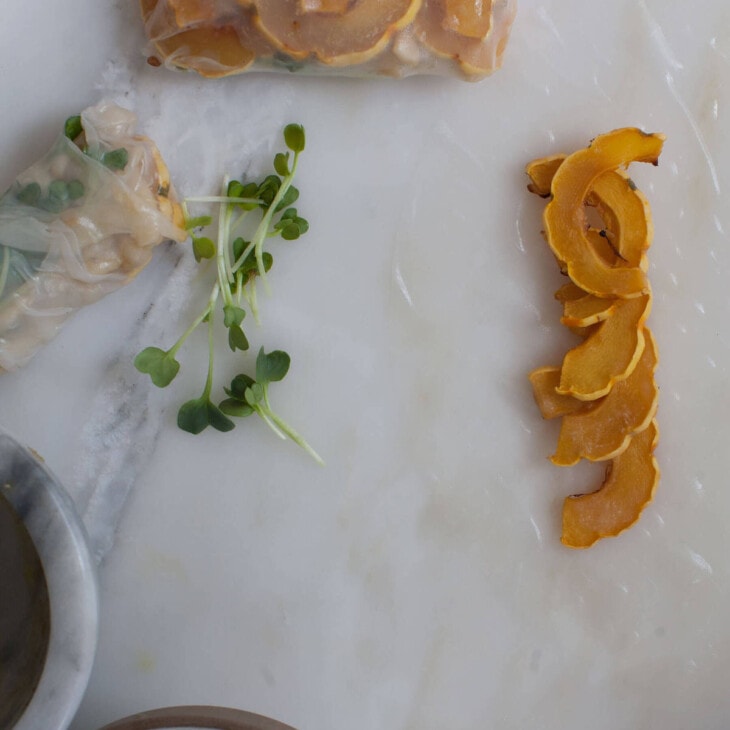 Print Recipe
Miso-Glazed Squash Spring Rolls with Brown Sugar Mushrooms
Serving Size:
spring rolls
Ingredients
Delicata Squash:
1

tablespoon

white miso

2

tablespoons

hot water

1

delicata squash, cut horizontally, cut into moon-shaped half rings, seeds removed

Salt
Brown Sugar Mushrooms
2

garlic cloves

2

teaspoons

brown sugar

Pinch

of salt

1

teaspoon

olive oil (or sunflower oil)

12

ounces

mushrooms (I used beech but feel free to use enokis or sliced creminis)

Rice papers (about 8)

A bunch of radish sprouts (or other sprouts)
Instructions
Preheat your oven to 350 degrees F. In a small bowl, whisk together the white miso and hot water. Spread the moon-shaped half rings of delicate squash onto a parchment-lined baking sheet. Brush both sides of squash with the miso. Sprinkle with a few pinches of salt. Transfer to the oven to roast for 15 to 20 minutes, until the squash is tender when poked with a fork. Set aside to cool.

To a mortar and pestle, add the garlic cloves, sugar and salt; pound into a paste. Pour in the olive oil and work it into the paste. In a small skillet, set over medium heat, add the sugar paste mixture and mushrooms; toss until the mushrooms and cook for 2 to 3 minutes, until tender. Set aside.

To assemble: Fill a large bowl with warm water. Dip one wrapper into the hot water for 1 second until slightly softened (it'll become softer as the water sets in so don't over soak). Lap the wrapper flat on your work surface. In a row across the center, place the slices of squash, top with a few spoonfuls of mushrooms and a small handful of radish sprouts. Fold in the sides inward, then tightly role the wrapper, beginning at the end. Repeat with the remaining ingredients and wrappers. If kept in an airtight container, spring rolls will keep well for 2 to 3 days.
(This post is in partnership with Glad.)