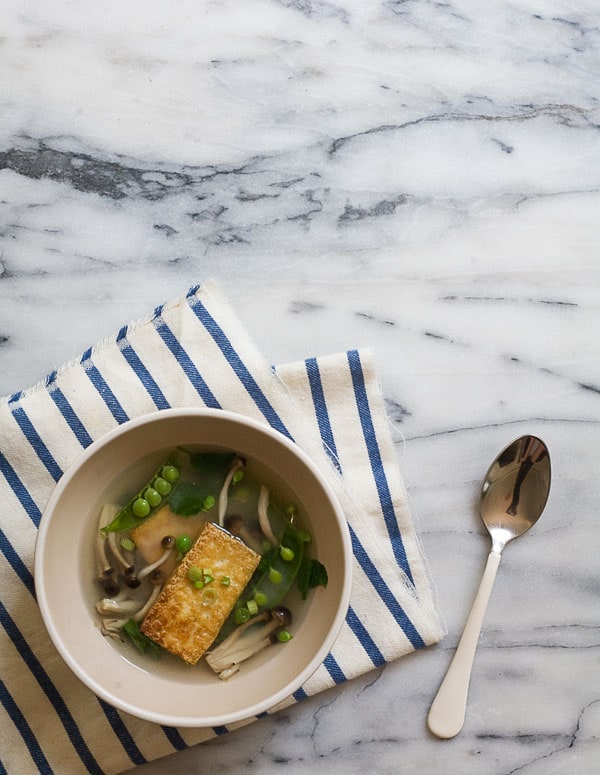 My favorite thing about Spring is that there's no sweating involved. I'm definitely not ready for peaches and watermelon and scorching temperatures and sweating. Mainly sweating.
But I am ready for trench coats, Spring showers and all of the produce like ramps, asparagus (hi asparagus tarts!), fresh peas (i love you pea soup!) and strawberries (hai strawberry ice cream with my new machine!).
On rainy, cloudy Spring days, this (non-traditional) miso soup is what I dream about. (It's weird but sometimes I dream about soup instead of biscuits.)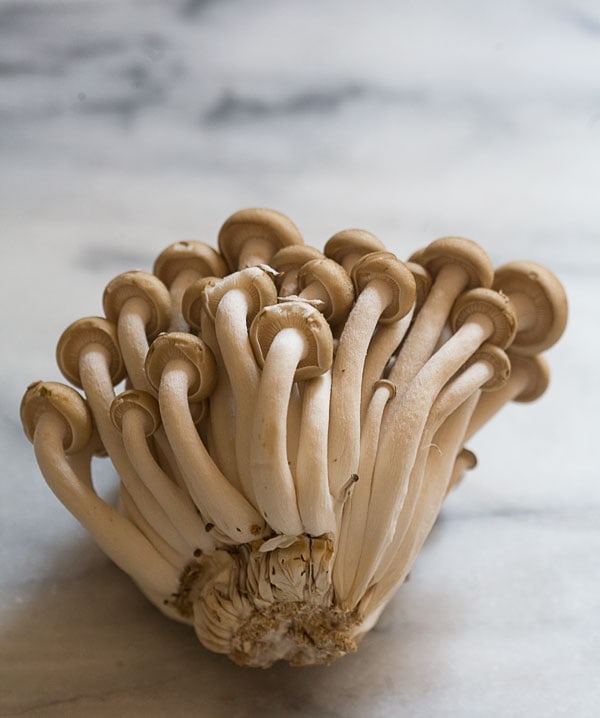 Have you ever made miso soup at home?
I hadn't until a few weeks ago when I bought a tub of sweet white miso. I got this idea to make a very non-traditional version of miso soup, incorporating some of my seasonal favorites like peas and watercress.
And here we are, you guys! I love this soup so dang much.
This picture below is either VERY cute or VERY terrifying.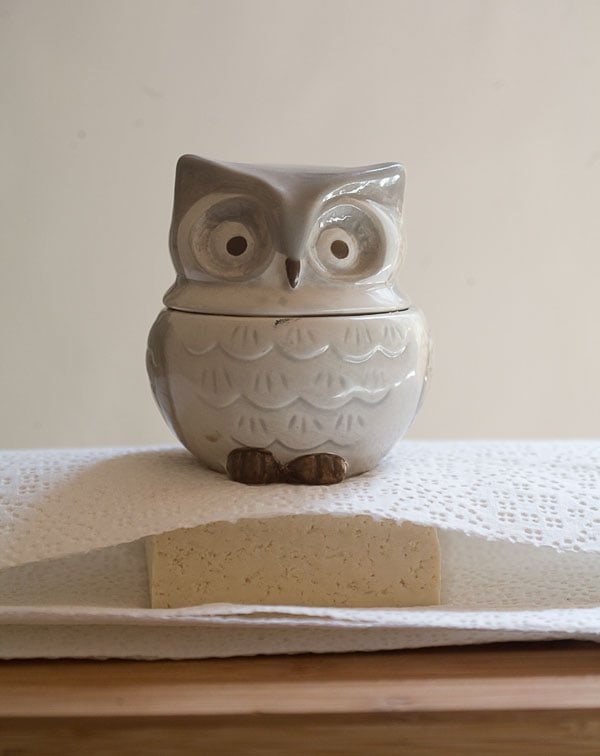 Usually in miso soup, the tofu is in its natural state: soft, sort of slimy in texture and just kind of chilling. I figured I might enjoy it more if it were pan-fried, and I was right.
To get a good sear on tofu, you gotta make sure it's as dry as possible, hence the paper towels and owl.
While the tofu was draining, I roasted some mushrooms! Enoki and beech mushrooms. I recommend finding the closest Asian market near you and going there to buy these mushrooms. At Whole Foods and other fancy grocery stores, these mushrooms run about $6 for a bundle. At the Asian market, they were $1. Crazy price difference!
If you like, you can use cremini, oyster or shitake mushrooms, too.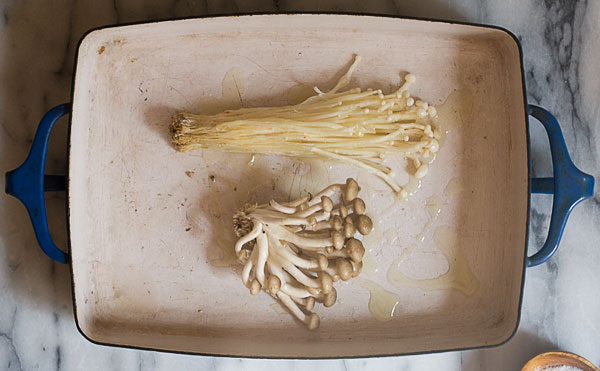 Sweet miso paste.
The brand I like is Cold Mountain. I found this at a health-centric grocery store near my house, but you can usually find it at Whole Foods, too.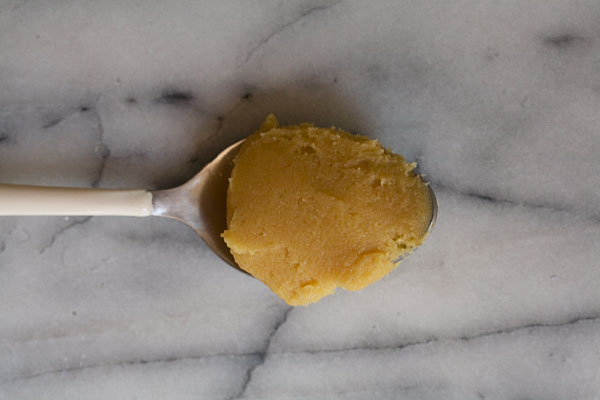 This soup is what I've been making when I want a quick, easy and healthy lunch. It comes together in less than 20 minutes and is so versatile. It lends itself to what you got going on in the fridge. Swap out different vegetables, different mushrooms, add soba noodles, if you have it around, or even add a little spiciness to it.
The recipe below is for two people, but I've made this for myself and it is such an awesome one-person meal.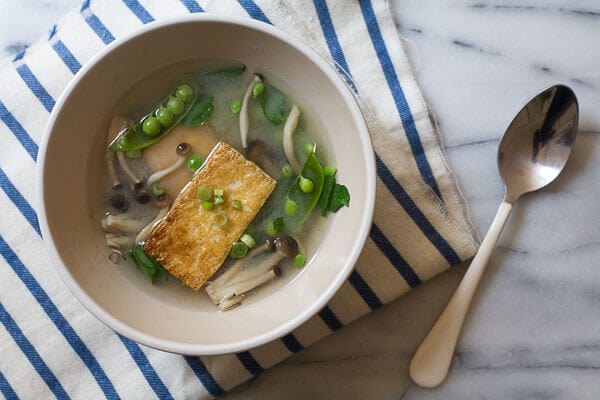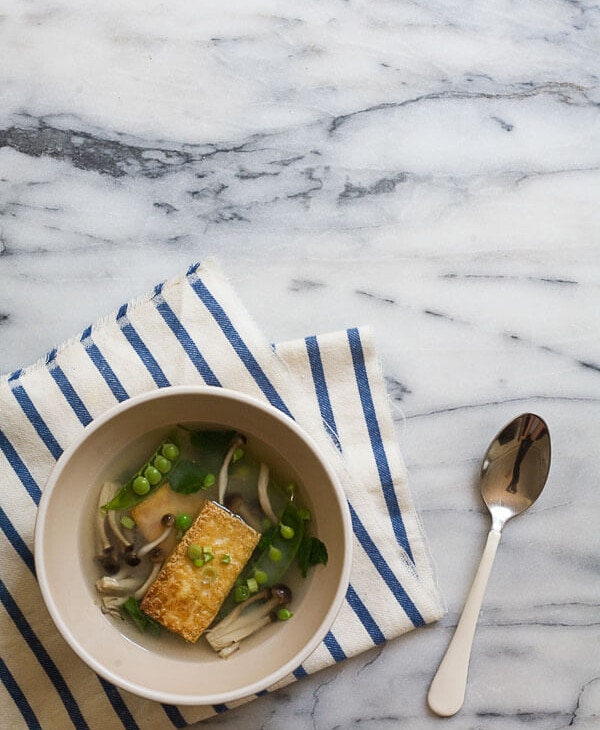 Print Recipe
Miso Soup, Spring-ified
Ingredients
4

ounces

firm tofu

drained

Small bunch of enoki mushrooms

other options include: oyster, cremini, shitake

Small bunch of beech mushrooms

Olive oil

Salt

1-2

tablespoons

sweet white miso paste

I like this one

Handful of watercress

washed and stems trimmed and discarded

7-10

fresh peas

1

green onion

thinly sliced
Instructions
Lay the block of tofu on a few paper towels. Top the tofu with a few more paper towels and set something moderately heavy (see the owl pictured) on top of the paper towels to weigh it down. Allow to drain for 15 minutes then cut into 1/4-inch rectangles. While the tofu is draining, feel free to get the rest of the dish prepped.

Preheat the oven to 400 degrees F. To a small baking sheet or roasting pan, add the mushrooms. Drizzle a teaspoon or two of olive oil over the mushrooms and sprinkle with a few pinches of salt. Transfer the mushrooms to the oven and cook for 10-12 minutes, until tender and slightly golden brown. Set aside.

Place a skillet over high heat and add about 1/4-inch of olive oil. When the oil is hot, carefully add the tofu, cooking them on each side for about 2-3 minutes and until they're lightly golden brown. Remove and drain on a paper towel. Set aside.

Set a medium pot over moderately high heat. Add 2 cups of water and one tablespoon of the miso paste. Mix until the paste is completely dissolved and the broth begins to boil. Once it reaches a boil, turn the heat to low. Salt the broth to taste (I added about 1/2 teaspoon). Also, if you want the miso bolder, you can adjust the amount too. Next, add the mushrooms, watercress and fresh peas; cook for an additional minute.

To serve, divide the slices of tofu between two bowls. Ladle the miso soup over the tofu and garnish with a few slivers of green onion.