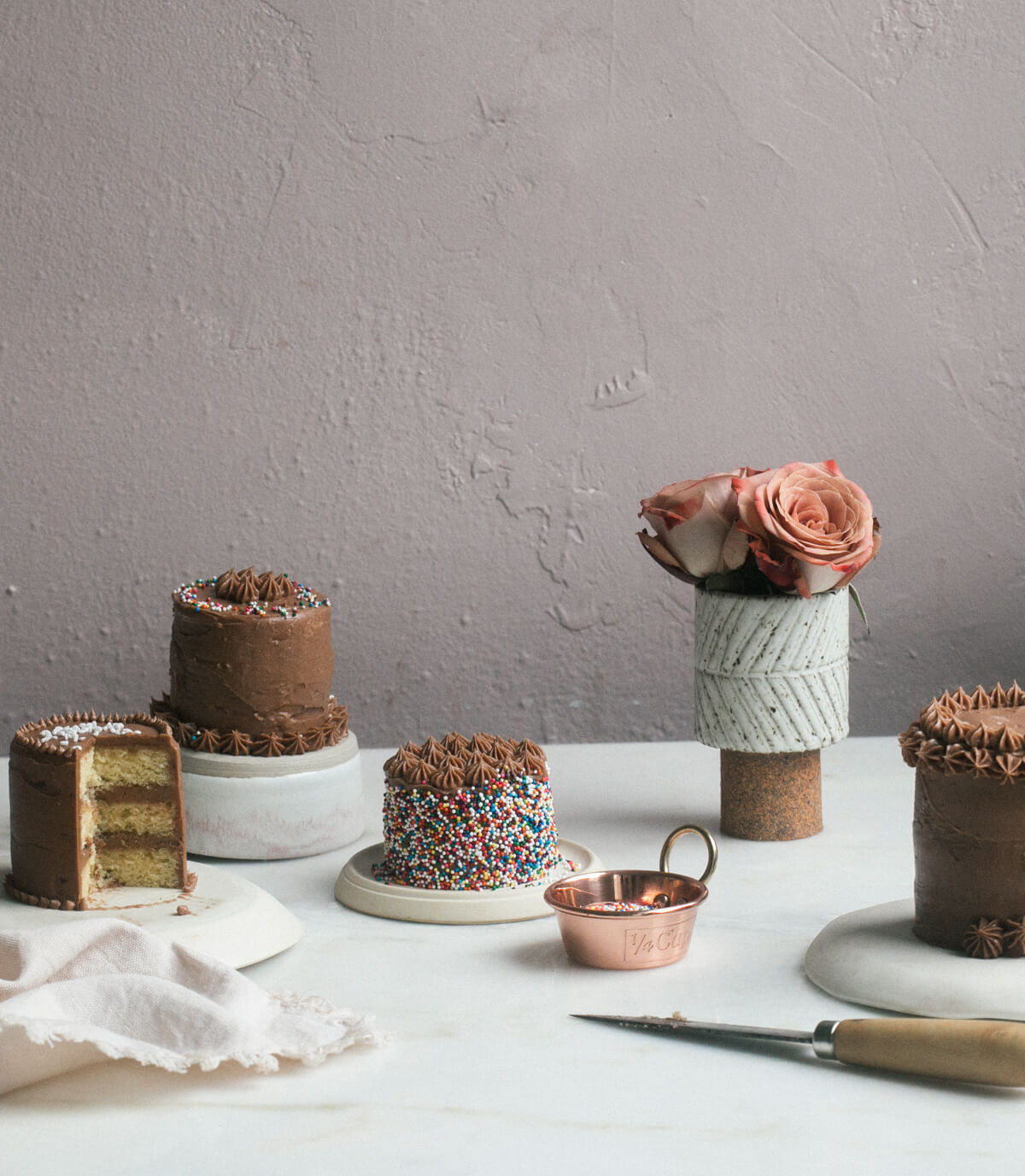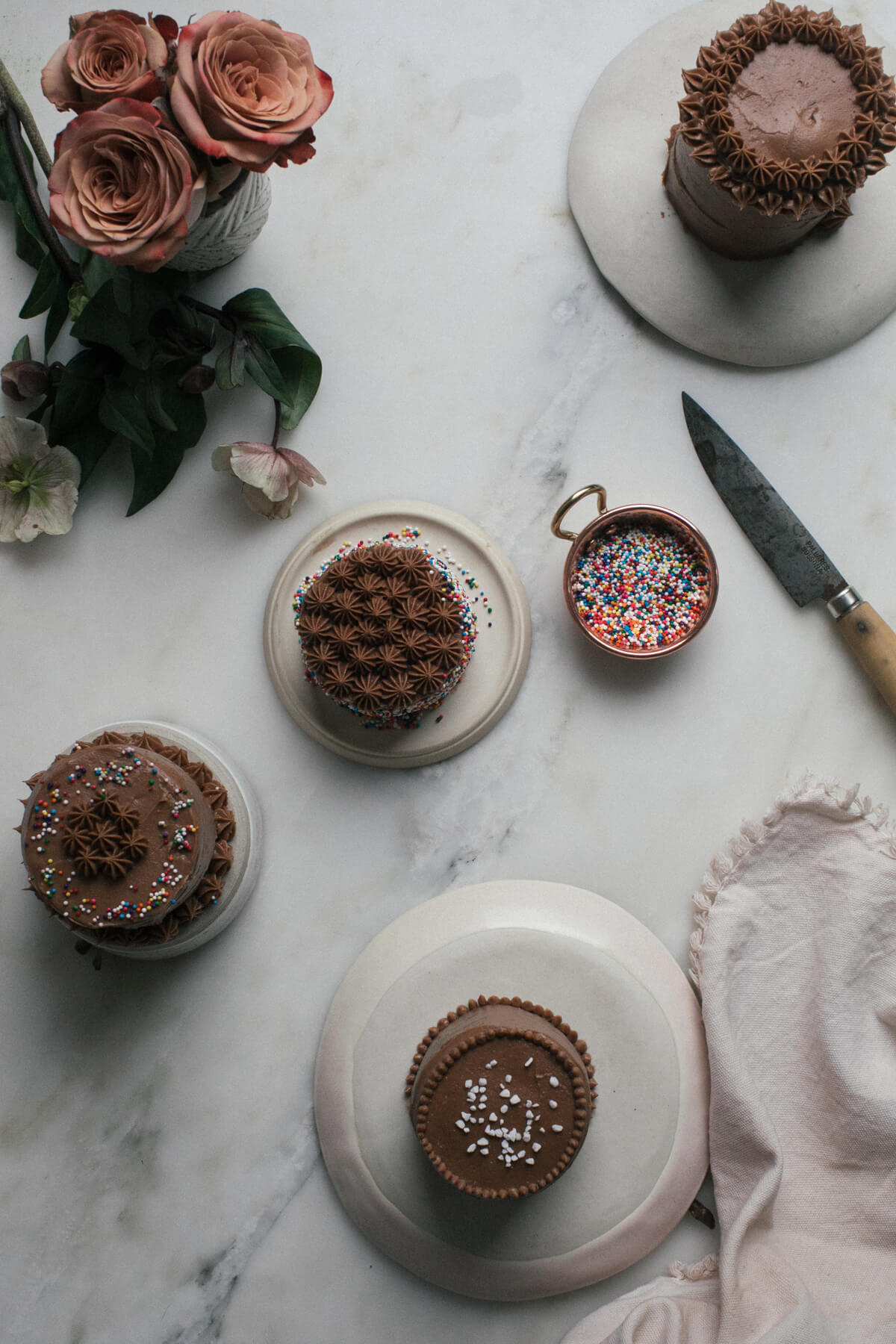 I have finished The Crown (I am a professional binge-watcher) and I LOVED IT. I love history and fell right into the series because of Wallis Simpson. I watched a documentary on her a few years ago so I felt like I already knew a small piece of the puzzle. I will admit that it was rather slow in the beginning but if you stick with it, it's fascinating.
Now I've moved onto ABSTRACT. It's like chef's table but for artists and I'm so very into it because I find the process of any and all artists so interesting. I even love finding out how my food blog friends work. Like, oh you use fake light?! COOL! You get your surfaces and props from where? Interesting. I love the behind-the-scenes; I find it so very interesting.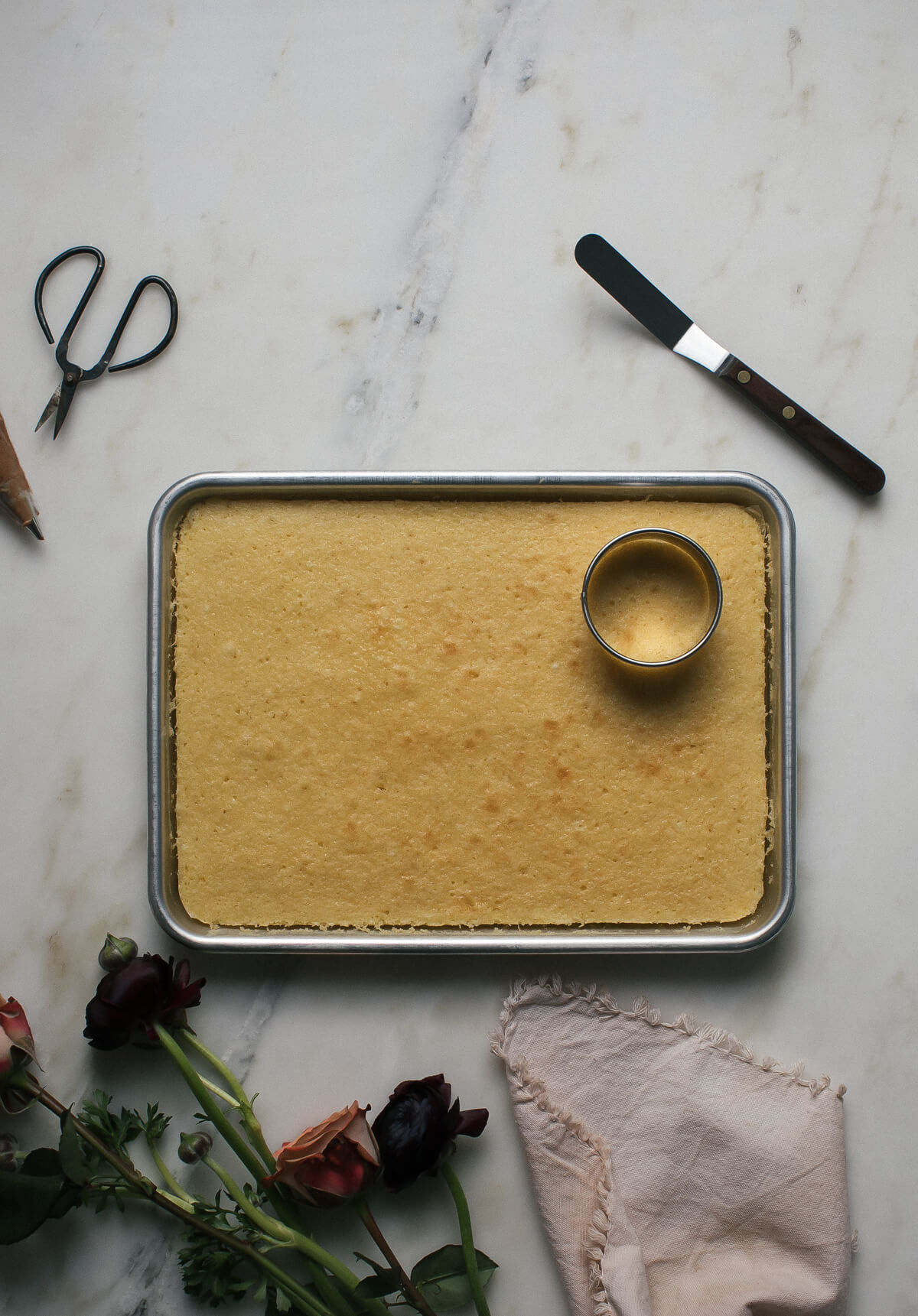 I'm gonna be honest: these lil' cakes look so neat and tidy but decorating them blew up my kitchen. I had five piping bags and somehow forgot to put twisty-ties on the end and frosting was gushing out the other end. I had like a pile of towels all filled with chocolate frosting and my hair was a hot mess. VERY grateful I was home alone because Amelia passes no judgement!
But when I finally came up for air and dug myself out of the mess, I loved how these little cakes turned out.
The yellow cake is delicious and rich. And the frosting is my absolute new-favorite.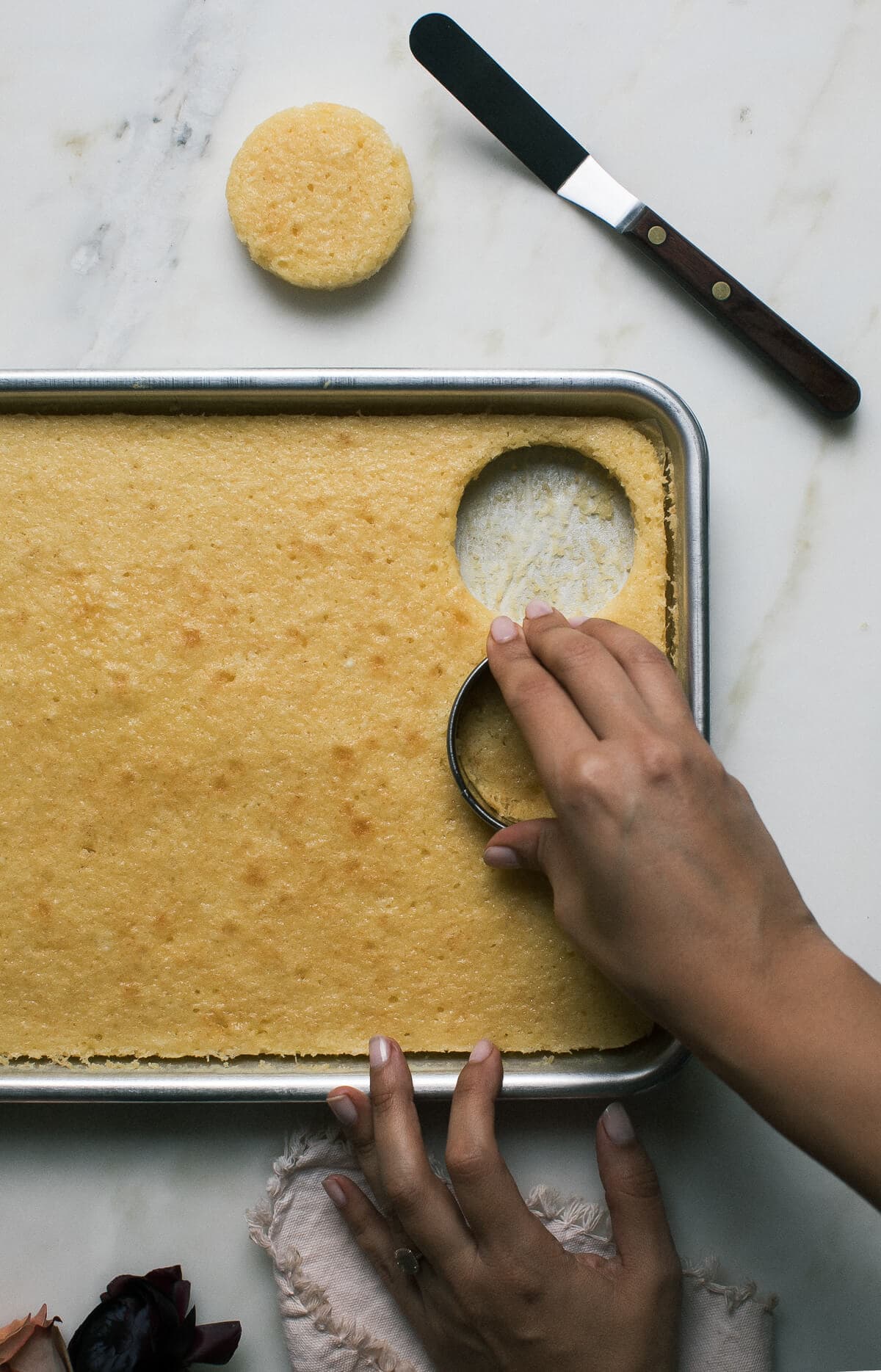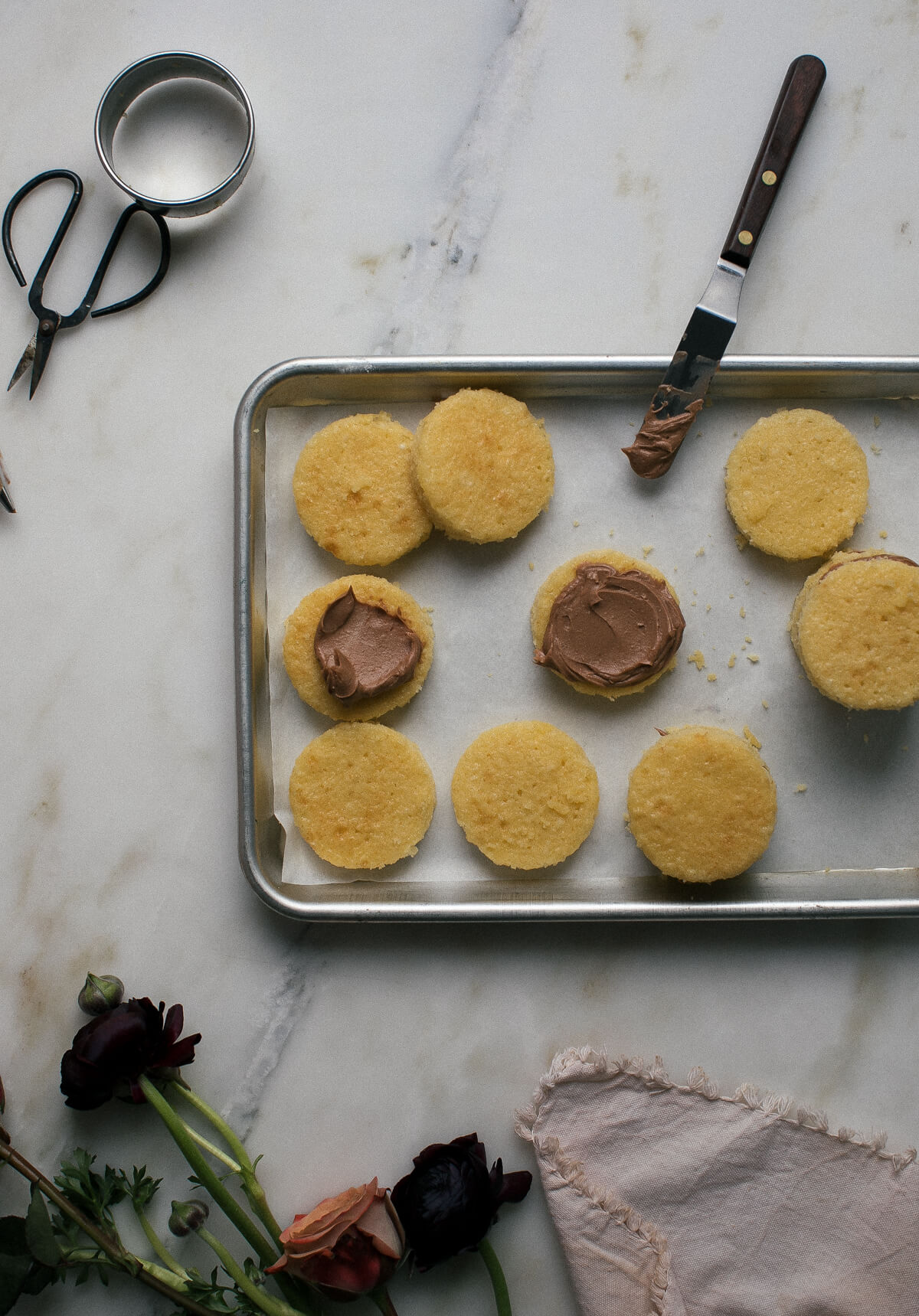 It starts making a small batch of yellow cake batter and pouring it onto a quarter baking sheet. It bakes up in 15 minutes and after it cools, I stamped it out with a 3-inch biscuit cutter. I should've (and you definitely should) chilled the stamped out cake so it was easier to decorate.
Cold cake is ALWAYS easier than warm and soft cake. I know this but for some reason I thought I could get away with it and I so couldn't.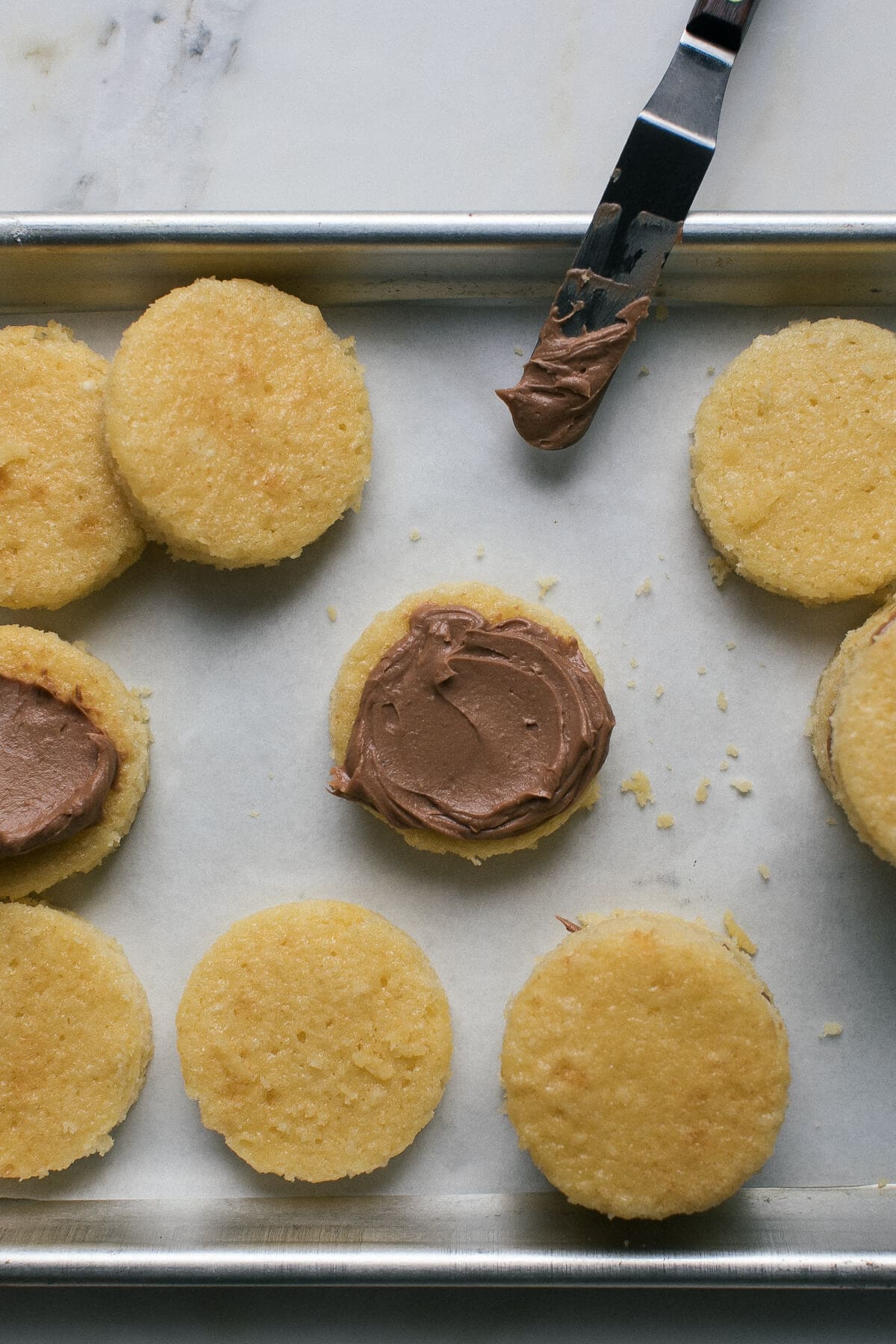 The chocolate frosting is my absolute favorite because the addition of malt powder makes my eyes turn into hearts. They taste like whoppers.
When I went to the movies when I was little, whoppers were always my go-to candy. I never chewed them; I always just sucked on them until they completely dissolved. So strange that I remember those little things from childhood. Little habits that have no real significance.
But when I ate a spoonful of this frosting, I was like Oh! That tastes like the movies.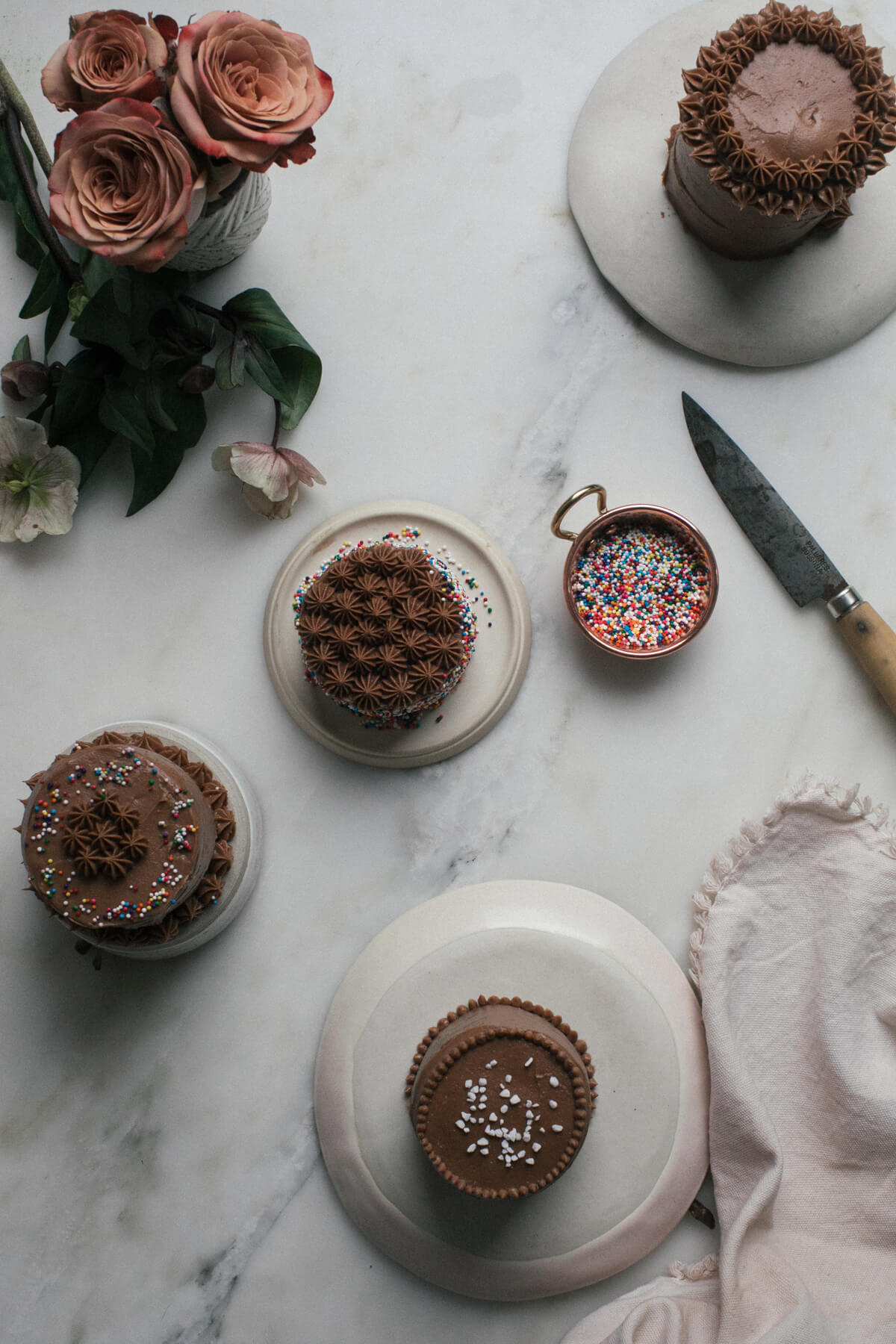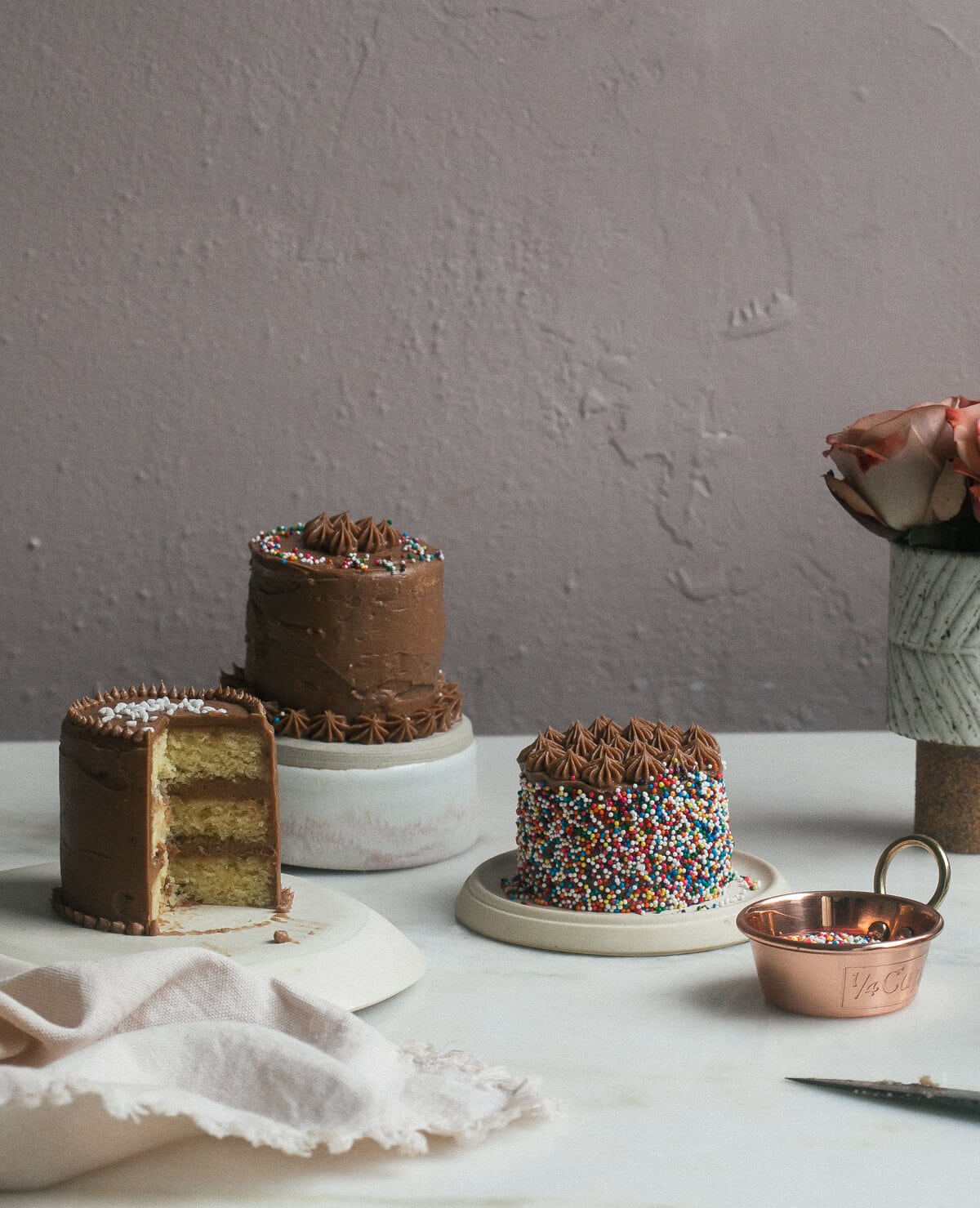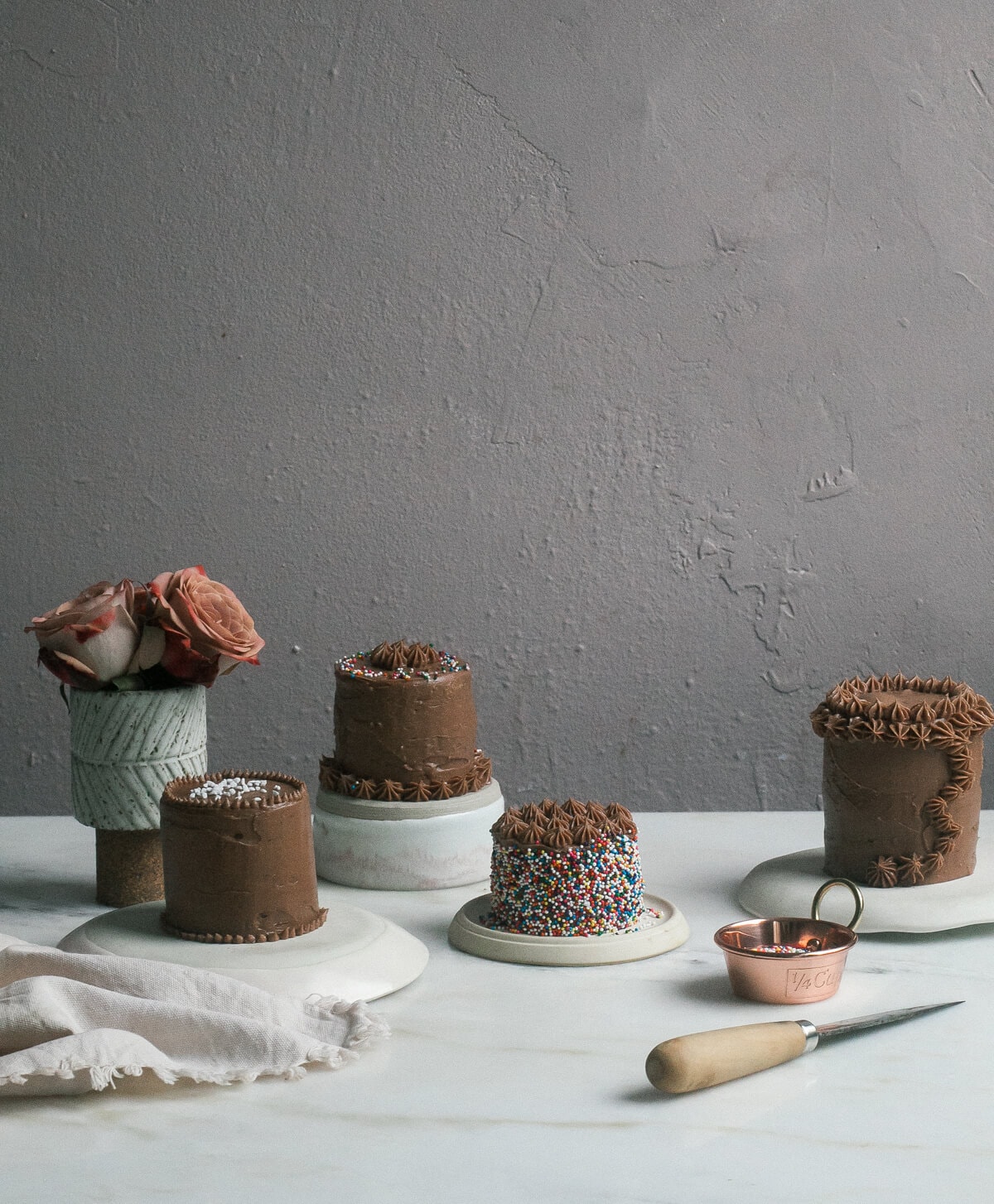 Happy Valentine's Day!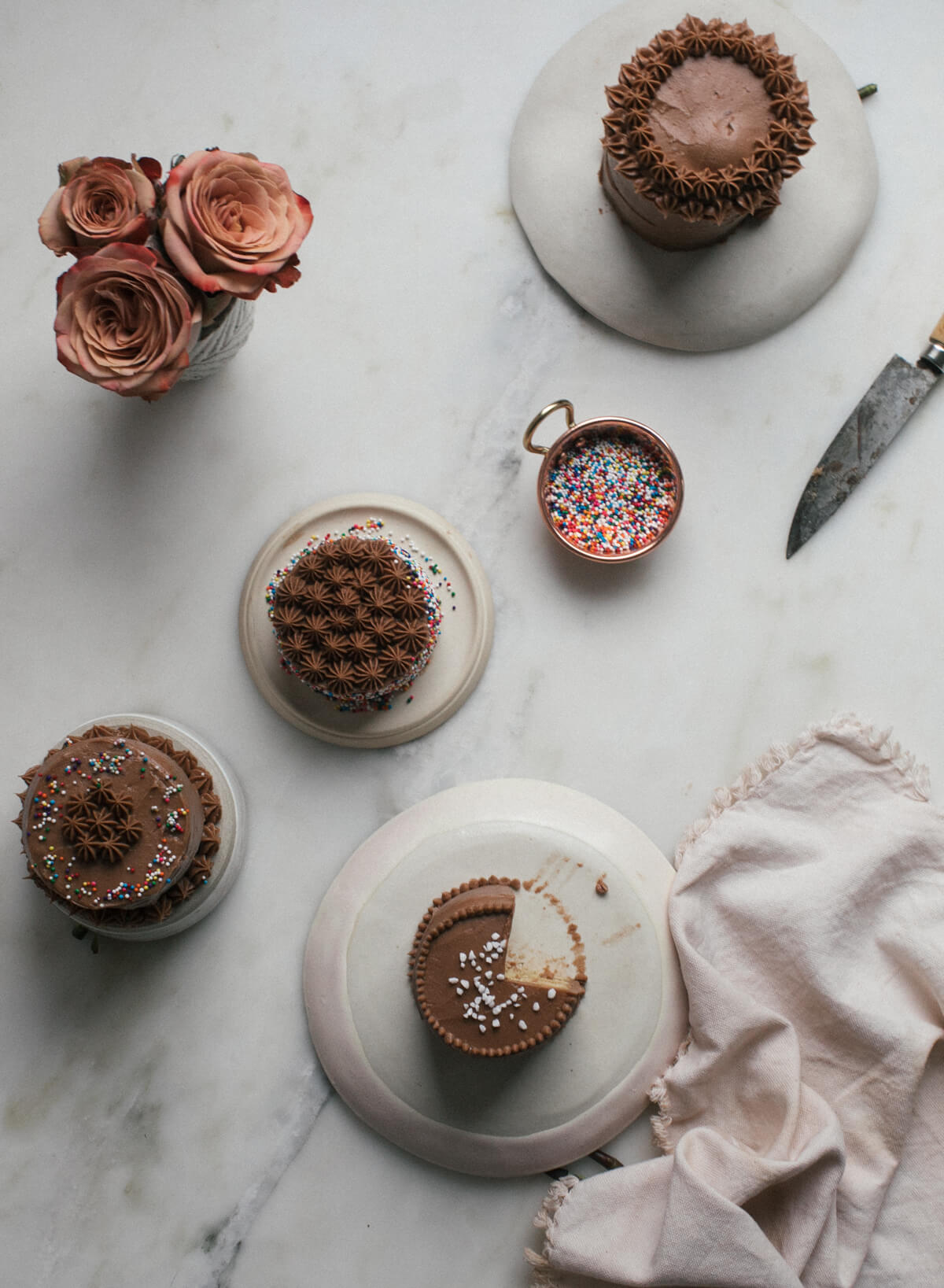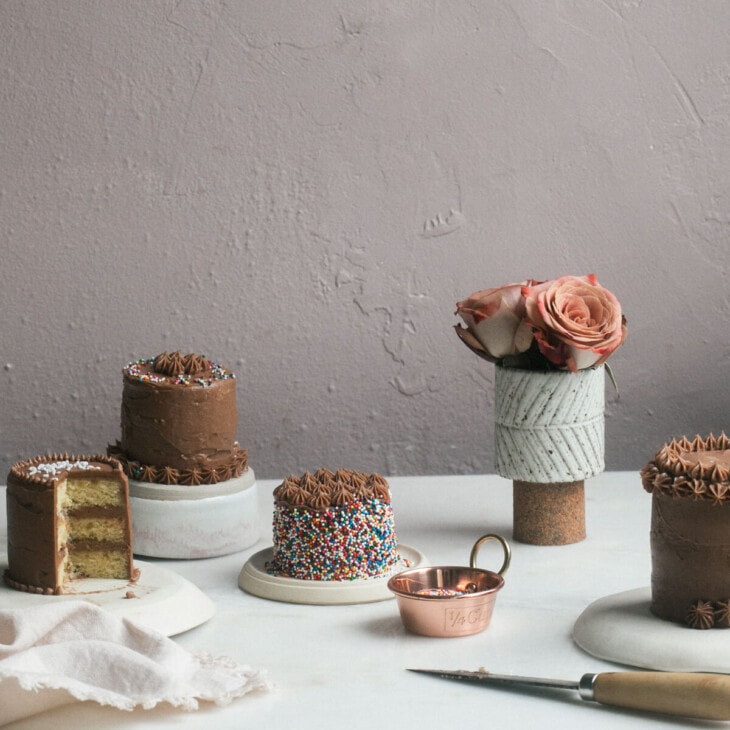 Print Recipe
Mini Yellow Cakes with Malt Chocolate Frosting
Serving Size:
to 4 mini cakes
Ingredients
Yellow Mini Cakes:
1

cup

plus 1 tablespoon, cake flour

2

teaspoons

baking powder

1/2

teaspoon

salt

1/2

cup

unsalted butter

at room temperature

3/4

cups

white granulated sugar

4

large egg yolks

1

teaspoon

pure vanilla extract

1/2

cup

milk
Malted Chocolate Frosting:
1/2

cup

unsalted butter

at room temperature

1

cup

powdered sugar

1

tablespoon

malted milk powder

Pinch

of salt

3

ounces

semi-sweet chocolate chips

melted and cooled

1/4

teaspoon

pure vanilla paste or 1 teaspoon vanilla extract

1

tablespoon

milk
Instructions
To make the cake: Preheat the oven to 325 degrees F. Grease and line a quarter baking sheet with parchment paper. Set aside.

To a medium bowl, add the cake flour, baking powder and salt. Whisk until combined. Set aside.

In the bowl of a stand-up mixer, using the paddle attachment, beat the butter and sugar together until light and fluffy. Add the egg yolks and beat until completely combined, about 2 minutes. Next, add the vanilla extract.

Add the flour and milk, alternating between the two, starting and ending with the flour. Mix for about 20 seconds, until you no longer see any little speckles of flour. Pour the batter into the prepared quarter baking sheet and smooth out the top.

Transfer to the oven to bake for 17 to 20 minutes, until a cake skewer inserted into the center comes out clean. Allow to cool completely.

To make the frosting: In the bowl of a stand-up mixer, with the paddle attachment, add the butter, sugar, malted milk powder, melted (but cooled!) chocolate, vanilla and milk. Beat until smooth and fluffy, about 1 to 2 minutes. Set aside.

To arrange and decorate: Using a 3-inch cookie or biscuit cutter, stamp out cake rounds. You should get about 12. Transfer to the freezer to chill for 10 minutes.

Decorate the cakes as you like. I made one 4-layer cake, two 3-layer cakes and one 2-layer cake. I added sprinkles to the sides, to the tops and piped on little flowers and dollops. Get creative!