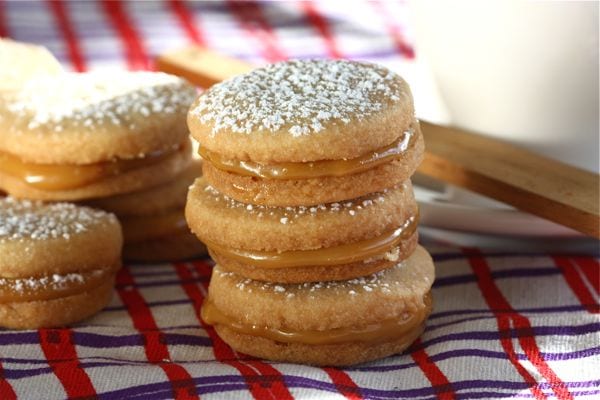 Have I ever told you I'm really bad at math? Don't ask me math questions. And please answer mine. If I'm asking, it means they're serious and important.
For instance, if I for some reason burst into our office, covered in flour, and ask you how many grams ¾ of a cup of flour is...it's important. Really important.
Also, I'm a little heavy handed with the sugar when putting it in my coffee. Don't judge me.
Let's do cookie math, shall we? It's way more fun than normal, real life math flour math...mainly because we get to eat this math.
This recipe yields 50 small cookies. For each cookie sandwich you'll need two buttery, shortbread cookies and one small teaspoon of dulce de leche. Each cookie is about two bites. That means this recipe will give you 50 glorious, delicious bites of my childhood.
Yes, that's right. These cookies you see here were some of the first I baked up. Ever.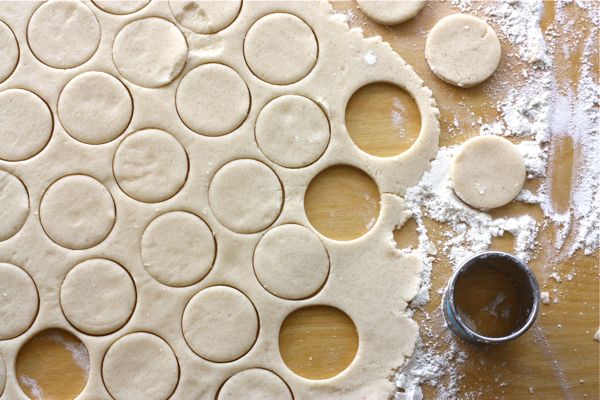 Why did I wait this long to make them for the blog you ask?
I sort of have an attitude with most alfajores. The ones of my childhood were glorious--they were made with dulce de leche (a.k.a manjar blanco) that was stirred for hours and hours (by hand!!).
The shortbread cookie was soft and crumbly. The cookies were filled with about two tablespoons of dulce de leche and then rolled in powdered sugar. MAJOR!
But...they were always too big. Too rich. Just too much to eat (for me at least).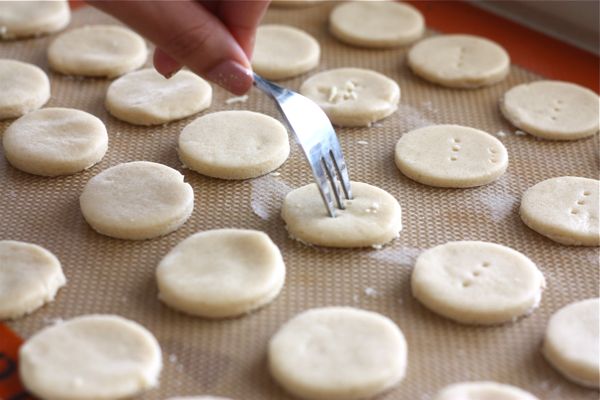 It's totally silly to say that I really never thought of simply making them smaller-which is about the easiest thing to do, ever.
I think it's that they were so ingrained in my head as these monster cookies that I never thought I could do it.
Just not really an option.
But guess what...I did. And I fell in love with them all over again.
They're buttery, soft with just the perfect amount of give. Not too little dulce de leche, not too much...just enough.
A little sprinkling of powdered sugar on top...and you got yourself two bites of major cuteness.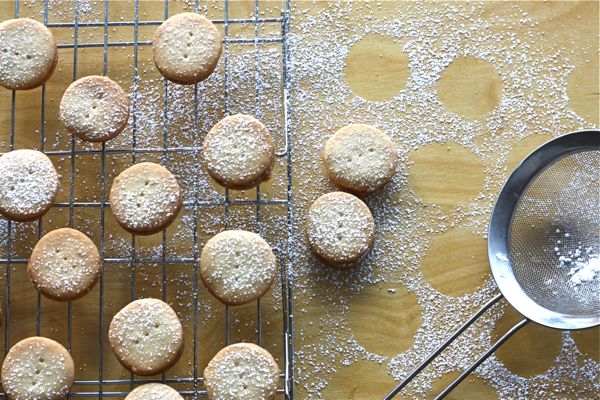 Mini Alfajores
1 can sweetened condensed milk (label removed)
2 ¼ cups all-purpose flour
⅛ teaspoon kosher salt
1 cup unsalted butter, room temperature
½ cup fine granulated sugar
1 teaspoon pure vanilla extract
1. In a large pot, fill with water to cover the can of sweetened condensed milk. Over high heat, bring to a boil Let simmer for 2 ½ to 3 hours, making sure to add more water as necessary. Remove the can of dulce de leche from the water and let cool to room temperature.
2. Preheat oven to 350˙F. In a medium bowl combine flour and salt. In a stand-up mixer cream together butter, sugar and vanilla extract for 3-4 minutes, mixture will turn light and fluffy. As mixer is going, add in flour and mix until combined. Shape into a disc, wrap in plastic and refrigerate for 30 minutes.
3. On a heavily floured surface, roll out the dough to ½-inch thickness. The dough will be a little sticky so be sure to flour your roller, too. Using a 1 ½-inch round cutter, cut out shortbread cookies and place on baking sheet. Poke a series of three holes, using a fork, in the center of each cookie.
4. Transfer cookies to oven and bake for 12-15 minutes, or until edges are slightly golden brown. Let cool on wire rack. To assemble the sandwiches, open the can of dulce de lece. Lay half of the shortbread cookies bottom-side up. Spread about ½ teaspoon of dulce de leche on one half of the cookies. Top with the other half and lightly press down until you've gone through all the cookies.
Yields approximately 25 sandwich cookies