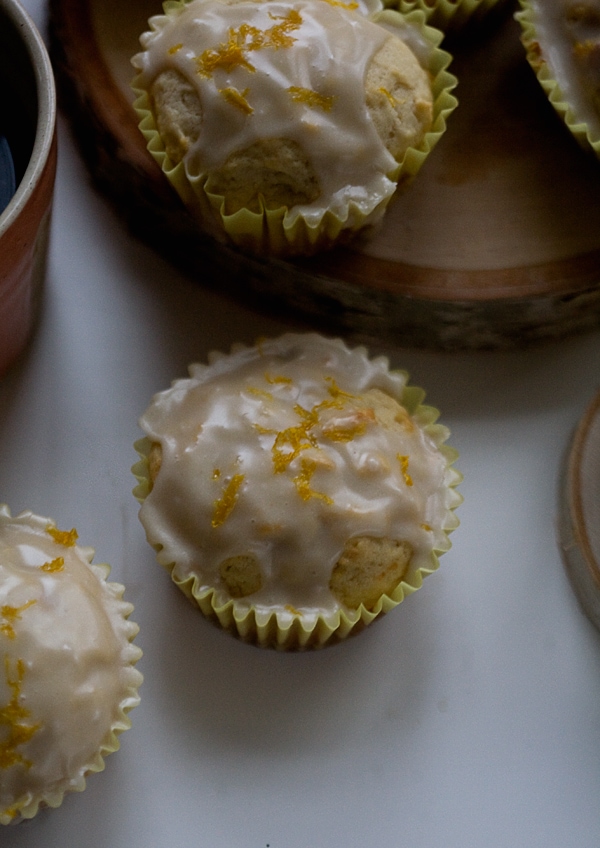 I think you all look super cute today. Nice hair. Your skin looks fresh and pretty. Did you get lots of sleep last night?
We could all use a compliment once in a while. Yesterday I was in need of one, so I took upon myself to speak for Amelia. Whenever I speak for her, I do so using a voice that's probably very irritating for most, but I find sort of adorable. I'd say it sounds kinda like a four-year old boy who I imagine dresses strangely (I'm talking wearing capes and cowboy boots to bed) and has a slight lisp. We all have animal voices. Mine sounds like that.
So, in my Amelia-voice, I said a bunch of compliments out loud. And then, since I'm super polite, I said thanks to her. If you're in need for some compliments, which you shouldn't be because I just said you look cute today, just speak for your animals. If they could speak, they'd probably say all sorts of nice stuff to you.
Do you think I'm weird? Pretty sure I just let my freak-flag fly. I'd like to change the subject now and talk about these muffins! Thanks.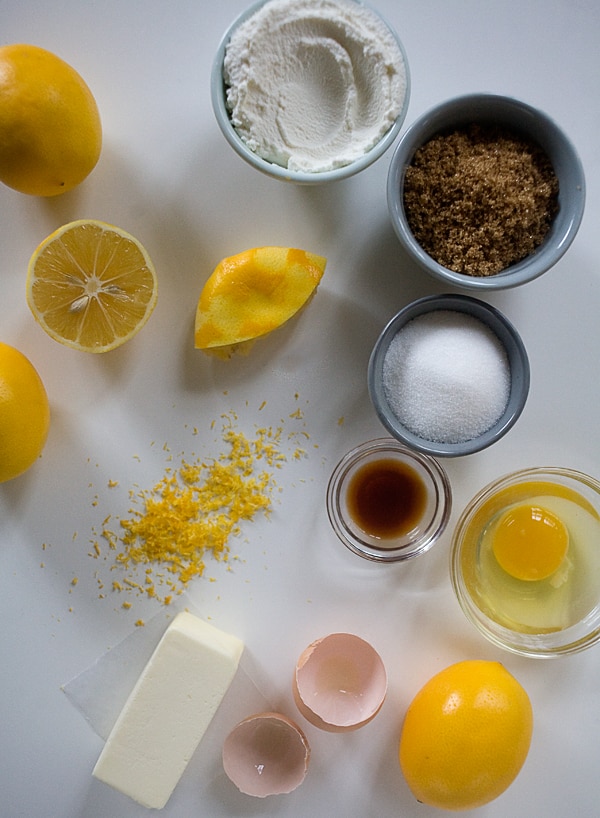 Muffins. Sometimes so so so boring; sometimes awesome.
I like lemon and rosemary together. It's a good cocktail combo. Little squeeze of meyer lemon, some bourbon, some rosemary syrup and then a little sparkling water. You guys! That's a good holiday cocktail situation.
These muffins were kind of awesome. Much more awesome than I thought they'd be. The ricotta gives them a creamy, light texture that I'm pretty stoked on.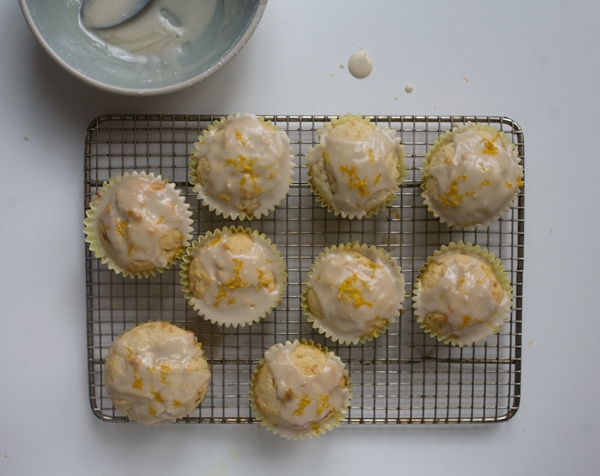 The lemon is present but not overwhelming and the sweetness situation is pretty balanced–not too sweet, but sweeter than a normal bran muffin.
The glaze is my favorite! The rosemary is sort of just a hint. The whole milk gets steeped with fresh rosemary and then mixed with powdered sugar. It's a nice fragrant, herbaceous element that I'm digging.
And with the leftover meyer lemon and rosemary, make that cocktail that I talked about above! This recipe is sort of a breakfast to dinner thingy.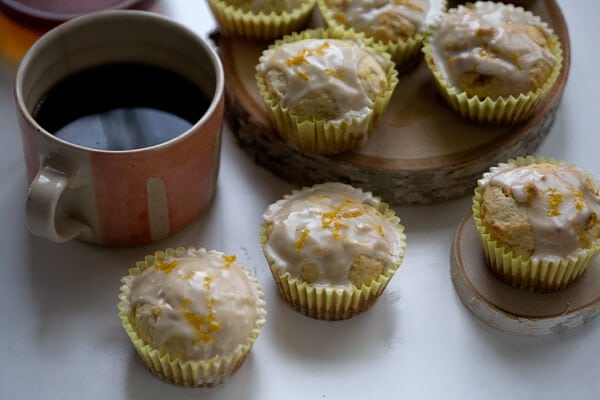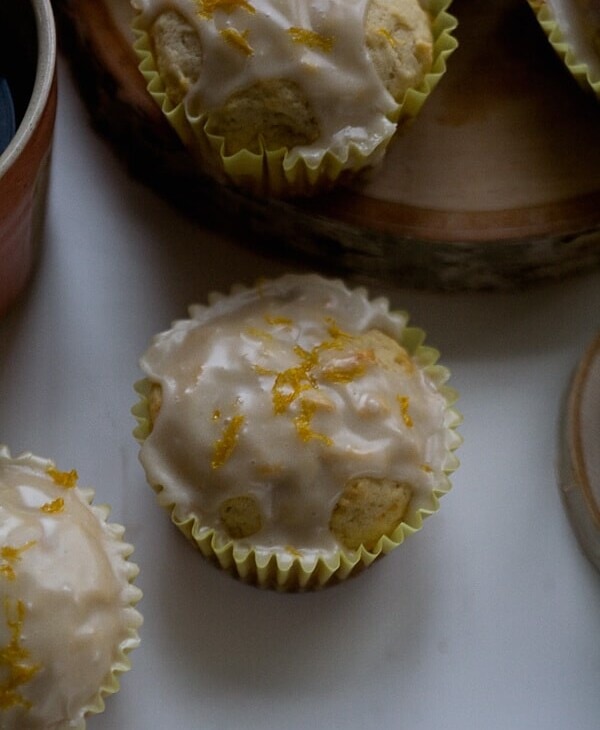 Print Recipe
Meyer Lemon Ricotta Muffins with Rosemary Glaze
Ingredients
Dry Mix:
2

cups

all-purpose flour

1/2

teaspoon

baking powder

1/2

teaspoon

baking soda

1/2

teaspoon

kosher salt
Wet Mix:
1/2

cup

1 stick unsalted butter, room temperature

1/2

cup

light or dark brown sugar

1/4

cup

white granulated sugar

1

tablespoon

Meyer lemon zest

from about 2 Meyer lemons, plus more for garnish

1

cup

whole fat ricotta cheese

1/2

cup

whole milk

2

tablespoons

olive oil

1

large egg

1

tablespoon

fresh meyer lemon juice

1

teaspoon

vanilla extract
Glaze:
1/4

cup

whole milk

1

sprig fresh rosemary

1/2

cup

powdered sugar
Instructions
Preheat the oven to 350 degrees F. Grease a standard 12-cup muffin pan or line it with paper baking cups.

In a medium bowl, mix together the all-purpose flour, baking powder, baking soda and salt.

In a large bowl, add the butter, brown sugar, white sugar, and lemon zest. Using a stand-up mixer with the paddle attachment, cream the butter, sugars and zest together until light and fluffy, about 3 to 5 minutes. Add the ricotta, milk, olive oil, egg, lemon juice and vanilla; beat once more until thoroughly combined.

In two batches, add the dry ingredients, and mix until just combined, being sure not to over mix (this will result in tough muffins).

Divide the batter evenly among the muffin tins (filling them about 3/4 of the way full) and transfer to the oven to bake for 17-20 minutes, until the tops are lightly golden brown and when a skewer is inserted into the center it comes out clean. Transfer the muffins on a cooling rack. While the muffins are cooling, make the glaze.

To make the glaze, warm the 1/4 cup of milk, along with the rosemary, in a small saucepan. When it reaches a light simmer, remove from the heat and allow it to steep for 10 minutes. Remove the sprig of rosemary and pour the milk into the powdered sugar; whisk until smooth. Spoon about a teaspoon or two over each muffin and garnish with a bit of fresh meyer lemon zest.