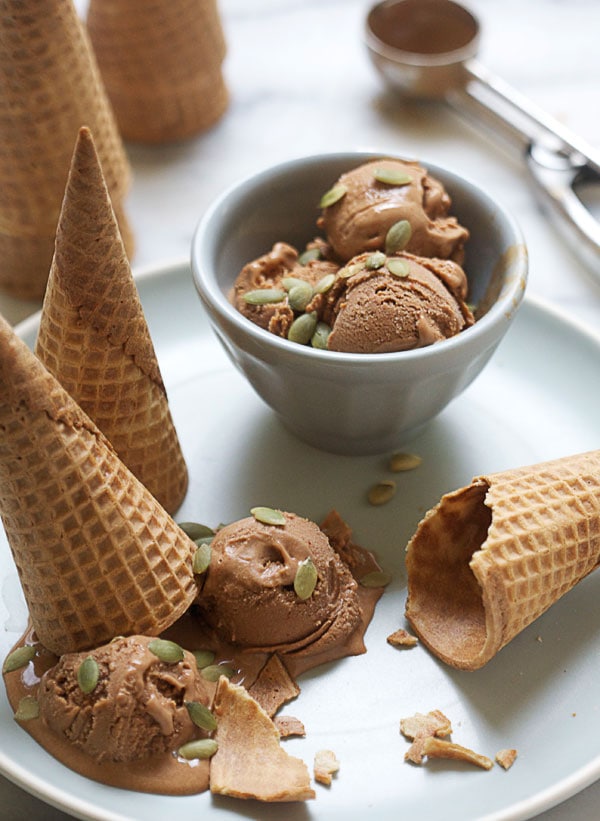 Have you ever photographed ice cream?! Good gracious. Talk about stress, man. I shot four ice cream recipes in about two hours, which is crazy fast for me. (Typically I move painfully slow.) It had nothing to do with efficiency–but rather, total panic. There I was with glamorous streaks of creme anglaise in my hair, running from room to room, looking for the scooper, the lens cleaner, the omg! I hate shooting ice cream – never again! Amelia thought photographing ice cream was a new and fun game so of course she bolted from room to room right behind me. She also starred lovingly at the melty, drippy ice cream. She would've eaten it–she's not a discriminator!
In the second installment of Ice Cream Week on A Cozy Kitchen I bring you this week's underdog. This recipe started as simple, but-very-important-to-me coffee ice cream. Not just any coffee ice cream but coffee ice cream made with some of my favorite coffee in LA. But then I got distracted and started cleaning out my horrid spice drawer and found treasures. TREASURES, I tell you. So, it quickly evolved into this Mexican chocolate situation. I debated on a name. I considered Mole Ice Cream but then someone on Twitter said it sounds like moles are in ice cream, like, the animal, so I decided against it–I think it was a good move.
There are no animals NOR spies in this ice cream. Just awesome spices, an ancho chile pepper, some coffee and well…take the jump.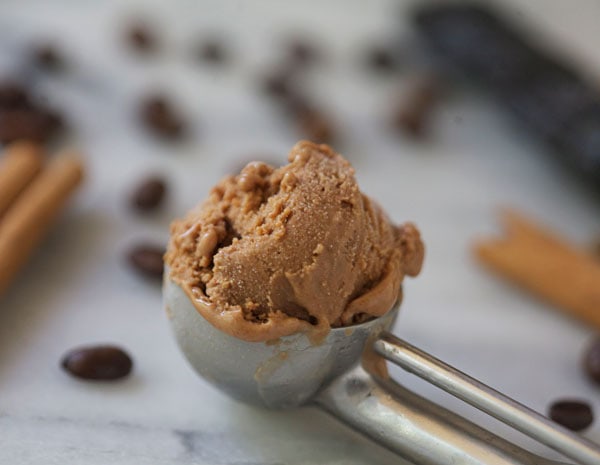 This ice cream begins with the very important "steeping process." This is how the awesome stuff gets into ice cream without actually being there.
It may look like plain ol' chocolate ice cream, but man it's so different. But sort of the same.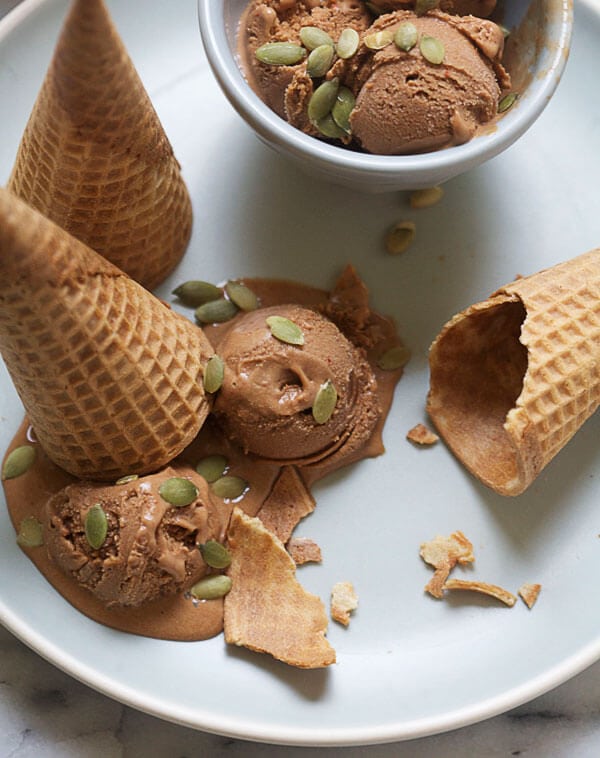 The milk is steeped with half of a dried ancho chile, cinnamon sticks, coffee beans, a few allspice berries, some chocolate and I think that's it.
All this business in ice cream results in a slightly chocolatey, spice-laden and earthy flavor. It's killer.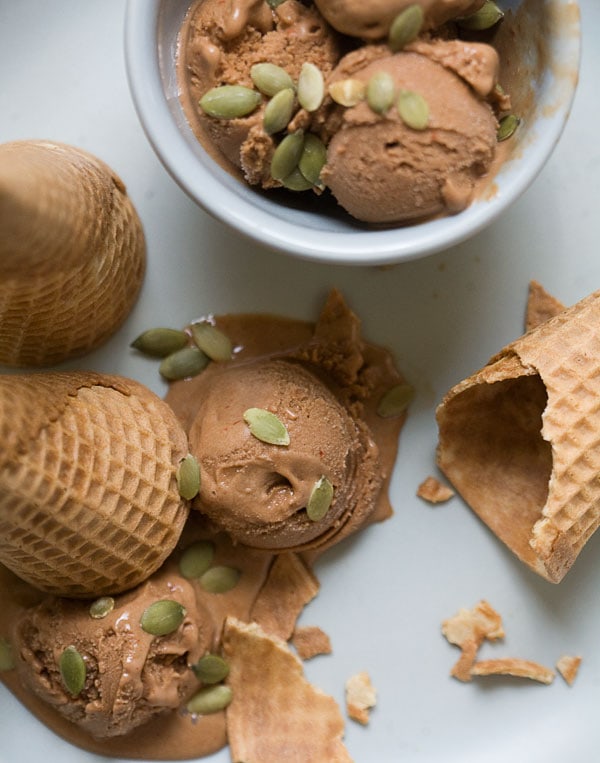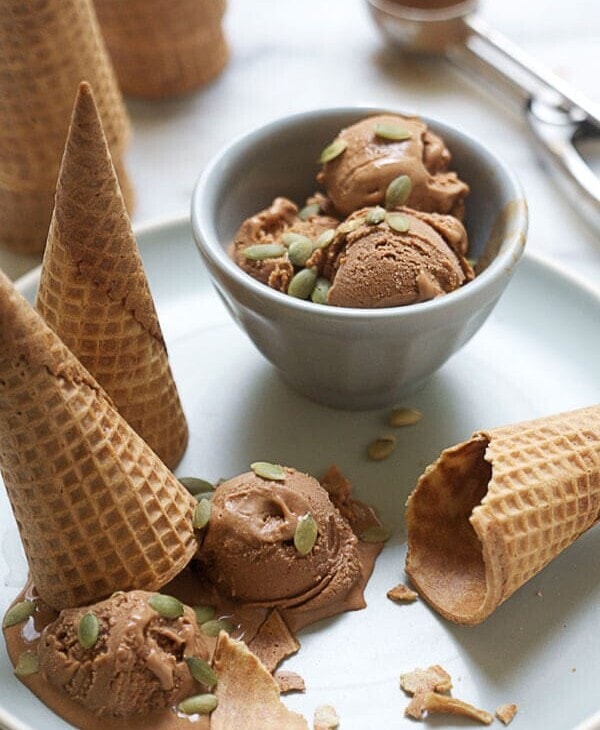 Print Recipe
Mexican Chocolate Chile Ice Cream
Ingredients
1

cup

whole milk

3/4

cup

sugar

1/2

cup

good-quality coffee beans

3

tablespoons

cocoa powder

1/2

dried ancho chile pepper

2

cinnamon sticks

3

allspice berries

1/4

teaspoon

salt

4

large egg yolks

1

cup

heavy cream
Instructions
To a bowl, prepare an ice bath by adding 10 or so ice cubes and adding a few splashes of water. Set a slightly smaller bowl inside the bigger bowl and set a sieve or strain inside the smaller bowl. Set the whole ice bath contraption aside.

To a medium saucepan, add the milk, sugar, coffee beans, cocoa powder, ancho chile pepper, cinnamon sticks, allspice berries and salt; heat over medium until the milk reaches a slight simmer. Once it reaches a simmer, remove the pan from the heat, cover it with a lid or foil and let it steep for 1 hour.

Place a sieve over the mouth of the jar of a blender. Pour the liquid through the sieve and into the blender, removing the ancho chile from the sieve and adding it to the blender. Discard the rest of the stuff. Blend until very smooth. Note: If there are little seeds here and there, not to worry, we're going to strain it again at end of this process. Add the chocolatey milk mixture back to the saucepan and rewarm.

In a medium mixing bowl, beat the egg yolks together, thoroughly. Next you're going to temper the milk mixture. Whisking the entire time, add about 1/4 cup of warm milk to the egg yolks. Add the remainder of the milk to the egg yolk mixture and whisk. Return the entire mixture back to the medium saucepan and place over low heat. Cook the milk and yolk mixture, stirring constantly, until the thermometer reads 170 to 175 degrees F and the mixture appears thick and coats the back of the spoon.

Pour the mixture through the sieve into the bowl. Lastly, stir in the heavy cream. Keep mixing until the mixture is room temperature. Wrap the bowl in plastic and transfer it to the fridge for 4-5 hours, or overnight, until very cold.

Churn the mixture into the bowl of your ice cream maker, according to your ice cream maker's instructions. Serve immediately for soft serve or alternatively transfer to a freezer-safe container and freeze overnight. Garnish with salted pepitas, if you like!