This Iced Matcha Latte is a creamy and refreshing beverage. Matcha Lattes can be made hot and cold!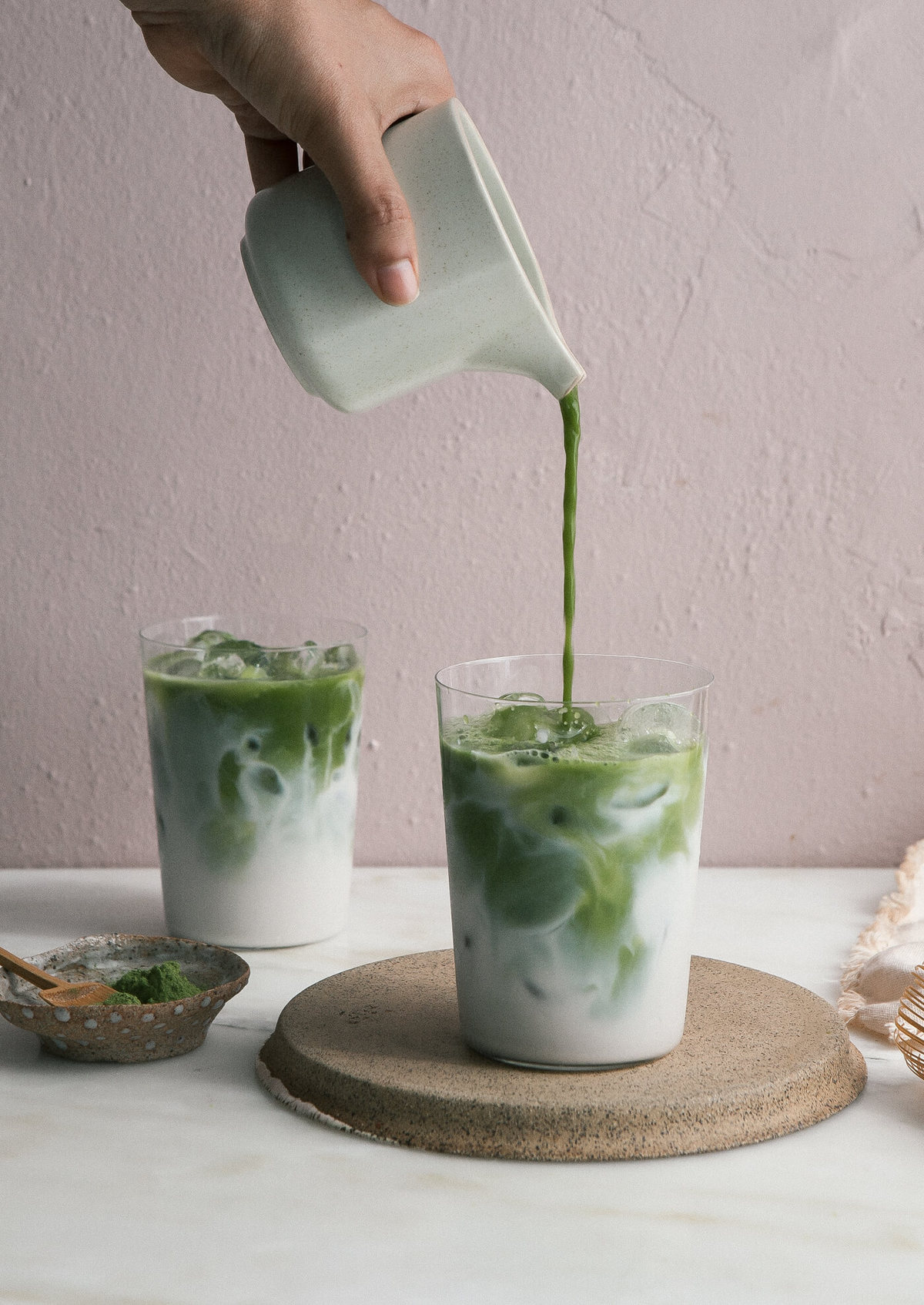 In the afternoon, around 3pm, I get SUPER sleepy. I need a pick me up. And that pick me up during summer months is this: Iced Matcha Latte.
Sometimes when I use matcha….actually, make that ALL the time, I ask myself: "Am I being basic?" The answer might be yes. I'm not completely sure. But still, my insecure self returns to it time and time again because it's DELICIOUS!
And in the afternoon when I need a bit of a pick-me-up and know I can't handle coffee or an espresso beverage (I'll be up all night), a matcha latte is the perfect go-to.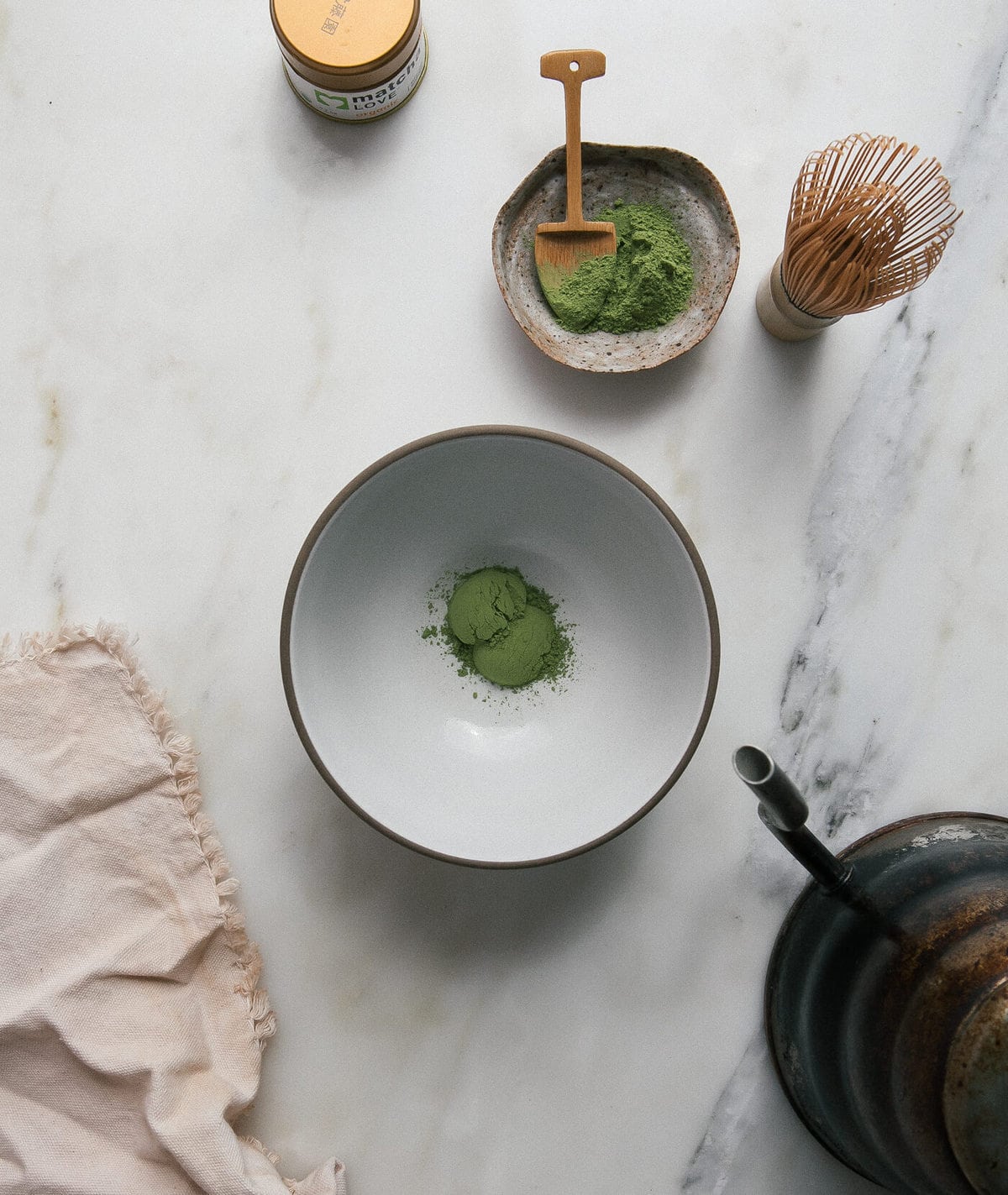 And it's so pretty. It tastes great. So I guess the answer is that I might be basic. And matcha might be overplayed. But who cares. Trendy things are only lame if they only sorta taste good. (Also: to a lot of people, matcha is not trendy—it's been around for centuries. And to them, the rest of the world is just late.)
There is a new matcha bar that moved into my neighborhood and it's so good but most days I don't feel like driving down the road so instead I like to make a my own version at home.
It's also SO much cheaper. Instead of spending $4 on one, I like to just make them at home. They're even better because I can control every aspect of them. The perks of homemade!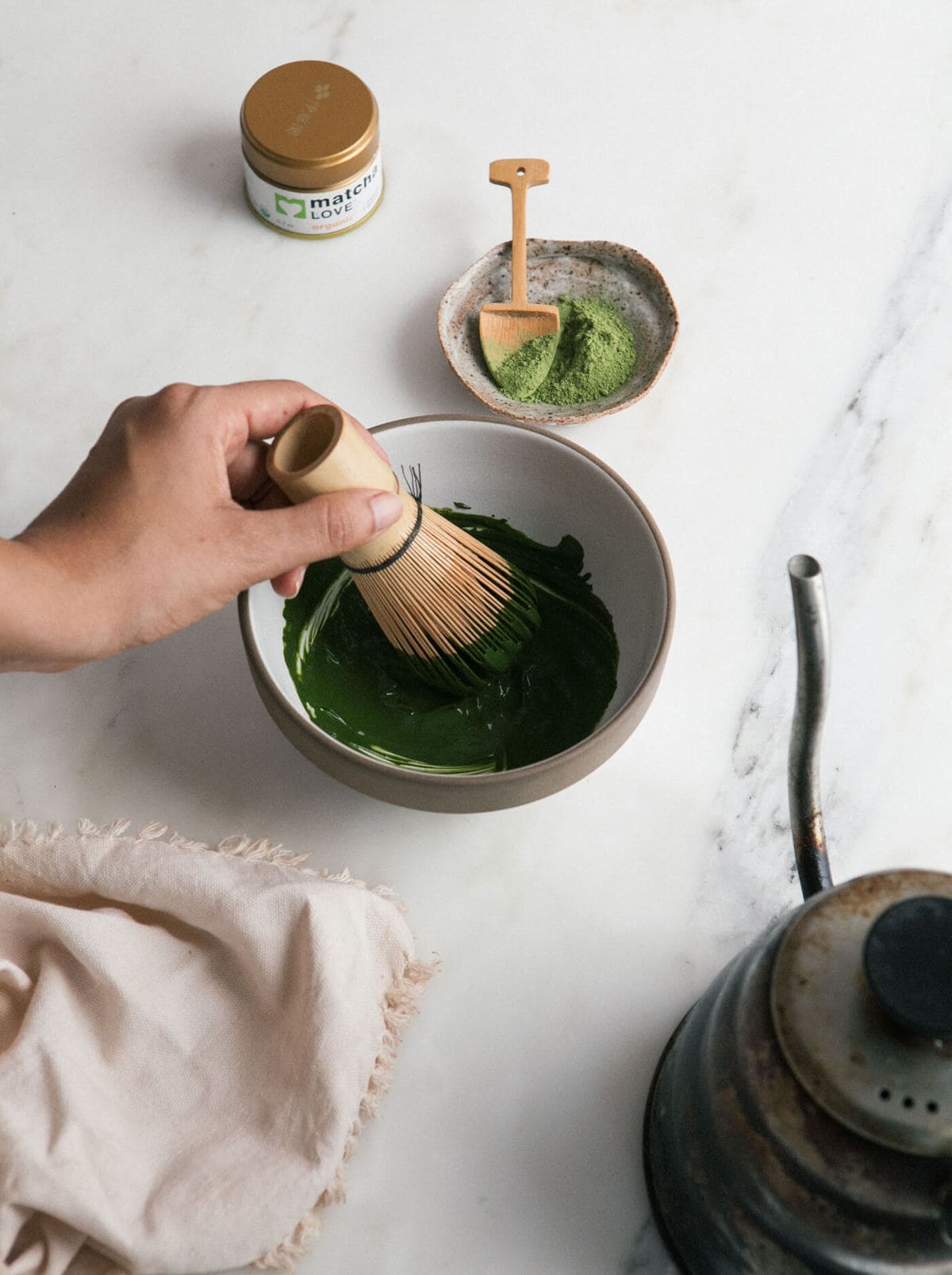 What is Matcha?
Matcha powder is made up of ground up green tea leaves. Instead of brewing a cup of tea with tea leaves, this is ground up leaves that are dissolved into the warm/hot water. If you ever have the privilege of visiting Kyoto, Japan, be sure to go to a tea house and be sure to buy some beautiful matcha green tea powder for the road. The packets make great gifts.
This Matcha Iced Latte couldn't be simpler.
How to Make an Iced Matcha Latte
STEP 1:
You put a few teaspoons of matcha powder in a measuring cup and add a few tablespoons of hot water.
STEP 2:
Whisk it until the matcha has dissolved and then you pour in the remaining water and whisk some more. I transfer it to the fridge or freezer to chill for about 15 minutes.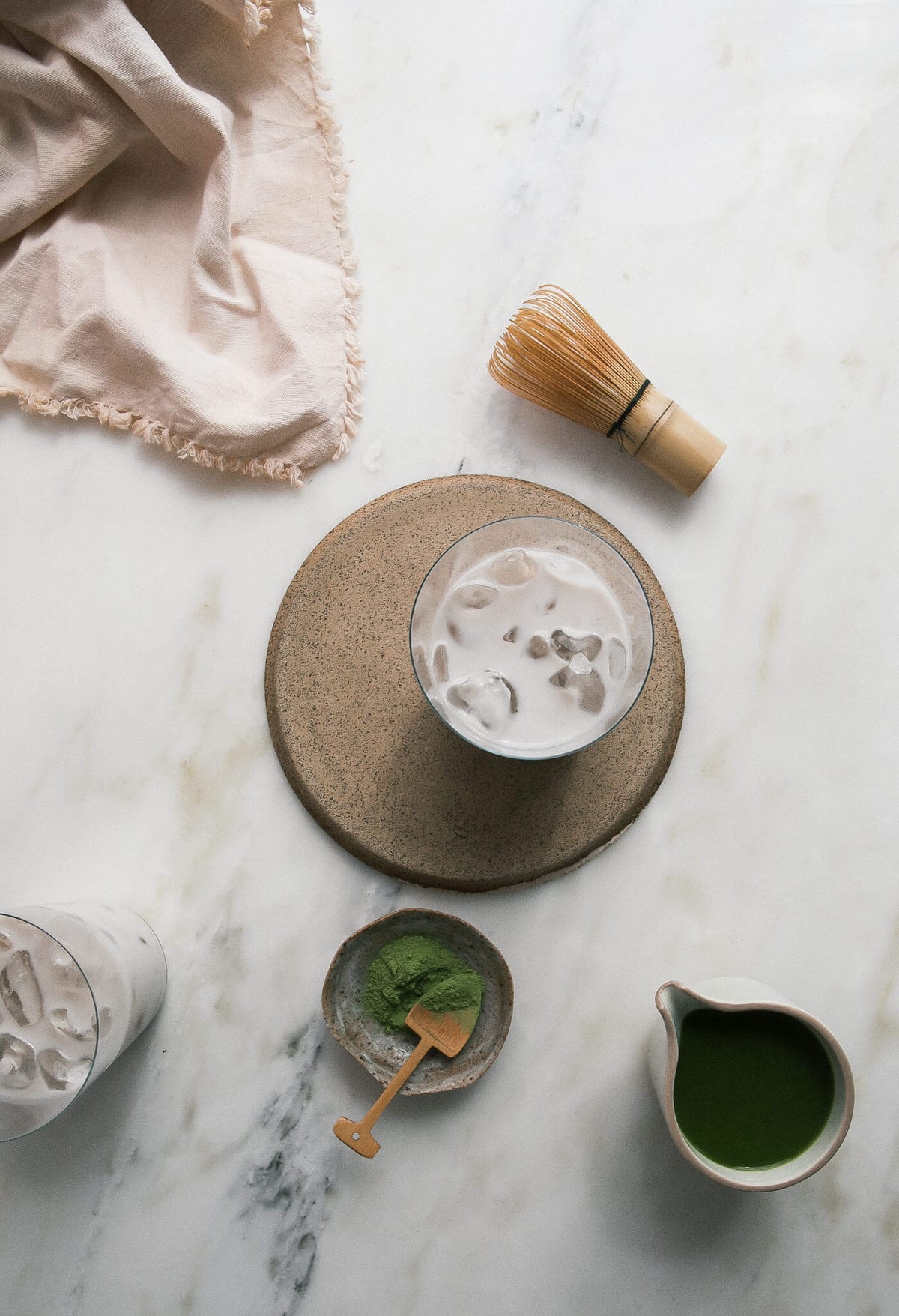 I know the cooling part is a drag but it helps a whole lot in the end result.
STEP 4:
After the matcha is cooled, I add a ridiculous amount of ice to a glass, pour the almond milk into the glass, a splash of simple syrup and then pour in the matcha.
I mean…this isn't really a recipe but more of an idea of inspiration? (I hope…?)
I like to drink this as an afternoon pick me up. I'm too addicted to coffee to replace my morning coffee with it. But man, is this delicious. If you try it, let me know!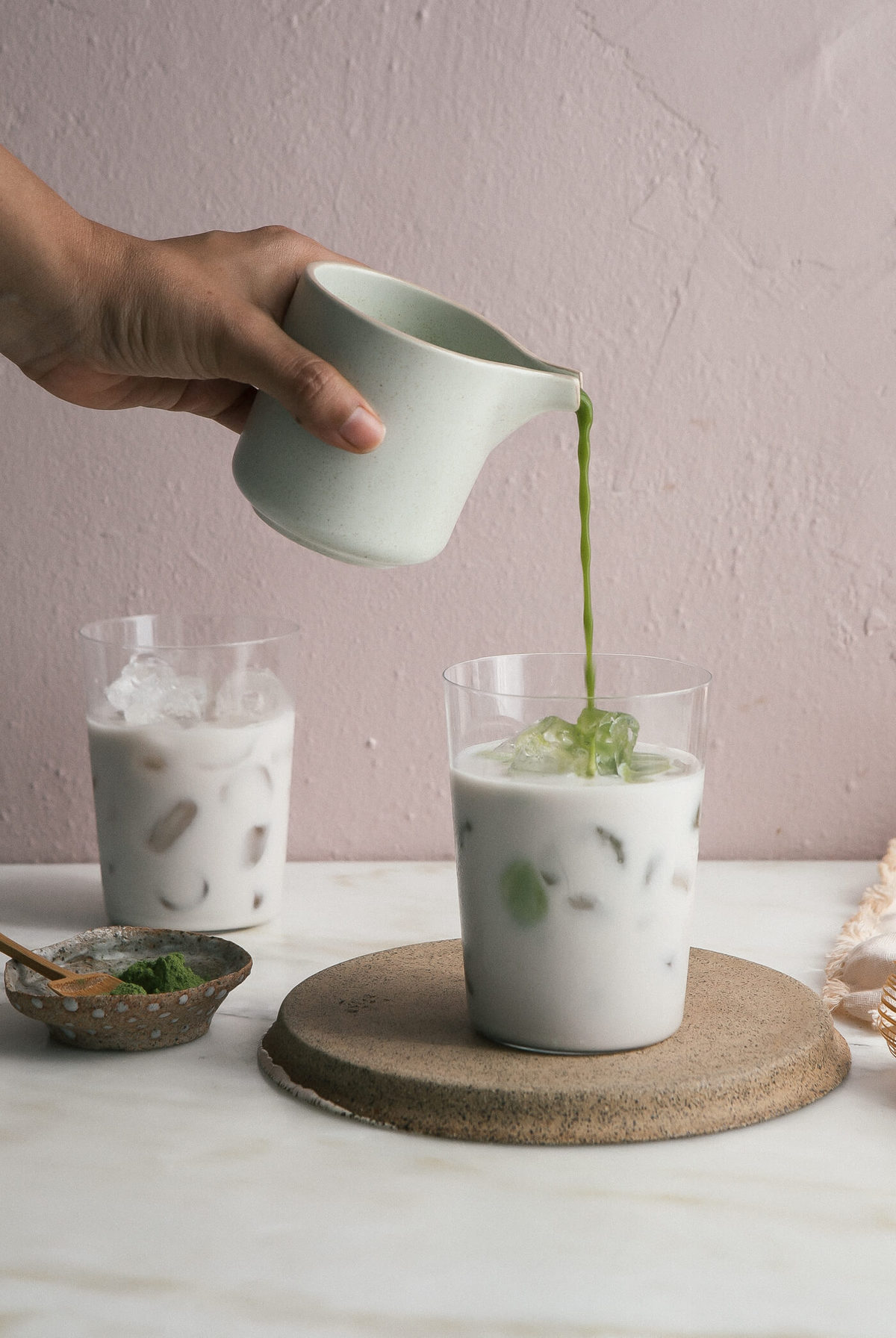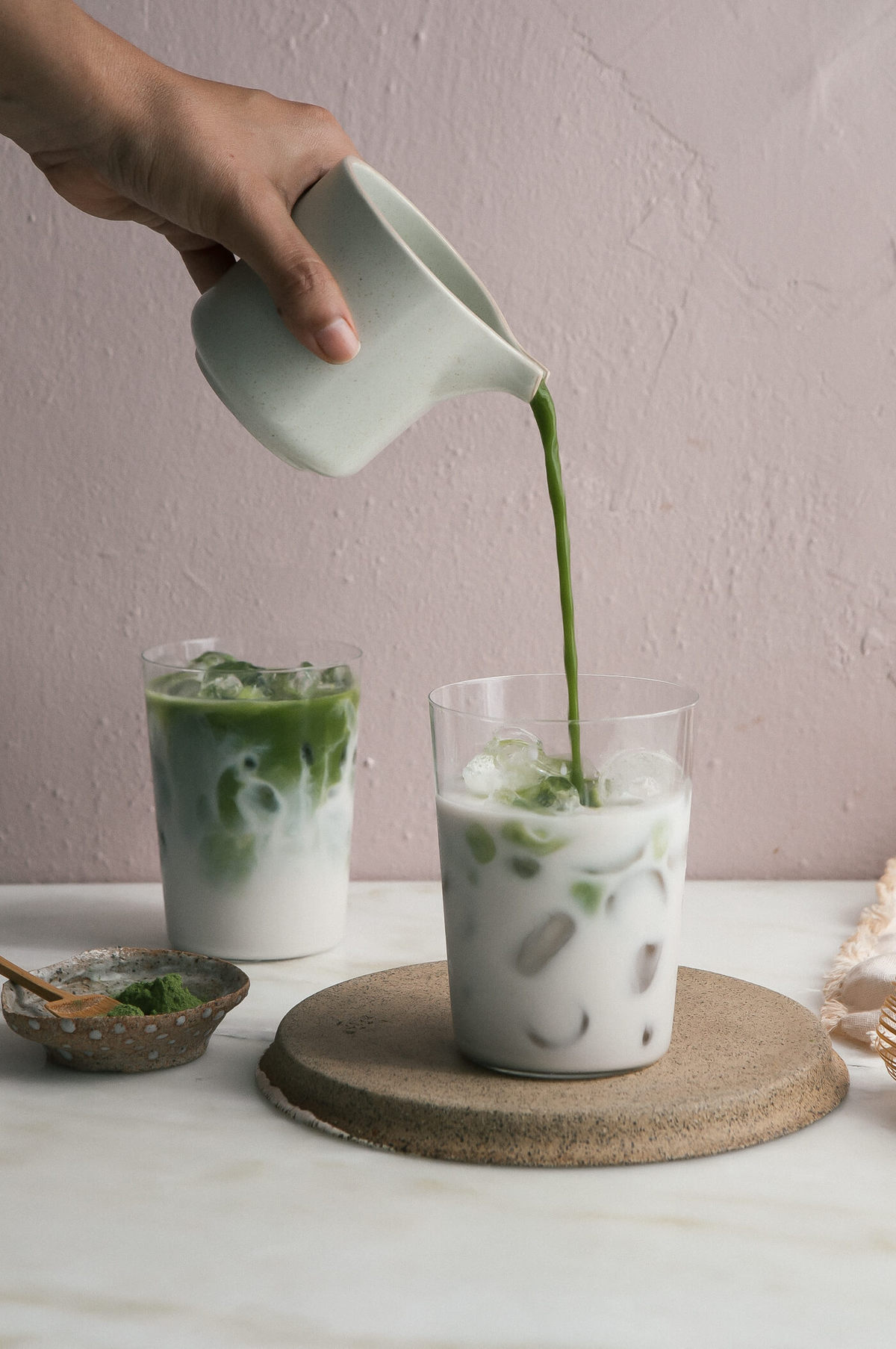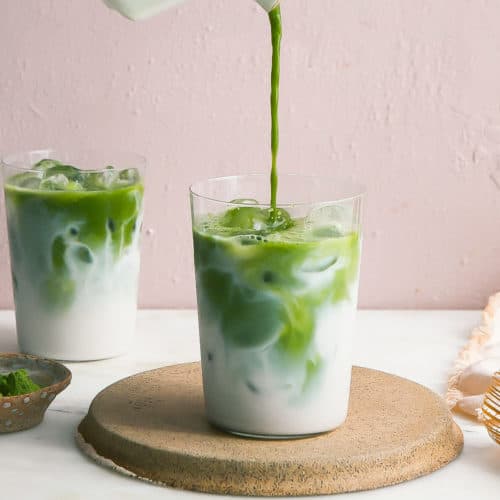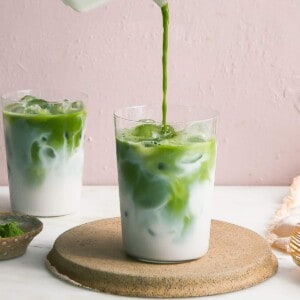 Make this easy Iced Matcha Latte just like your favorite coffee shop. Matcha is mixed together with cold milk, served over ice.
Ingredients
2

teaspoons

matcha powder

1 to 2

tablespoons

hot water

1

cup

warm water

Ice

Milk of choice

,

(I used almond milk)
Directions
In a measuring cup or bowl, add the matcha powder. Pour in the 1 to 2 tablespoons of hot water and whisk until the matcha has fully incorporated into the water. This should create almost a bit of a paste.

Pour in the remaining 1 cup of water and mix. Transfer to the fridge or freezer to chill for about 15 minutes.

Fill two glasses full of ice and add your milk of choice so the glass is about 3/4 of the way full. If you like, this is a great time to add any simple syrup. Lastly, pour in the chilled matcha and stir.
Nutrition Facts
Iced Matcha Latte Recipe
Amount Per Serving
Calories 12
% Daily Value*
Protein 2g4%
Vitamin A 200IU4%
Iron 1mg6%
* Percent Daily Values are based on a 2000 calorie diet.
And here's a link for How to Make a Matcha Latte! (But a warm one.)