Marbled Cranberry Cheesecake with Goat Cheese
18
Dec 10, 2014, Updated Nov 27, 2023
Disclosure: This post may contain affiliate links, which means I may earn a commission if you click on the link and make a purchase.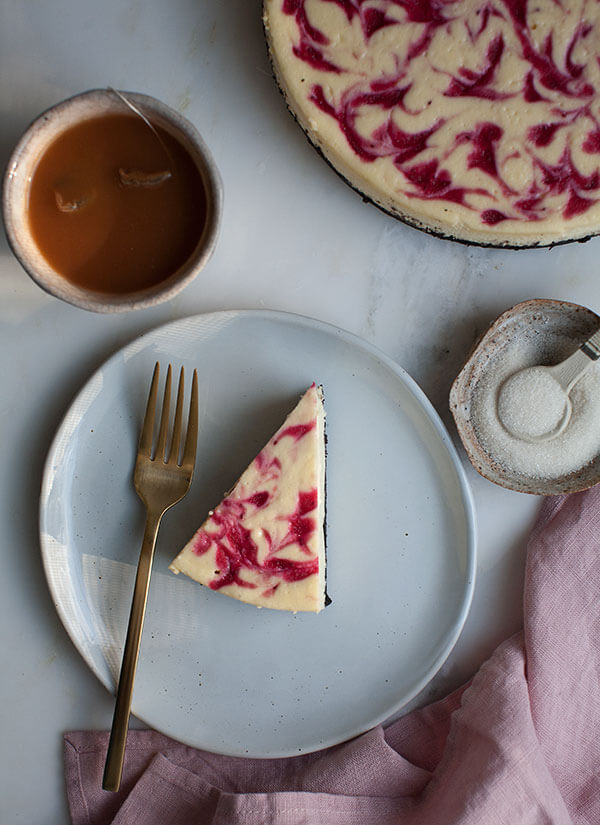 No one, and I mean no one, loves cheesecake more than my dad. I have no idea why because the man doesn't even like cheese. WHA!! Yes, I know. He doesn't like cheese. It's the oddest thing in the entire world, but his favorite dessert of them all—and he loves mostly everything sweet—is cheesecake.
He's extremely critical about cheesecake because he eats a lot of it. As I was recipe testing this here cheesecake, I'd send him photos throughout the process and he'd remark skeptically, giving his harsh criticisms and recommendations. Mostly I think it's just funny that he takes cheesecake so seriously.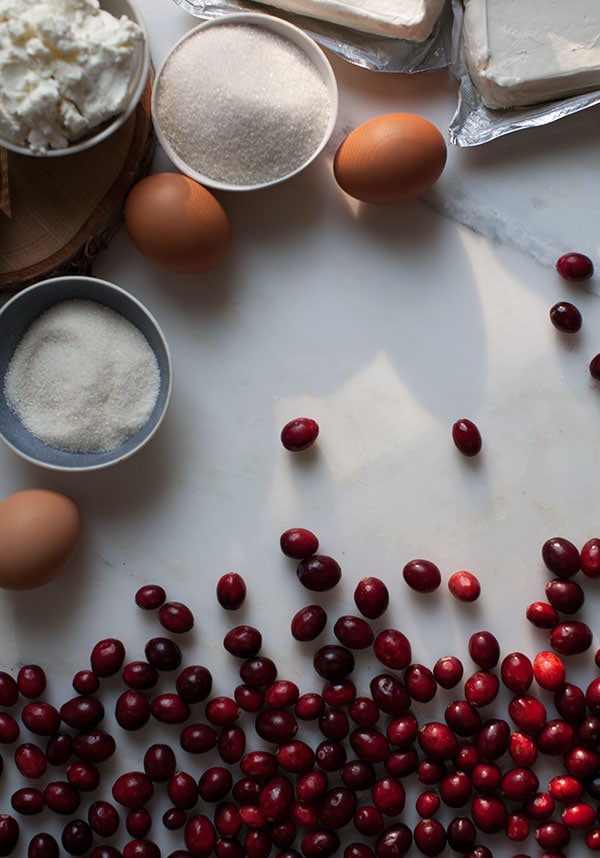 I'm not sure how this will live up to my dad's cheesecake expectations, but I loved it. It's perfectly tart; the texture is smooth; and the chocolate crust gives it a nice decadent element. The marble topping is kinda pretty, quickly making it the favorite at a holiday dessert table…or, to you know, eat by yourself by the Christmas tree. And while marbling anything may seem a bit difficult, it's actually pretty easy.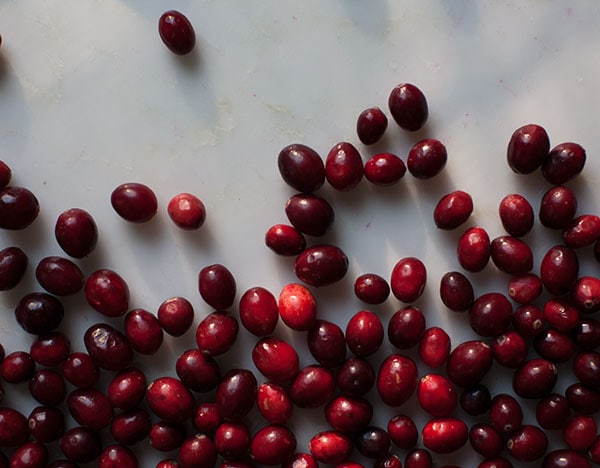 The one thing I hate about making cheesecake is a using a damn springform pan. They're insanely frustrating, flawed in how their made. Most of them leak, which means, water comes in when you bake it in a water bath. The solution to this for many, is baking a cheesecake in a cake pan. With this though, because of the pretty top, I needed to use a spring form pan (I had one anyway). The solution was to wrap the entire bottom in a few sheets of foil. No water seeping through!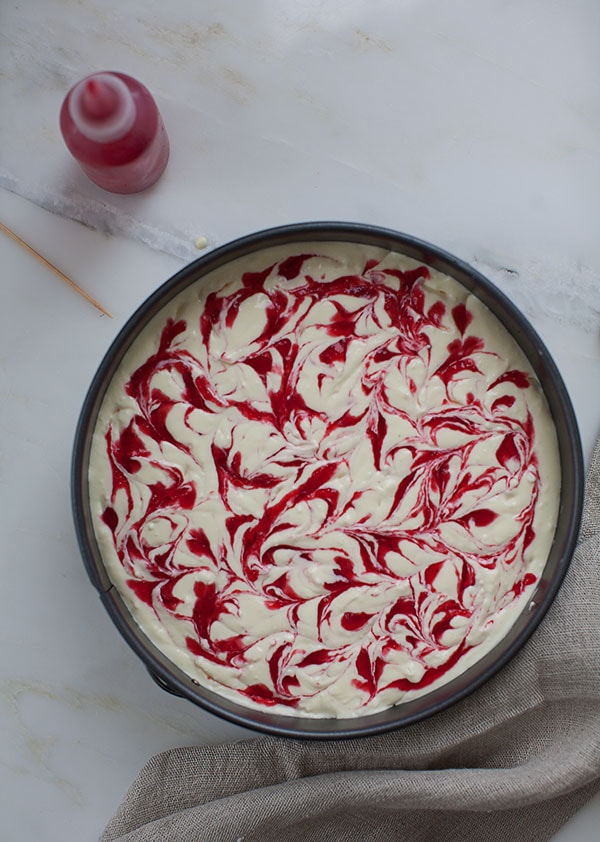 One thing I learned about marbling is this: if you want tighter swirls, use a smaller skewer to swirl the cranberry sauce around. If you want bigger swirls (I did), use a larger skewer and get messy with it. I promise it'll look pretty regardless.
And that's really it!
My dad is making this recipe this weekend. Hopefully he'll leave a comment with the results.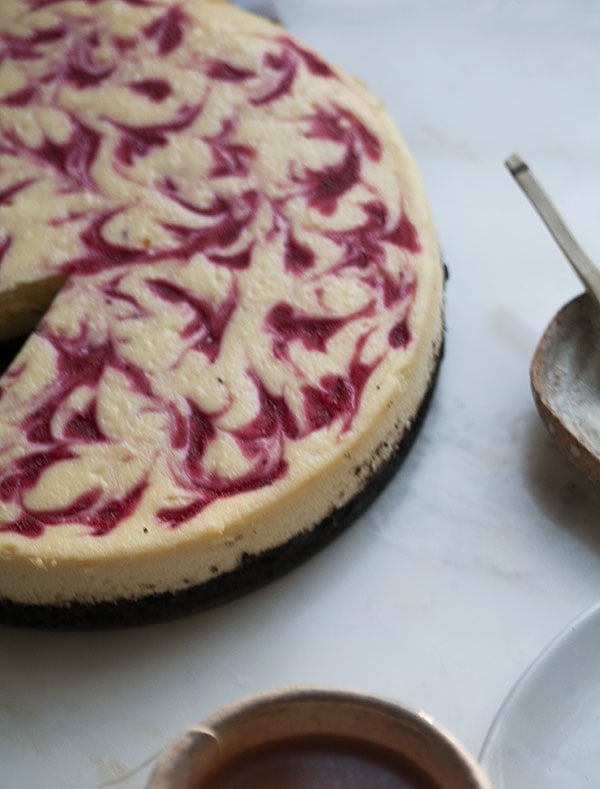 Marbled Cranberry Cheesecake with Goat Cheese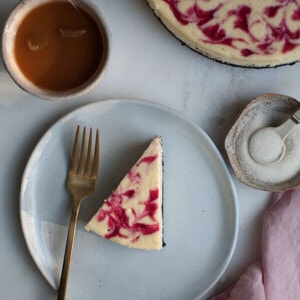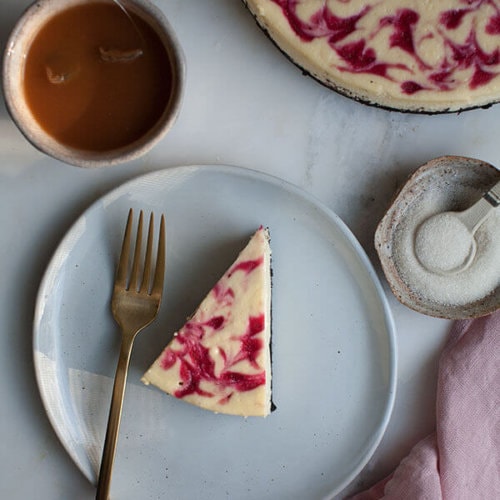 Ingredients
*1 1/4 cups

,

about 16 cookies chocolate cookie crumbs

2

tablespoons

white granulated sugar

1/4

teaspoon

salt

4

tablespoons

unsalted butter

,

melted and cooled slightly

24

ounces

cream cheese

,

room temperature

5

ounces

goat cheese

,

room temperature

1 1/2

cups

white granulated sugar

4

large eggs

1/4

teaspoon

salt

1

teaspoon

pure vanilla extract

1

cup

fresh cranberries

1/4

cup

white granulated sugar

1/4

cup

water

1

teaspoon

orange zest

,

from about 1/2 naval orange

Pinch

of salt
Instructions
Preheat the oven to 350 degrees F. In a small bowl, mix together the cookie crumbs, sugar, salt and melted butter. Dump the crust mixture into a nine-inch (10-cup) springform pan and press evenly onto the bottom of the pan until packed tightly. Transfer to the oven to bake for 8 minutes (unfortunately since the crumbs are so dark you can't really tell when they've toasted so it's important to pay attention to the clock). Remove from the oven and cool completely before adding the filling. Wrap the bottom of the spring form pan in a few sheets of foil and set aside.

To the bowl of a stand-up mixer, using a paddle attachment, add the cream cheese and goat cheese. Whip until smooth and fluffy, about 2 to 3 minutes. Next, mix in the sugar. With the machine one, add the eggs, one at a time, waiting until each egg is incorporated before adding the next one. Lastly, mix in the salt and vanilla extract.

In a small saucepan, add the cranberries, white granulated sugar, water, orange zest and salt. Cook over medium heat and simmer for about 5 minutes, until the cranberries become soft. Press the cranberries with a back of a spoon or spatula and cook for an additional minute until they're softened. Pour the mixture through a medium-mesh sieve, pressing the cranberries to release any excess juice. The mixture should resemble a loose jam—it'll thicken as it cools. Transfer to a squeeze bottle. (If you don't have a squeeze bottle, then no biggie, just transfer it to a measuring cup with a spout—it'll be easier to pour.)

Pour the cream cheese mixture into the springform pan and smooth out the top with a spatula. Make sure it reaches the edge of the pan. Make little dollops of cranberry sauce all over the surface of the cream cheese. Take a skewer or popsicle stick and run it through the dollops creating a marbling effect. Make it as messy or neat as you like. Place the springform pan in a roasting pan, or another pan that's as big. Transfer to the rack of the oven and fill up the roasting pan with about 2 inches of water. Bake for 40 to 45 minutes, until it looks set, yet it's still a bit wobbly in the center. Place on a cooling rack for 30 minutes and then place it in the fridge to set for at least 3 hours. (I let it set overnight.) Slice it up and serve.
Notes
*I used Nabisco famous chocolate wafers, found at most grocery stores. I blitzed them in a food processor until totally crumby.