Maple bacon doughnuts are nothing new to my world (evidence: here and here). I lead a lucky life.
And despite me loving them, I've never felt the urge to make them myself. When I think of homemade doughnuts, I get sleepy. Sooooo much work. The dough making, the rolling out, cutting out, the two rises and the frying. Ugh. Too much. It's way easier to drive downtown and pick one up.
A few days ago though, I found a happy compromise: hot oil...but NO rises. Cake doughnuts. Whoa. WHOA.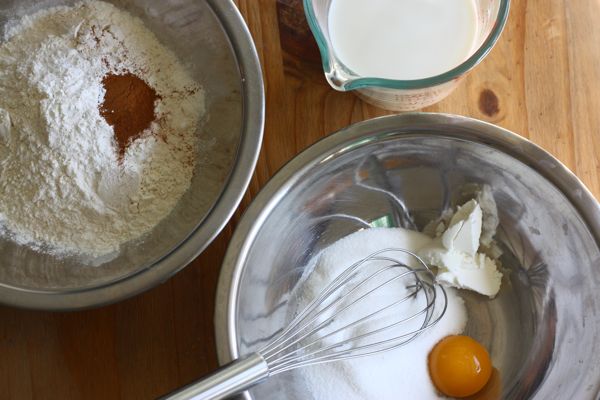 This comes together, I swear, in like 15 minutes. It's the easiest dough in the world. You mix a little here, pour in a little milk there, fold in some flour. That's it.
Roll it out. Cut out your doughnuts.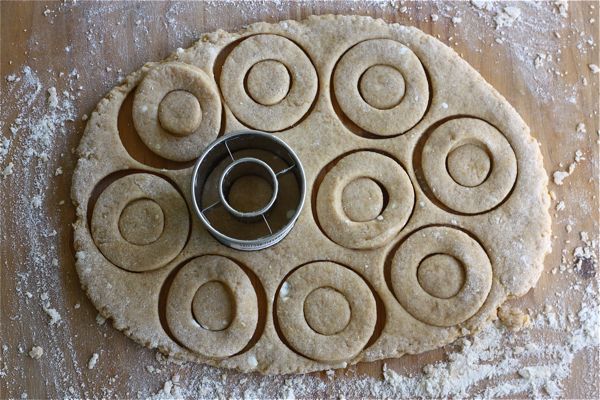 And fry. There's no wait!
Real talk for a second: Frying is annoying. I know this. What are you supposed to do with the oil when you're done? Ugh. What if it spills everywhere? These are all really valid arguments why you should just buy a deep-fryer.
I've been telling myself this for the past few months. It's actually neater and easier with a deep-fryer. But...but...imagine how much I'd fry! Chicken wings for dinner. Fried calamari all the time. Fried twinkies for dessert. It'd be a problem.
I just can't bring myself to do it. Fried dough is a treat. That's why I urge you to actually double this recipe because you're putting in a little bit of effort so it needs to be worth your while.
AM I RIGHT? I'm right.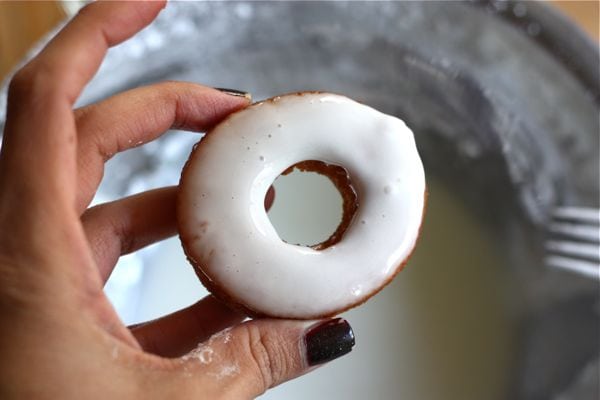 Also, please disregard my disgusting nails. Just shameful.
My favorite part of this recipe was dipping the doughnuts in the glaze. So pretty! So fun!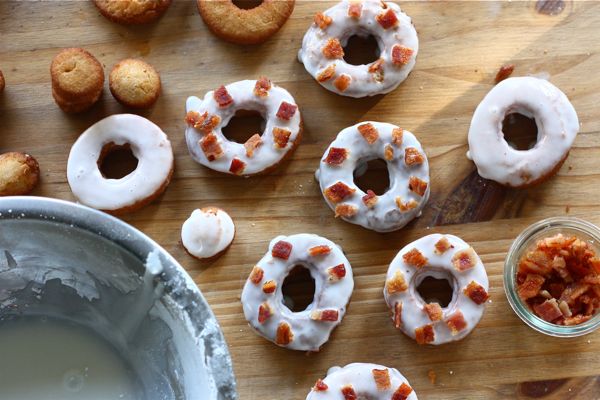 The sprinkling of the bacon makes these things so gorgeous.
Forget sprinkles, guys; we got bacon!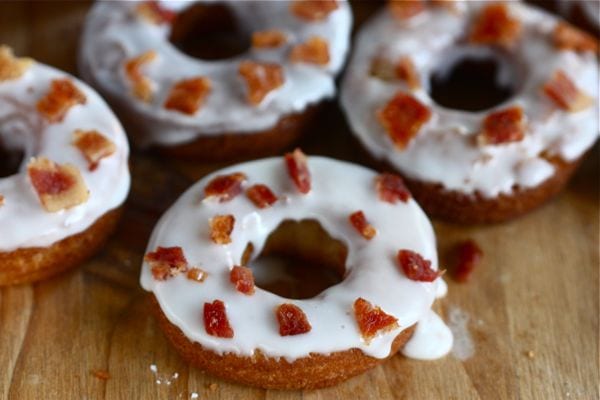 Maple Bacon Cake Doughnuts
Doughnuts:
1 quart peanut oil (or a 50/50 peanut and vegetable oil blend)
1 tablespoon vegetable shortening
½ cup white granulated sugar
1 large egg
1 ¾ cup, plus 2 tablespoons, all-purpose flour
1 tablespoon baking powder
½ teaspoon kosher salt
1 teaspoon ground cinnamon
½ cup whole milk
Maple Glaze:
1 cup powdered sugar
1 ½ tablespoons whole milk
1 tablespoon maple syrup
Bacon:
4 cooked slices of thick cut bacon, chopped
Preheat oil to 365°F.
1. Whisk together the shortening, sugar and egg yolk until well combined.
2. In another bowl sift together the flour, baking powder, salt, and cinnamon. Alternate adding the flour mixture and milk to the yolk mixture until a dough has just formed.
3. Turn the dough onto a clean surface and knead until smooth, 3 to 5 minutes. Lightly flour the surface and roll dough until ½ inch thick.
4. Use a 3-inch doughnut cutter, cut out doughnuts. Re-roll the scraps to make more doughnuts. I ended up with about 11 doughnuts and 11 doughnut holes.
5. Carefully drop 3 to 4 doughnuts at a time into the oil and fry for 1 ½ to 2 minutes, flipping the doughnuts after a minute.
6. Drain on paper towels and repeat until all the doughnuts have been made.
7. In a small bowl, mix together glaze ingredients until smooth and creamy. To make the doughnuts, dip the doughnuts into the glaze and top with a few chopped pieces of bacon. Repeat until all of the doughnuts and doughnut holes are covered in glaze and bacon.
Cake Doughnut recipe from Spoon Fork Bacon; Maple Bacon Doughnut inspiration from Nickel Diner.