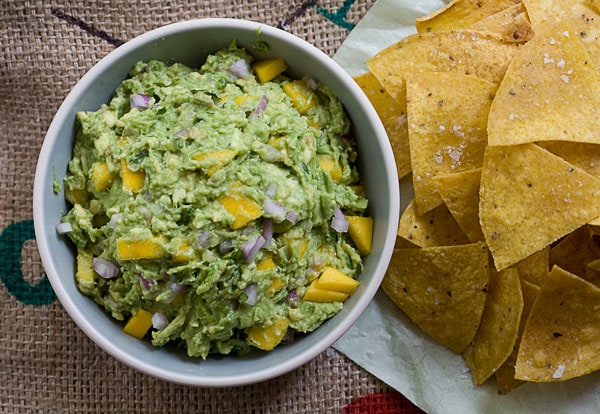 Are you a hand-shaker or a hugger? Like, when you first meet someone and you don't know them, but you sort of know them, like you've emailed before, do you go for a hug or the handshake? Is it gender specific? I feel like I'm more likely to hug a lady than a dude. But for the most part I'm totally that weirdo that goes for the hug when people go for the handshake. And then I have to be like, "I'm a hugger, soooorrrry!"
I'm usually secretly hoping they don't have a weird complex about people touching them. I've known people like that. And those people haaaate people like me. Also, I kind of hate when people are too touchy-feely. There's a happy medium to be had, man.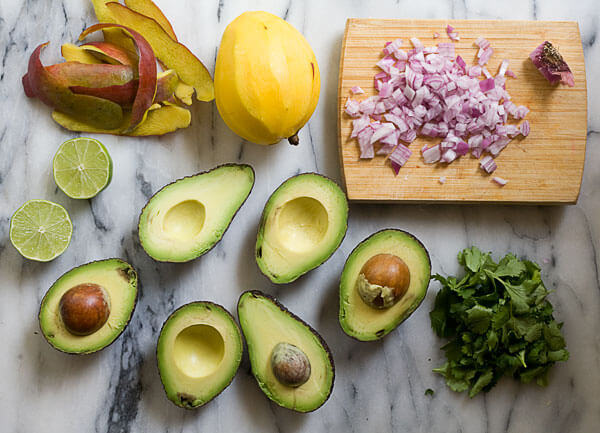 What this has to do with avocados and guacamole is beyond me…I've just had a week full of hugs so I wanted to talk about it.
This recipe for guacamole is the thing I want to eat when I'm so tired on Friday evening after a long week. I don't want to cook, no, I want to assemble, mix, fold and dip. That's all.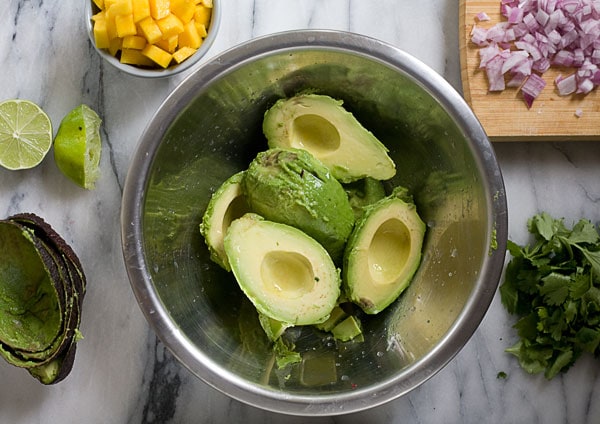 I love the sweetness and spiciness and herbaceousness going on from the mango, serrano pepper and cilantro action going on. It's full of flavor but not too busy.
And whenever I make guacamole, I try and go the extra step and fry my own chips. They always taste better and are easy (no deep-frying, just an inch of oil)!
This recipe comes from Absolutely Avocados. And sure, I picked a crowd-pleasing, guacamole recipe, but the book is filled with a ton of other delicious applications to maybe my favorite fruit ever: the avocado.
Hugger? Hand-shaker? Hugger? Hand-shaker? Hugger. 🙁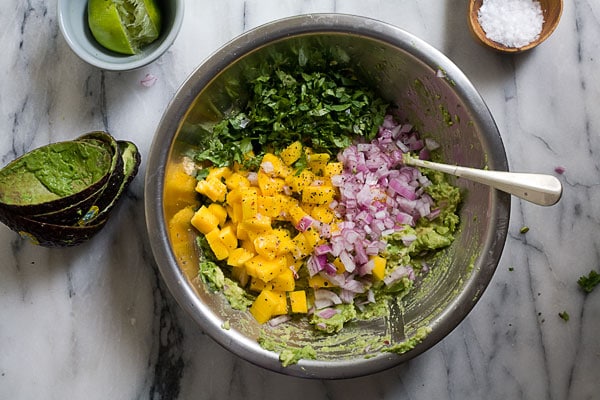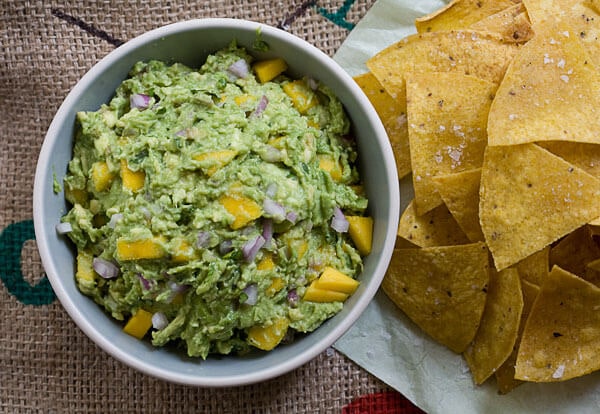 Mango and Cilantro Guacamole
Print
Ingredients
3

Haas avocados

1

ripe mango

1/2

cup

chopped fresh cilantro

1/3

cup

chopped red onion

1

serrano chile pepper

,

seeded and finely chopped

1

lime

Sea salt

Freshly ground pepper

Tortilla chips
Directions
Cut each avocado in half lengthwise. Remove the pit from the avocado and discard. Remove the avocado from the skin, and place the avocado flesh in a bowl. Using a fork, smash until chunky.

Using a vegetable peeler, remove the skin of the mango. Using a sharp knife, slice the wide flat part of the fruit off one side of the pit. Repeat this process for the other side of the mango. Transfer the mango slices to a cutting board and cut into 1/2-inch pieces.

Add the mango, cilantro, red onion, chile, lime juice, salt and pepper to the bowl. Fold the ingredients into the guacamole. Taste and add more salt and pepper if desired. Serve immediately with tortilla chips.
Recipe from Absolutely Avocados