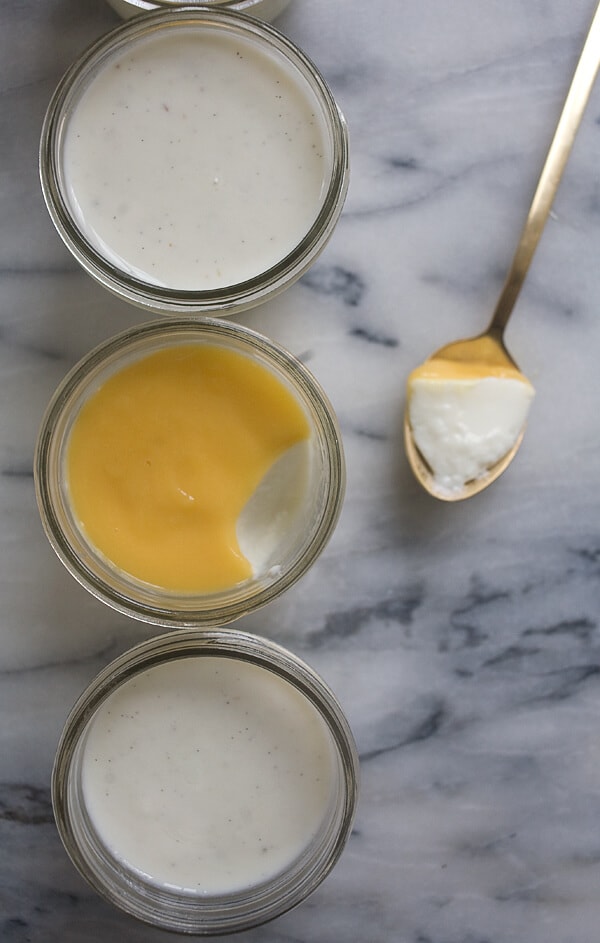 Panna cotta is serious. Most people don't exactly love panna cotta. And I get it. I do.
Shitty panna cotta is super stiff and gelatinous, in the worse way possible. Good panna cotta melts once it hits your tongue. I've had numerous terrible panna cottas served to me over the years. Most have been at mediocre restaurants where you leave feeling like you overpaid, even though the prices aren't necessarily astronomical. Isn't that the worst?
There's a recent article (what timing!) on Bon Appetit's all about panna cotta and whether it's a legit dessert. Some of the points dismissing it are valid. I think many times it's this throwaway dessert; an item restaurants---that are without a pastry chef---can slap on the menu by simply adding it their prep cook's laundry list of to-dos because, it's panna cotta, and everybody can make it. The problem is, most people can't execute panna cotta correctly. They don't do it with a soft enough hand; they don't flirt with the line of it not firming up.
That tight rope is a tough one to walk, but it must be done, because if it isn't then all you'll be left with is stiff, shitty panna cotta. And who wants that?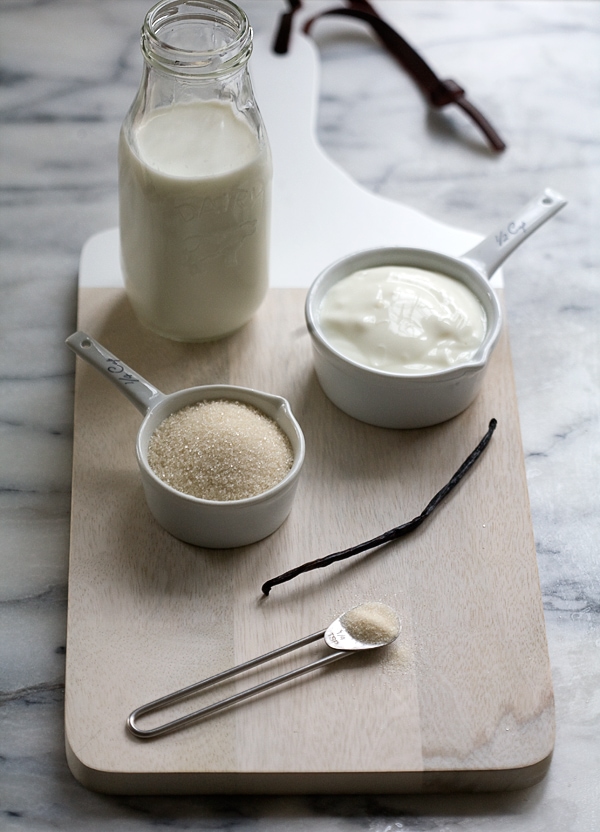 While texture is the upmost importance with panna cotta, the second most important thing is flavor.
I tend to think straight-up cow's milk panna cotta is a bit boring. I prefer mixing in a bit of yogurt and lacing it with vanilla bean for added fragrance.
I don't always use fancy dairy for my cooking, but in this case I did: Straus whole milk and Straus European-style yogurt.
Their yogurt is maybe my favorite product from them ever! It's tart, delicious, full-flavored and expensive. It's a splurge.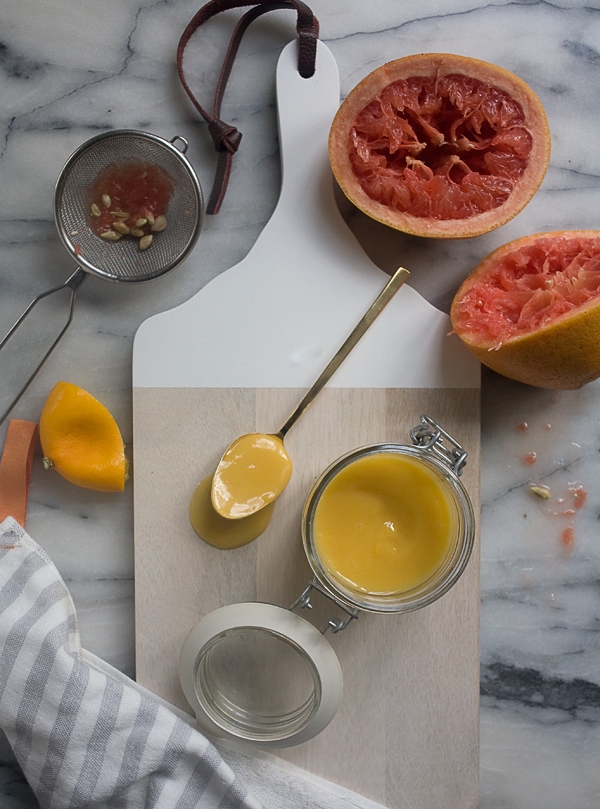 By the way, if you're wondering what restaurant does it right, Bestia in Los Angeles makes some of the best panna cotta ever. It's super loose; more loose than this recipe here.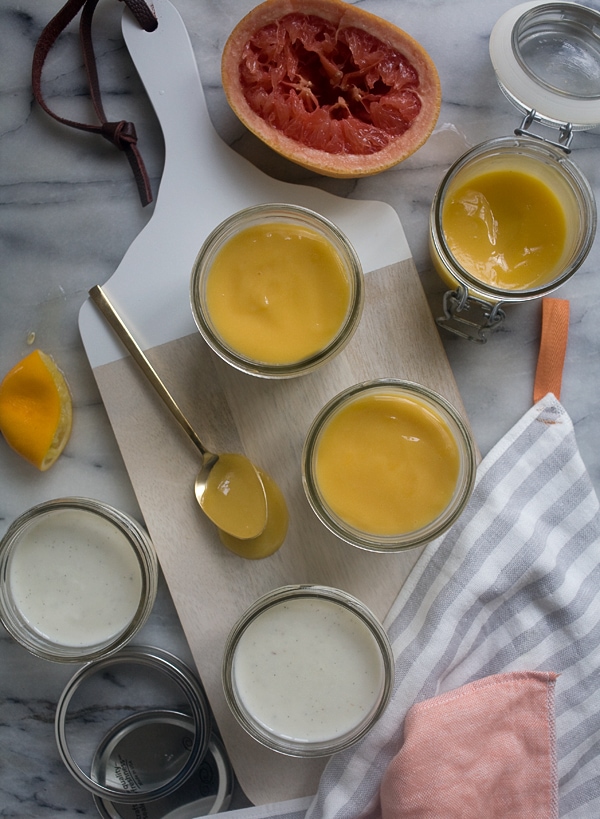 I'm not sure who invented the word "curd," but they should be fired. So sad that a gross-sounding word like that represents such dreaminess. Truly. This curd might be my favorite thing ever. There will be a bit extra leftover after you top the panna cottas; maybe a tablespoon or two, make sure to save it, put it on some toast with your morning cup of coffee. It's worth the save.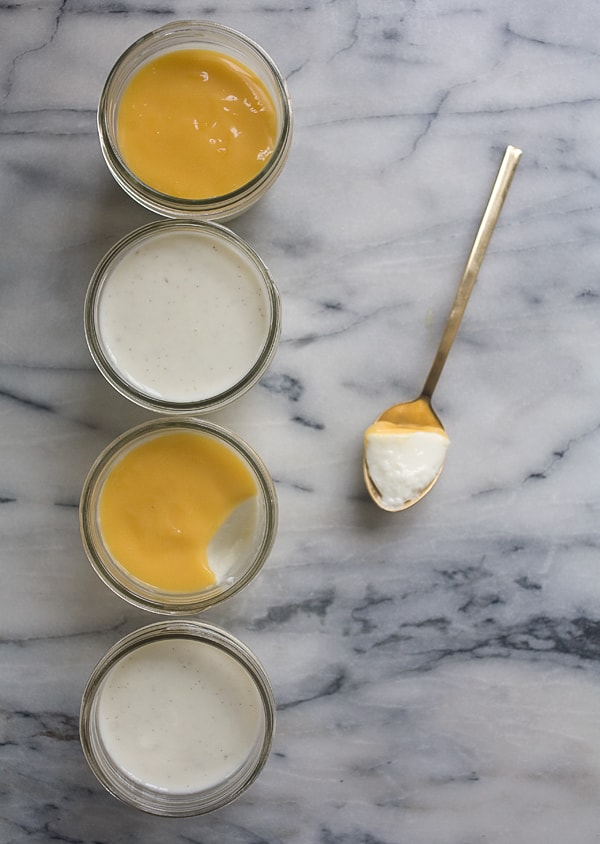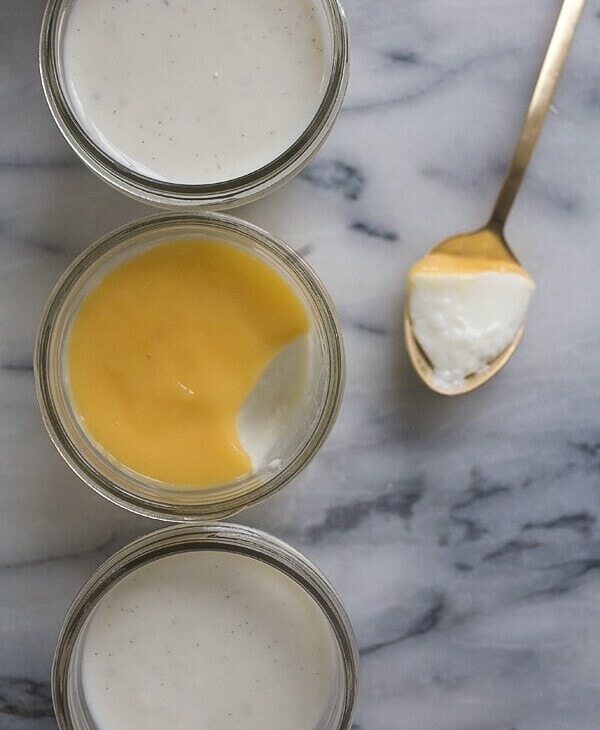 Print Recipe
Loosey-Goosey Yogurt Panna Cotta with Grapefruit Curd
Ingredients
Yogurt Panna Cotta:
1 ½

cups

whole milk

divided

1 ½

teaspoon

unflavored gelatin

1

vanilla bean

split and scraped

½

cup

white granulated sugar

¼

teaspoon

salt

2

cups

European-style whole milk yogurt
Grapefruit Curd:
½

cup

freshly squeezed ruby red grapefruit juice

strained

2 ½

tablespoons

unsalted butter

room temperature

¼

cup

granulated sugar

1

large egg yolk

1

large egg

Pinch

salt

1 ½

teaspoons

freshly squeezed Meyer lemon juice
Instructions
In a medium bowl, pour in ¼ cup milk and stir in the gelatin powder. Set aside for 15 minutes, allowing the gelatin to bloom.

Meanwhile, in a small bowl, mix together the vanilla bean caviar and sugar. Mix the two with your hands, vigorously, until the vanilla bean caviar is thoroughly distributed throughout the sugar. Add the vanilla sugar and empty vanilla bean pot to a medium saucepan. Pour in the remaining 1 ¼ cup milk and salt. Heat over medium-low heat and stir until the sugar is dissolved, about 3-5 minutes.

Pour the gelatin/milk mixture into the saucepan with the milk/sugar mixture and stir until smooth, about 1 minute. Transfer to the bowl (you can use the bowl where the milk and gelatin were) and allow the mixture to cool to a lukewarm temperature. Whisk in the yogurt (it'll be lumpy at first - just keep whisking) and mix until smooth.

Divide the panna cotta between ramekins. (I filled 4 ramekins, but if you use smaller ones, you can get enough for 6.) Transfer the panna cotta to the refrigerator and chill until firm, at least 6 hours, but ideally overnight. Since there isn't THAT much gelatin in this, overnight is preferred.
Grapefruit Curd
To a small saucepan, simmer the grapefruit juice until it reduces by half (to ¼ cup), about 3-5 minutes. Set aside to cool slightly.

In a medium stainless steel bowl (note: you'll use this bowl as a makeshift double-boiler later). Add the sugar and beat until light and fluffy. Add the egg yolk, beat the mixture together, and then add the egg, beating again until it's well incorporated. Stir in the salt, and then in a few batches, add the grapefruit juice and lemon juice.

Rince out the small saucepan you used earlier, and fill it ⅓ of the way full of water. Bring to a simmer and place your stainless steel bowl of curd on top. Stir constantly, and heat the curd slowly enough that the sugar has time to dissolve. This step usually takes about ten minutes. Pull the curd from the head when it is just thick enough to coat your spoon, or, my preferred way, until a thermometer reads 166 F. Your curd will thicken as it cools.

If you feel like you've overheated it a bit, or you aren't using a thermometer, you can run it through a sieve to rid it of any lumps that might've cooked up. If you used a thermometer, then feel free to skip this step. Transfer the curd to a container and refrigerate, covered, for up to 1 week.