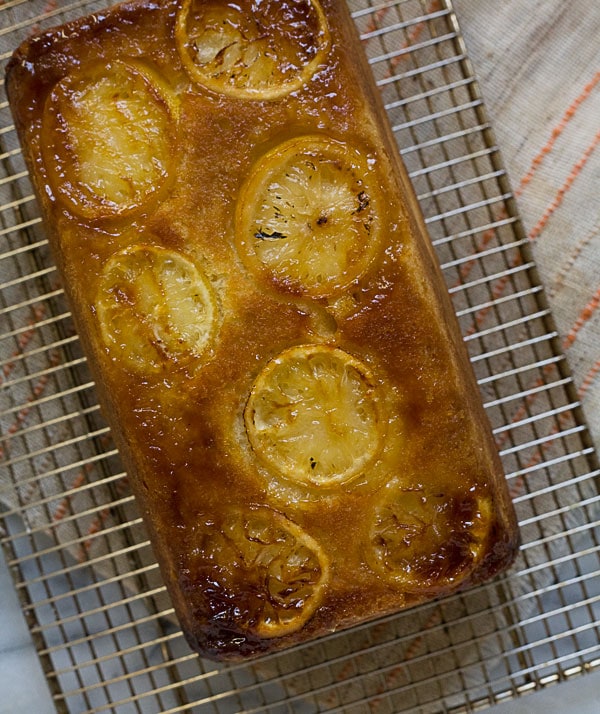 Can I be honest? I don't LOVE lemon flavored desserts. You'll never see me whipping up a lemon bar and passing them out to all my friends. I'm more likely to give you pie or pancakes or hugs. Lemon desserts are usually a tad too sweet for me, and they usually make me pucker way too much and I make a super ugly "pucker" face. Trust me, it's not cute.
There's a popular photo amongst my family of me when I was three years old being taunted by my much older uncle to "close my eyes and stick out my tongue." My aunt was camera-ready while my uncle swiped a lemon on my tongue. I apparently made the scariest "pucker" face ever. Also, now you know that my family found it funny to torture me as a small child. This explains why I torture Amelia–it's a learned practice!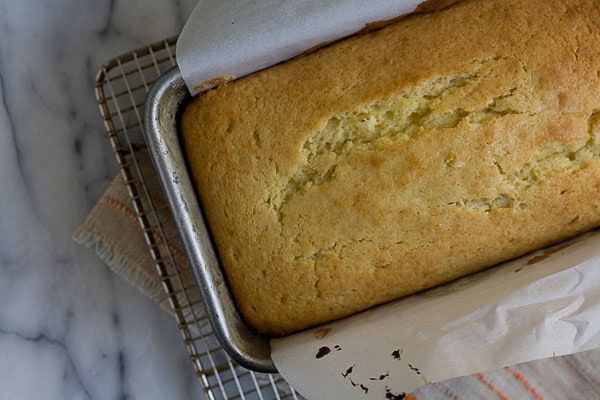 Back to lemons…this upside down loaf is an adaptation of one of my favorite recipes of the year (yes, I said that), this Bourbon Banana Upside Down Cake–so good!
This of course is quite different. There's a lemon zest, a good amount of salty, which works really lovely with the tartness and brown butter! Yes, butter is cooked with brown sugar until it browns. Yum. Yes. Yum.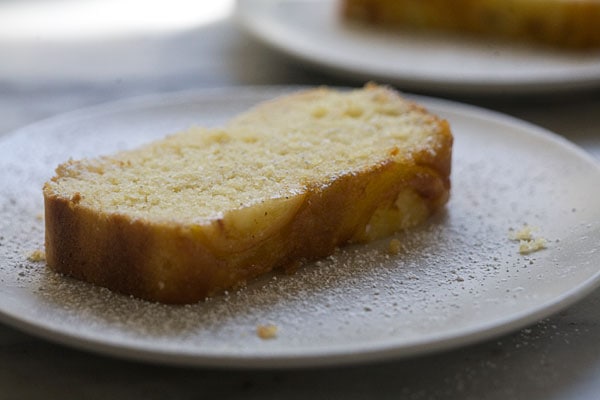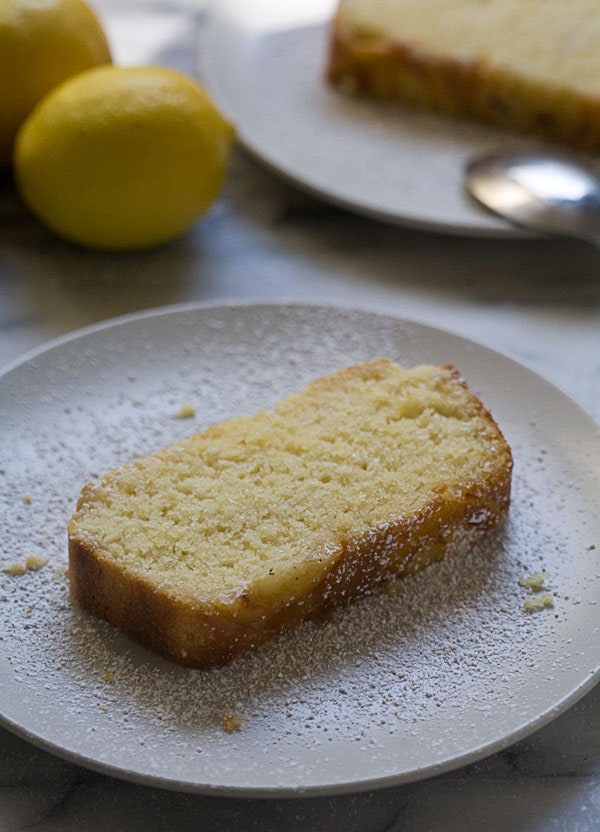 The slices of lemon on top of the cake actually caramelize in the oven, getting a candy-like coating. When the cake is cooled the lemon slices are chewy, delicious, sweet and just a teeny bit bitter. A good bitter.
The cake is light and fluffy with the perfect hint of lemon.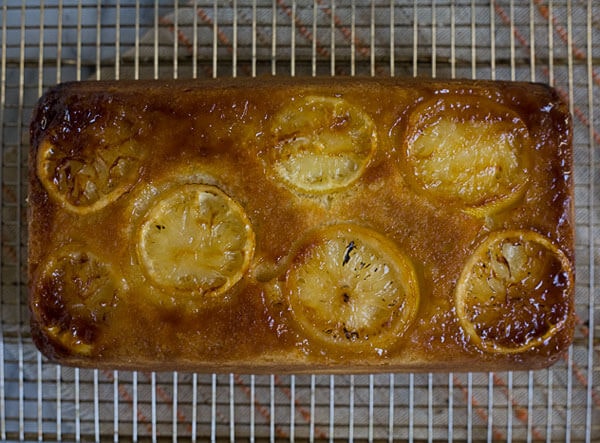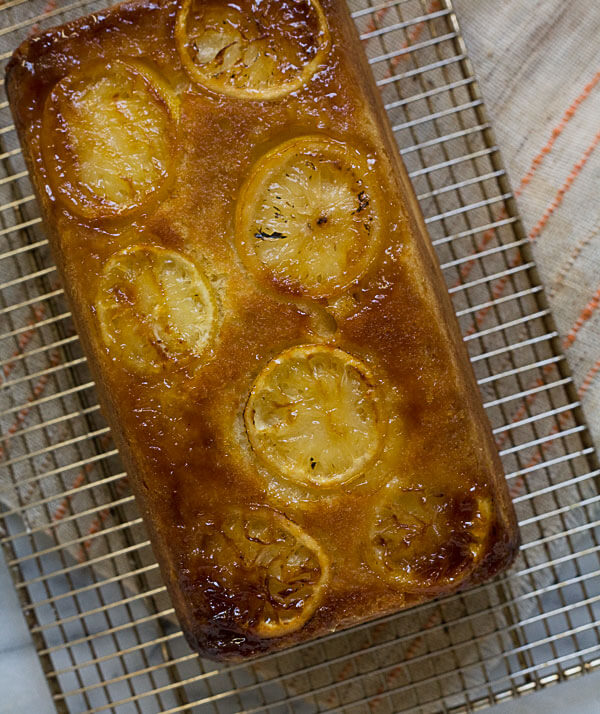 Print Recipe
Lemon Upside Down Loaf Cake
Serving Size:
9x5-inch loaf cake
Ingredients
Cake:
2

cups

all-purpose flour

1

teaspoon

baking powder1/2 tsp baking soda

3/4

teaspoon

fine-grain sea salt

4

ounces

1 stick unsalted butter, room temperature

3/4

white granulated sugar

2

large eggs

2

tablespoons

lemon zest

from 1 lemon

1

teaspoon

pure vanilla extract

3/4

cup

buttermilk
Lemon topping:
3

tablespoons

unsalted butter

2

tablespoons

dark brown sugar

1/4

teaspoon

fine-grain sea salt

1

lemon

thinly sliced
Butter and flour for the pan
Instructions
Butter a 9 x 5-inch loaf pan. Line the bottom with parchment, butter once more and dust with a tablespoon of flour. Set aside. Preheat your oven to 350 degrees F.

In a medium bowl, sift together the flour, baking powder, baking soda and salt. Next, in a medium bowl, cream together the butter and sugar until light and fluffy, about 3-4 minutes. Add the eggs, lemon zest and vanilla; and then mix until the mixture is smooth.

To the butter and sugar mixture, mix in half of the flour mixture and the buttermilk. Then, mix in the remaining flour mixture, being sure not to over mix.

In a small skillet, melt the 3 tablespoons of butter over medium heat. Whisk constantly until the butter begins to brown and then mix in the brown sugar and salt; stir until the sugar begins to bubble, about 1 minute. Turn off the heat and let stand for a few minutes to cool slightly. Pour the butter/mixture into the loaf pan, spreading it around evenly. Arrange the lemon slices atop, keeping in mind how it'll look when you flip the cake over.

Pour the batter over the lemons, and spread the batter gently so it's nice and even. Transfer the loaf pan to the oven and bake for 35-45 minutes or until a skewer comes out clean.

Remove the cake from the oven and allow to cool for 5-10 minutes. To invert the cake, place a cooling rack on top of the loaf pan and turn both of them over; lift up the loaf pan, take off the parchment and voila! Your cake! Allow the cake to cool to room temperature before slicing.