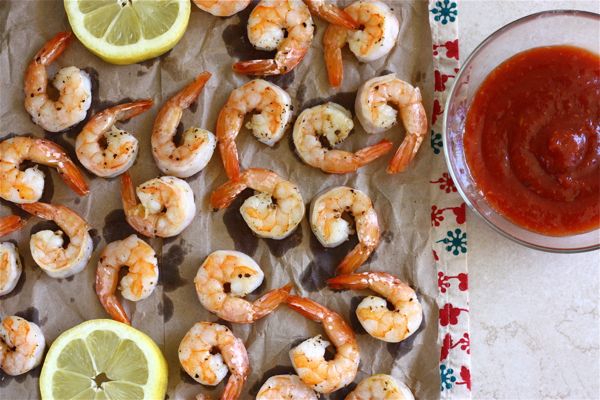 Alright dudes and dudettes, today we have my all-time favorite appetizer to hate: shrimp cocktail. This app–made famous by hotels and cruise ships alike–can most commonly be found hanging on for dear life to a martini glass filled to the brim with gross cocktail sauce.
Shrimp cocktail usually reminds me of tacky, cheap chandeliers and women wearing too much costume jewelry and big ships that aren't yachts. Yeah. It totally reminds me of cruise ships…and South Florida.
But honestly, every time I've found myself on one of those "party 12-hour cruise ships"–thats sole purpose is to just go into the middle of the ocean and that's it!–I get super pumped at the sight of shrimp cocktail. And yeah, every single time–no fail–the shrimp is overly cooked and rubbery. And the cocktail sauce is predictably too sweet and just tastes like straight-up ketchup. But I usually think, whatever, so what, who cares…I'M ON A BOAT!
Right now though, I'm not on a boat (and most likely, you aren't either), so putting in a little work to get awesome shrimp cocktail is important. Let's make it right!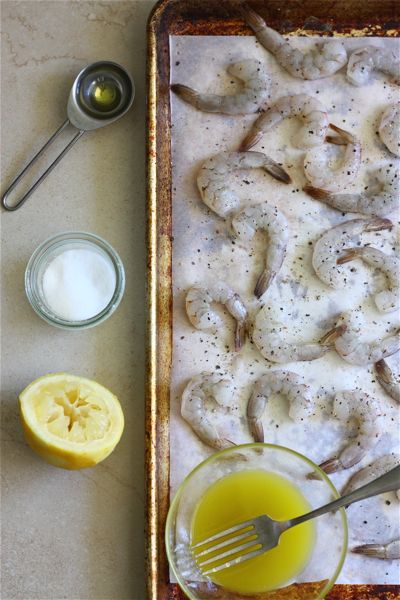 This 15-minute dinner–or in my case a 1:30pm snack–starts with making a little olive oil/lemon mixture. It's as simple as it sounds. Just 1/2 of a lemon, its zest and olive oil.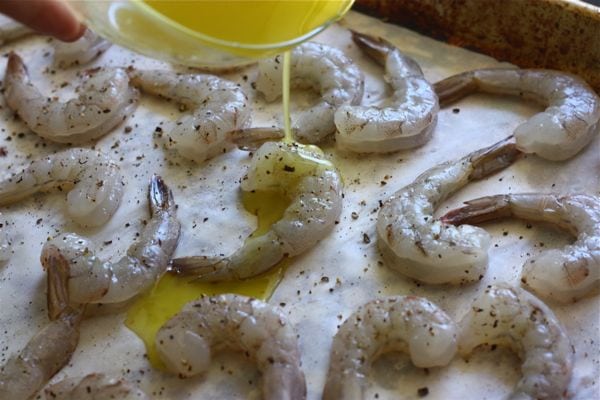 Pour the olive oil/lemon mixture over the shrimp and then stick them in the oven for 10 minutes. That's it!
While they're cooking, you mix together the cocktail sauce. I personally enjoy the combination of chili sauce and ketchup. The perfect combination of sweet and spicy.
If you have Worschestire sauce in your fridge, add it–if you don't, leave it out. No need to spend $5 for a dash, you know? Condiments can be expensive, but they're so important!
I mixed together the exact recipe you see below, loved it, and then went back and added an extra teaspoon of horseradish. It was a bit too much, but I looooved it. This is because I like spicy.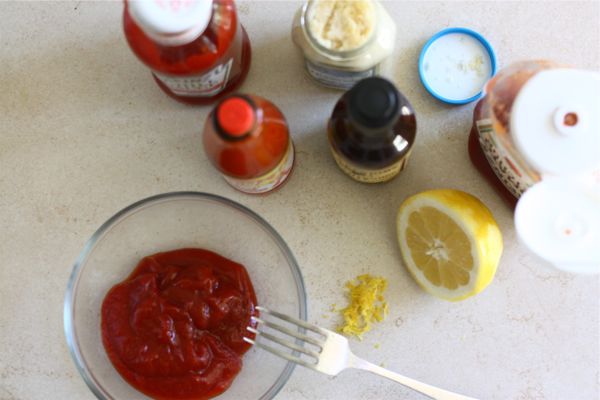 If you do too, then add more horseradish to taste. Beware though, if you add too much, horseradish has that ability to make your nose feel like it's going to fall off.
It'll feel like when you were a kid, playing in the pool and you sniffed water by accident; you sort of wanted to cry, but didn't because the other kids were watching you and that would've been embarrassing. Eating too much horseradish is exactly like that! So painful and awkward!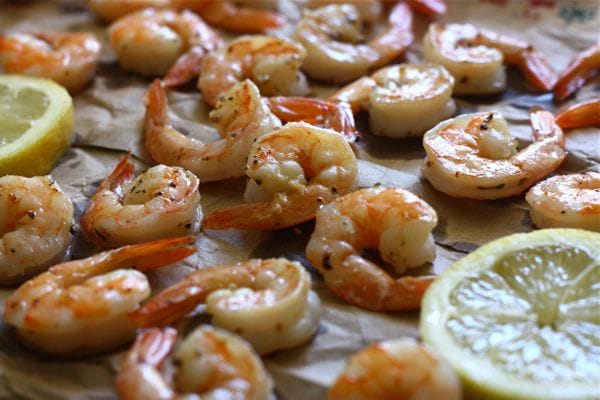 Lemon Roasted Shrimp w/Homemade Cocktail Sauce
Shrimp:
1/4 tablespoons olive oil
1 tablespoon lemon juice (from 1/2 lemon)
1 teaspoon lemon zest (from 1/2 lemon)
1 lb shrimp, cleaned, deveined and peeled–with tails attached
1 teaspoon salt
1/4 teaspoon freshly ground pepper
Cocktail Sauce:
1/4 cup chili sauce – done
1/4 cup ketchup – done
1 teaspoons prepared horseradish
1 teaspoon fresh lemon juice
1/2 teaspoon lemon zest
1/8 teaspoon worcestershire
1/4 teaspoon hot sauce (I used Texas Pete – shout-out to NC!)
1. Preheat oven to 400 degrees F. In a small bowl, mix together olive oil, lemon juice and lemon zest. Lay shrimp on a parchment lined baking sheet, in one layer. Sprinkle shrimp with salt and freshly ground pepper. Pour olive oil mixture atop the shrimp and mix. Transfer to oven to cook for 10 minutes, until shrimp is thoroughly cooked.
2. In a small bowl, mix together chili sauce, ketchup, horseradish, fresh lemon juice, lemon zest, worcestershire and hot sauce. Transfer to refrigerator to cool. Serve alongside shrimp.