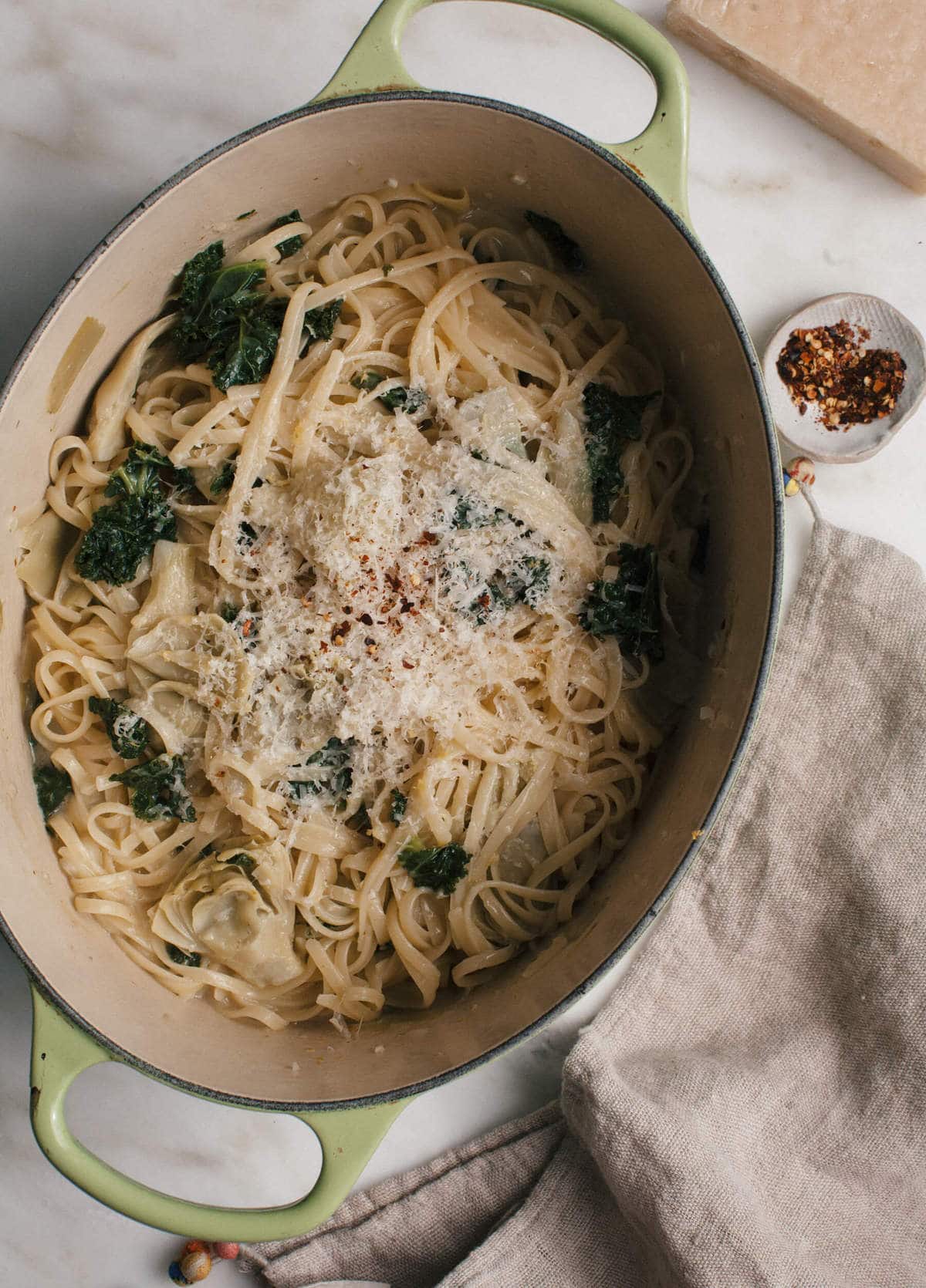 Before we dive into this Lemon Kale One Pot Pasta…I'm gonna tell you a story.
I'm not gonna lie, I'm not one to jump on recipe food trends right away. I'm what you call an SEO nightmare. If I was a smart blogger, everything would be called one bowl this or 30 minute that. I'd make those Pinterest pin collages that are like ten photos deep that have like a million repins. I don't hate on stuff like that; it's just not really me…and I'm sort of too lazy to try it. So, I've been super skeptical of the one pot pasta trend that hit its peak last year when Martha Stewart posted this recipe.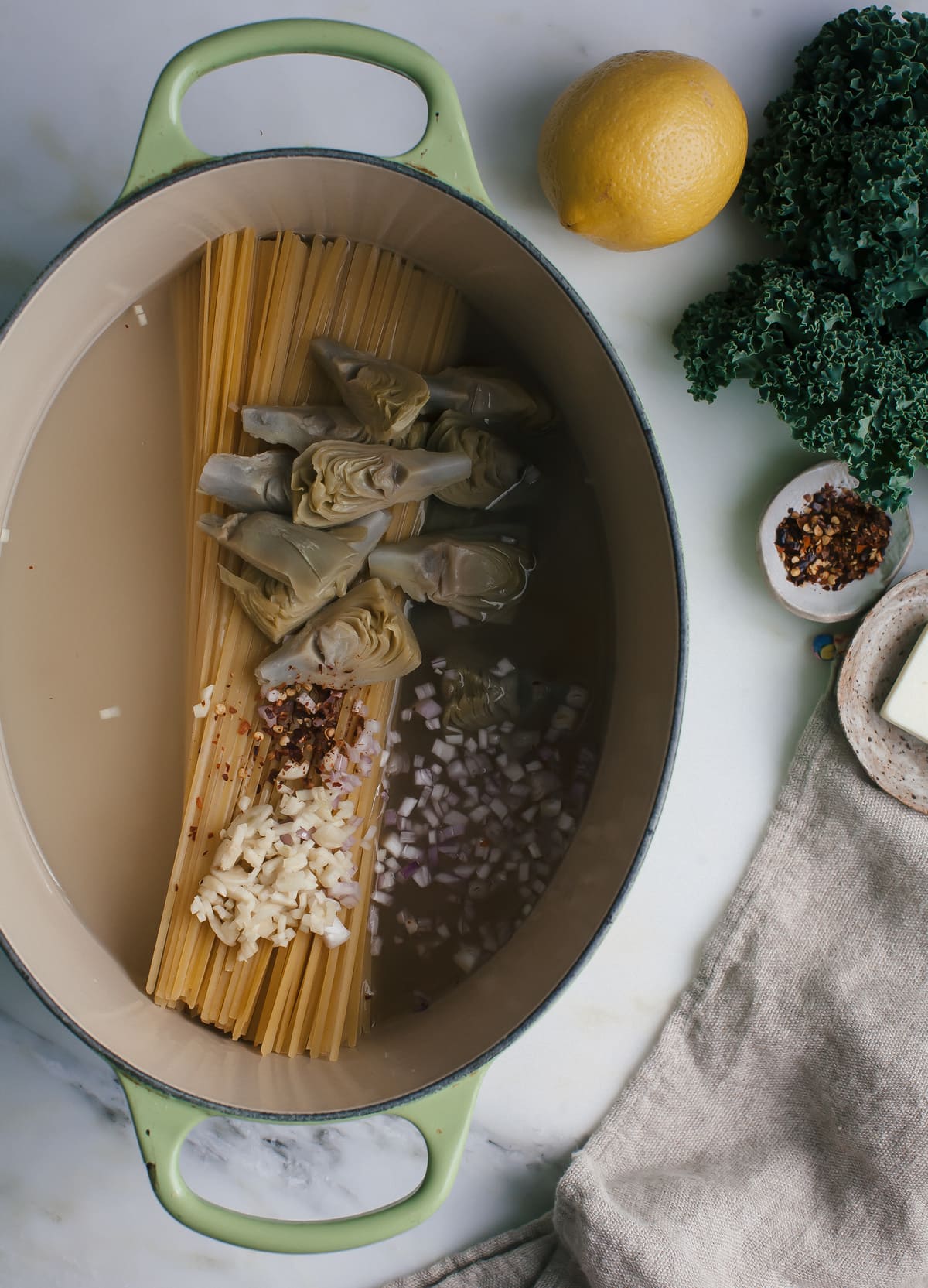 Not gonna lie, I still give that water to pasta ratio major side eye. But I'm what you call an al dente freakazoid. I can't handle mushy pasta like at all at all.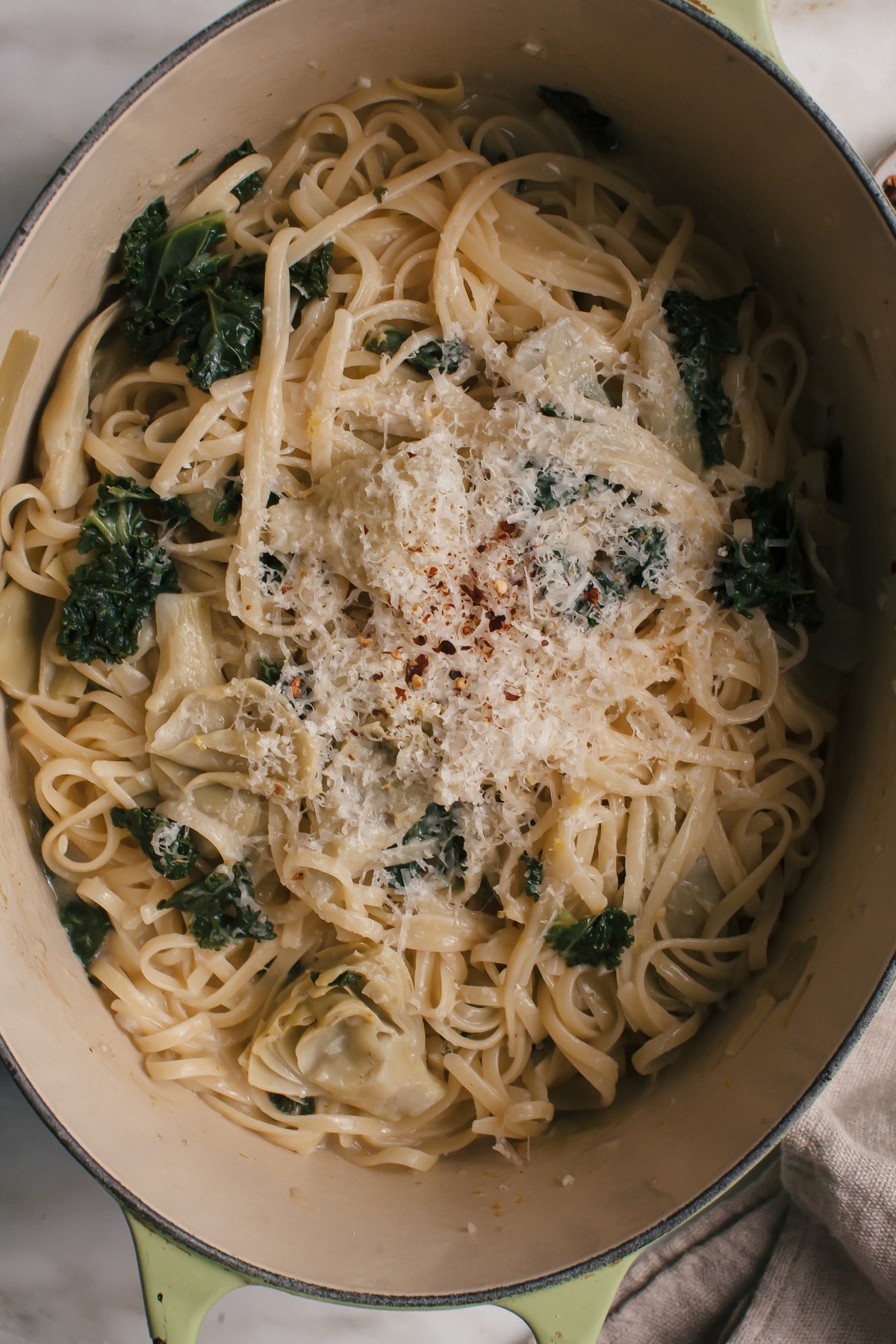 This recipe doesn't give you that! YAY!
One of my favorite recipes of all time that I used to make like every single night when I was broke and single was this pasta, risotto style by Mark Bittman. This kinda reminds me of that (because of the chicken broth) but with no adding or anything like that.
This recipe is so simple and tastes creamy and lemon-y and the kale and artichokes are so good.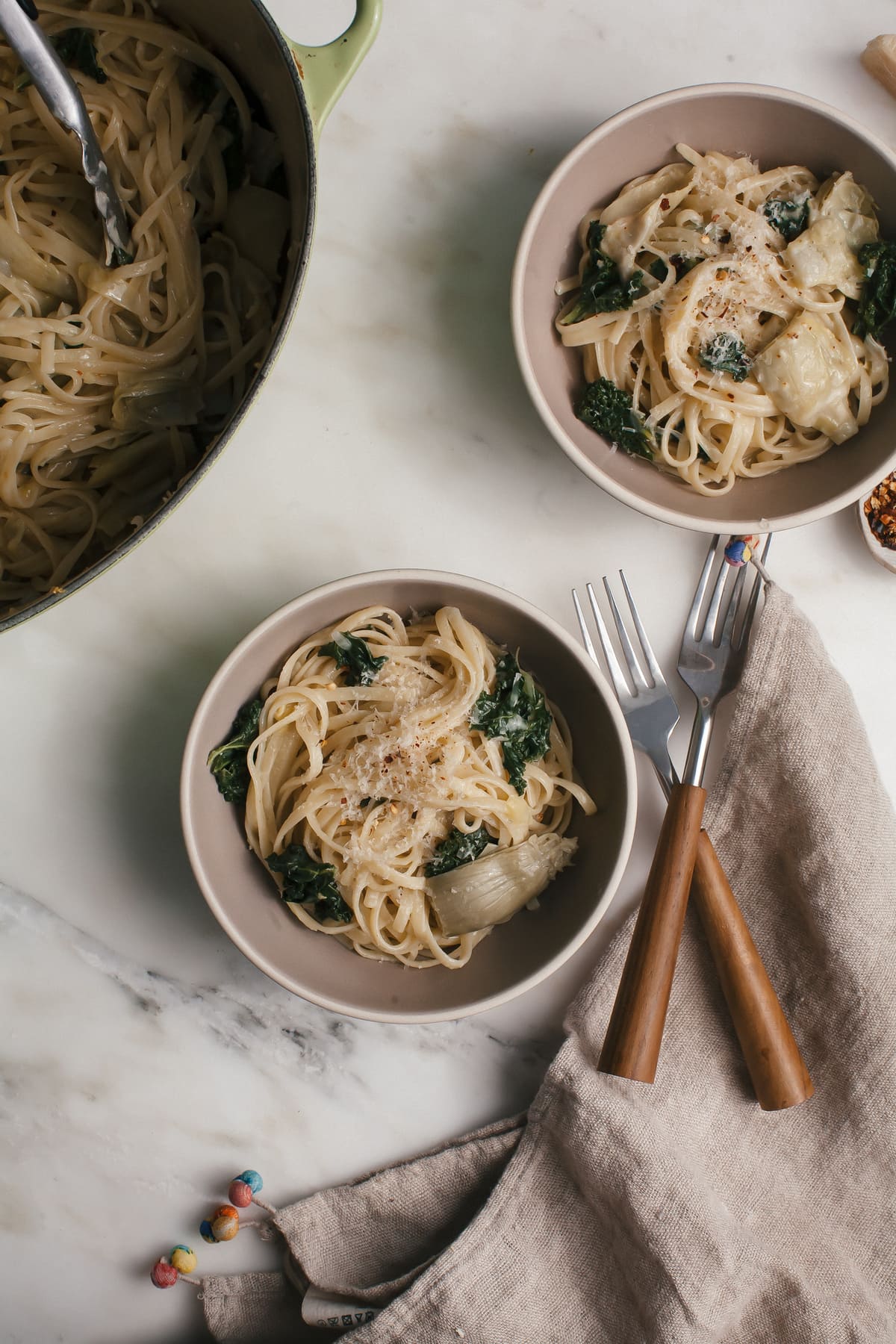 The recipe starts with all of the ingredientses. From the time the liquid starts to boil, set your timer to 7 minutes. At the 7 minute mark, test the pasta. If it's too al dente cook it for 1 to 2 minutes more. And then turn the entire thing off. There will be some residual liquid at the bottom.
The trick is to add the creme fraiche or yogurt to that residual liquid to thicken it up. And then let it rest for about a minute. The pasta literally soaks all of it up. It's SO good.
It's the perfect combination of a lemon-y, creamy and so so easy.
Let me know if you try this Lemon Kale One Pot Pasta.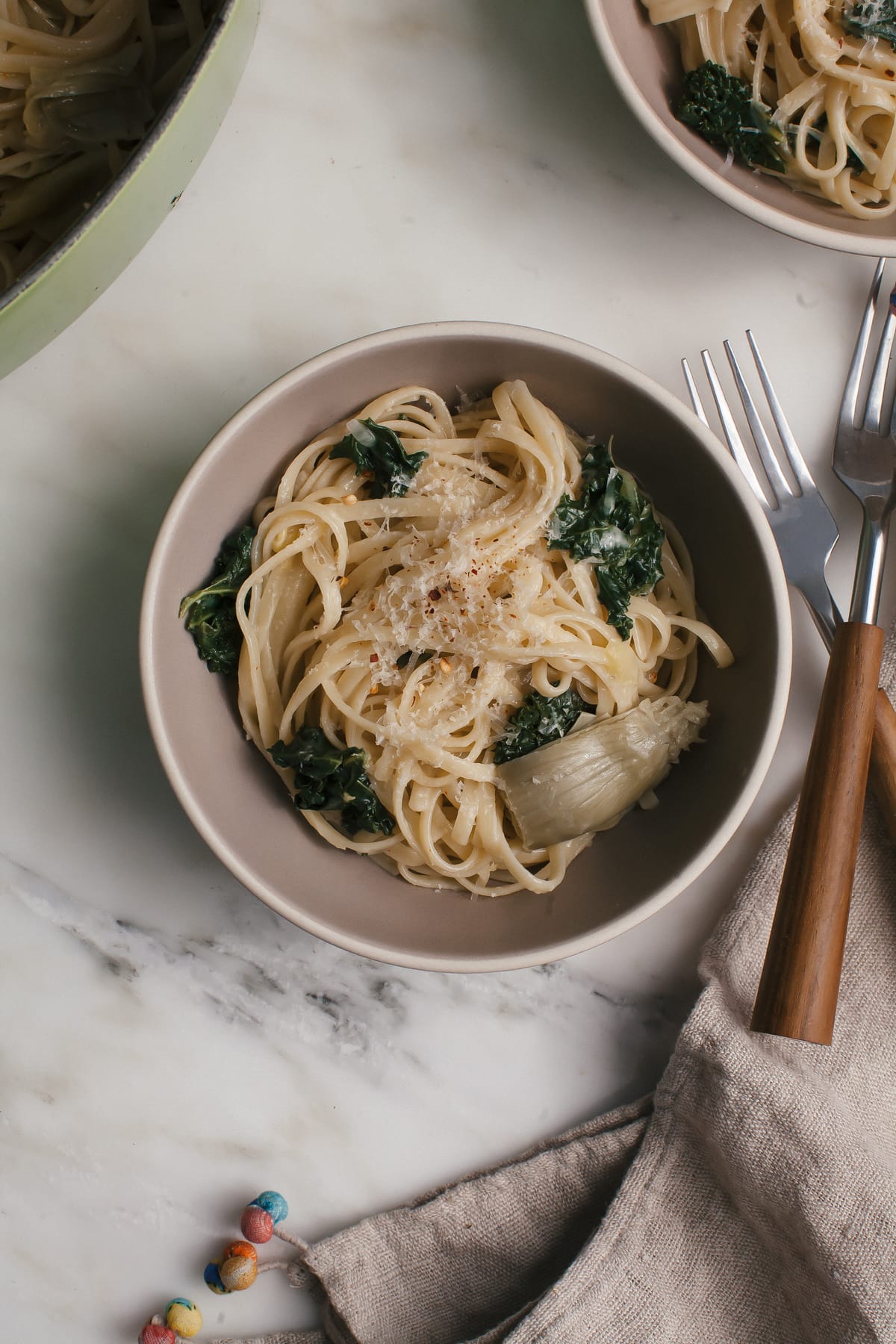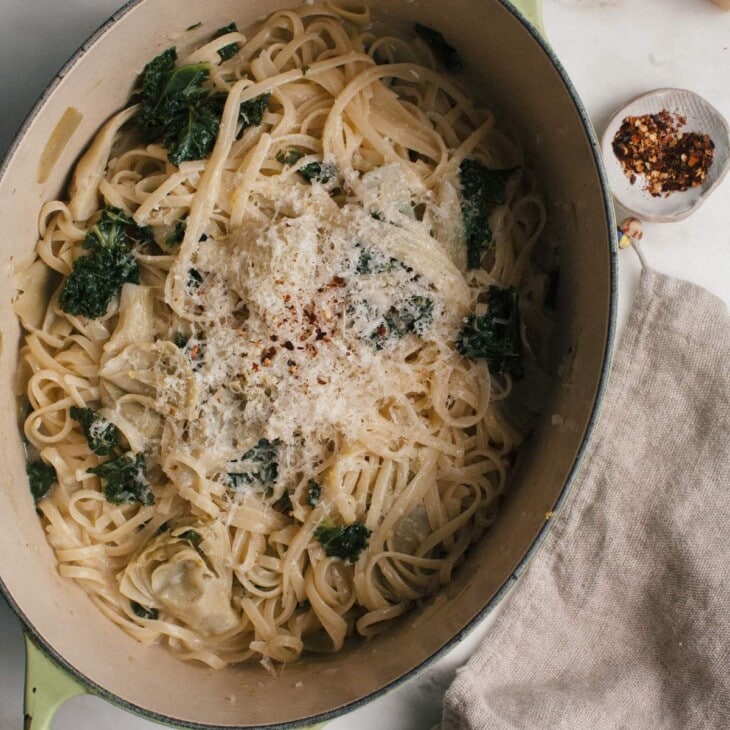 Print Recipe
Lemon-y, Artichoke-y, Kale-y One Pot Pasta
Lemon Kale One Pot Pasta is deliciously bright and comforting. This one pot pasta delivers pasta that is al dente and not overcooked.
Ingredients
16

ounces

dried linguine

3

cups

water

1 1/2

cups

low-sodium chicken broth

1

shallot

peeled and minced

2

garlic cloves

peeled and minced

1 1/2

cups

frozen or canned or jarred

and drained artichokes

1

cup

kale

stems removed and leaves chopped

1 1/2

teaspoons

kosher salt

1/2

teaspoon

crushed red pepper

plus more for garnish

1/4

cup

creme fraiche or Greek yogurt

you don't want the yogurt to be too runny

2

tablespoons

unsalted butter

Juice and zest from 1 lemon
Instructions
To a large dutch oven or medium saucepan, add the pasta, water, chicken broth, minced shallot, garlic, artichokes, kale, salt and crushed red pepper. Note: if the pasta can't lay completely flat in your pot, then feel free to break the noodles in half.

Turn the heat to high and leave it uncovered. When the water comes to a boil, set your timer to 7 minutes. While it's cooking, stir it with a pair of tongs often. This will ensure even cooking with the noodles.

At the 7 minute mark, taste the pasta. If it needs a bit more time, set a timer for a minute or so more. Then turn the heat off. Stir in the creme fraiche or yogurt, butter and lemon juice and zest. Allow it to rest for about a minute. This allows the pasta to soak up any of the residual liquid. Add the parmesan and more crushed red pepper (if you like) and give it one last toss. Divide amongst bowls and serve.