As I was sitting in front of my fan (it's still miserable in LA), editing these photos, I quickly realized how silly of me for posting a burger recipe the day after Labor Day. You're probably sick of burgers. Or maybe, like me, you had no American food at all. My Labor Day was full of some dim sum and Korean shaved ice and two small Mexican fish tacos. And some new and old friends. It was rad.
These lamb burgers aren't your traditional burgers anyway so I think it's all good. In my dreams, these will be your dinner. They're awesome and special.
Yesterday was a nice and relaxing day; I'm glad I ended up taking the day off to enjoy myself versus my original, depressing plan of working. I'm happy I chose fun. You gotta choose fun sometimes, man.
Sunday was so fun. There were sheep AND Amelia. It was incredible. I can't even put the experience into words. There will be sheep pictures soon. It was a great way to end the weird month that was August. I'm excited for September but August was strange.
These burgers are surprisingly light. I think it has a lot to do with the fact that lamb can sometimes (depending on the cut) be lighter than beef. And pitas are way lighter than big ol' brioche buns (my favorite!). The tzatziki sauce, fresh tomato cubes and pieces of lettuce made this a dreamy burger situation. I loved it so much.
The burgers are made with a nice mixture of sautéed yellow onions, spices like coriander, cumin, ginger, garlic and wait for it…chopped up pistachios. They add nice texture. I love 'em. Oh and the fresh parsley and mint were cool too.
These would be a great weeknight dinner. Grill the burgers or cook 'em in a pan. Both are great ways to eat them.
I'm currently on the search for air conditioning so I can veg out and watch the New Jersey housewives at that weird "spiritual" ranch in Arizona. So weird.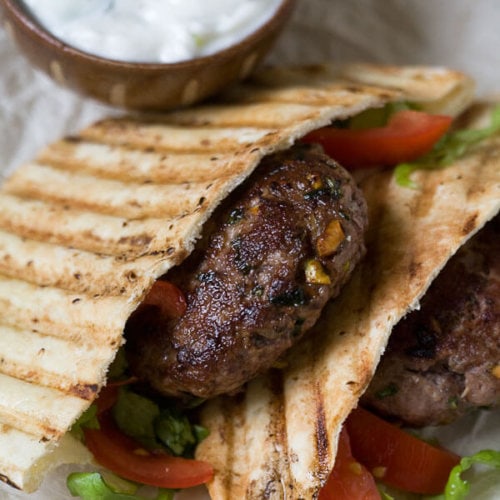 Ingredients
Lamb Patties
Olive oil

1/4

cup

diced yellow onions

1/2

teaspoon

freshly ground pepper

1

teaspoon

ground coriander

2

teaspoons

ground cumin

1/2

teaspoon

ground ginger

2

minced garlic cloves

1

pound

ground lamb

2

tablespoons

chopped pistachios

2

tablespoons

minced fresh parsley

3

tablespoons

minced fresh mint

1/2

teaspoon

sea salt
Tzatziki sauce:
1 1/2

cup

Greek yogurt

2

Persian cucumbers

,

diced

1

tablespoon

minced fresh dill

1

lemon

Sea salt

Freshly ground pepper
Toppings:
Shredded lettuce

Diced tomato

Pitas
Directions
In a small skillet add a teaspoon or two of olive oil. When hot, add the onions and cook for 3-4 minutes, until softened and translucent. Add the spices: pepper, coriander, cumin, ginger and minced garlic. Cook for an additional minute or so, until the entire mixture is fragrant. Turn off heat and let cool slightly.

To a medium bowl, add the ground lamb, onion and spice mixture, chopped pistachios, fresh parsley, fresh mint and sea salt. Mix with your hands (I like to wear plastic gloves) or a fork until everything is thoroughly distributed. Shape the lamb into 3/4-inch thick patties (about 1/4 pound per patty). Allow the patties to rest and chill in the refrigerator for 15 minutes. (This will make sure the patties will stay together when frying or grilling.)

Meanwhile, mix together the ingredients for the tzatziki sauce. There's no way to mess this up: mix, taste and adjust according to how you like it. Get your toppings ready and warm the pitas in the oven, if you like.

Heat a few tablespoons of olive oil in a medium skillet; when the oil is hot, add the lamb patties, cooking them 1 to 2 at a time. (Over crowding the pan will result in steamed patties.) Cook each of the patties for about 3-4 minutes per side for medium well. If you like your lamb well, then I'd recommend about 5 minutes each side. Repeat the process until all the patties are cooked.

To assemble, place the lamb patties in the pitas, garnish with tomatoes and lettuce. Pour on tzatziki sauce liberally. It's good.