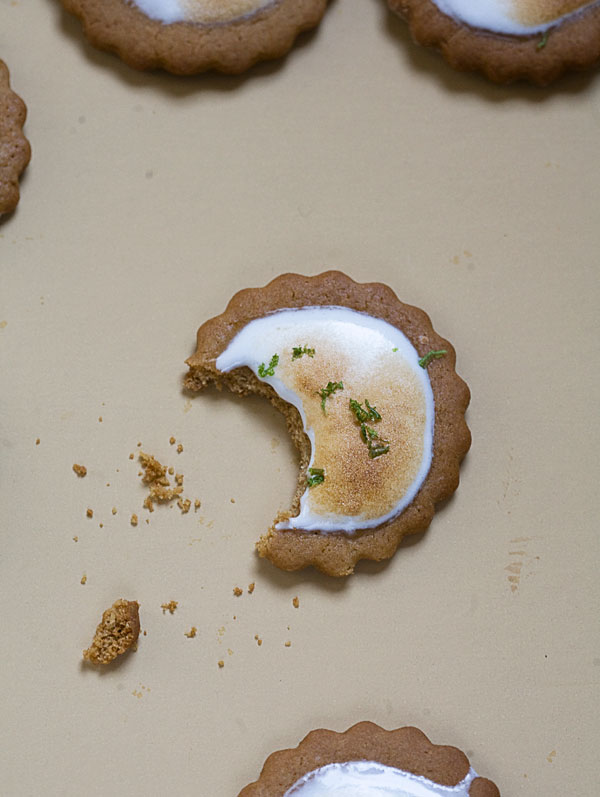 If there's one thing I could make every day for the rest of my life, it'd be pie. I like the rolling and the crimping and the filling and the … well, everything. And I (usually) like the thinking pie-making brings. I get all existential and have thoughts like, "is my hand really moving now?! it's weird that we even exist at all, right now, right here…"
You know, crazy thoughts I used to have more in college when I read too many books and had too many feelings. I remember one night in college staying up all night, listening to this song and thinking way too much about the fact that we all actually exist. (Do you think I'm weird right now? Probably and sorry.) Art school made me angsty; or I went to art school because I was angsty–I'm not sure which one came first. But I do know that pie-making brings back that angst.
The other day I wanted the flavor of pie without my brain going to weird places. I wanted to cut the time in half, but when I closed my eyes, I wanted the flavor to scream key lime pie. So…key lime pie cookies! YES.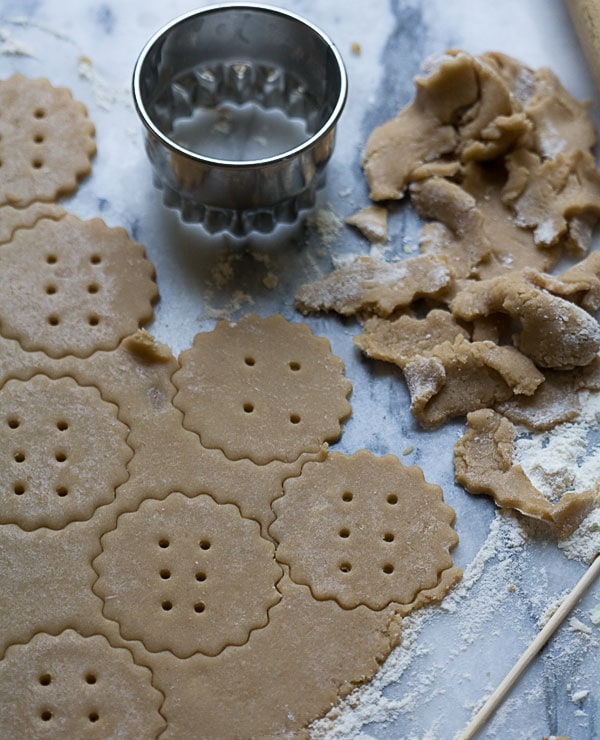 As a person who was raised half my life in Florida, I feel like somewhat of an authority on key lime pie. Here's the thing: the juice has gotta be fresh. And key limes are like no other. A lot of key lime pie trickery goes on and it usually involves bottled key lime juice or just straight up lime juice. No. And the graham crackers for the crust need to be on point.
In this instance graham crackers are made. No graham flour! Thank the heavens because who wants to go out and buy graham flour for one lil' ol' recipe. No one.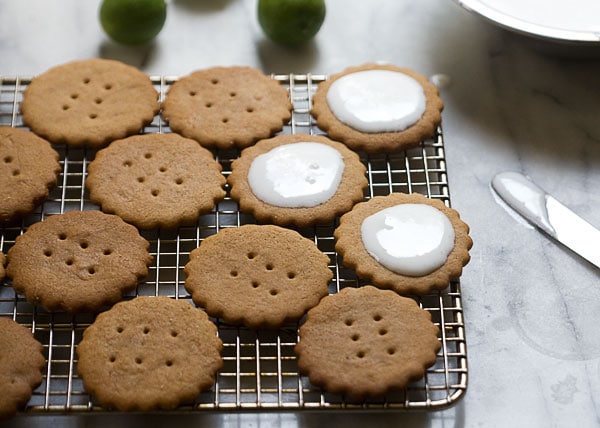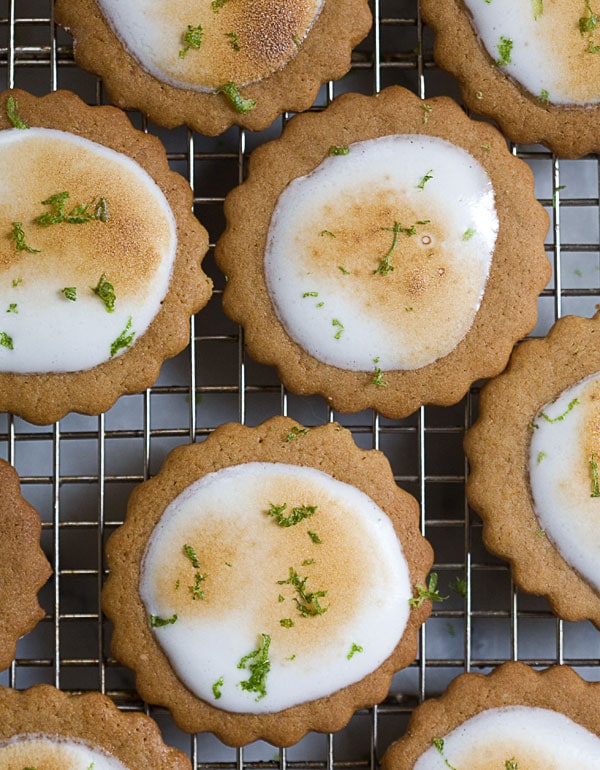 The marshmallow glaze is actually similar to a seven-minute frosting that's actually more like a three-minute frosting.
When a torch is put up against it, it browns beautifully.
The flavor of key lime pie is here. It's present in this little cookie.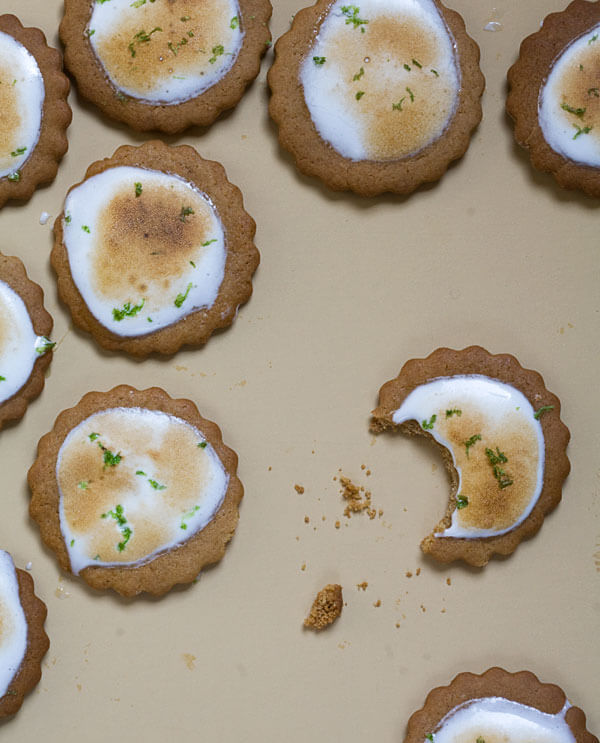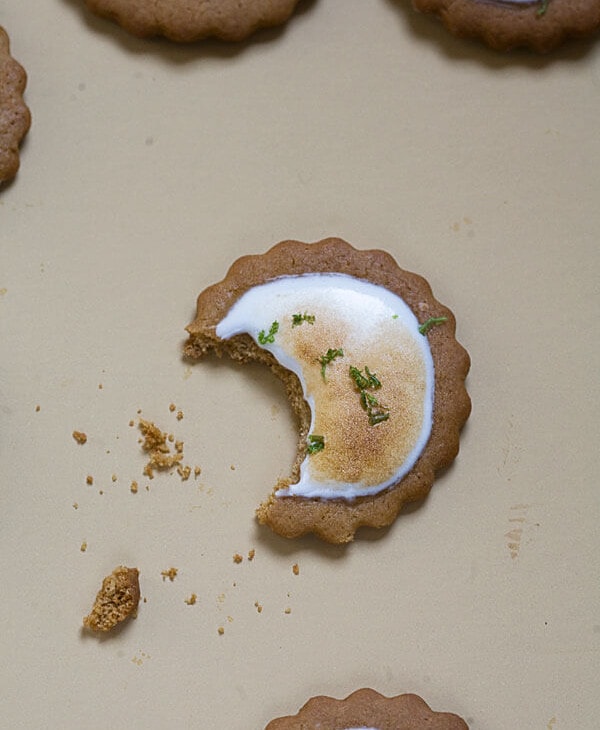 Print Recipe
Key Lime Pie Cookies
Ingredients
Cookies:
1 3/4

cups

plus 1 tablespoon, all-purpose flour

1/2

cup

dark brown sugar

1/2

teaspoon

baking soda

1/2

teaspoon

fine-grain sea salt

3 1/2

tablespoons

50 grams unsalted butter, cut into 1-inch cubes and very cold

2 1/2

tablespoons

honey

2 1/2

tablespoons

whole milk

1

tablespoons

pure vanilla extract
Marshmallow Glaze:
1/4

cup

sugar

1

egg white

1/8

teaspoon

cream of tartar

Pinch

salt

1

teaspoon

key lime juice

Zest from 3-4 key lime
Instructions
Combine the flour, brown sugar, baking soda, and salt in the bowl of a food processor fitted with the steel blade. Pulse or mix on low to incorporate. Add the butter and pulse on and off on and off, or mix on low, until the mixture is the consistency of a coarse meal.

In a small bowl, whisk together the honey, milk, and vanilla extract. Add to the flour mixture and pulse on and off a few times or mix on low until the dough barely comes together. It will be very soft and sticky. Lay out a large piece of plastic wrap and dust it lightly with flour, then turn the dough out onto it and pat it into a rectangle about 1-inch thick. Wrap it, then chill it until firm, about 2 hours or overnight.

Sift an even layer of flour onto the work surface and roll the dough into a long rectangle about 1/8 inch thick. The dough will be sticky, so flour as necessary. Using a 3-inch scalloped (or not scalloped) biscuit cutter, cut out as many cookies as you can. Reroll the scraps and cut out more. Using a toothpick or skewer (I like to use the blunt end of a wooden skewer for more dramatic dots), prick the dough to form two dotted rows about 1/2 inch for each side of the dividing line. Place the crackers on one or two parchment-lined baking sheets. Chill until firm, about 15 to 20 minutes in the fridge.

Preheat the oven to 350 degrees F. Bake for 15 to 25 minutes, until browned and slightly firm to the touch, rotating the sheets halfway through to ensure even baking. Cool the cookies on a cooling rack until room temperature.

Meanwhile, make the marshmallow glaze. In a large metal bowl, whisk together 2 tablespoons water, sugar, egg white, cream of tartar, salt and key lime juice. Set bowl over pan of barely simmering water and mix with handheld electric mixer at low speed. Gradually increase speed to high, beating until mixture thickens and becomes a very smooth glaze, about 3-4 minutes. Spread about a teaspoon on each cookie. Using a kitchen torch, torch the tops of each cookie and top with a liberal sprinkling of key lime zest. Note: These get a little funny if they sit out for too long in the heat (hello summer!). If you'd like to make them ahead of time, I recommend making the cookies and then proceeding with the marshmallow glaze just before serving them.
Graham cracker recipe halved and tweaked from Nancy Silverton via Smitten Kitchen