When I think about making pesto, a romantic little picture is painted in my brain. I'm in a rustic, Tuscany-style home, barefoot in some sort of oldish, wrinkled - yet totally chic - long, linen dress, in a kitchen that's older than my great, great grandma, and I'm there making pesto with the guidance of a sweet Italian old woman I can barely communicate with.
I'm adding stuff to the mortar and pestal, grinding it up and we're laughing and looking adorable. The pesto is made from fresh basil that I picked just a few moments before, the cheese made from the neighbor's cow and the garlic is fresh from the early morning's walk (because I imagine you can just walk down the street and run into garlic everywhere. I dunno?). I've never been to Italy, sadly, so I'm not positive, but in my brain this is how it works.
The real life story of this pesto is that it was made by a girl living in LA who's had one too many tootsie rolls this past week and needs a proper dinner. I have electricity so I opted to make this using a food processor, though a pretty mortar and pestal is totally on my Christmas list!
I'm a pretty big fan of pestos that aren't traditional (evidence: here and here), which makes me believe that maybe I should be calling them something other than "pestos," but whatever. This "pesto" is what I like to think of as a basil-no-longer exists kind of pesto. It celebrates the changing season, so kale is in place of fresh basil.
In this instance I used dino. Mainly because it's called dino and that's the coolest name in the world for a vegetable. If I was a dude I totally wish my name was dino.
Also, do you think dinosaurs ate dino kale? Hope so.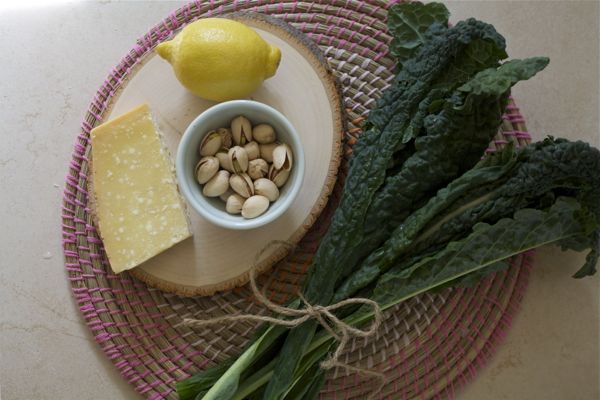 This pesto has been made a few times and through a lil' testings I found some things out.
First up, you need to destem the kale. Like as in, run your knife alongside the stem and slice off the leaves. The stems have a lot of extra water that you don't need, and I found little stem strings all up in my pesto. Stems be gone!
Secondly, the kale needs to be super dry after the blanch. A few paper towels do the trick.
Thirdly, I liked the pistachios to be toasted. If you're feeling lazy and disobedient, you can skip this step--it's not the end of the world, though I did prefer it.
Fourth, Target sells some really cool pasta. Yeah, Target, as in "TARGÉT" Wild, right?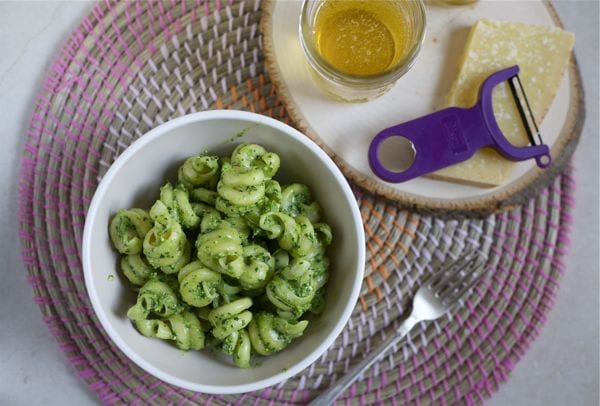 This pesto is surprisingly bright, healthy, nutty and a teeny bit spicy (thanks to the garlic and red pepper flakes). The reserved pasta water (that is noted below) really helps with giving the pesto a great consistency once tossed with the pasta. I'm so into it!
I'm loving the idea of making this at the beginning of the week and adding it to single portions of pasta for a quick lunch or dinner. Single person pasta dishes are the ticket!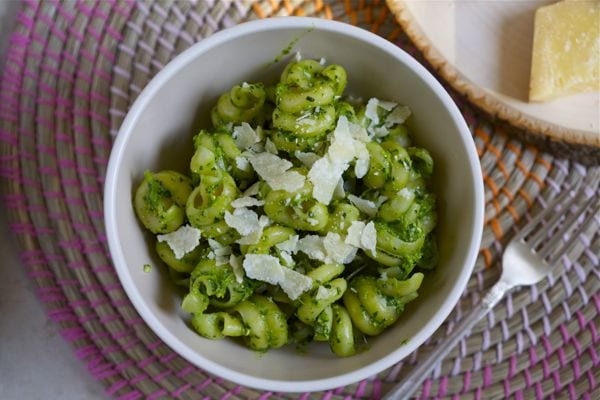 Kale Pesto
Pasta (I used trottole)
1 bunch of dino kale (weight: ½ lb.), destemmed and loosely chopped
1 garlic clove
⅓ cup deshelled, unsalted pistachios
1 small lemon
⅓ cup Parmesan-Reggiano finely grated
Pinch of red pepper flakes
¼ cup extra-virgin olive oil
Sea salt
½ cup reserved pasta water
1. Bring a heavily salted medium pot of water to a boil. Add the kale, being sure to submerge it in the water, and blanch for 2-4 minutes. Using a large slotted spoon (some other hand-strainer of some sort or even a tablespoon would work too), transfer the kale to a colander. Allow to cool slightly and then transfer to a bed of a few paper towels and dry thoroughly. (And hey! if you have one of those salad spinner things, by all means use it in place of the paper towel situation.)
2. To a small saucepan, add the pistachios and toast over medium-low heat for 2 minutes, tossing the pistachios every 30 seconds or so to ensure an even toast.
3. To the food processor, add the garlic and toasted pistachios; pulse until the mixture resembles a coarse meal. Add the blanched kale and juice from your lemon. Pulse again until the kale is broken up and nearly smooth. Using a spatula, scrape down the sides. Throw in the Parmesan-Reggiano and pinch of red pepper flakes. Pulse again and while the food processor is running, slowly drizzle in the olive oil. Salt to taste (I added about ½ teaspoon, plus 2 pinches of salt).
3. If you're not going to use right away, transfer to a bowl, top with a teaspoon of olive oil and cover with plastic wrap. This will be good in the fridge for up to 3 days (maybe even 5 days, but you might be pushing it).
4. Add the pasta to the salted boiling water (previously used for the kale) and cook until al dente. Drain the pasta, reserving about ½ cup of pasta water. Add the drained pasta back to the pot and add a few tablespoons of pesto. Toss, adding a few splashes of pasta water until it reaches your desired consistency. Top with some shavings of Parmesan-Reggiano.
Yields 1 cup pesto