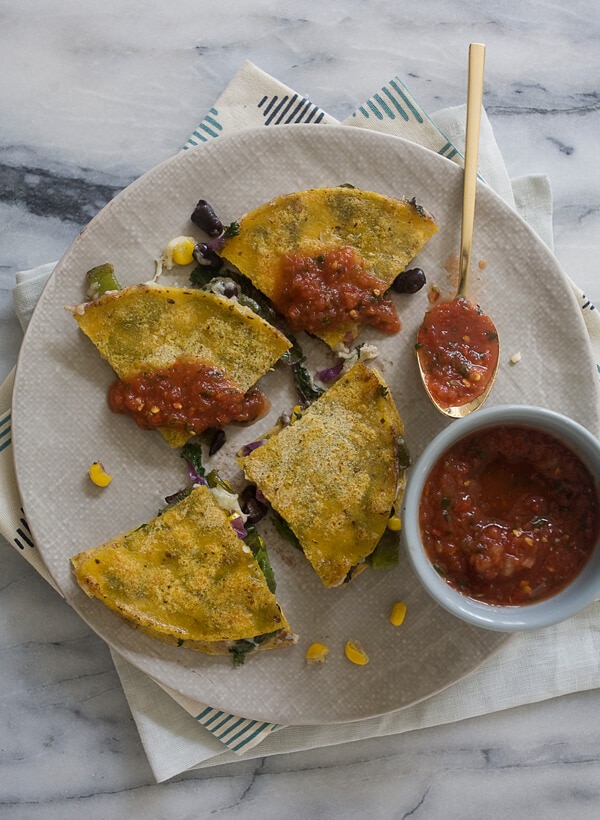 My whole goal in life is to take ordinary dishes I ate as a kid and make as fancy and fresh as I possibly can. Today's project: quesadillas. Don't get it twisted, I've indulged in the classic (very American) version of a quesadilla. It usually involved me, after school, needing some sort of snack. I'd sprinkle a gigantic flour tortilla with hot sauce and fill it with a ton of pre-shredded cheese. And there was usually a glass of lemonade and Total Request Live (TRL!!). I always had a soft spot for Carson Daly–he was almost too nice.
Today's version is different. There's pretty kale, Alpine-style cheese, a blistered anaheim pepper, a spoonful of beans and a sprinkling of corn. It's the fancy quesadilla of my dreams.
A few months ago, I was asked to create a few recipes using different kinds of cheese. I said, yes/ of course/this is my dream. Send me all of the cheeses.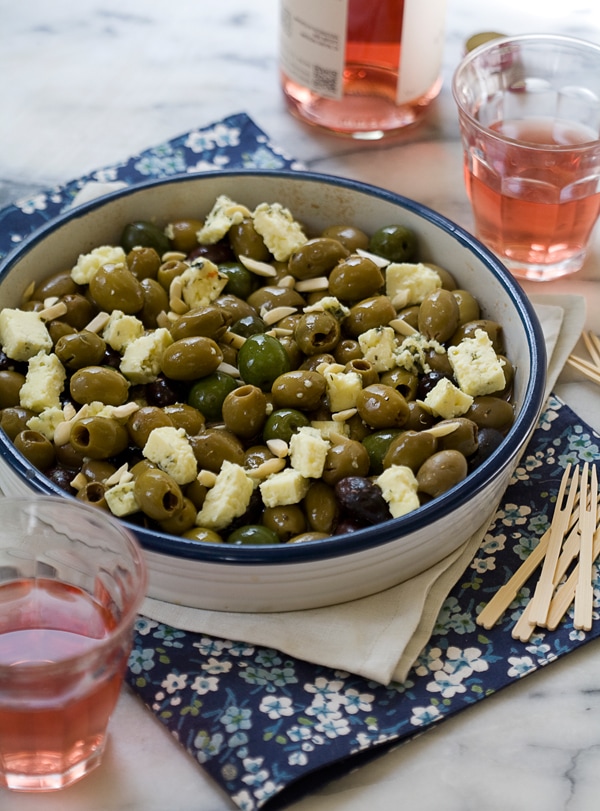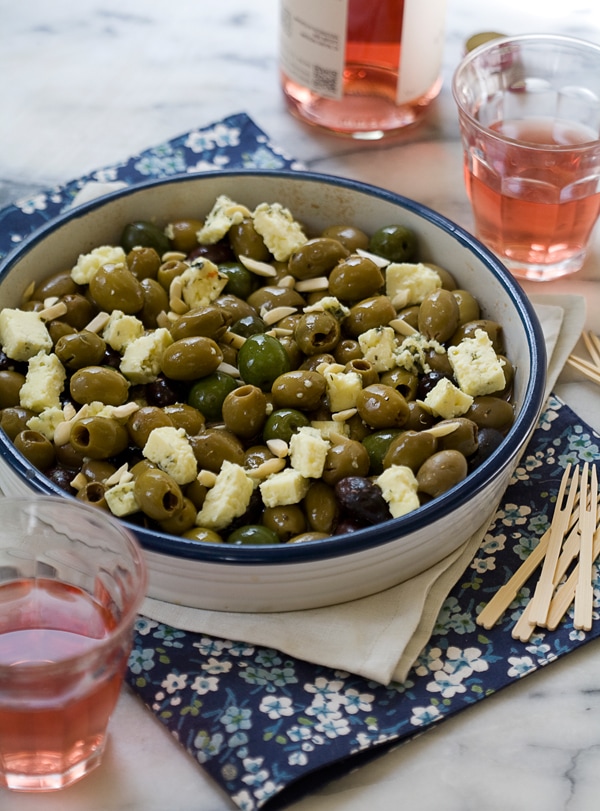 So they did. And I began tinkering, playing around with different recipes. I love recipe writing, developing, making. It's maybe one of my favorite things to do ever. And the fact that I can call it a job is dreamy.
My absolute favorite recipe I made are these Rosé Roasted Olives with Blue Cheese. I've been wanting to make roasted olives for such a long time. And seriously, the warm blue cheese with the sweet and dry rose and the olives. Ahhh! Best appetizer ever.
There was this Bacon Potato Habanero Cheese Soup that was dreamy, too. It's the thing you want to eat on a cold day. It's like eating a gigantic baked potato but lighter and daintier.
And there's more!
For more cheese-centric recipes, here is the full list:
Rosé Roasted Olives with Blue Cheese (using Salemville Amish Blue Cheese)
Gouda Apple Mustard Tartines (using King's Choice Aged Gouda Cheese)
Thyme Cheddar Cheese Straws (using 3 Year White Cheddar from Red Leaf)
Broccoli Asiago Macaroni and Cheese (using Stella Asiago)
Swiss Chard Gruyere Leek Strata (using Saxony Alpine-Style Aged Cheese)
Bacon Potato Habanero Cheese Soup (using Great Midwest – Habanero Jack Cheese)
The Strata listed above is probably tied with the roasted olives. Before trying it out, I'd never made a strata before, which is essentially a baked bread pudding but savory and less bread-heavy. It's the dream breakfast for house guests. If you're throwing a bunch, make that! It's one of those dishes you can make a few hours ahead and then bake-off when people show up.
Basically, make all of these cheese recipes because cheese is the best and is my favorite cure-all.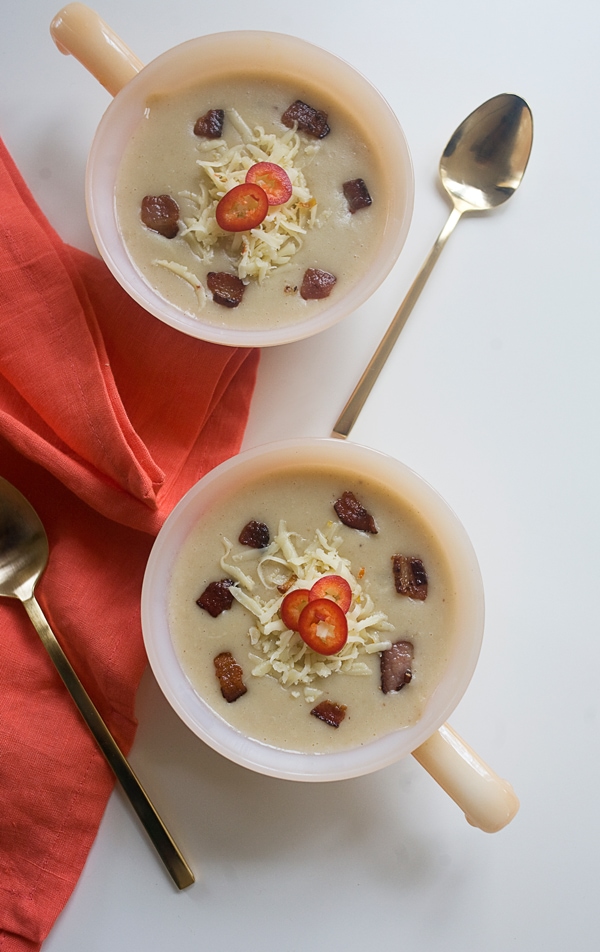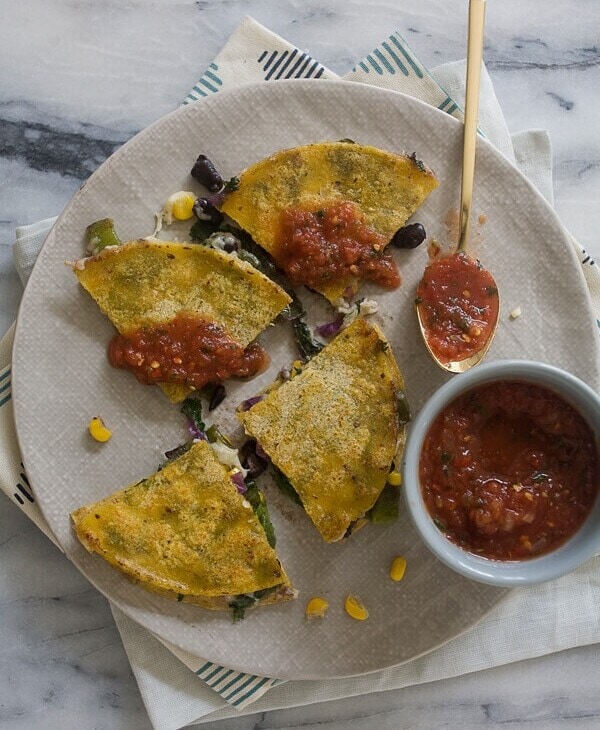 Print Recipe
Kale and Blistered Pepper Quesadilla
Serving Size:
quesadillas
Ingredients
1

Anaheim pepper

blistered, skinned and then roughly chopped

8

small corn or flour tortillas

1 1/2

cup

grated Saxon Creamy Cheese Alpine-style cheese

gruyére or fontina

1/4

cup

tablespoon black beans

1/4

cup

sweet corn

1

small bunch of kale

finely chopped

Salsa for garnish
Instructions
Turn your gas range to medium heat and toast the pepper by turning it an inch or two above an open flame for about a minute, until it's completely charred on both sides. (If you lack a gas range, you can transfer the chile to a pan and place it over medium heat. Press the chile against the pan for a few seconds, rotate it, and cook until the pepper is charred.)

Moving quickly, transfer the pepper to a glass or stainless steel bowl. Pierce the pepper a few times with a knife, and cover the bowl with plastic wrap. This will create steam, making the pepper's skin to fall off easily. Remove the plastic wrap, and using a knife, scrape off the charred bits and discard. Dice the pepper, discarding the membrane and seeds.

To assemble the quesadilla, place a corn or flour tortilla on a cutting board. Start by adding a generous handful of cheese, a tablespoon of black beans, a tablespoon of corn, a handful of kale and a few slices of blistered pepper; top with another tortilla.

Place a skillet over medium low heat and add a teaspoon of butter or olive oil. Carefully transfer the quesadilla and cover the pan. Cook on each side until the tortilla is lightly browned and cheese is oozing out the sides, about 5 minutes. Repeat with the remaining quesadillas. Serve with fresh salsa.