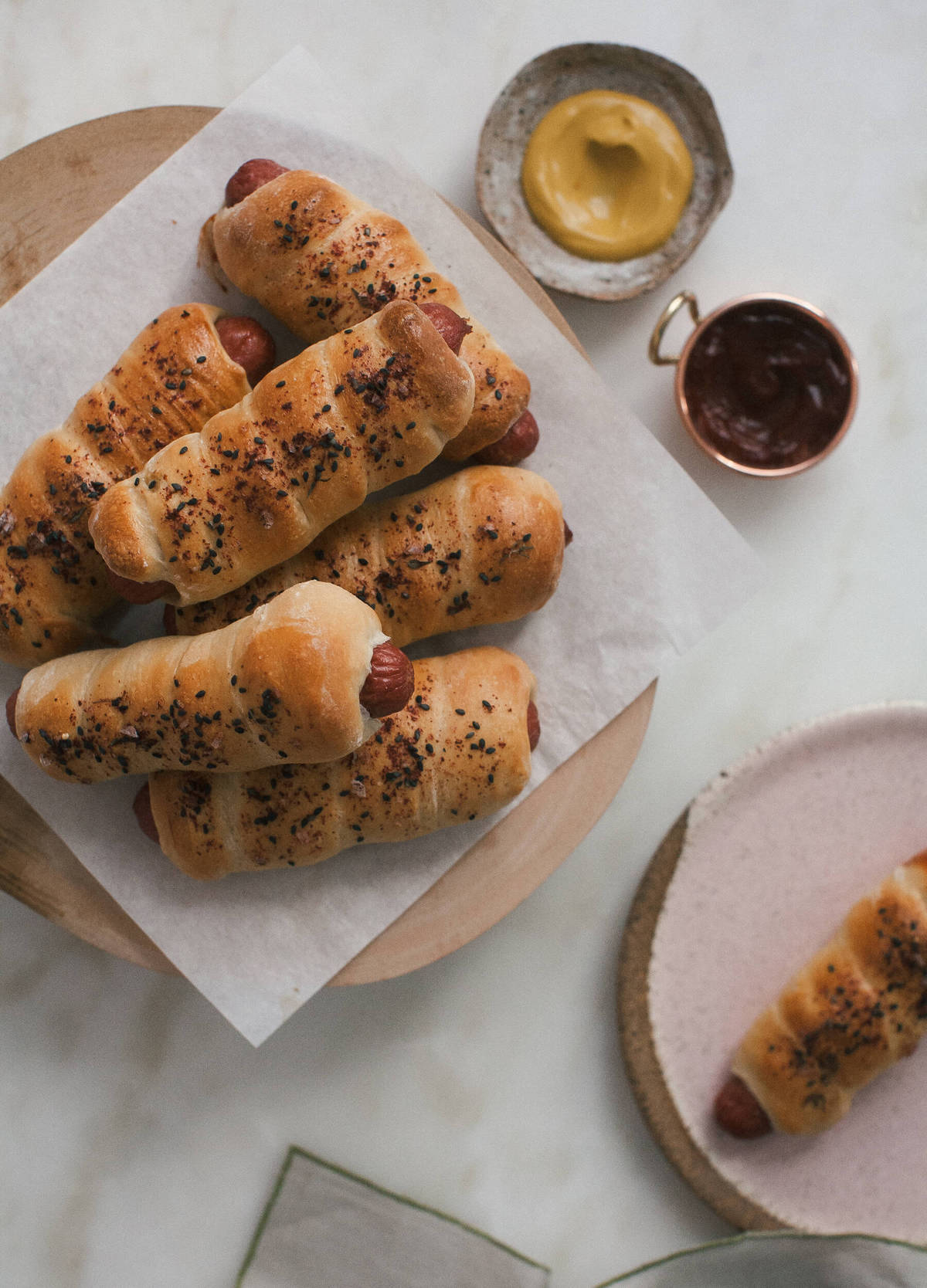 It is fall!!! FINALLY. I know it's been fall all over the entire country for a few weeks now, but not in LA. Yesterday I wore a sweater and didn't sweat! And Josh made homemade tortallini stuffed with chicken confit, while I made one of those pumpkin loaf mixes from Trader Joe's. If you've entered a TJ's recently, you know that it is bursting with pumpkin stuff. The mix wasn't half bad but I kinda wished I made it homemade, from scratch because we have a huge surplus of pumpkin puree because it's Amelia's favorite.
No pumpkin recipe today, maybe next week. But we do have another v v sweater weather-friendly recipe: Molly's Jerusalem Bagel Dogs!!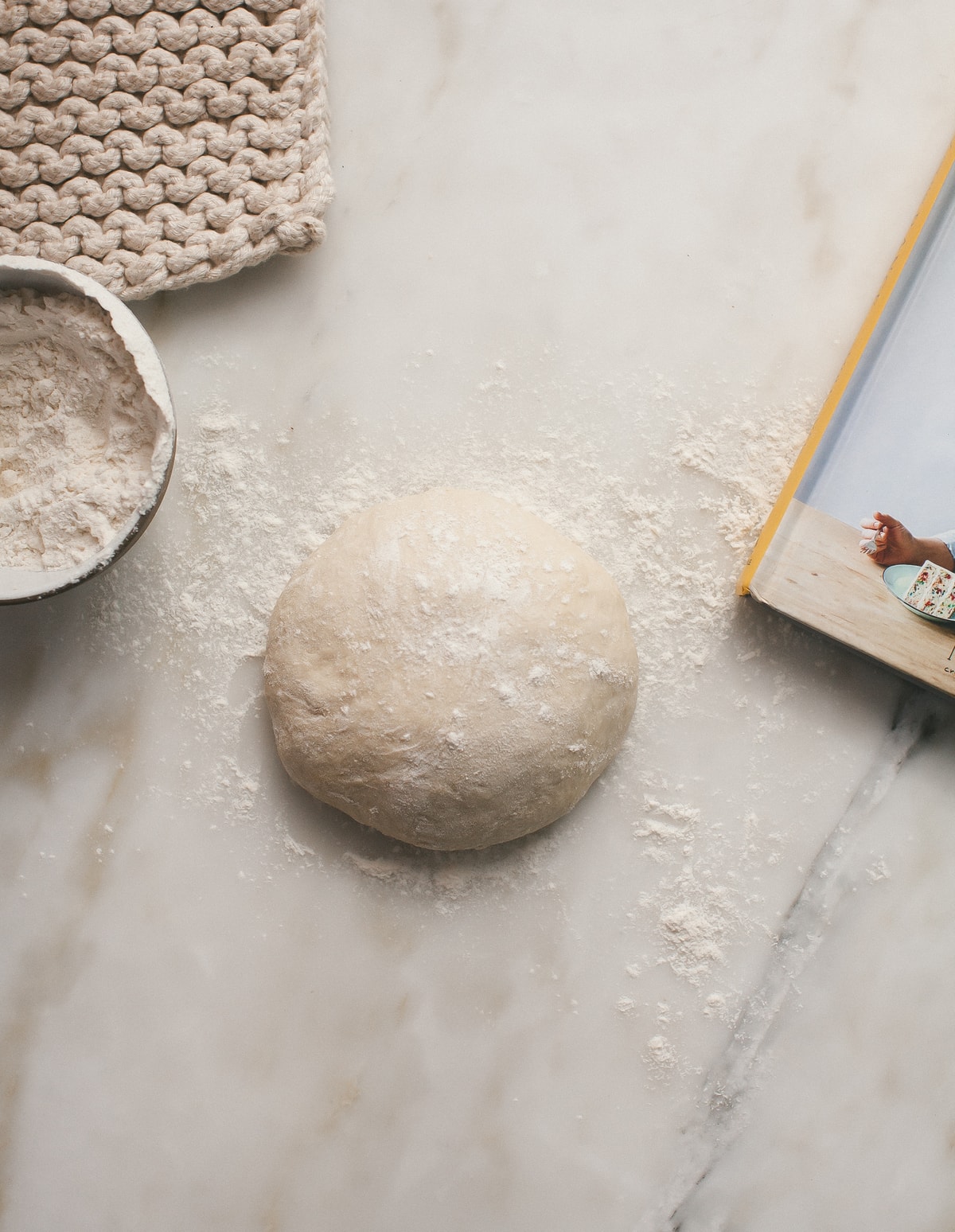 These were inspired by the Jerusalem bagels Molly had on her adventures to Israel where apparently zaa'tar comes in drug bags?!?!? Cool.
This recipe comes from her new book, Molly on the Range, which is so fun and cool and special. If you read through it, you'll know very random things about Molly that will make you feel a little like a stalker, but she won't mind, like…: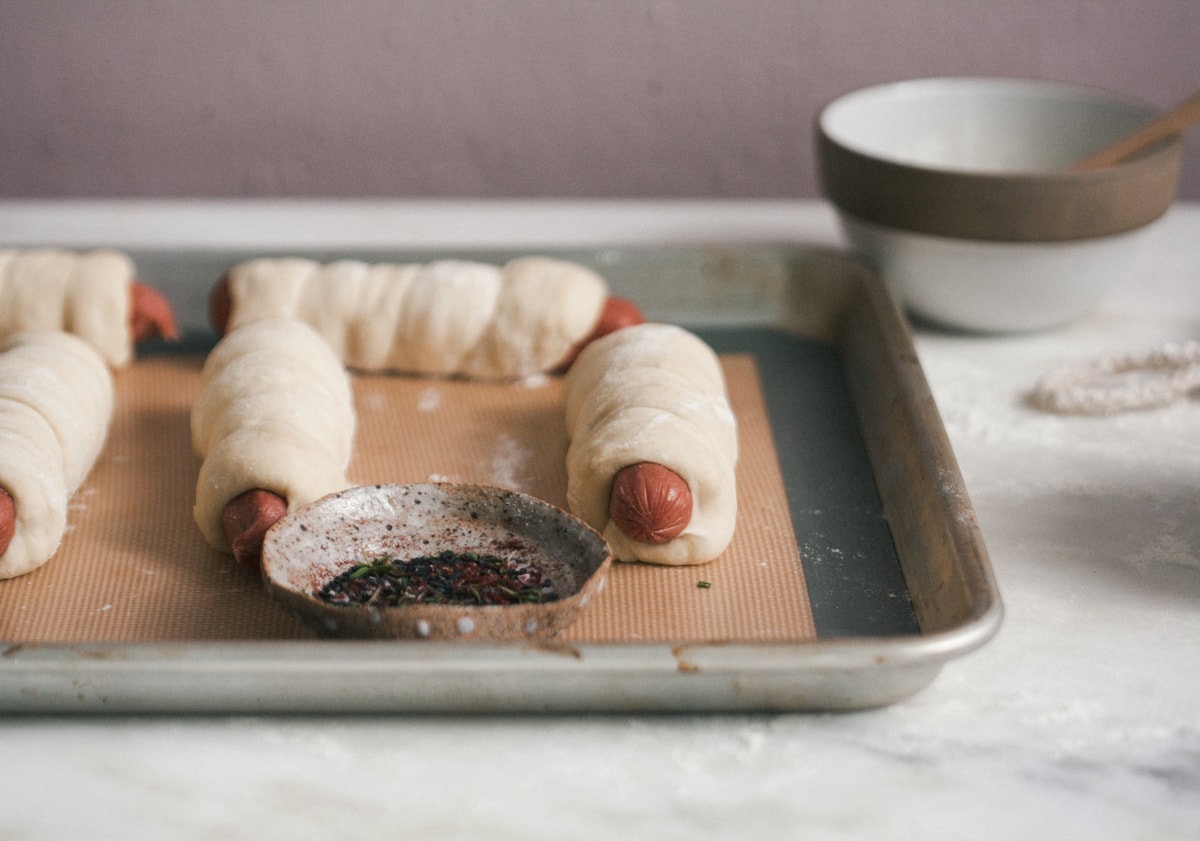 1. Molly drives a 2005 La Sabre. I love that. (I hope the car has a nickname!)
2. She calls her in-laws a much friendly, nicer name: Eggparents.
3. She eats more tahini than anyone I know.
4. Eggboy wishes he was Mexican so it wouldn't be weird if he ate tacos every night. Me too, me too.
And so much more!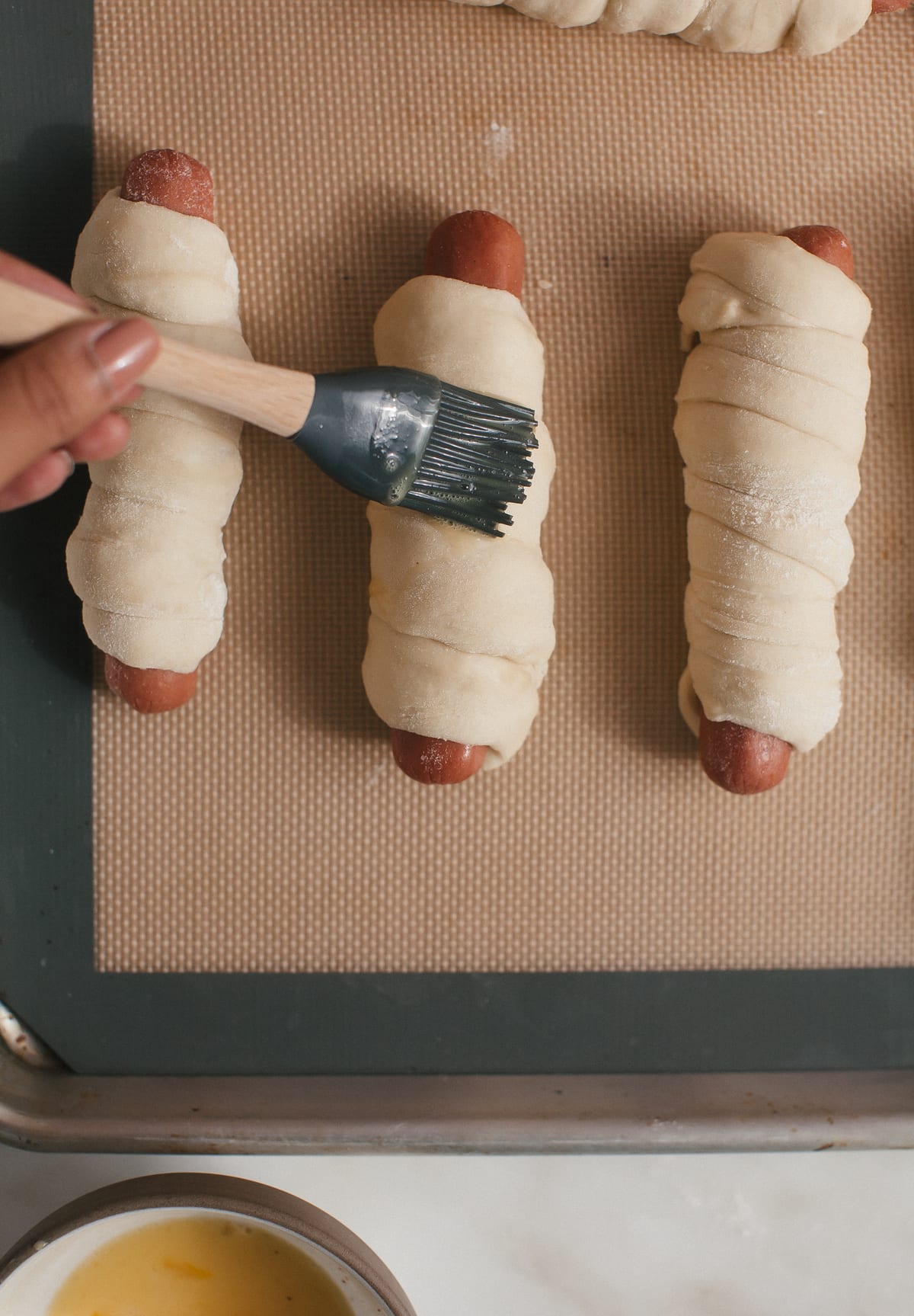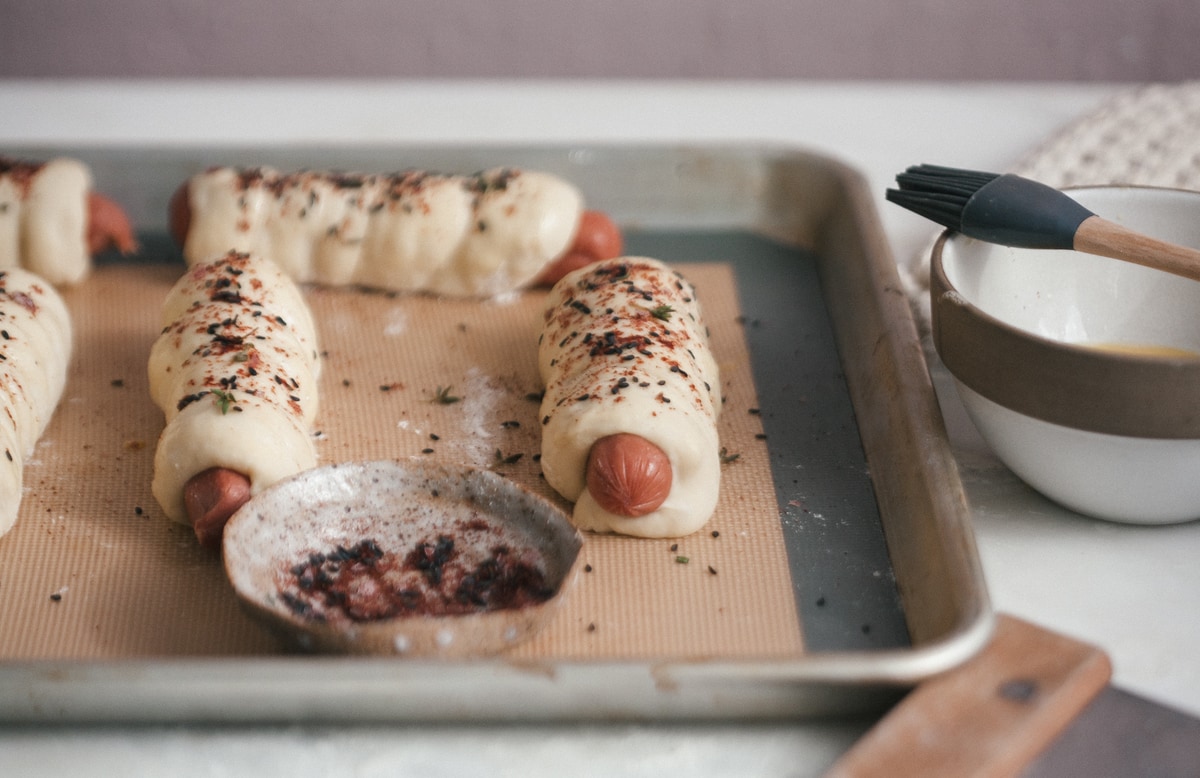 I decided to make and share this recipe because I kept thinking about it as I was reading the book. We were destined!
Hot dogs with a built in bun are an total win. The chewy delicious blanket is topped with sesame seeds and za'aatar and dipped in spicy harissa ketchup and I also dipped mine in mustard!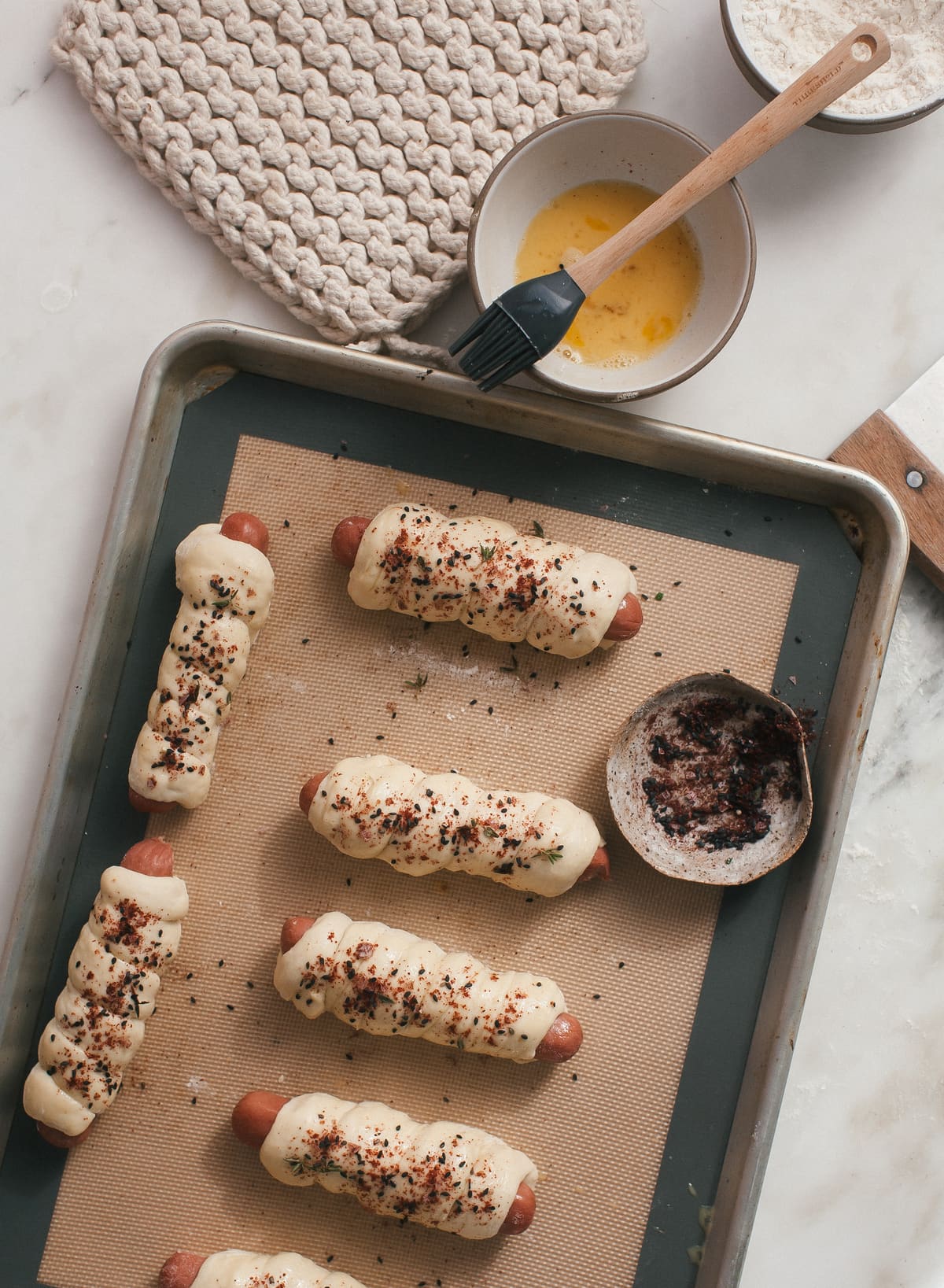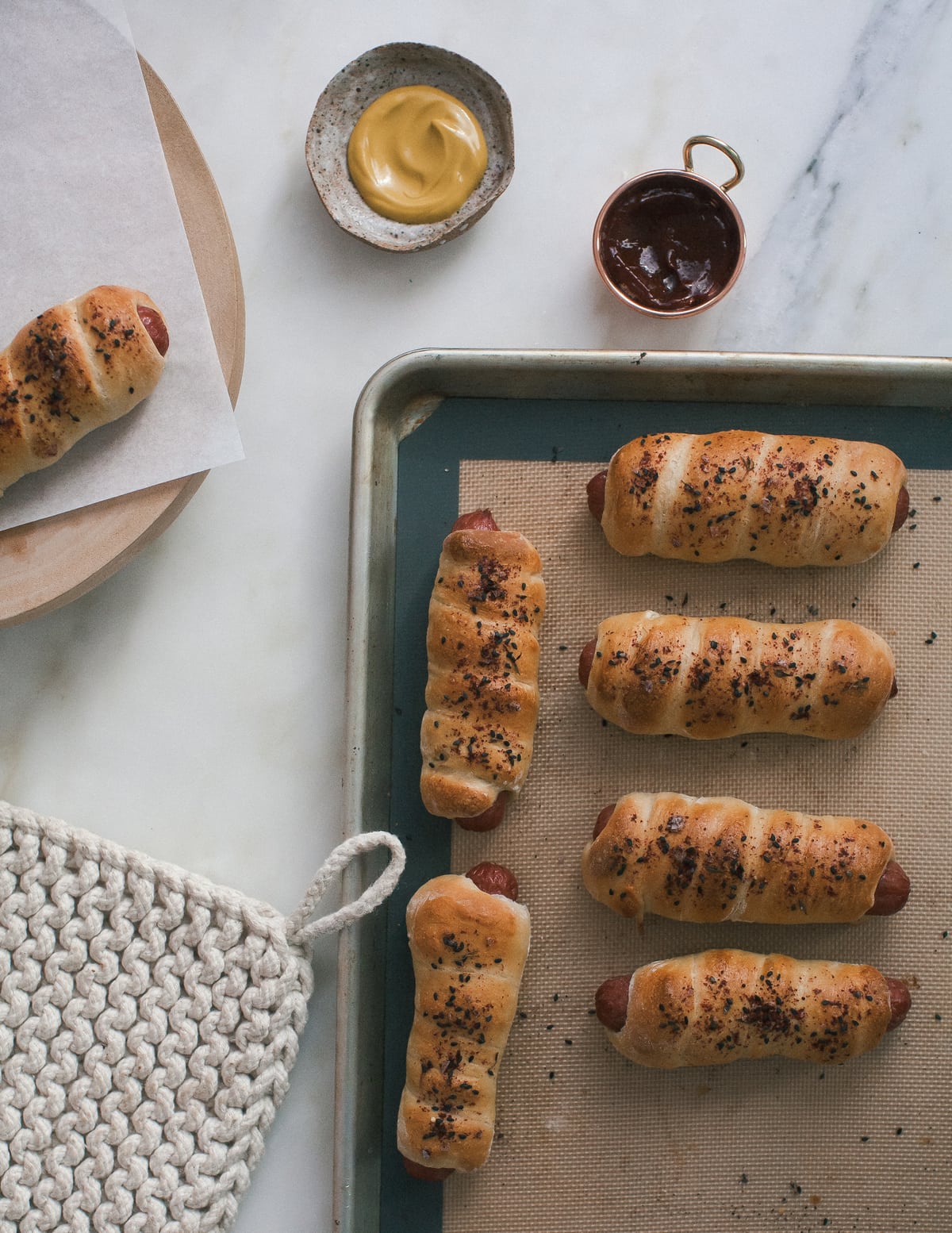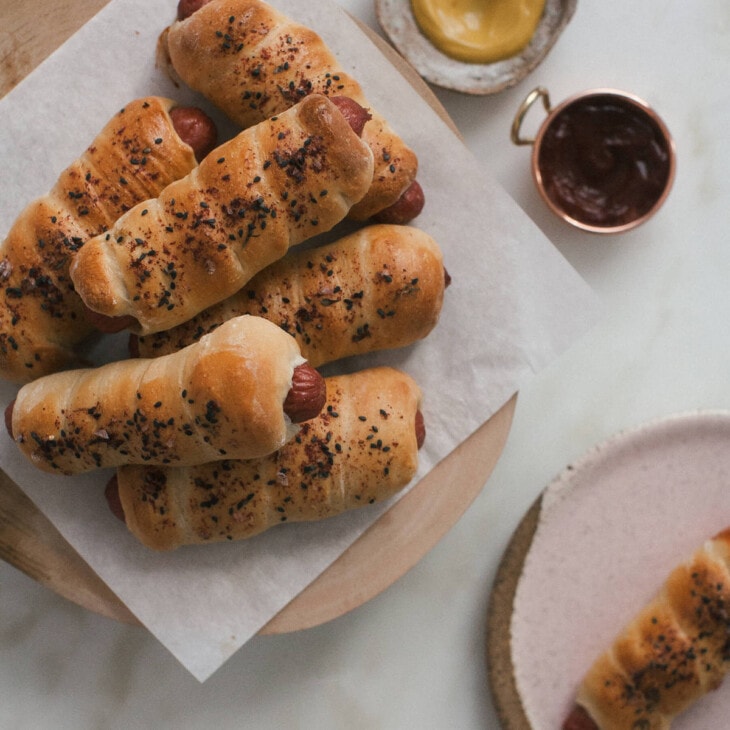 Print Recipe
Jerusalem Bagel Dogs + Harissa Ketchup
Ingredients
2

cups

bread flour

plus more for dusting

1 1/4

teaspoons

active dry yeast

3/4

teaspoon

kosher salt

1

tablespoon

sugar

1/2

cup

warm water

1/4

cup

warm milk

2

tablespoons

olive oil

8

precooked hot dogs or sausages

Egg wash: 1 large egg yolk

beaten with 1 tablespoon water

2

tablespoons

toasted sesame seeds

2

tablespoons

za'atar

Harissa ketchup

1 teaspoon or more harissa mixed with 1/4 cup ketchup, for serving
Instructions
In a large bowl or in a stand mixer fitted with a dough hook, stir together the flour, yeast, salt, and sugar. In a small bowl or measuring cup, combine the water, milk, and olive oil and then stir it into the flour mixture.

Knead, either by hand on a lightly floured surface or with the stand mixer on medium speed, adding more flour if needed (I added about a tablespoon more), until smooth, 7 to 10 minutes. Transfer the dough to an oiled bowl, cover it with plastic wrap or a damp kitchen towel, and let it rise until doubled in size, about 2 hours.

Line a baking sheet with parchment paper. Divide the dough into 8 equal parts and keep it covered when you're not working with it. Working with one piece of dough at a time, roll out a long skinny snake and wrap it firmly and evenly around a hot dog. Roll it back and forth on your work surface a couple of times so that the coils of the dough stick together, and then place it on the baking sheet. Continue with the remaining dough and hot dogs, placing them 1 1/2 inches apart on the baking sheet. Let them rise for 30 more minutes and preheat the oven to 350 degrees F.

Brush the tops and sides evenly with the egg wash and then sprinkle liberally with sesame seeds and za'aatar.

Bake until lightly browned. Begin checking for doneness at 18 minutes.

Let cool slightly and enjoy with lots of ketchup.
Recipe from Molly Yeh's, Molly on the Range!