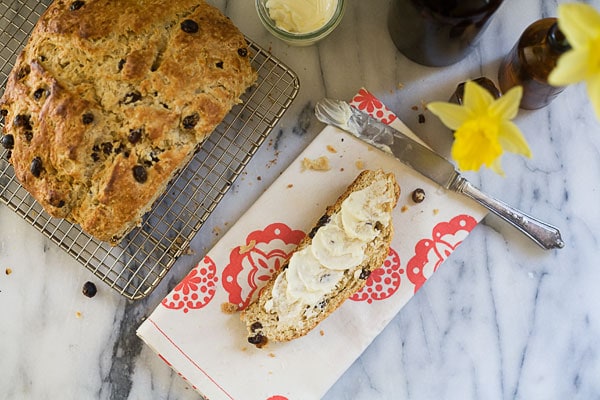 Like everything else in this world, I have an opinion about Irish Soda Bread. For years I thought that Irish Soda Bread should stick to being traditional.
Not that I'm a traditional girl, by any means, but I dunno...there's something to a recipe that's purpose is to be made, eaten and enjoyed with minimal ingredients, effort and time. Irish Soda Bread's history is rooted in this notion, so to make it fancy just seemed rude.
So, when it came to make traditional, normal Irish Soda Bread I really wanted to stick to the plan, but I swayed.
Butter lured me, so did whiskey, as it always seems too. The added additions and tweaks are welcomed. I mean, a lot of people complain about traditional Irish Soda Bread tasting dry, crumb-ey and just overall bland.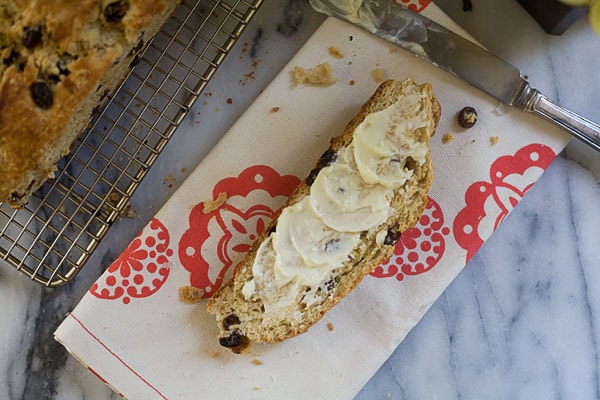 This Irish Soda Bread is the exact opposite of all of those things.
And I'm pretty sure it mostly has to do with these raisins...soaked and macerated in Irish Whiskey.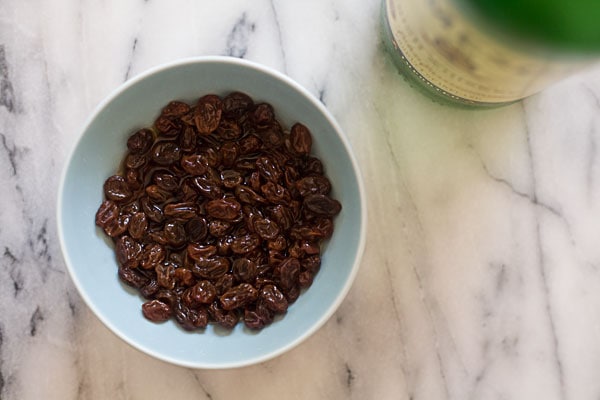 Now, while I made a few adjustments here and there, this recipe sticks to the Irish-Soda-Bread mantra and is super easy to make, requiring only one bowl. But the soaking of the raisins does take at least 6 hours.
The payoff is worth it. They won't taste crazy like whiskey. Just a hint! Yet more caramelized and sweeter than before.
There's all-purpose flour, whole wheat pastry, brown sugar (I like the added molasses which works lovely with the raisins), salt and baking soda. And of course, since I'm adding cold butter, I use the box grater technique. Makes for an easier time.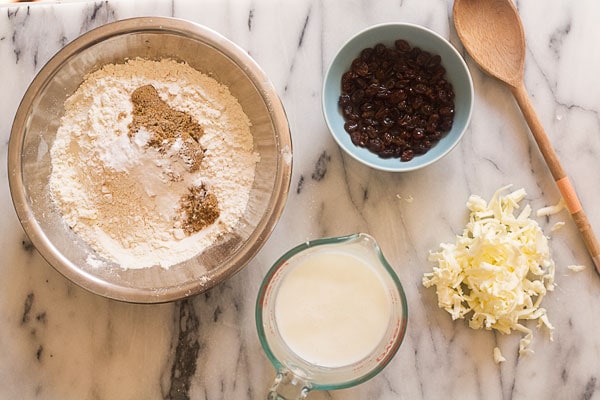 The dry ingredients are mixed. The cold butter is broken up and evenly distributed throughout the flour mixture.
The raisins are drained and then added. The buttermilk gets poured in and the entire thing is brought together with a wooden spoon and it then looks like this: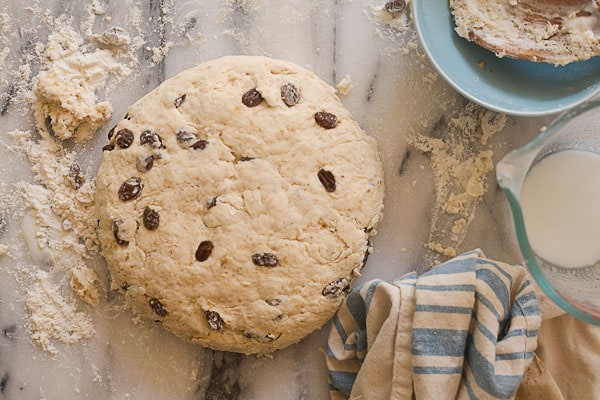 This bread is what you want to bake when you don't want to spend hours in the kitchen, and then even more hours cleaning dishes.
One bowl, fifteen minutes and an hour to bake. That's all you need.
You'll be met with a golden brown, raisin-speckled loaf that tastes like heaven when smothered in butter, sprinkled with salt and topped with some raisin-whiskey butter sauce (recipe below). This bread is a cross between a traditional Irish Soda Bread and a scone. The interior is dense, flavorful, slightly sweet and when you come across a raisin, you're more than delighted (says the ex-raisins hater). It's baking magic.
Yes. Celebrating St. Patrick's Day is cool.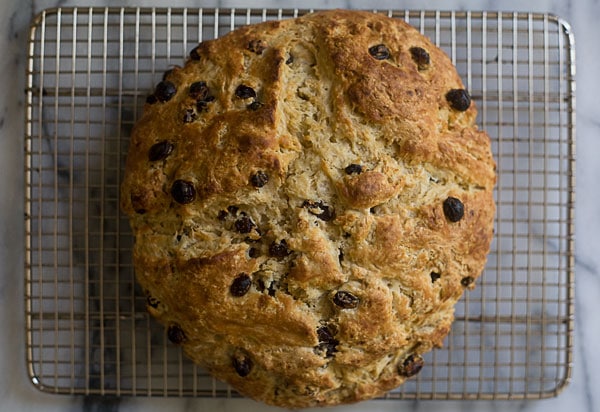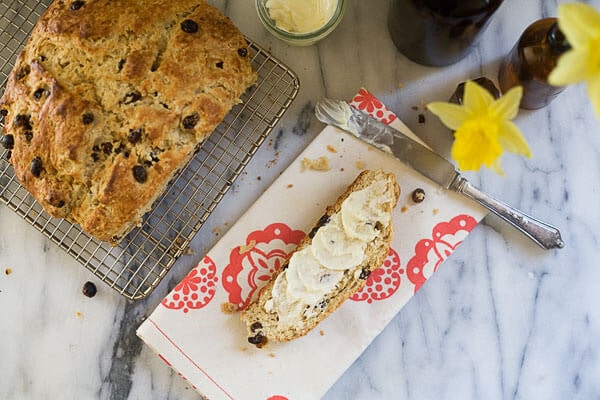 Print Recipe
Irish Soda Bread with Whiskey-Soaked Raisins
Ingredients
½

cup

raisins

¼

cup

Irish whiskey

3

cups

all-purpose flour

½

cup

whole wheat pastry flour

you can use regular whole wheat flour, too!

3

tablespoons

dark brown sugar

¾

teaspoon

fine-grain sea salt

1

teaspoon

baking soda

4

tablespoons

unsalted butter

very cold

1 ½

cups

buttermilk

shaken
Instructions
To a small bowl, mix together the raisins and Irish whiskey. Cover with plastic wrap and allow to macerate overnight or at least 6 hours. Drain the raisins, reserving the Irish whiskey/raisin liquid for making a syrup (if you like!) later on in the recipe. Set both aside.

Preheat the oven to 425 degrees F. Line a baking sheet with parchment; set aside. (You could also bake this bread in a cast iron skillet, if you like. Be sure the skillet is seasoned and lightly greased so the bottom won't stick.)

In a large mixing bowl, whisk together the all-purpose flour, whole wheat pastry flour, brown sugar, salt and baking soda. Using a box grater, grate the butter into the dry ingredients and mix quickly, being sure the butter is broken up into pea-sized bits. Next, add the raisins and toss them gently in the flour mixture so they are evenly distributed.

Create a well in the center of the flour mixture and pour in the buttermilk. Using a wooden spoon, mix it together until it forms a shaggy ball. Drop the soda bread dough onto a lightly floured counter and knead a few times, being sure to not over handle it, which will result in tough bread. Form the soda bread into a 1 ½-inch thick disc. Using a knife, score the top, forming an X, and brush it with buttermilk.

Transfer the soda bread to the baking sheet and bake for 40-45 minutes, and until a skewer inserted into the center comes out clean. Serve warm with plenty of butter, a sprinkling of sea salt and maybe the whiskey/raisin sauce that is below.
Bonus Whiskey/Raisin Sauce:
The origin of this recipe is waste not! And work with what you got, so after I was left with this delicious looking raisins/Whiskey mixture, I figured I should use it someway, somehow.
To a small saucepan, add the whiskey/raisin juice and turn the heat to medium. Once the mixture reaches a simmer, add 2 teaspoons of butter. Turn the heat down to medium-low and mix until the butter is melted. The water in the butter will begin to cook out, resulting in foam. We don't want that business, so using a teaspoon, skim the foam off the top and discard. You should be left with a little less than ¼ of a cup of goodness. Drizzle on top of bread and enjoy.