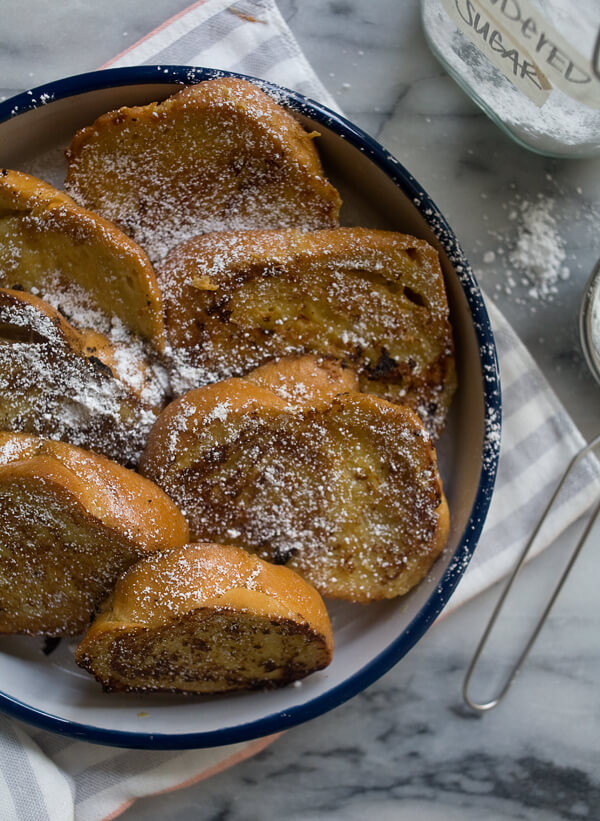 Merry Christmas Eve! This French toast is what I like to refer to as "Ice Cream French Toast." I think the ice cream part is really important. The challah toast is dunked in the ice cream base and then pan fried. It's maybe my favorite way to make French toast EVER! In my book, it's sort of the only way.
I'm currently in San Jose with Josh's family. This is actually going to be my first Christmas not waking up in my childhood bed. I'm not gonna lie, I'm a little sad about it, just trying my hardest not to show it.
When I'm back home with at my parents' house, I usually make this braided situation, but this year I decided to shake it up and make French toast. The best part about this recipe is how you can break up the work. Tonight I'm going to make the creme anglaise, keep it in the fridge so tomorrow morning all I'll have to do is dunk it and fry up the French toast. Perfect Christmas morning breakfast in PJs and comfy socks. It's my plan. For the recipe and all that jazz, head over to PBS Food.
Wishing you a super Merry Christmas. xo