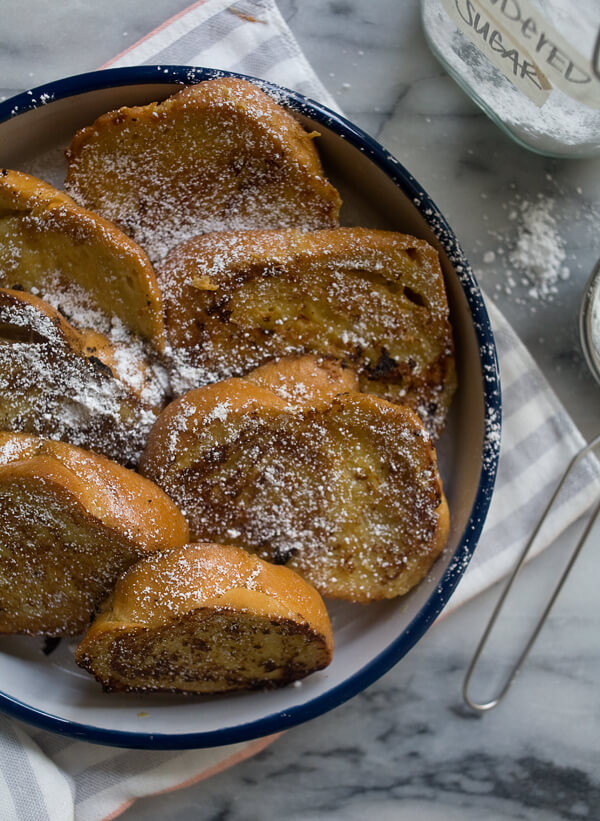 For the past week I've been wracking my brain trying to come up with a Christmas morning breakfast for all of youse and I've had trouble. Because if I'm being honest, super honest, this is probably as good as I get on Christmas morning. This is the recipe I use every year, year after year, and I don't see me changing it up anytime soon. (Except for the new recipe that will be appear in my book next year but whatever, you get my point!)
This isn't the only thing that belongs on the breakfast table. I think that there needs to be something savory like sausage or an egg dish or something because sweet foods get a little too much real quick.
French toast has never tasted so good. First, a creme anglaise is made. And then the brioche (or whatever bread you choose) is soaked it in for a few minutes and then boom…in the pan with some butter. It's decadent and warm and taste just like Christmas should.
I'm not sure I'll be back in this space before Christmas because I'm thinking I need a bit of a break. I'm headed to Palm Springs with Josh and Amelia for a bit of relaxation. But I'll definitely be back before the end of the year with a recap and maybe a new recipe, who knows.
Wishing you all a Merry Christmas.
xoxo
Adrianna
(P.S. For the recipe, hop over to this post from last year on PBS's blog.)