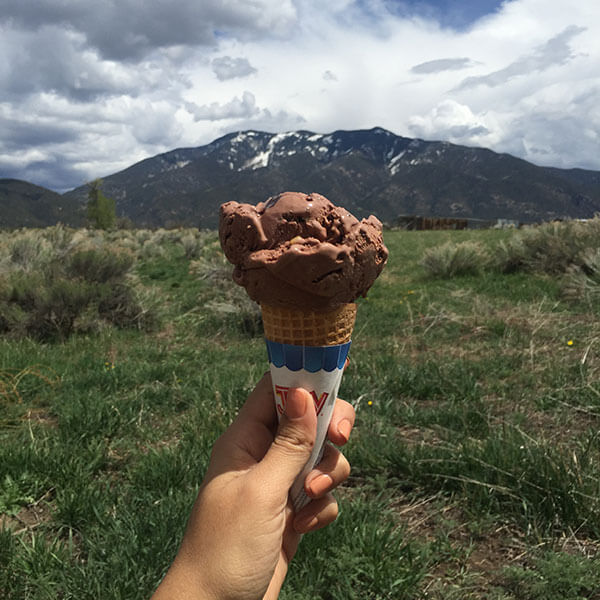 I've driven across the country exactly eight times. Eight times! I love road trips, even though I sort of hate driving. But I think I just hate driving in LA, which if you've never driven here just know that it isn't the most relaxing, hand-out-of-the-window-in-the-wind kind of driving. There's traffic and people arguing over parking spots at Whole Foods.
There's something about open-air-driving that I really love. I got a lot of that in New Mexico a few weeks ago. Before my trip, which was hosted by The New Mexico Tourism board, I had only driven through Albuquerque a few times. As a kid, I was obsessed with Roswell and aliens. (We'll get back to that later.) Would you like to see some photos and hear about my trip? It was special; there's a reason New Mexico is called the land of enchantment.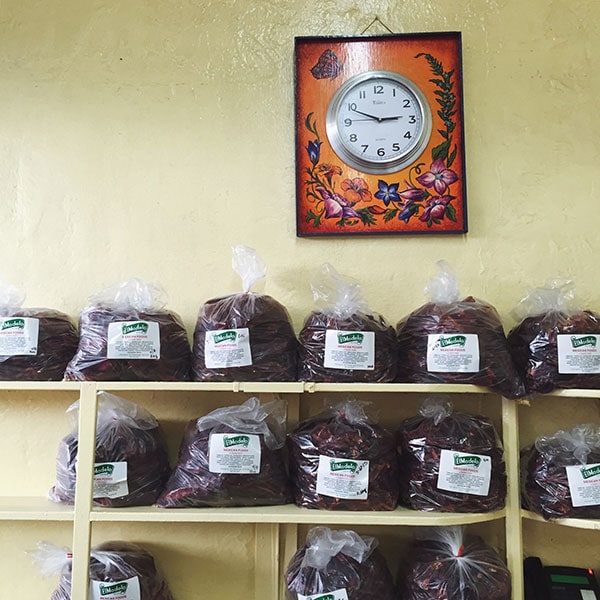 I arrived in Albuquerque, picked up a car and got some lunch at El Modelo. One thing you learn very quickly in New Mexico is that the history is rich and the food is at its best when it's not fancy or expensive.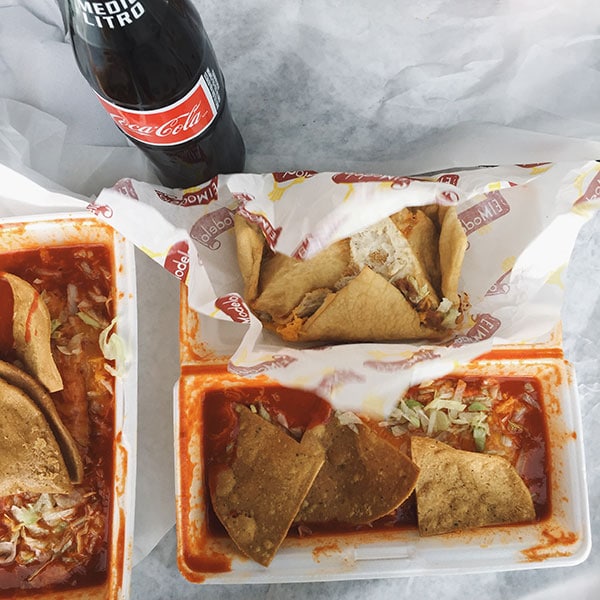 I had a stuffed sopapilla with beans and cheese. People are divided into two categories: green sauce people or red sauce people.
I am a red sauce kinda human, in case you're curious.
From there we arrived to Santa Fe. There was a demo at Santa Fe's Cooking School, which was lead by Lois Ellen Frank, who is a food historian, anthropologist and cookbook author. I love food information and history and she told us a lot of backstory on New Mexico's food. She explained the history of the chile pepper, how they aren't actually peppers. It was a naming accident by Christopher Columbus. When he set sail for Asia he was in search for pepper. When he arrived in North America, he was clearly very lost. When he returned to his queen, not wanting to disappoint her, he told her he found a "different" kind of pepper, a chile pepper. I was fascinated with the history. There was a ton more that I can't tell as good as she did.
From there, Josh and I got in our rental car and drove two hours north to Taos.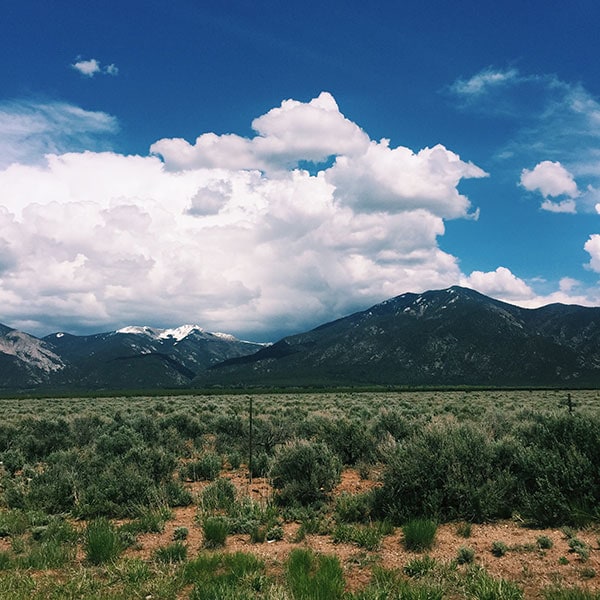 Our first visit was Taos Pueblo, a magical place that wouldn't allow photos, so unfortunately, I just have to tell you about it.
It is the longest inhabited structure in the entire U.S. The buildings were built from a mix of clay, water and hay. It has been occupied and standing for more than 1000 years. If you actually think about it, it's a pretty mind-blowing number!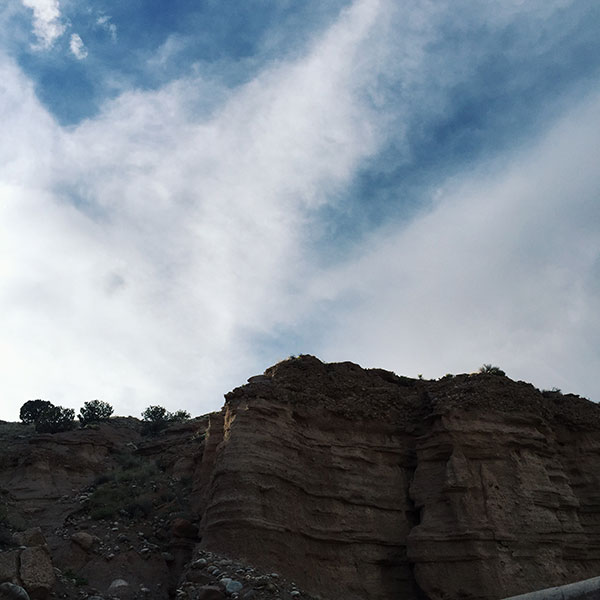 It's hard to go to Taos Pueblo and not be moved; it's an emotional place. In its very long history, the people of Taos Pueblo have had their land taken from them, there have been battles and revolts, they rejected Catholicism and then accepted it, their land was returned and then taken again and then eventually returned. It was a reminder that this country's history is dark and though it's not actually recognized as one, we, too, have had our own genocide.
I sat by the creek and ate hot fry bread and tried to pet the dogs that were roaming. It was a beautiful and spiritual place, probably my favorite of the entire trip.
After we headed to The Rio Grande Gorge Bridge, which is the most gigantic thing ever and have I told you I'm REALLY scared of heights? I walked in the middle of the bridge just to get this photo and no lie, ran back. Like, full on booking it. I was thankful I was wearing sneakers.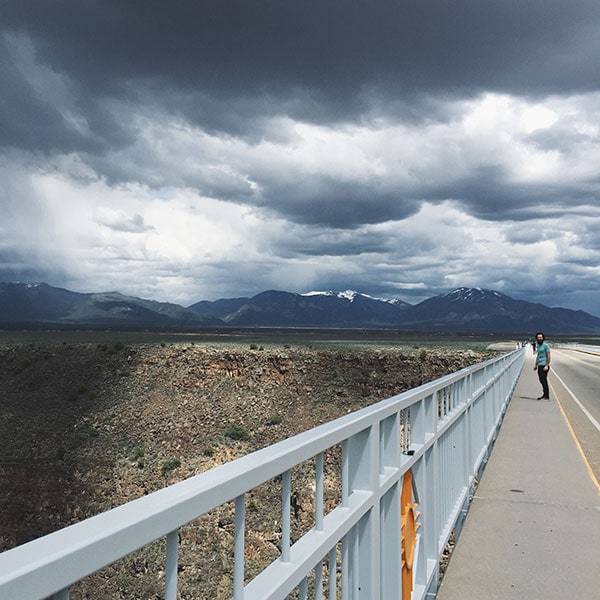 Then there was Ojo Cliente. SO EPIC. It's a natural hot springs spa. They booked us a private pool which had a fire going, burning cedar and pine, and was nestled against a big ol' rock. We chilled so hard for an hour. I don't think I've been that relaxed maybe ever.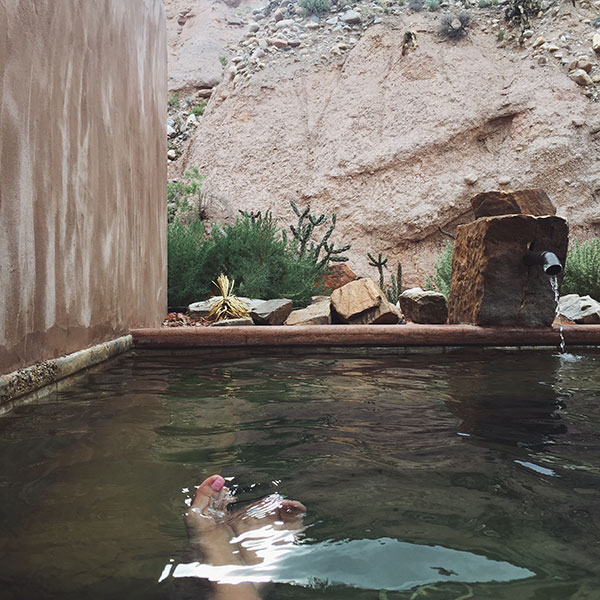 Look at my relaxed face! So relaxed I can't even smile.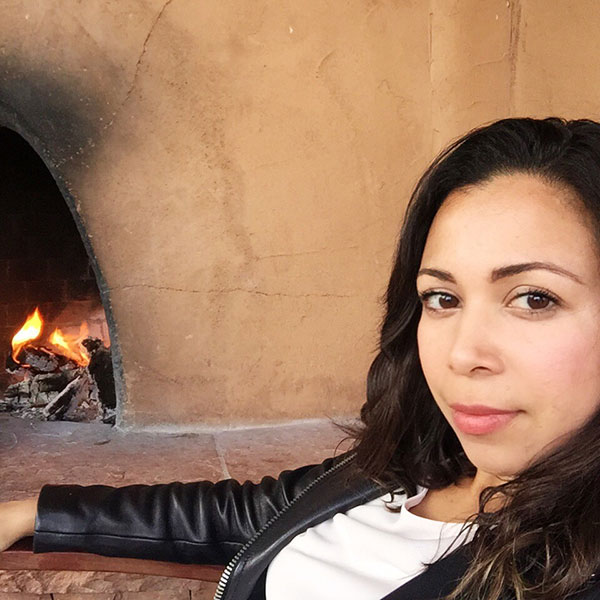 When I came to New Mexico, I was prepared to eat a lot of rich foods, lots of fried stuff and cheese! Lots of cheese, but the restaurant at Ojo Cliente was the exact opposite. All of their produce came straight from their own garden and the lamb and meat we ate were all locally sourced. The food was fresh and delicious.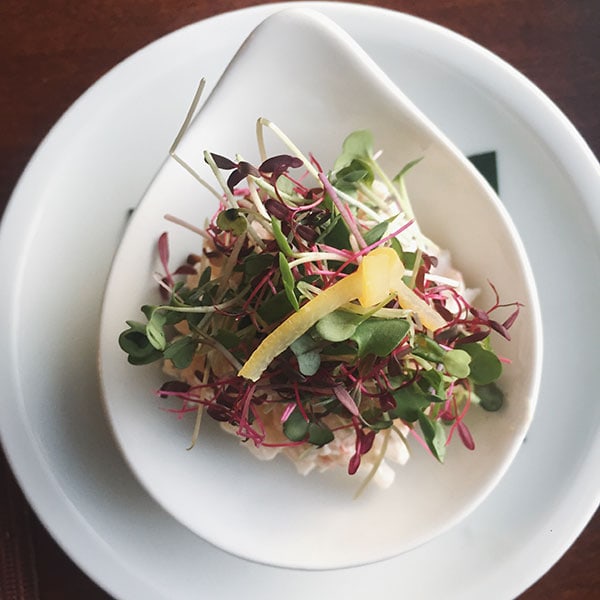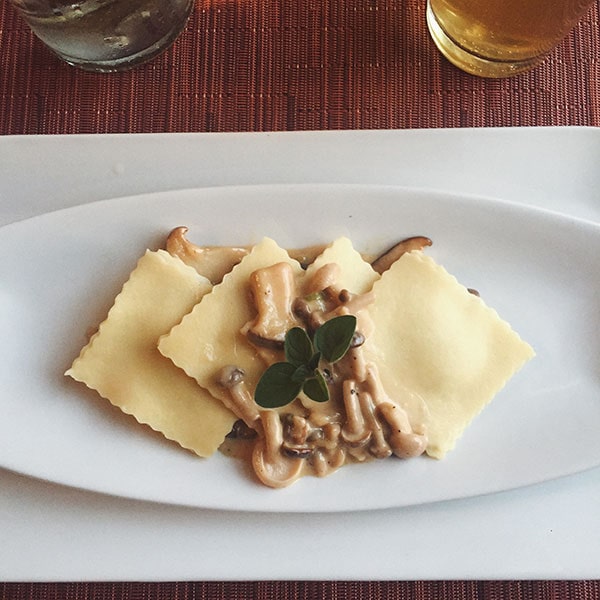 In Taos we stayed at Palacio de Marquesa, this super cute boutique hotel.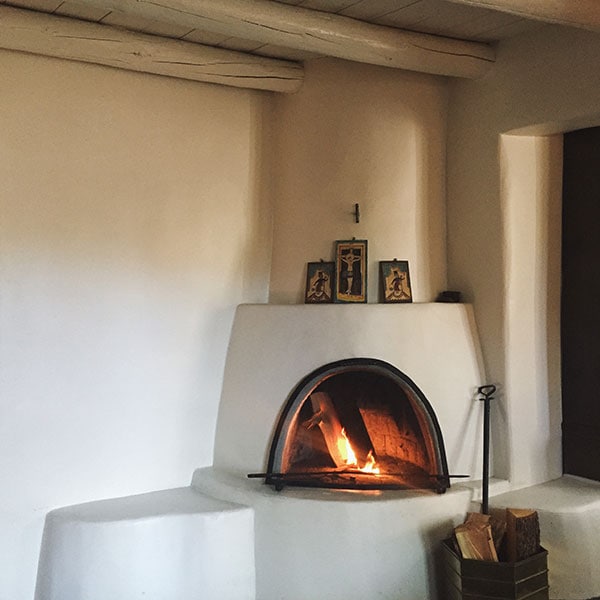 The next day we went on a llama trek with Llama Lunch. We learned all about the southern rockies. We foraged for wild Italian parsley, mustard flowers and a few other things I forgot the names of.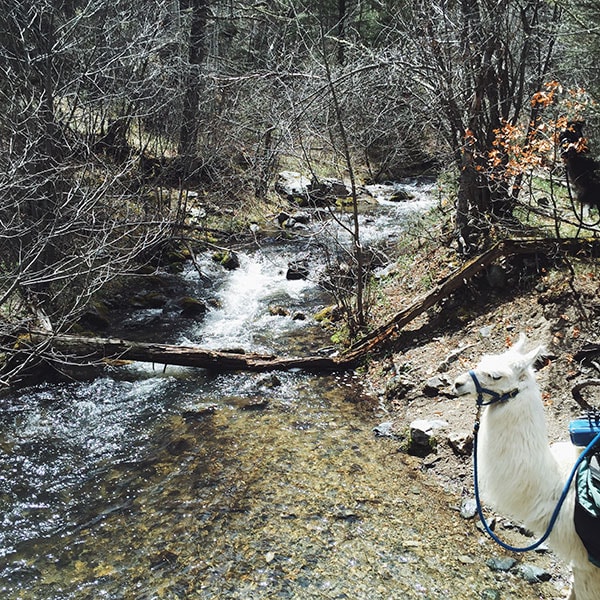 And had lunch by a creek.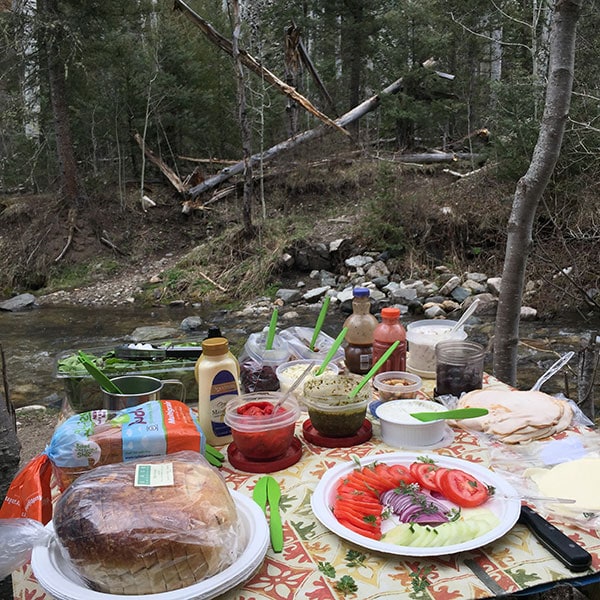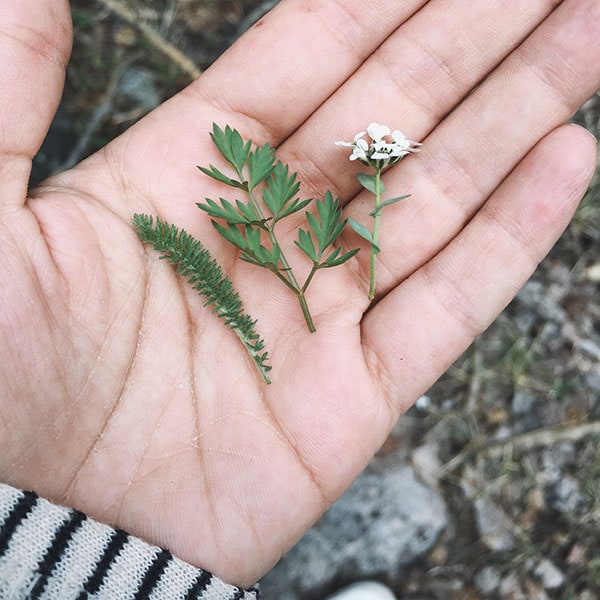 My llama wasn't the most beautiful of the bunch but he had a really good heart!
His teeth made my heart all fuzzy.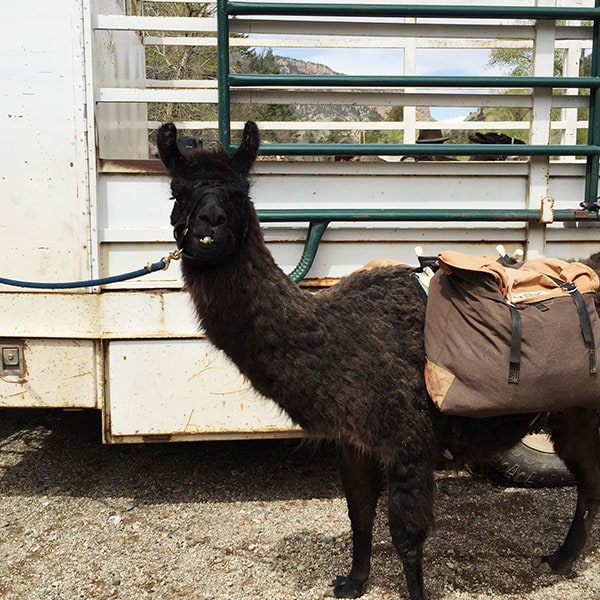 And our guide Stewart was so knowledgeable and fun. The people of Taos are down to earth and passionate and cool.
Our last meal in Taos was at this bar called Kyote Club. We sat and talked to a guy named KC, a local artist, along with the manager, Steve, who told me about a few conspiracy theories (!!!!).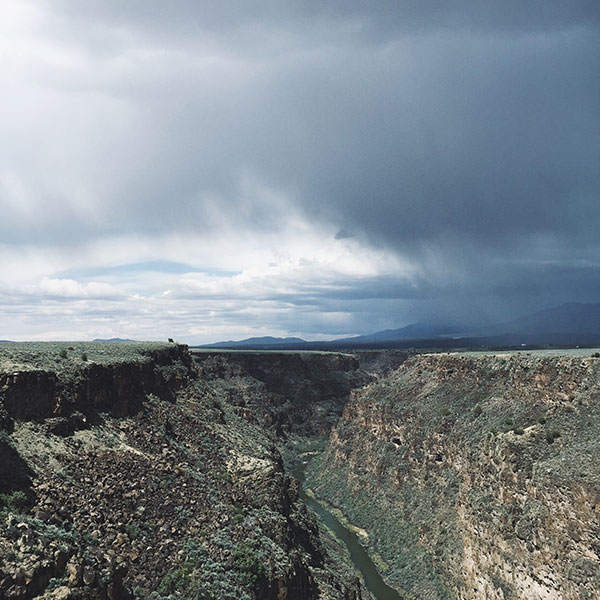 So, first there's the Taos Hum. Apparently two percent of the population can hear a very low hum. I'll say that I didn't hear anything and I have pretty good hearing. I have done some research on it and scienticists have concluded they can detect the noise but they haven't been able to figure out the source. WHAA! WHAT DOES THIS MEAN?! ALIENS?! I hope so.
Second crazy thing that happens in Taos: cattle mutilation. There have been numerous reports, for years, from farmer's that their cows have been mutilated. And the cuts are laser-like. It's weird. Like, really really weird. There are a lot of speculations on who did it, the reasons why, etc. If you drive down the road in Taos, you'll notice yellow signs of "cows crossing" and little space shuttles above the cows. It's a lil' tongue n' cheek about something that is FREAKY. Let me know if you want links to said stories. They're insane and really weird and I am full on obsessed.
On our way to Albuquerque, we stopped at El Paragua Restaurant and had my favorite meal of the entire trip. It inspired these sopapillas. When we walked in, a woman was cooking tortillas on this super old stove.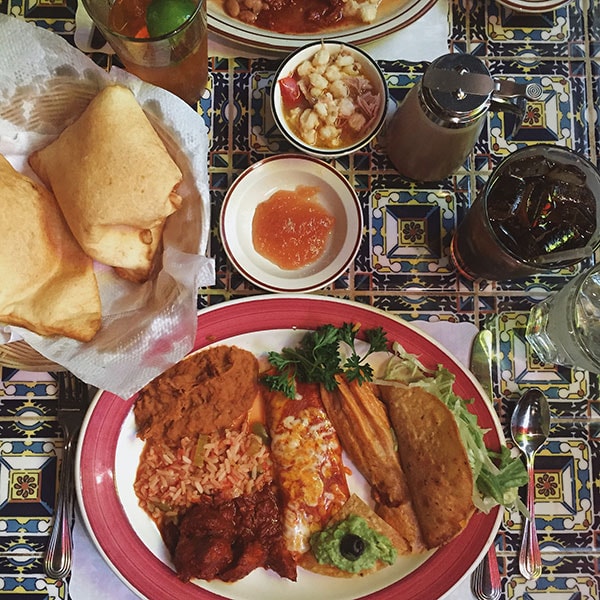 The food was fresh and rich and incredible. I still think about this enchilada. How many times have you had an enchilada?! Probably a million times. This, I swear, was the best of my life.